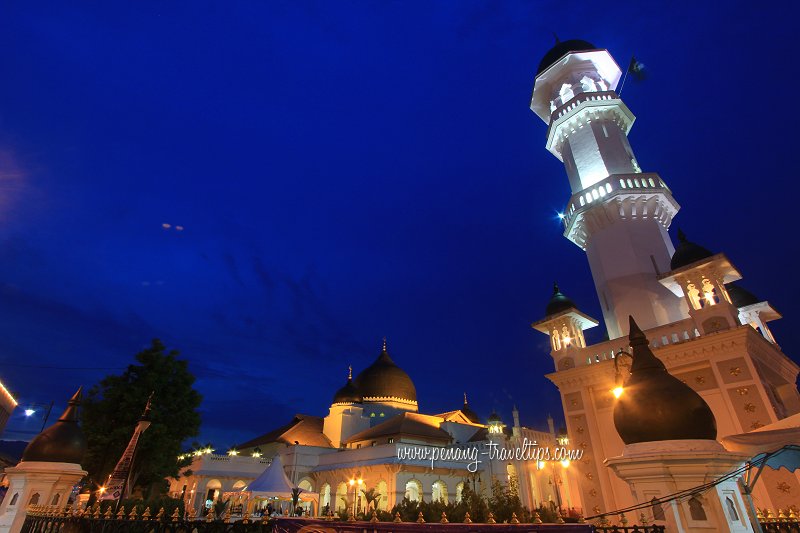 Kapitan Keling Mosque, George Town, Penang
(7 July, 2012)

The
Kapitan Keling Mosque
(GPS: 5.41666, 100.33758) along
Jalan Masjid Kapitan Keling
(formerly Pitt Street), is one of the best known mosque in Penang. Before the construction of the
Penang State Mosque
, the Kapitan Keling Mosque was used as the state mosque of Penang, since it is the largest historic mosque in George Town. The Kapitan Keling Mosque was named after
Caudeer Mohuddeen
, the head of the Indian Muslim community credited to have built it around 1800.
View of Kapitan Keling Mosque from Pitt Street entrance.
View from Buckingham Street entrance.
View of the inner courtyard of Kapitan Keling Mosque with one of its older minarets.
The name "kapitan keling" is used to denote the headman or leader of the South Indian Muslim community. The term "keling" is derived from the ancient Hindu kingdom on the Coromandel coast of South India, and the local Hokkien community corrupts the word to derive "keling-na" for Indians in general, particularly those from South India (The North Indians are pooled together with another term, "banggali", though they are not necessarily from Bengal). The title "Kapitan" is a corruption of the English word "Captain", and is used to denote the leader of the community. Similarly, the leader of the Chinese community during that period is called a Kapitan China.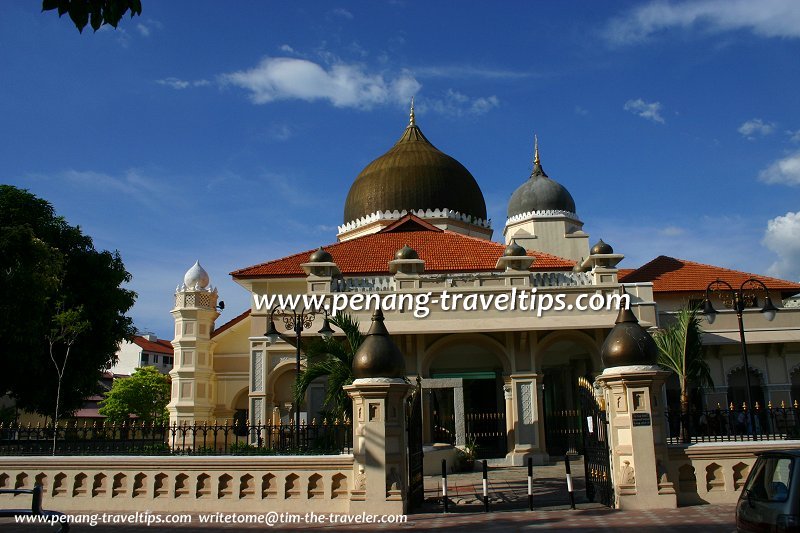 Kapitan Keling Mosque
(14 March, 2004)

The Kapitan Keling was the first Superintendent of the mosque. He brought in the builders and stones from India for the project. The original mosque structure was a single-storey rectangular building with a sloping roof on all sides and surrounded by a stone bench. It was surrounded by shophouses, with access through a narrow gateway.
It is generally accepted that the 18-acre plot of land on which the mosque stands was granted to the Indian Muslim community by the then Lieutenant Governor of Penang, Sir George Leith, in November 1801 for the building of a "Mohamedan Church for ever". This was not to be, however, as over the years, and as George Town grew, the government had to buy back parcels of land from the mosque, for the town's social amenities. This includes the land for the nearby police station and the Campbell Street Market. The Kapitan would not have to live to see this happening to his mosque, having died in 1834. Kapitan Keling's Tomb can be found at Kampung Kolam, not far from the mosque itself. As I write this (February 2005), the tomb is in a rather neglected state.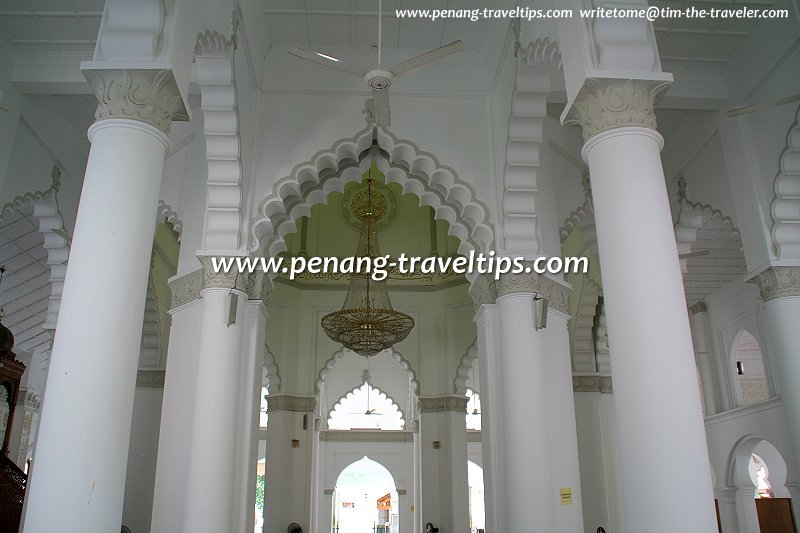 Interior of the Kapitan Keling Mosque with its central chandeliar
(25 April, 2007)

Update: 3 December 2010
Since I last wrote about the Kapitan Keling Mosque, the Kapitan Keling's Tomb has been spruced up and landscaped. It can now be easily visited.
Meanwhile, the land belonging to the mosque continued to shrink in size, brought on by encroachment and improper management. Private homes were soon within a few feet of the mosque itself. By 1903, the original 18 acres had reduced to only 8.
In 1905, the government set up the Mohammedan and Hindu Endowment Board, to supervise the administration of trust lands (tanah wakaf). An extensive urban renewal programme was underway. In the 1910s, the mosque was given a major facelift in the British Moghul Revival style, with the addition of Mughal domes and turrets, a large minaret and a
madrasah
, completed around 1916. The mosque complies with Kiblat, which rules that it must face the direction of the Ka'aba.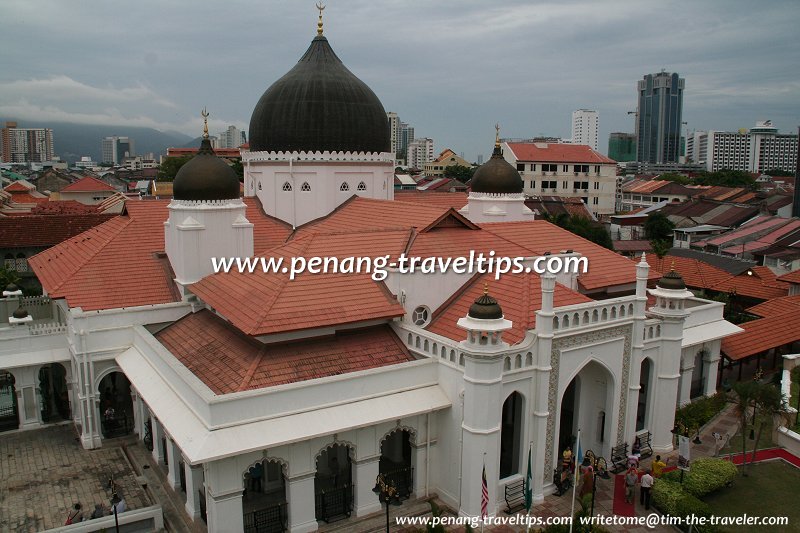 View of the Kapitan Keling Mosque from its minaret
(7 July, 2010)

Another renovation in 1930 gave the Kapitan Keling Mosque its present appearance after the previous design was deemed impractical. In keeping with tradition, the mosque was not rebuilt, but only enlarged. Among the major work during this period included doubling the height of the central prayer hall, improvement to the ventilation system, and allowing more natural light to enter. The exterior is ochre yellowed while the interior had white marble floors and a high ceiling. The interior aisles are formed by a series of horseshoe arches, crowned with King Edward's plaques. The façade of the building and its interior were decorated with geometric designs, as human and animal forms are forbidden in Islam.
The Kapitan Keling Mosque underwent its most recent refurnishment in 2003, with a RM5 million grant, as water seepage and poor drainage were affecting the building, closing it down for a year. In this renovation, some alterations that do not compromise on the original aesthetics of the building were included. Among the new extensions was a covered walkway and a women's ablution area. Calligraphy was added to the interior of the main dome and walls, where once these were decorated with foral motifs. An Islamic Information Centre is also set up on the ground floor of the minaret.
The Kapitan Keling Mosque is used by Muslims five times a day, seven days a week.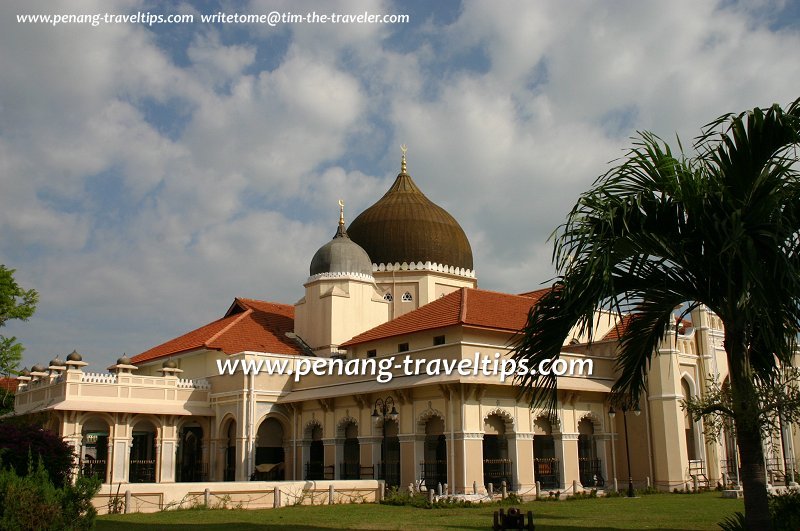 Masjid Kapitan Keling, Pitt Street, Penang
(21 August, 2004)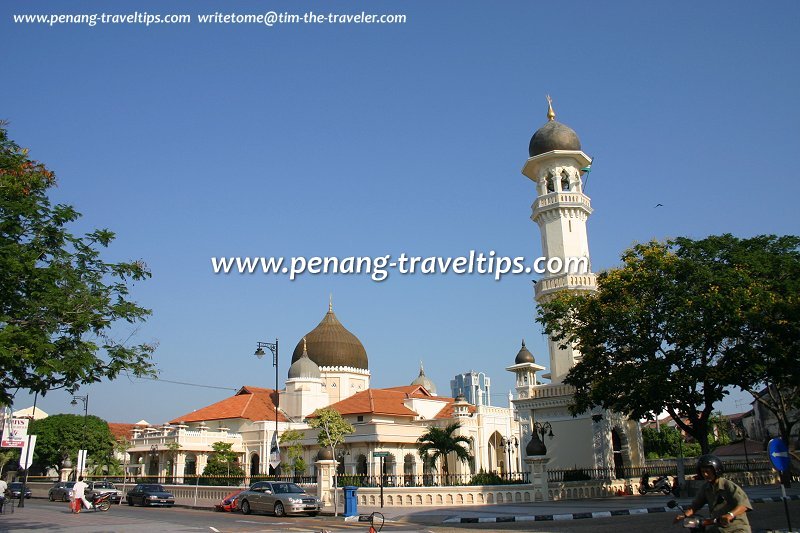 View of Kapitan Keling Mosque from Pitt Street
(29 January, 2005)


Getting there
Using the
Weld Quay Ferry & Bus Terminal
as starting point, cross Pengkalan Weld using the pedestrian bridge. Turn left and walk along Pengkalan Weld until the junction of Gat Lebuh Chulia. Turn right into Gat Lebuh Chulia. Walk along Gat Lebuh Chulia. At the junction with Lebuh Pantai, Gat Lebuh Chulia becomes Lebuh Chulia. Continue along Lebuh Chulia until the junction of Jalan Masjid Kapitan Keling. Cross Lebuh Chulia, then cross Jalan Masjid Kapitan Keling. Now turn left, walk along Jalan Masjid Kapitan Keling until you see the Kapitan Keling Mosque on your right. This entrance at Jalan Masjid Kapitan Keling used to be a side entrance; the original main entrance is at Lebuh Chulia.
What to see and do
Admire the Indian Muslim architecture. Take note that the mosque underwent a makeover in the 1930's which radically altered its appearance. Take note that the worship hall is out of bounds to non Muslims. Take photograph of the mosque and its minaret.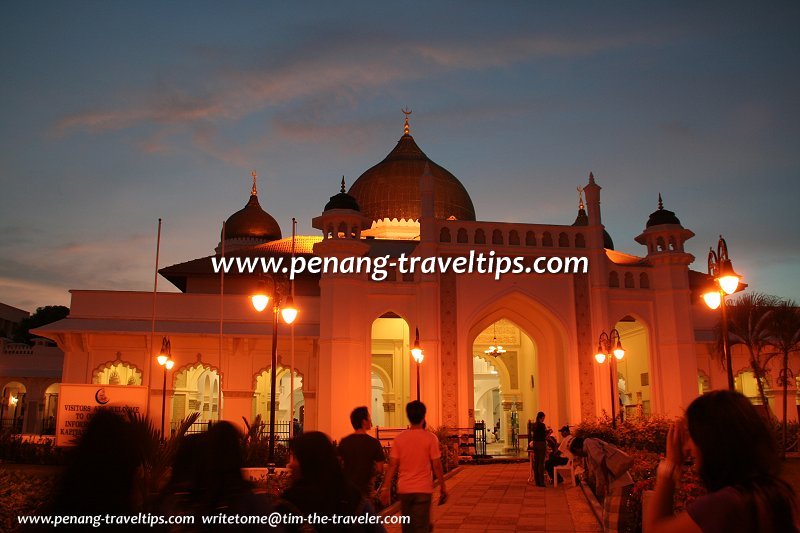 Kapitan Keling Mosque at dusk
(25 July, 2009)

Nearby Sights
Masjid Kapitan Keling is located within the core zone of the George Town Unesco World Heritage Site. There are numerous sights around it that you can also visit. Their location is reference to the Jalan Masjid Kapitan Keling entrance of the mosque. Among them: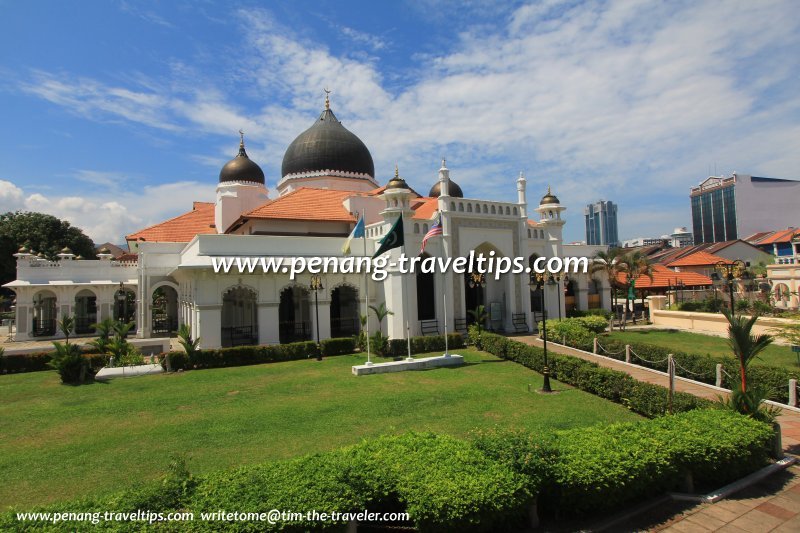 Masjid Kapitan Keling
(25 January, 2013)

The Kapitan Keling Mosque is on the map of Pitt Street
My Latest Pages & Updates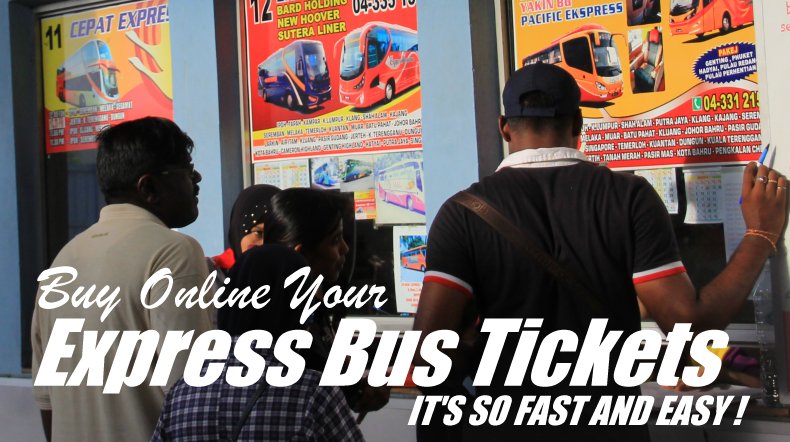 Penang Travel Tips is supported by Agoda
I am able to provide you free information on a continuously growing number of places due to the great support I receive from my web partner, Agoda. I am happy to develop a partnership with Agoda as it is the most reliable and stable hotel booking engine in this region. If you wish to support this website, the next time you book a hotel room on Agoda, please do it via a link on Penang Travel Tips. Every booking received translates into commission that funds this website and make the information available free to you.
You can search for a hotel room on Agoda right here.
Compare room rates with HotelsCombined
To check which booking engine offers the best rate, use
HotelsCombined
.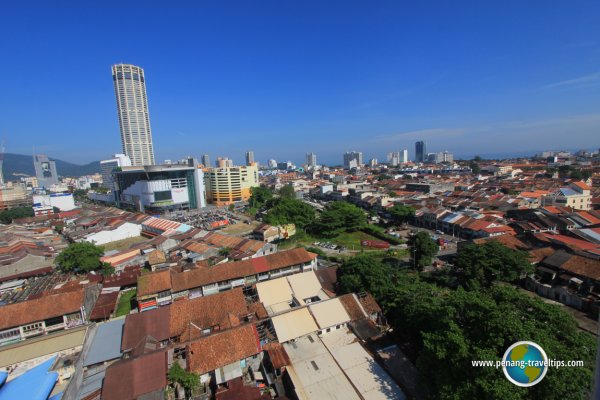 You are visiting Penang soon and you are excited to make it a memorable trip. But you have many questions - how to take the bus, where to get a taxi, which hotel to choose. I have received these questions over and over. To help you enjoy a wonderful holiday in Penang, I have put together a list of articles I have written on this subject. Please read through them. I am sure there is something useful to answer the questions you may have.
Enter
You have explored Penang with me, now explore with me the capital of Malaysia!
Enter
Even more sights to discover on Penang Travel Tips!
There's thousands and thousands of sights waiting for you to explore and discover. Here are just some of them!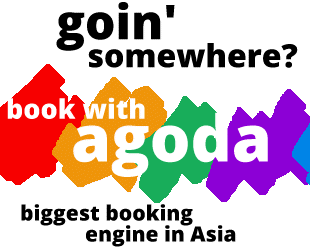 Buy Your Long-Distance Bus Tickets Here!
If you are planning to travel Malaysia and Singapore by bus, you can now purchase your long-distance bus tickets directly from
Bus Online Ticket
, where you get to check the schedule as well as price of tickets from various bus companies.
About me
Hello and welcome to my website, Penang Travel Tips, yay! I created this website to share with you everything I know about Penang. I hope that you will find the information useful, whether you are planning your visit or planning to stay long term in Penang. Penang Travel Tips is one of my three main websites, the others being
Exploring Malaysia
and
Big World Out There
.
My name is
Timothy Tye
or simply Tim. As a Christian, I write these websites so that
God's Good News
can reach every corner of the world and connect with those needing it.
To know more about me, do visit my personal website,
www.timothytye.com
. If you with to contact me, you can reach me
here
. Thank you for visiting, and have a great day!
Social Media Presence
To interact with me, join any/all of my Facebook Groups:
Penang Travel Tips
,
Exploring Malaysia
,
Big World Out There
, My Little Bookshelf,
Learn Penang Hokkien
,
Penang Street Art
,
Penang Hawker Food
,
Penang Restaurant Food
,
Masa Masak
,
Penang Residential Properties
and
Armchair Traveler
.
Disclaimer
I try my best to provide you the latest and most accurate information. However, please bear in mind that details change all the time, often before I have the chance to update them. Therefore, I would always encourage you to phone in and re-verify the information. I do apologize if the information I provide to you turns out to be inaccurate or outdated, and I would be most grateful if you would could help to
update me
should you discover the right information. Your feedback helps other users.
Using the information on this website
You are allowed to make print outs of any pages to carry with you, for your own personal use. You are free to reference and link to any pages of this website from your blog/website without seeking my permission. You are NOT ALLOWED to copy and paste, word-for-word, the content of this website into your own blog or website. Photos bearing my copyright may only be used with my permission. Other photos bear licenses that have to be observed accordingly.
Contact me here
.

Copyright © 2003-2016
Timothy Tye
. All Rights Reserved.