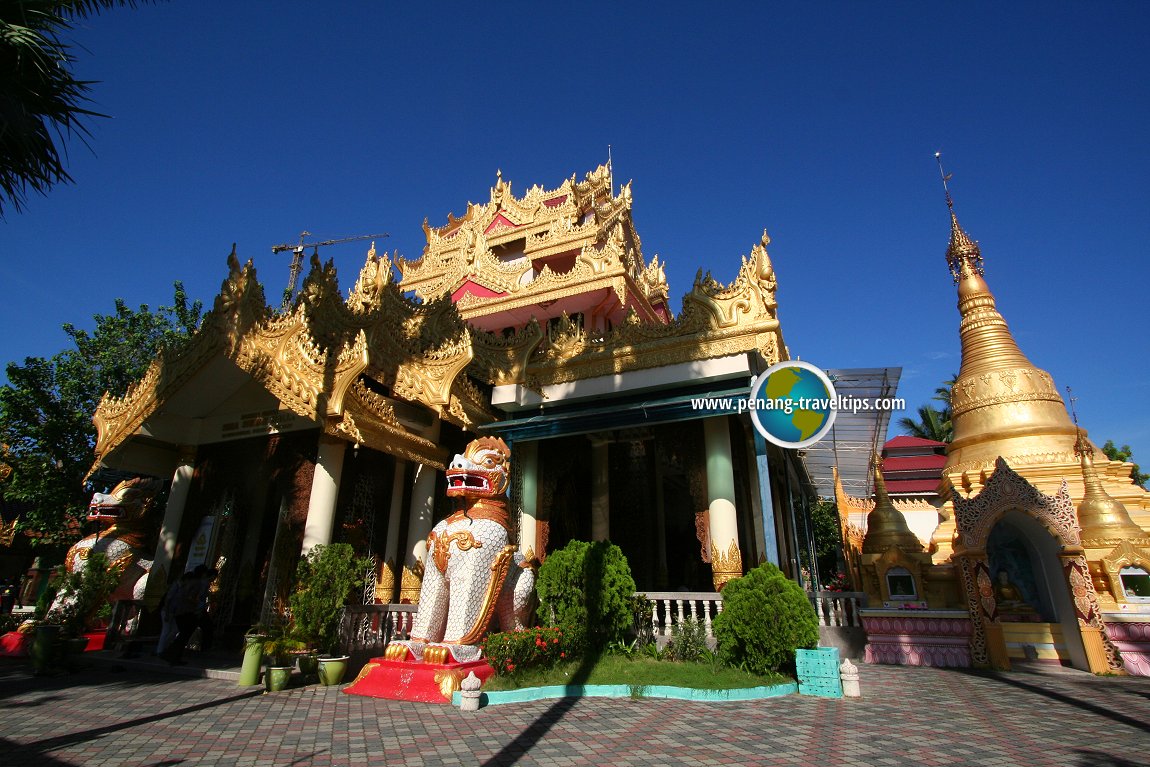 Dhammikarama Burmese Buddhist Temple, Burmah Lane, Penang
(7 June, 2009)


The
Dhammikarama Burmese Buddhist Temple
in Burmah Lane,
Pulau Tikus
,
George Town
, is the only Burmese Buddhist temple to be built in Penang.
Originally known as the Nandy Molah Burmese Temple, the Dhammikarama Temple was built in 1803, on land donated by Nyonya Betong, one of its many woman patrons. She purchased the land from one George Layton for 390 Spanish dollars (the common currency at that time). The site was off the coast of
Teluk Ayer Rajah
, a bay that gave its name to the
Ayer Rajah area
stretching from the coast to present-day
Western Road
.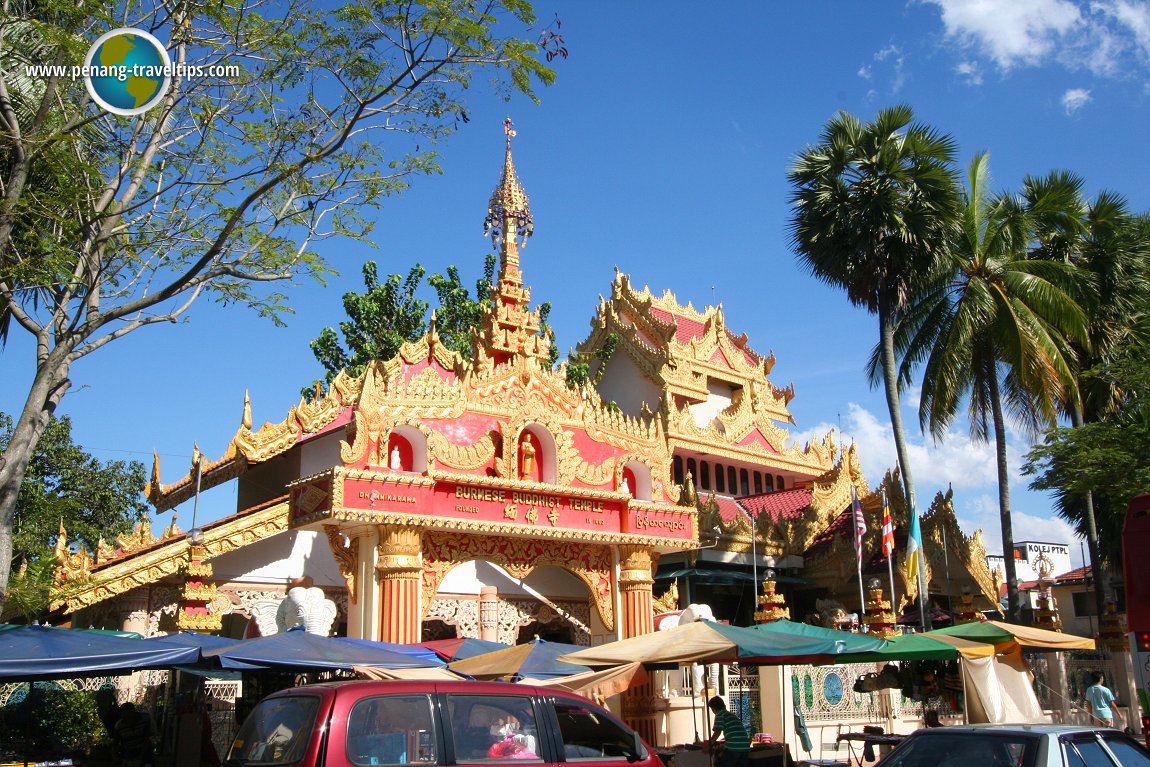 Entrance arch, Dhammikarama Burmese Temple
(7 June, 2009)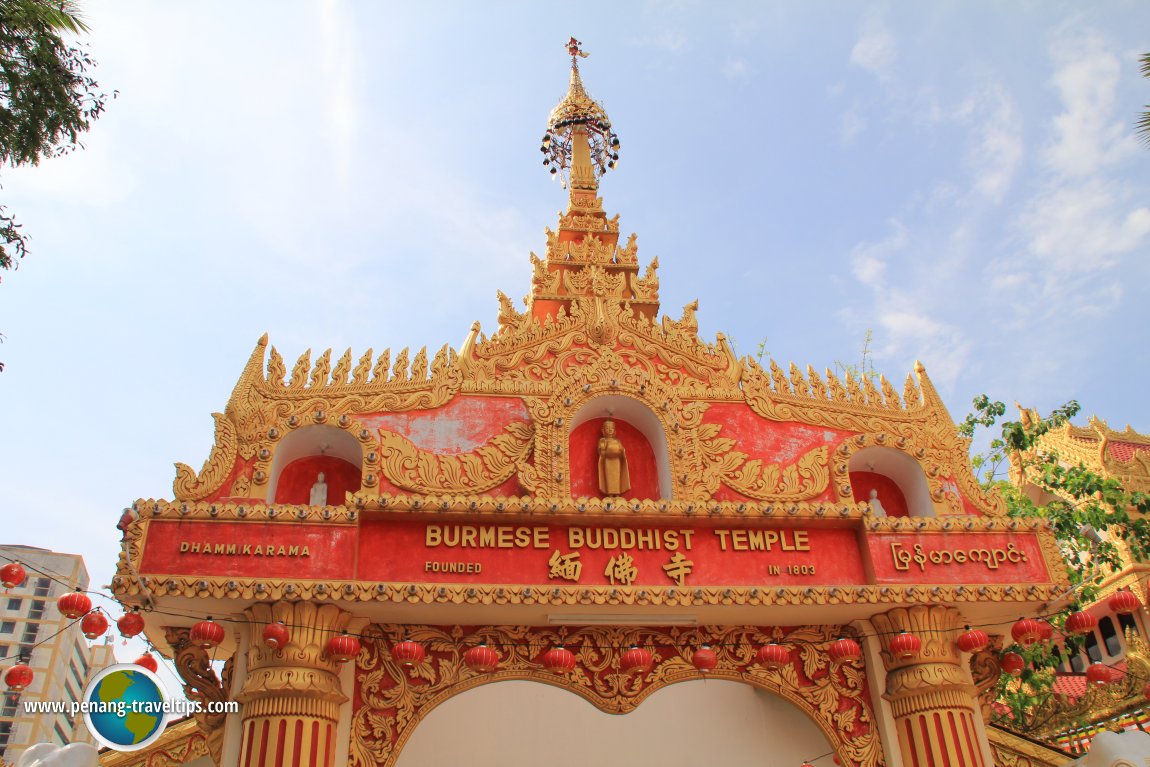 Dhammikarama Burmese Temple
(10 May, 2011)

There was a Burmese settlement in Ayer Rajah known as Kampung Ava. Separately, when the Eurasians came over from 1810 onwards, and populated the area which they called
Pulau Tikus
, they also created their own village, called Kampung Serani, around the
Church of the Immaculate Conception
.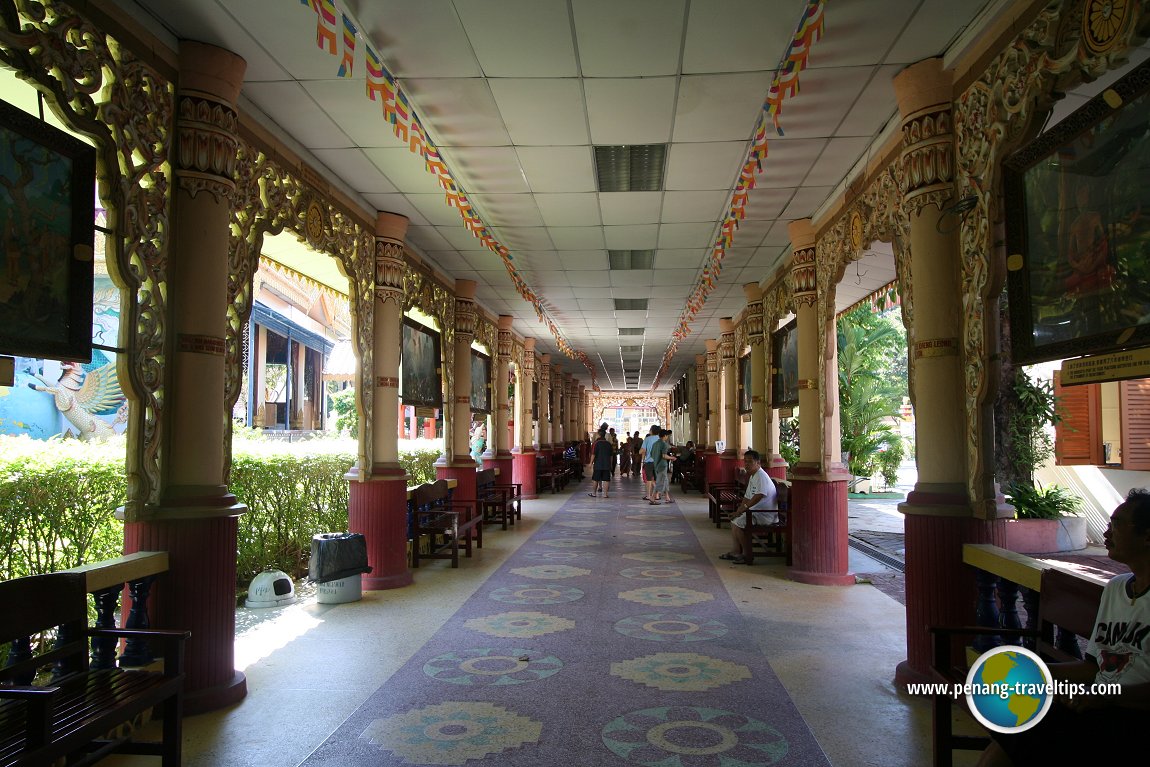 The Grand Corridor, main passageway to the main hall of Dhammikarama Burmese Temple
(7 June, 2009)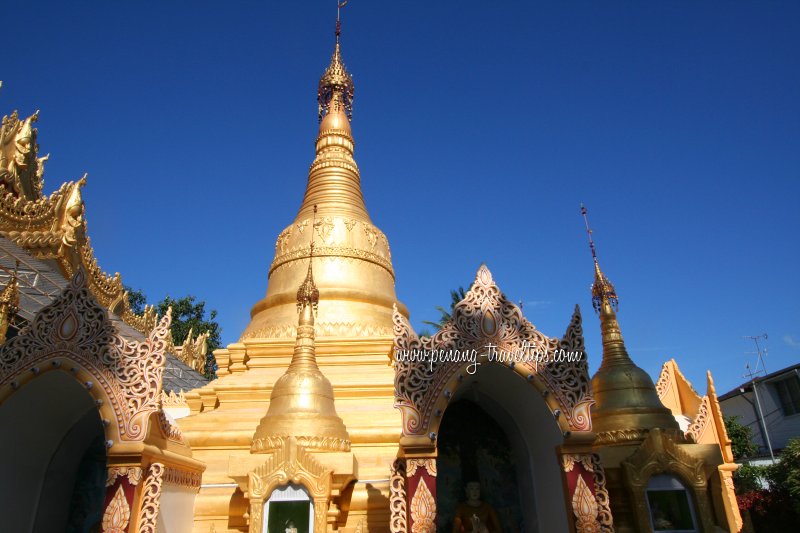 A chedi at Dhammikarama Burmese Temple
(7 June, 2009)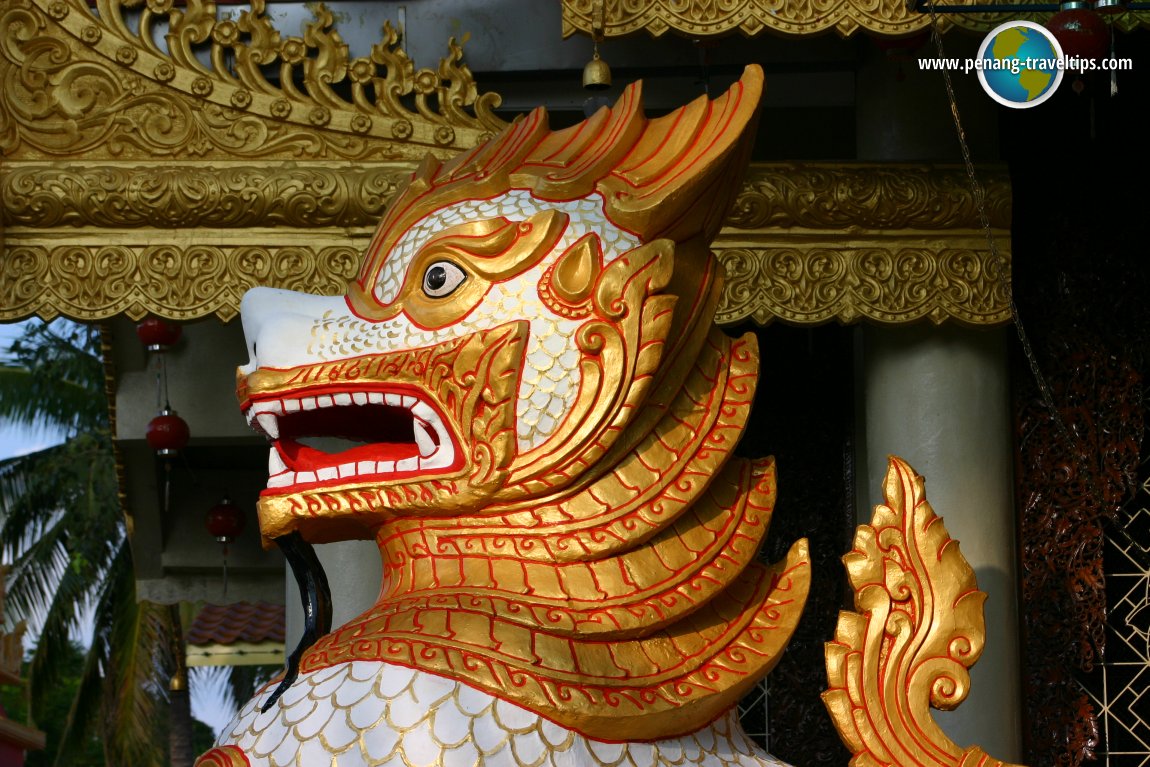 The chinthe, the mythical guardian lion-dog of Burmese temples
(18 December, 2003)

The oldest part of the temple is the stupa which was consecrated in 1805. It is enshrined within an outer stupa which was constructed in 1838, together with the ceremonial hall guarded by a pair of stone elephants.
Mythical figures and religious icons dot the spacious compound, much of which were later additions. Among them are bell-bearing acolytes, myriad buddhas, chimeras and flying beings. Two huge and imposing-looking
chinthes
(mythical beings that are a cross between a dragon, a dog and a lion) flank the entrance to the main prayer hall. At a disused 200 year-old well is a huge pond filled with carps. Buddha statues in different meditative poses nestle in grottos marked with the names of individual donors as well as signs of the zodiac. A pair of winged chimeras called Panca Rupa look resplendent in the roles as "Guardian Protectors of the World."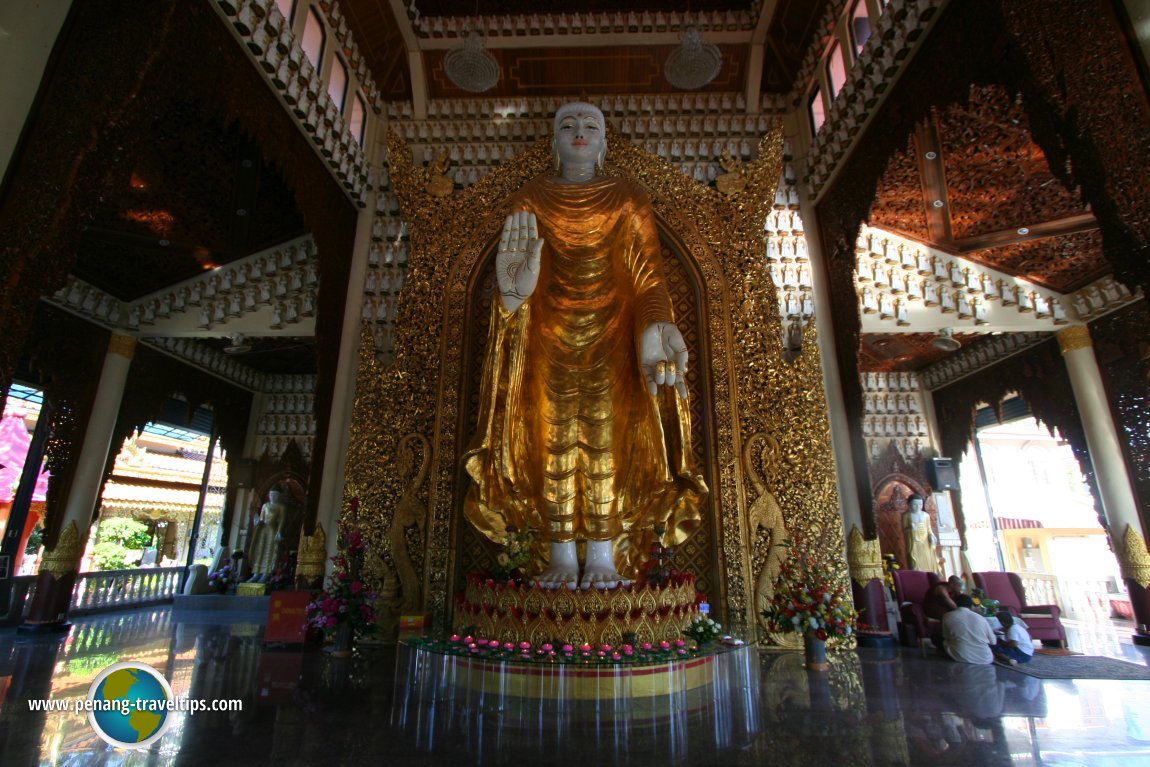 The main Buddha image at the Dhammikarama Burmese Buddhist Temple
(7 June, 2009)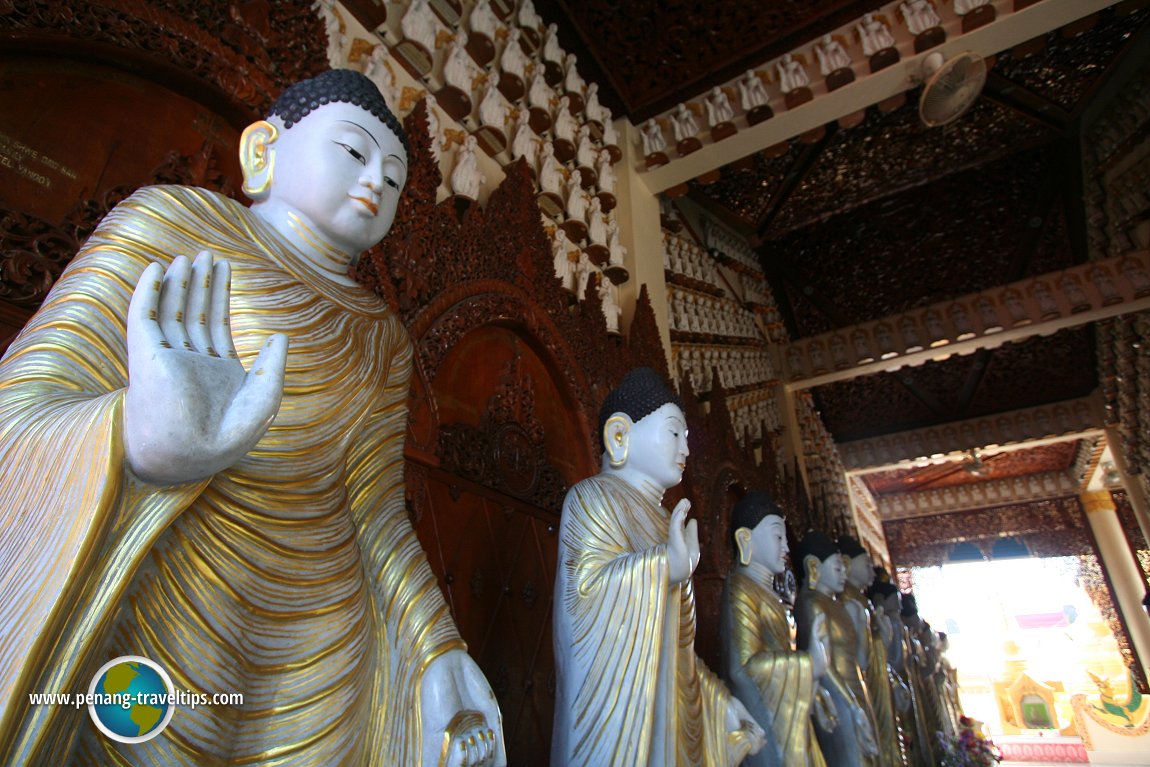 Styles of Buddha images from various countries
(7 June, 2009)

A huge mural depicts the Great Renunciation of Prince Siddharta. The future Buddha is shown riding his steed Kanthaka in mid-air with his faithful servant Channa seemingly hanging on. Evil beings try to discourage him from his noble quest while good ones welcome him with open arms.
At the main prayer hall, voices are reduced to a whisper and the silence is broken only by the occasional ringing of temple bells. The latest addition to the Dhammikarama Buddhist Buddhist Temple is the
Golden Pagoda Bell Tower
which was opened to the public on 15 May, 2011.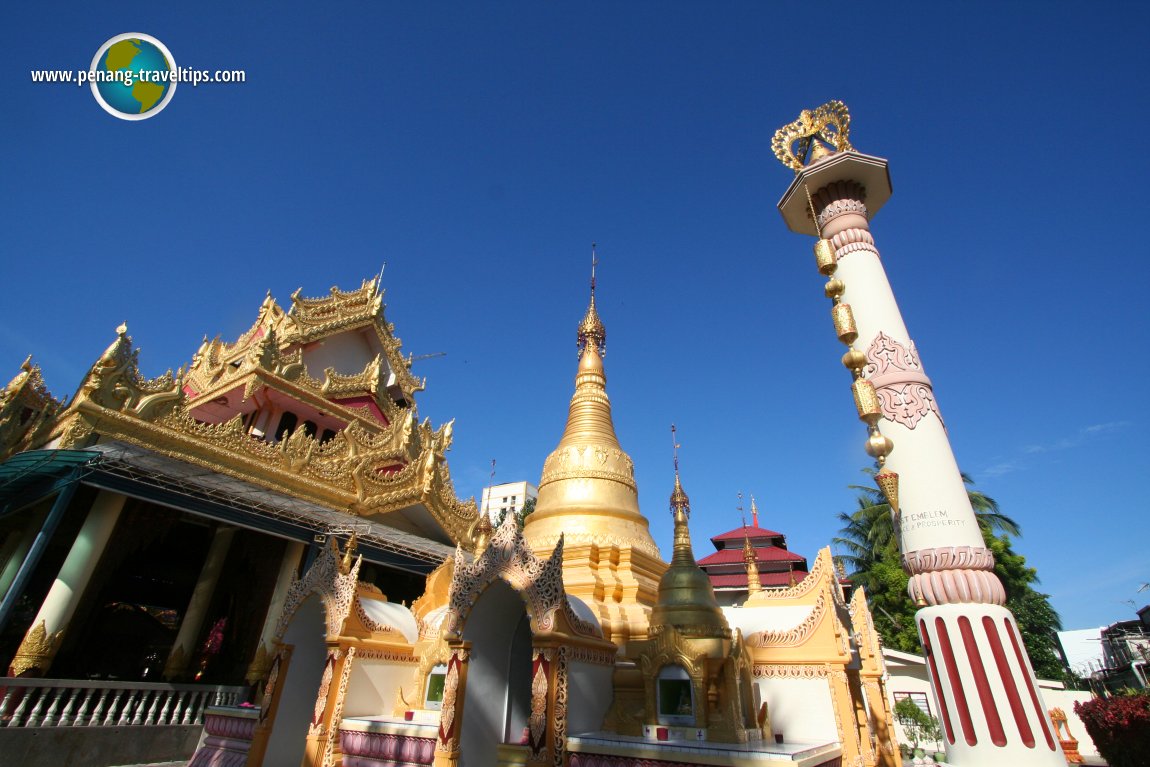 Column signifying the Buddhist emblem of peace and prosperity
(7 June, 2009)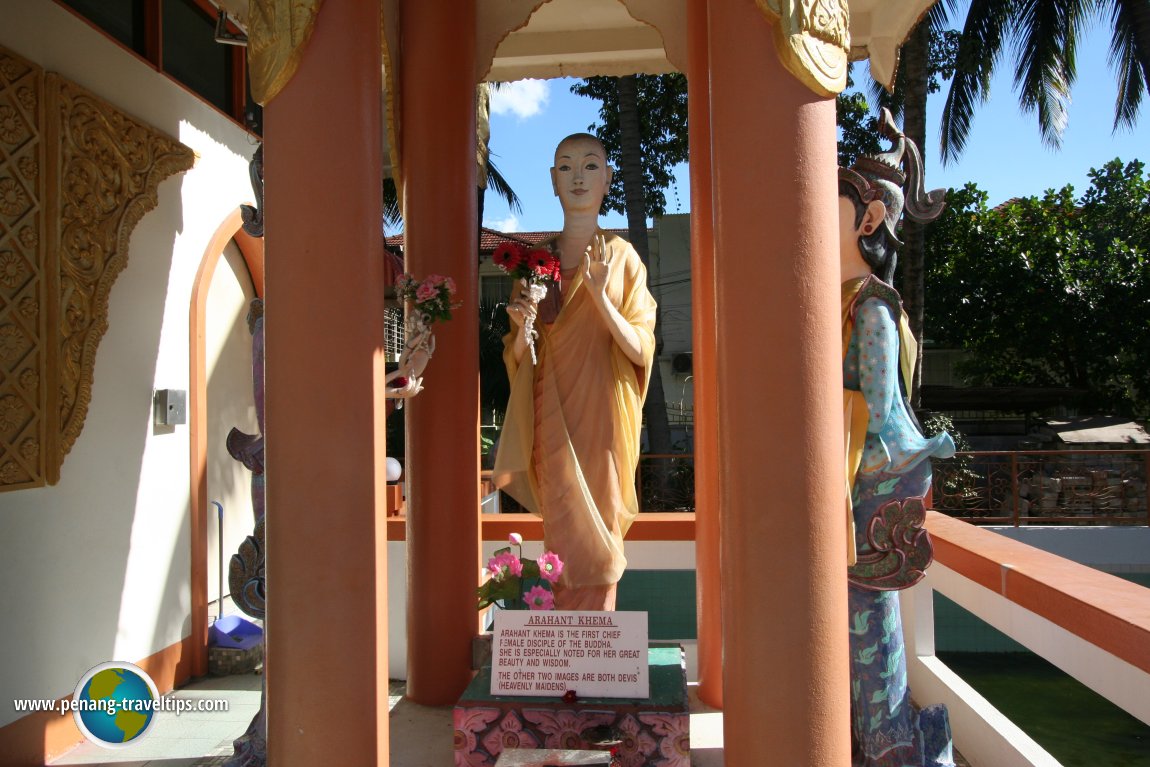 Statue of Arahant Khema, the first chief female disciple of Buddha
(7 June, 2009)

Dhammikarama Burmese Temple on Google Maps Street View
Going to Dhammikarama Burmese Buddhist Temple by public transport
Take any bus that passes through Burmah Road or
Kelawei Road
. From either of these, walk from bus stop to Burmah Lane to reach Wat Chaiyamangkalaram. Buses to take include
Rapid Penang
101
, 103 and 104. You should also plan to visit
Wat Chaiyamangkalaram
across the road.
Arahant Upagutta
The Arahant Upagutta pavilion is a shrine dating back to 1840. Originally of modest construction, it has since been reconstructed a number of times, the latest being in 1976. The pavilion enshrines the image of Arahant Upagutta, a spirit being believed by the devotees to have powers for fulfilling wishes and exorsicing evil.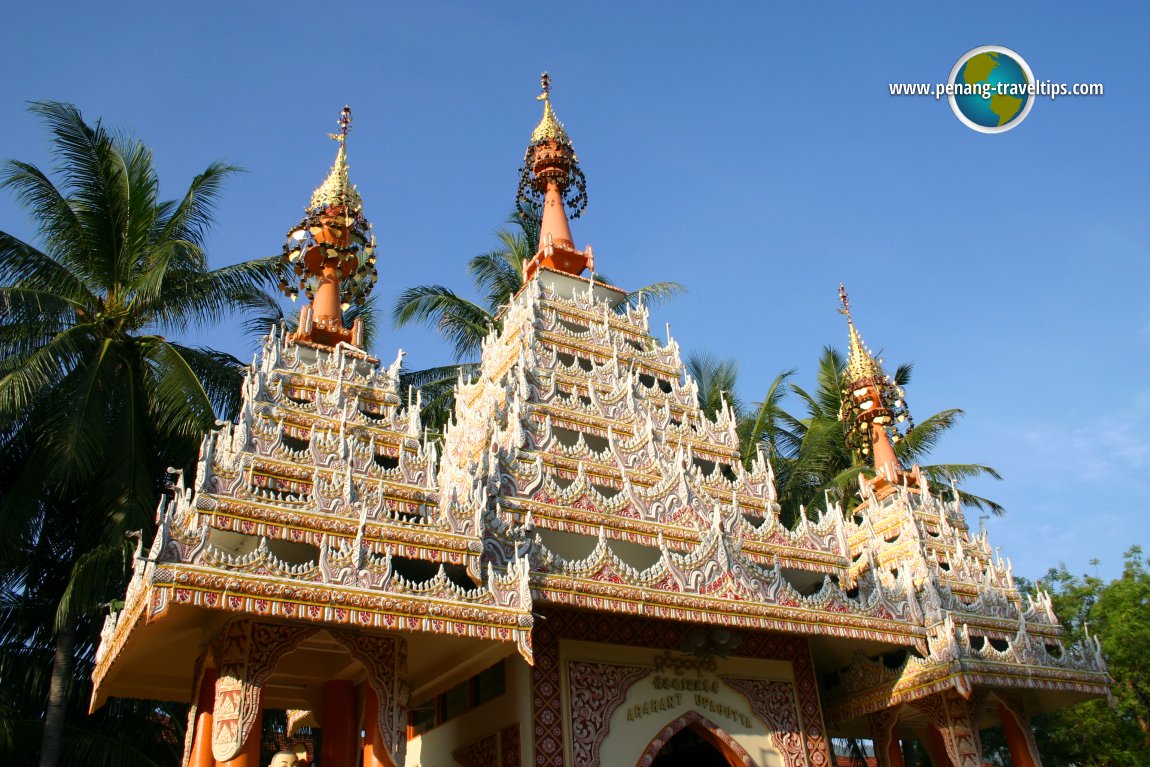 Spires of the Arahant Upagutta pavilion
(15 February, 2004)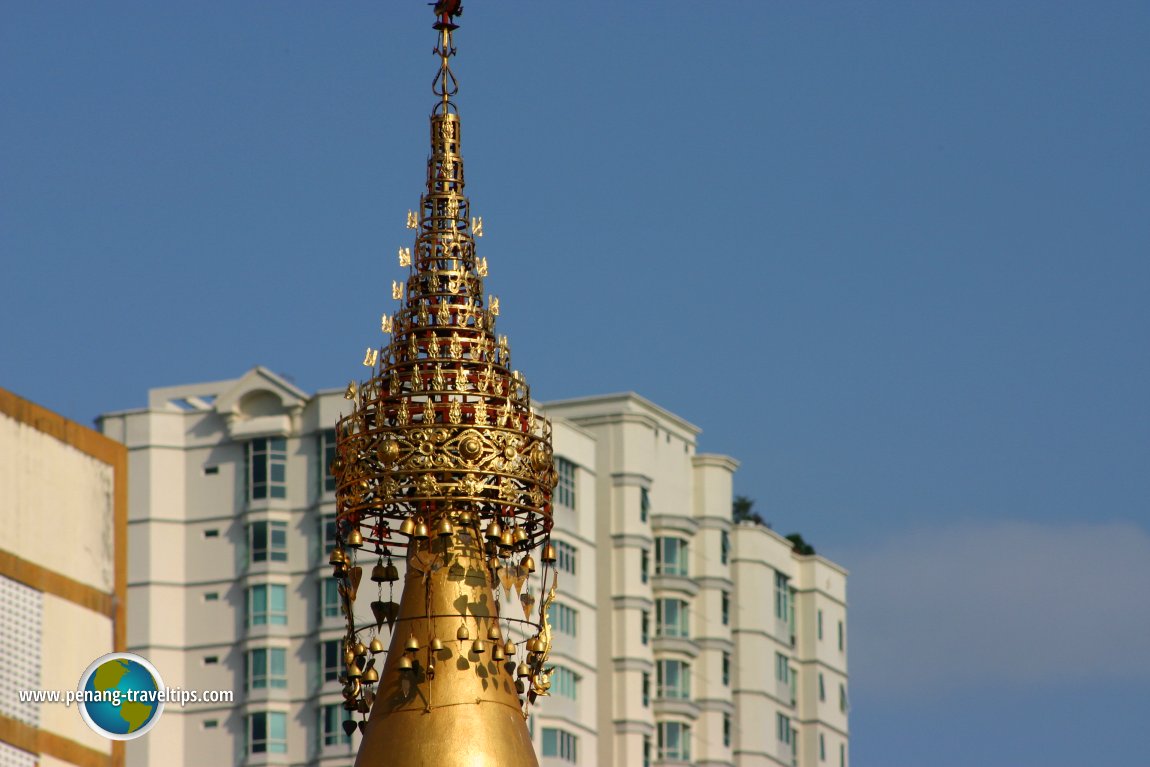 Hti, a finial ornament at the top of a Burmese spire at Dhammikarama Burmese Temple
(18 December, 2003)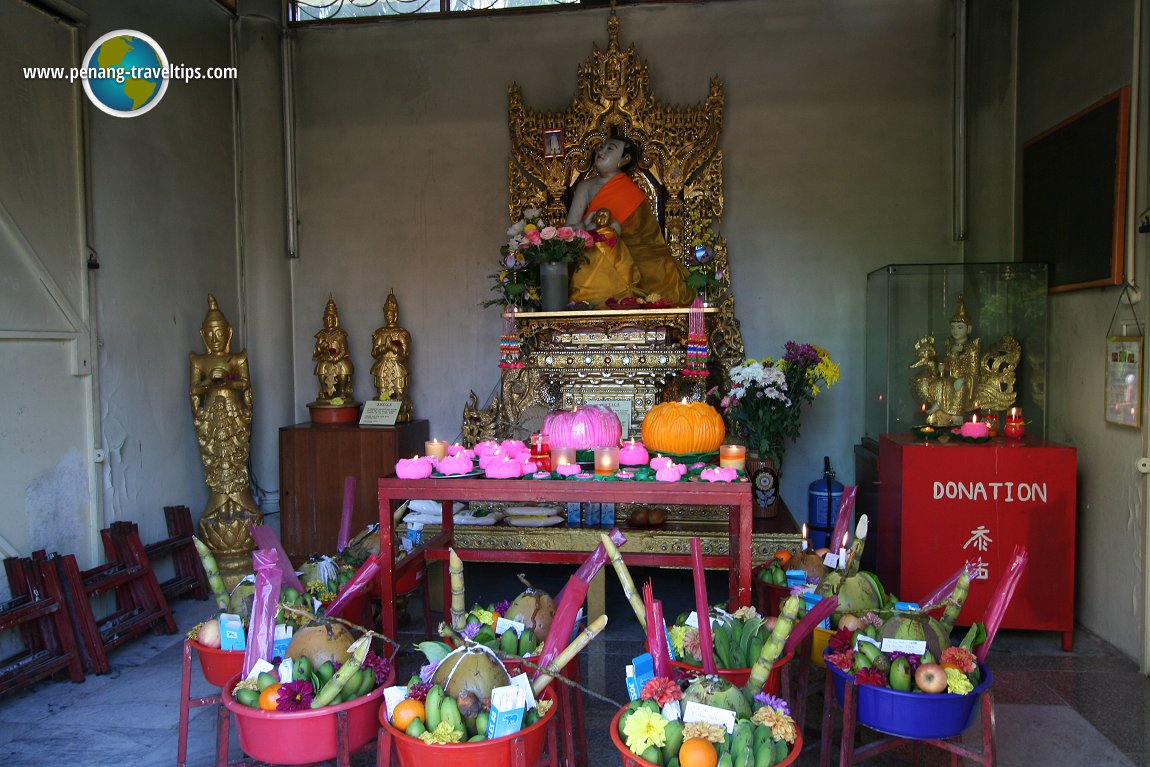 Offerings to Arahant Upagutta
(7 June, 2009)

Temple Well
The well within the ground of Dhammikarama Burmese Temple dates back to the early 19th century, when the temple was the nucleus of a Burmese settlement in the area. The well used to serve the community before there was piped water.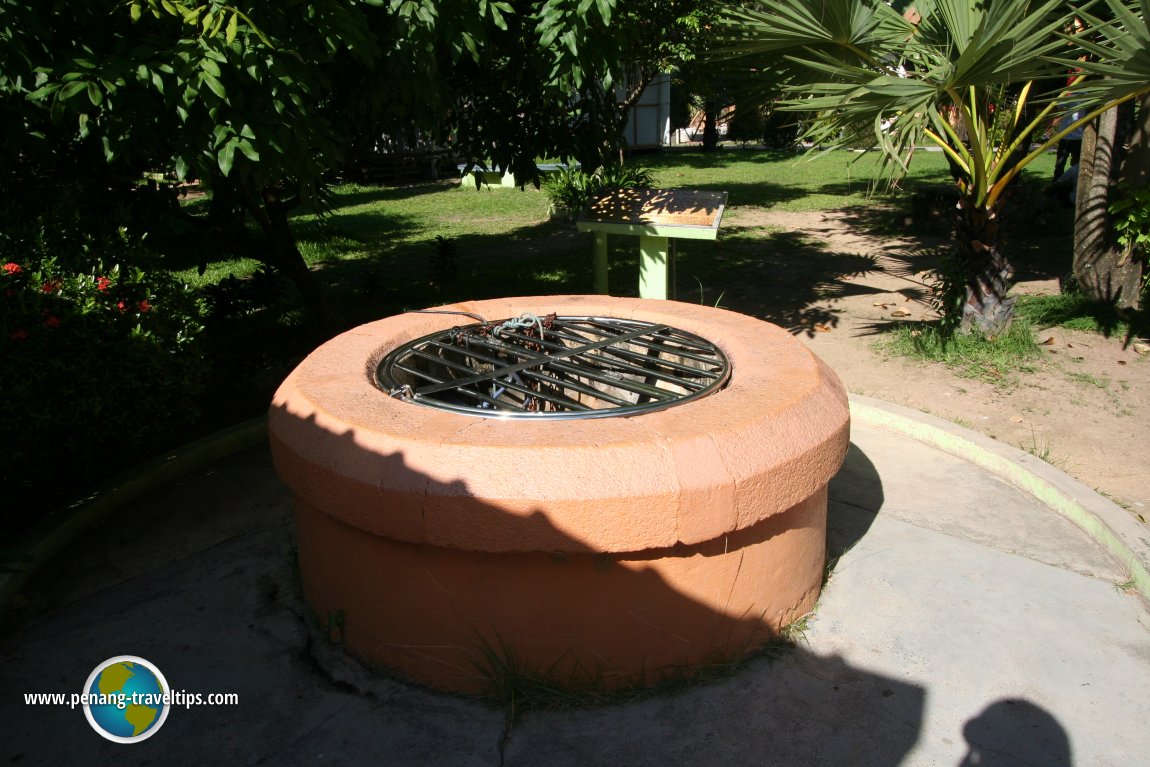 Dhammikarama temple well
(7 June, 2009)

Memorial Chedi
This chedi was erected in memory of the venerable U Jagara. Born in Tavoy, Burma in 1882, he served as Chief Monk of the Dhammikarama Burmese Temple for 35 years, from 1922 until his demise in 1957.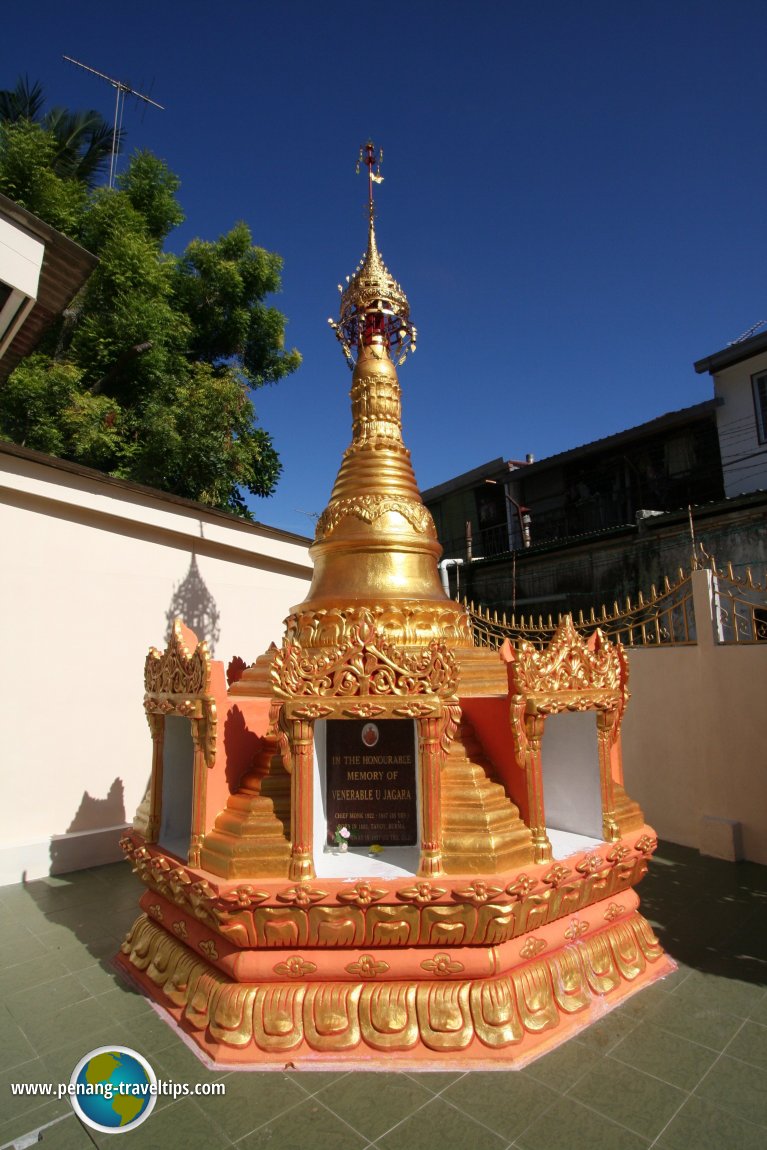 Dhammikarama memorial chedi
(7 June, 2009)

Great Renunciation of Siddhartha Gautama
This is a mural depicting how Prince Siddhartha Gautama renounced his worldly possession for the life of as ascetic. Heavenly beings, or
devas
, provided him encouragement while demons, or mara, attempted to dissuade him.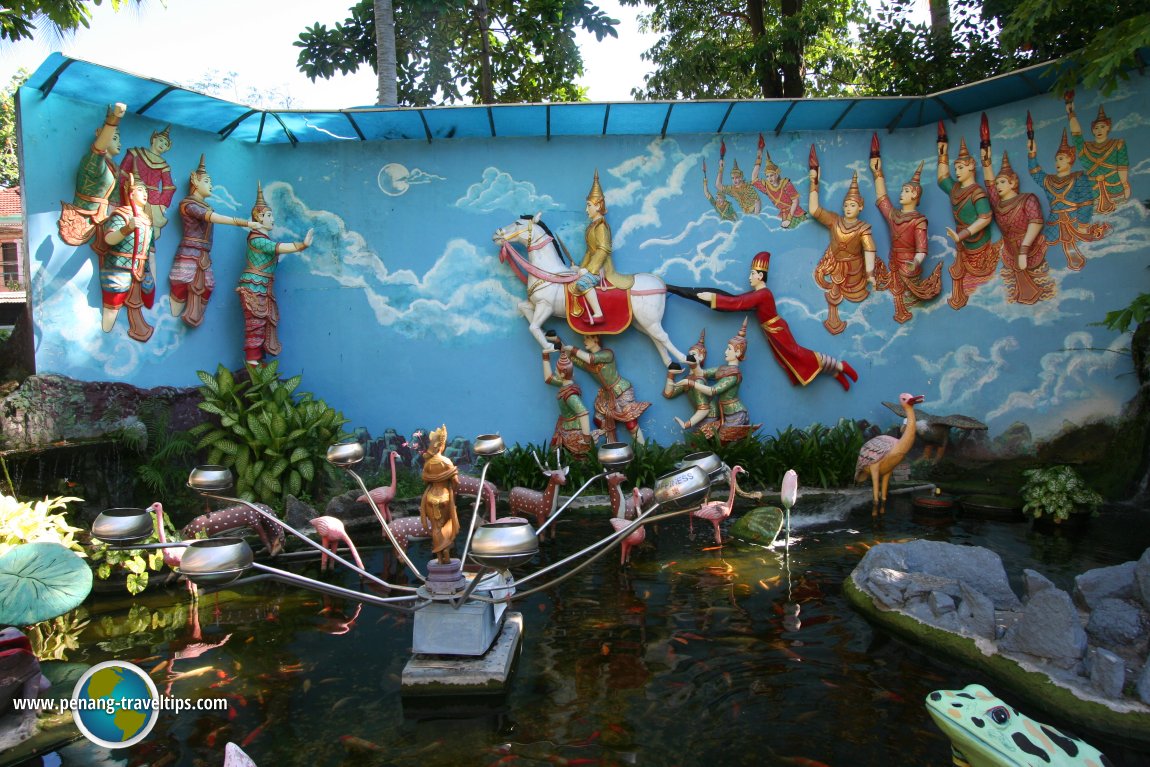 Mural of the Great Renunciation of Siddhartha Gautama
(7 June, 2009)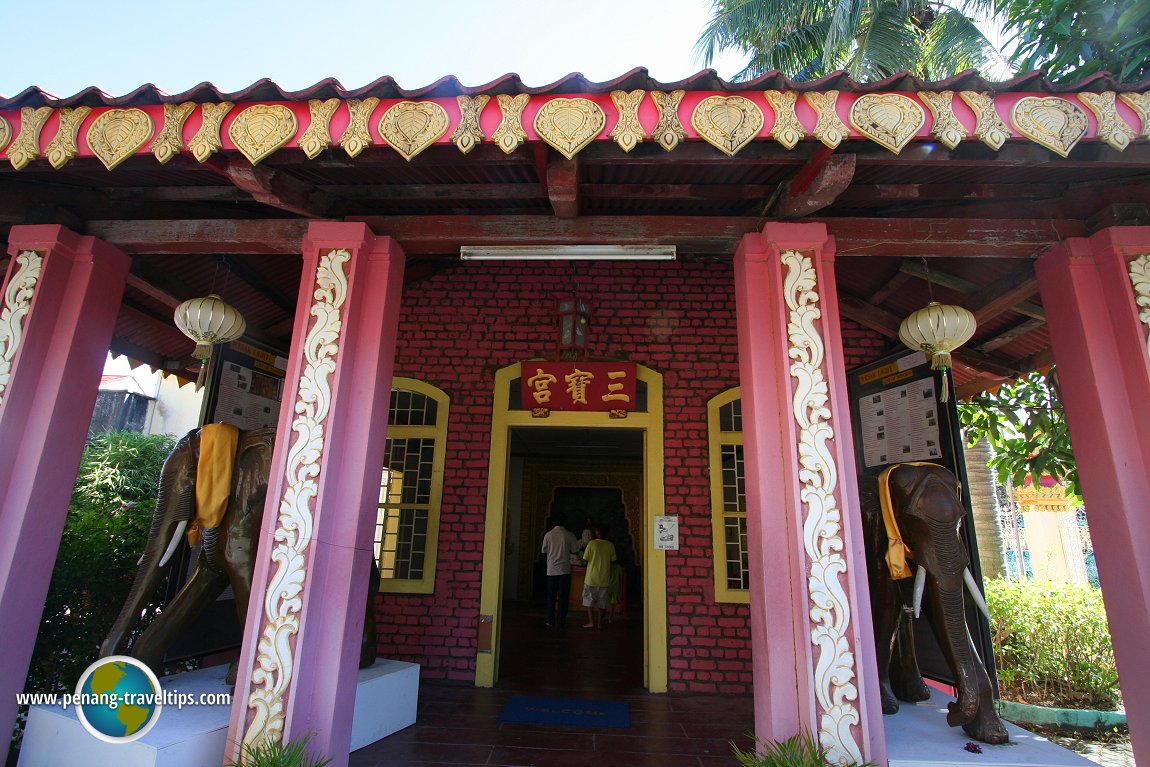 Sam Poh Tong, or Three Jewel Hall, at Dhammikarama Burmese Temple
(7 June, 2009)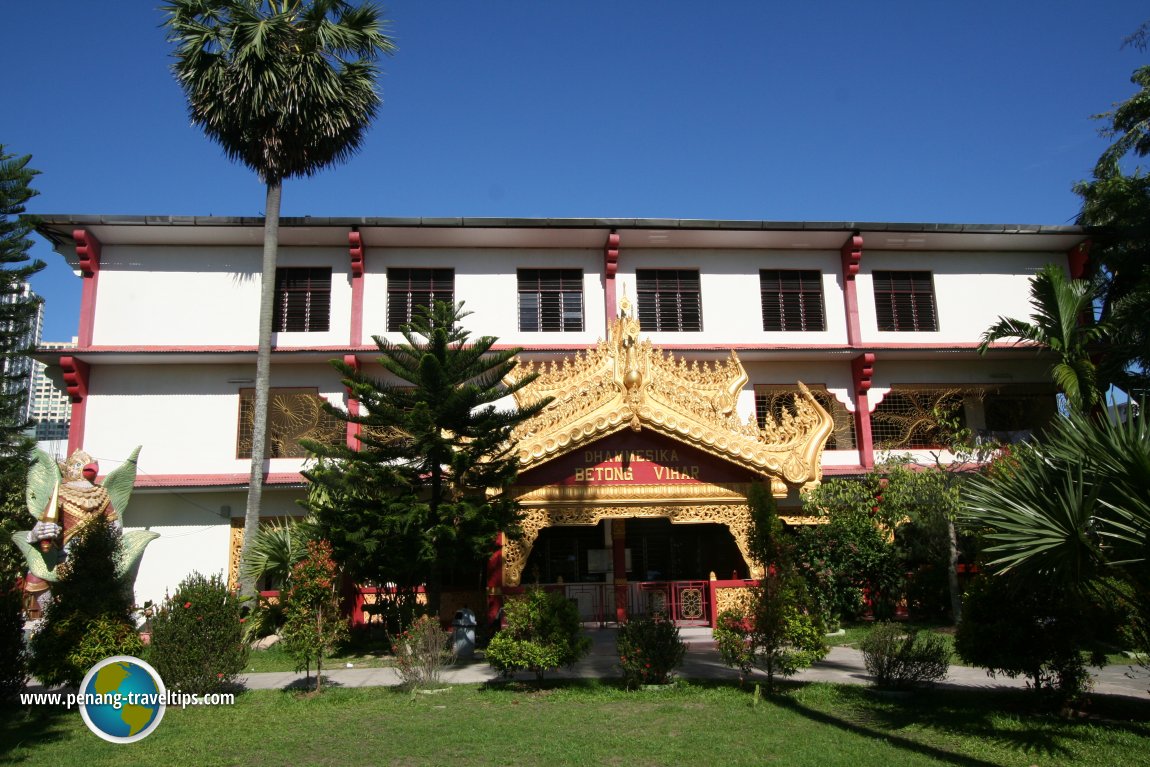 The Dhammesika Betong Vihar, a hall at the rear of the temple
(7 June, 2009)

Location of Dhammikarama Burmerse Temple on the map
Operating a business in Penang? Add your business to this website for free !
If you operate a business or shop in Penang, let more people know about you by adding your business to this website. All you need to do is to send me an email about your business, stating where exactly it is located, its address, phone number, business hours, and if possible, attached a few large-size photographs of your shop, the outside and the inside, and send to me at
penangtraveltips at gmail dot com
. When I have put up your information into my directory, I will send an email back to inform you. I reserve the right not to include any business I don't find appropriate for my website, but anything that I add to my directory is done free of charge.
Coming to Penang? Get your hotel room from Agoda!
Going somewhere? Book your bus tickets here!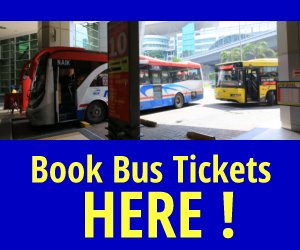 Latest Pages & Updates on this website
Advertise on this website
This website receives some 2 million page views per month. You may place banner ads on specific pages or all pages of these website, offering necessary exposure to your business. Advertisement rates depend on location of ad, type of page of ad placement, or placement across the whole website on all pages. Ads contract can be for one month, six months or a year, renewable on expiration. We have to negotiate on a case by case basis.
Contact me here.
Having a computer issue?
In order to enjoy my website, your computer needs to be running smoothly. It needs to be able to display Google Maps and Google Street Views, so that all the information I provide can reach you in the state I intend it to. If for some reason your computer isn't performing up to satisfactory level, I can send a technician to visit you, to help you address the problem, if you live anywhere on Penang Island. Please note that there is a minimum service charge of RM50 for home visits, which is waived if there are chargeable services provided. To contact a technician to take a look at your computer issue,
complete this form
.
The Travel Tips Made In Penang
My Social Media Presence
To interact with me, LIKE my
Penang Travel Tips FB Page
and
Places To Go FB Page
, and join any/all of my Facebook Pages and Groups including
Penang Travel Tips FB Group
,
Exploring Malaysia
,
Big World Out There
,
My Little Bookshelf
,
Learn Penang Hokkien
,
Penang Street Art
,
Penang Hawker Food
,
Penang Restaurant Food
,
Masa Masak
,
Penang Residential Properties
and
Armchair Traveler
.
Disclaimer
I try my best to provide you the latest and most accurate information. However, please bear in mind that details change all the time, often before I have the chance to update them. Therefore, I would always encourage you to phone in and re-verify the information. I do apologize if the information I provide to you turns out to be inaccurate or outdated, and I would be most grateful if you would could help to
update me
should you discover the right information. Your feedback helps other users.
Using the information and photos on this website
You are allowed to print out any page of this website to carry with you on your travels, for your own
personal use
. You may reference and link to any page of this website from your blog/website without seeking my permission. You are NOT ALLOWED to copy and paste, word-for-word, the information of this website into your own blog or website. Photos belonging to me (those captioned © Timothy Tye) may only be used with my permission. Photos belonging to other people bear licenses that have to be observed accordingly.
Contact me
to seek permission or to ask a question.