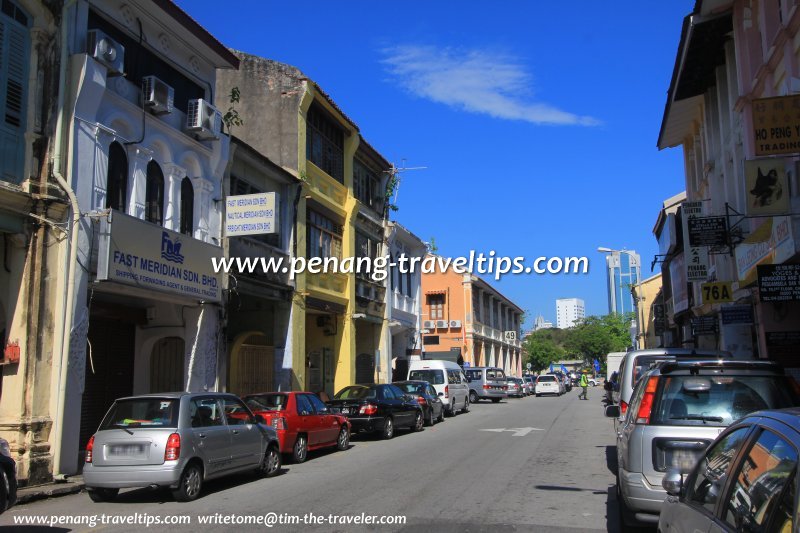 Church Street, George Town
(11 February, 2013)

Church Street
, or
Lebuh Gereja
, is one of the streets within the core zone of the
George Town Unesco World Heritage Site
. Located within the Commercial District of 19th century George Town, it is one of the early streets to be laid in the town, and has appeared in the Popham Map of 1798.
The name Church Street was derived from the Catholic Missionary Church which was established by Father Arnold Garnault, who arrived with a group of Roman Catholics from Kuala Kedah to settle in Penang. They were invited over by
Captain Francis Light
himself. Following the clearing of land within the new settlement, the Catholics built their makeshift attap church on the plot bordered by Church Street,
Bishop Street
,
China Street
and
Pitt Street
. The church was only given the name Church of the Assumption when Father Garnault returned to Penang on 15 August 1787, as Bishop Garnault on the Feast of the Assumption, following his Episcopal ordination in Pondicherry, India.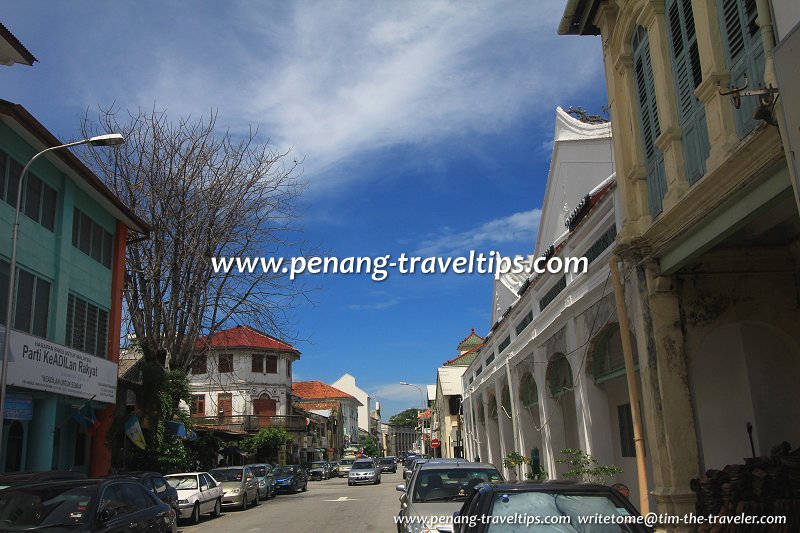 Church Street, George Town, Penang
(25 July, 2012)

The Church of the Assumption on Church Street was demolished in 1857. The present building of the
Church of the Assumption
on
Farquhar Street
was built to replace it.
In the 19th century, Church Street was inhabited by an increase number of Cantonese, who have their district and clan associations at or near it. The Chinese in Penang refer to Church Street as "Ghee Hin Street", as the secret society had its headquarters along Church Street. In late 19th century, around 1890, the Ghee Hin premises were taken over by the rival Hai San secret society, whose leader Kapitan China Chung Keng Kwee built his office, the
Hai Kee Chan
, on the site of the Ghee Hin headquarters, with the
Chung Keng Kwee Ancestral Temple
next to it.
The land reclamation in the later part of the 19th century extended the shoreline outwards. Church Street was extended outward and the new section became known as
Church Street Ghaut
or Gat Lebuh Gereja.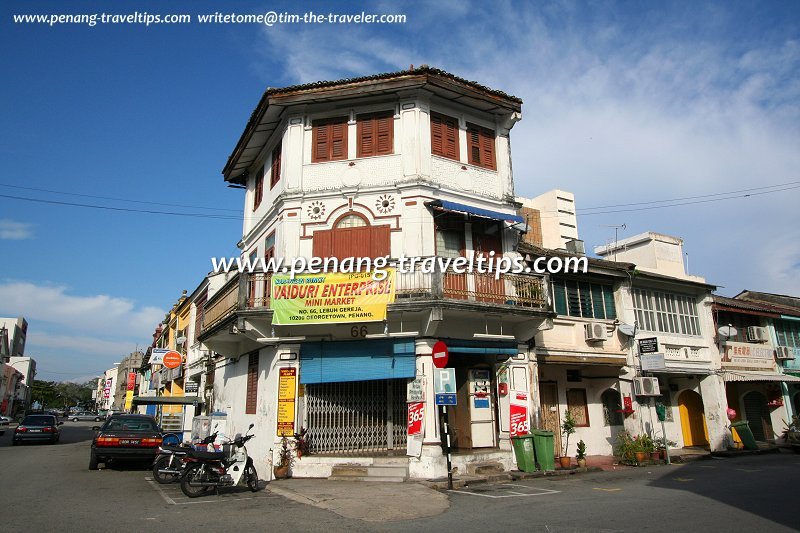 Intersection of Church Street with King Street
(2 November, 2008)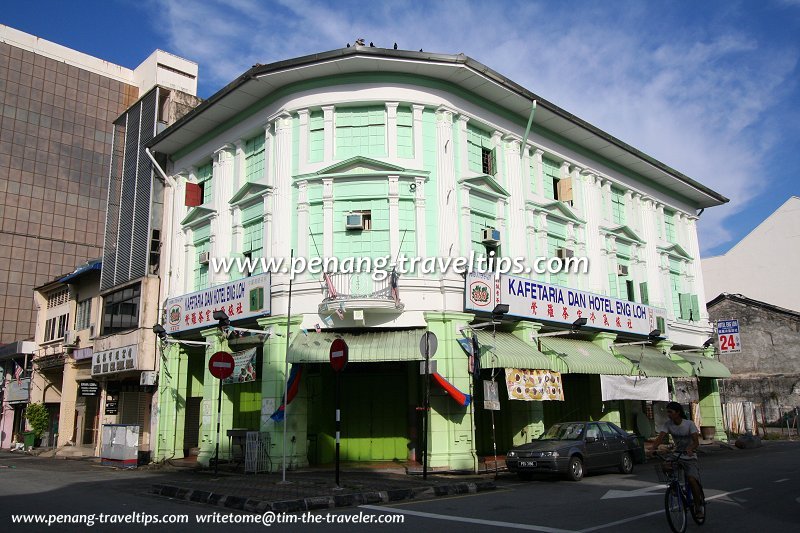 Intersection of Church Street with Penang Street
(2 November, 2008)

Updates
21 September, 2013:
A section of Church Street, between Penang Street and Beach Street is pedestrianized for various activities on Sundays, from 7:00 am to 1:00 pm, as part of the
Occupy Beach Street Project
.
In Other Words ...
Church Street was known in Hokkien as Ghee3 Hin1 Kay1, particularly in the third half of the 19th century to the turn of the 20th century.
Property Numbering
Starting from Beach Street, properties with odd-number addresses are on the left side of Church Street while those with even-number addresses are on the right.
Getting there
From
Weld Quay Ferry & Bus Terminal
, cross Pengkalan Weld and turn right. Walk along Pengkalan Weld until you reach Gat Lebuh Gereja. Turn left into Gat Lebuh Gereja, walk its length. Lebuh Gereja is located across from Gat Lebuh Gereja at the junction of Lebuh Pantai.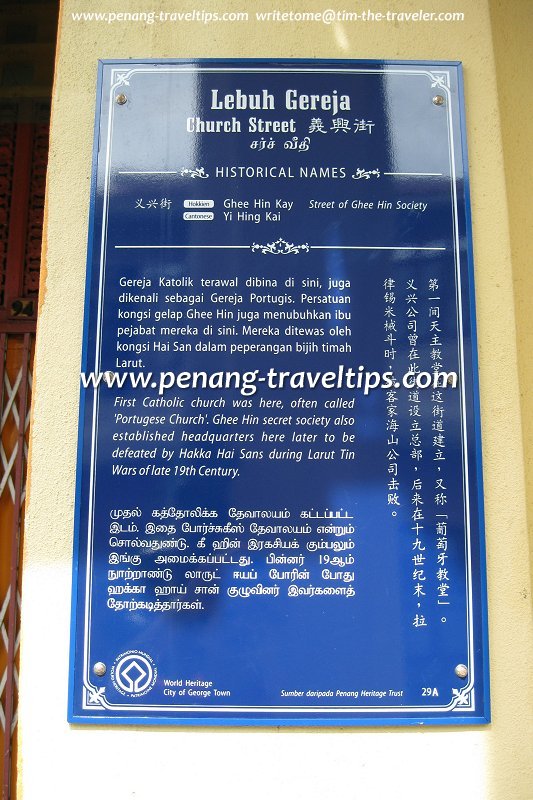 Church Street history plaque
(2 November 2008)

Street Art on Church Street
Sights along Church Street
Accommodation on Church Street
Businesses on Church Street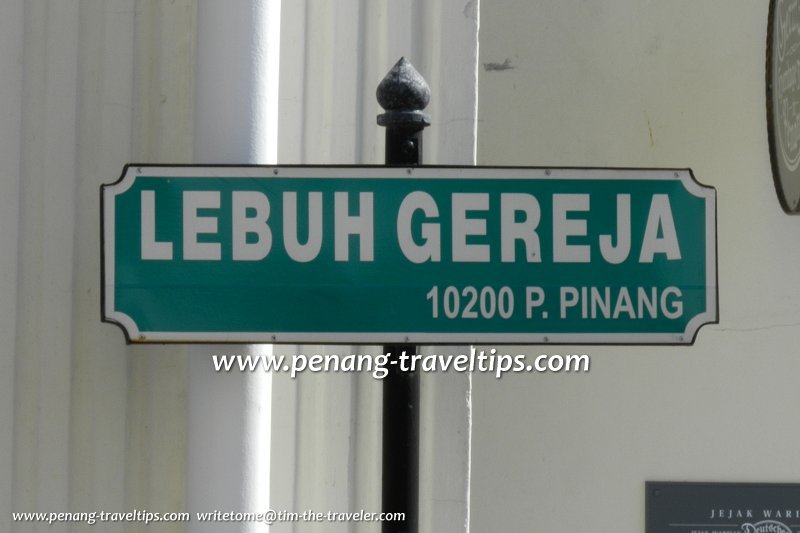 Lebuh Gereja road sign
(11 February, 2013)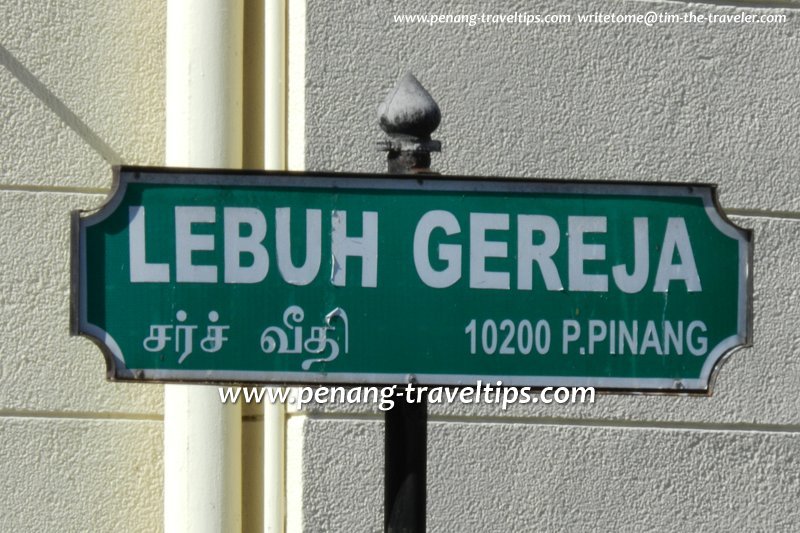 Lebuh Gereja road sign with Tamil subtitle
(11 February, 2013)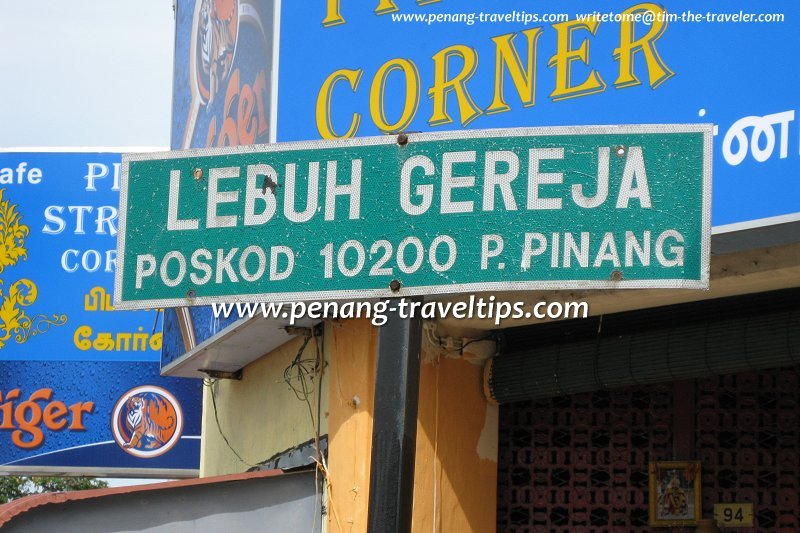 Old Lebuh Gereja road sign
(2 November, 2008)

View
Church Street, George Town, Penang
in a larger map