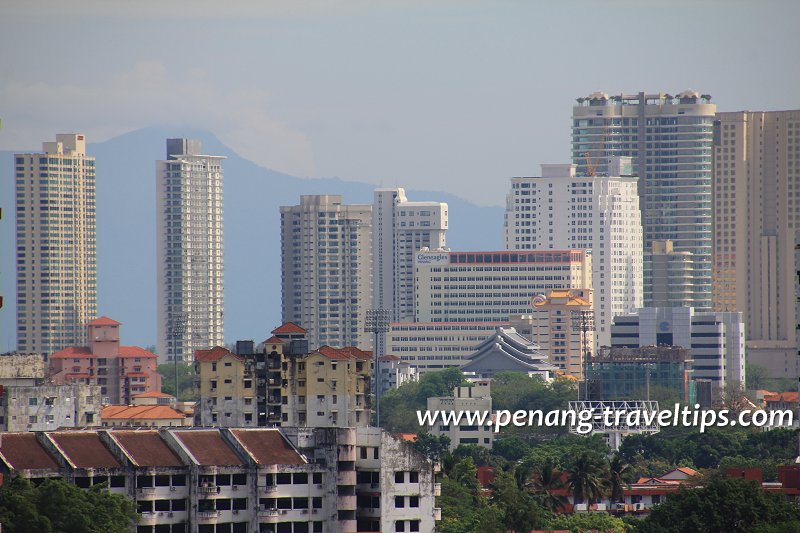 Where to stay in Penang?
(16 March, 2014)

Where should you be staying in Penang?
This is a question many who are planning to relocate here want to know. Should you be staying on Penang Island or Penang Mainland? On this article I want to share with you some useful tips in choosing the right location. Bear in mind that these are just my personal opinion, and the details I provide may change over time. Also, if you are seriously about to make this crucial decision, it is wise to seek the advise of people who are already living in Penang. You can do so by asking relevant questions at the
Penang Residential Properties Facebook Group
. There would surely be someone helpful to provide his two cents worth of opinion. Find a list of topics already being discussed right
here
.
Having decided to make Penang your home, whether for just a couple of years or longer, your first, second and third consideration is location, location, location. You will definitely enjoy a more pleasant stay in Penang if you make a right choice on location. That choice depends to a certain extend on whether you are coming to Penang to work, to study or to retire.
Much of this article concerns Penang Island itself. This would be the case if you are retiring, and are looking for a relaxing place to spend your days. If you are an expatriate, and your place of work is on Penang Mainland, then that's a good reason for opting to stay there. However, if you are working on Penang Island, you should think carefully why you should decide on a property on Penang Mainland.
For many people, they choose mainland properties because they can stretch their ringgit. Certainly your money will buy a bigger property on the mainland. However, what you save on real estate you pay back with higher fuel cost, wear-and-tear on your vehicle and most of all, longer time on the road. (I am ever sensitive to giving away my time - a finite resource - if I can use it for other, more enjoyable purpose).
On the other hand, if your idea is to enjoy the best that Penang has to offer, and you want everything to be within easy reach, and you have the deep pocket for it, then your choice should be Penang Island, and specifically, the eastern board of Penang Island.
The eastern board of Penang Island is the most densely populated place in the country. It is really a very small area hemmed in between the hills and the sea. The following map indicates four choice locations in this area that you can consider. The properties in these four areas range from medium cost to super luxurious. This is where most of thye foreign retirees, expatriates as well as medium to top level executives choose for their residence. If you are seeking to buy or rent a low-cost property in Penang, refer to the article, Penang Residential Property Guide, for the biggest personal evaluation of properties in Penang.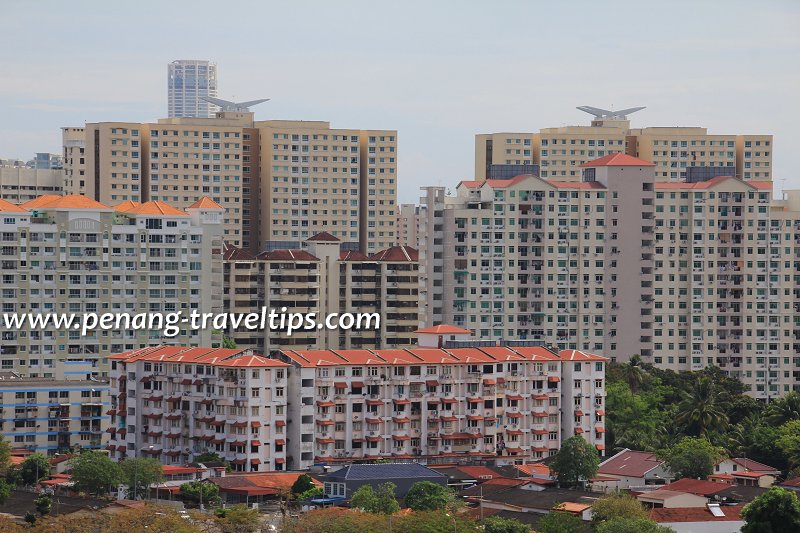 Penang Island Eastern Board
(16 March, 2014)

Updates
This article was originally written in 2008, so some of the numbers may have become outdated. I will try to update them from time to time, either by changing the numbers or adding an update in parenthesis.
1 February, 2014
: First-time house buyers in Penang need to get state approval if they intend to sell their properties witrhin a specific time frame. A moratorium of five years is imposed on the sale of properties valued up to RM400,000 on Penang Island and up to RM250,000 on Penang Mainland.
Foreigners may only purchase properties valued at more than RM1 million, and landed properties valued at more than RM2 million. Non-residents are subject to a 3% levy on the property price, with exemptions given to purchases for industrial purposes as well as for purposes promote "employment, education, human talent (and) Penang as an international and intelligent city".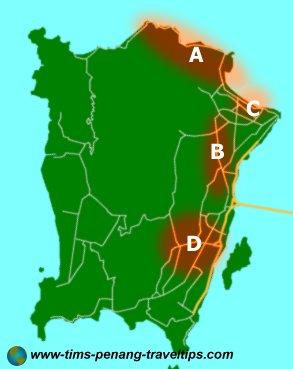 Properties Map of Penang
1. Working in Penang
There are a lot of places to choose if you are coming to Penang to work. You should allow your work location determine where you stay, otherwise you will be spending a lot of your time commuting. A wrong choice can put you an hour on the road
each way
. This is not due to the distance, but due to specific bottlenecks where the traffic grinds to a halt.
Take into consideration the distance between your home and your workplace. Unless you are going to work by helicopter, you still need to negotiate your way through the traffic. And while it may not be immediately apparent, note the number of traffic lights between your home and workplace. Every red light will consume a chunk of your time. Choose poorly, and you'd spend much of your time at the red light - and there are plenty in some places, and you may have to experience more than one round of red lights before getting to pass the intersection. Despite the improvement of public transport through the introduction of
Rapid Penang buses
, most people in Penang still prefer to drive, mainly due to insufficient bus route to take them closer to their impending destination. Hence, at rush hour, the whole eastern board of Penang Island turns into a huge parking lot.
If you are working in George Town, you might want to consider a home in Areas
"B"
and
"C"
. Area B comprises Green Lane, whereas Area C comprises Gurney Drive. Of the two, Green Lane property and rental prices are within the middle-income range whereas Gurney Drive is in the upper-income range. Green Lane slows to a crawl during rush hour, compounded by quite a number of traffic lights. Living in Green Lane, you would likely do your grocery shopping at Tesco Penang, or at the wet markets in Jelutong and Batu Lanchang.
Area C comprising Gurney Drive is prime real estate in Penang. The seaside promenade is lined with a wall of skyscrapers, every unit priced in the seven-digit range. You won't entirely escape traffic jams. However, you would be pleased to know that many of the roads within inner George Town have been converted into one-way streets. This has eased traffic flow somewhat. It has also reduces the number of traffic lights in the city. Nevertheless, at rush hour, traffic flows at glacial speed through the one-way streets. To avoid traffic lights in the city, avoid Perak Road and Jalan Dato Kramat. Shopping for groceries can be at Cold Storage in Gurney Plaza or at the Pulau Tikus wet market.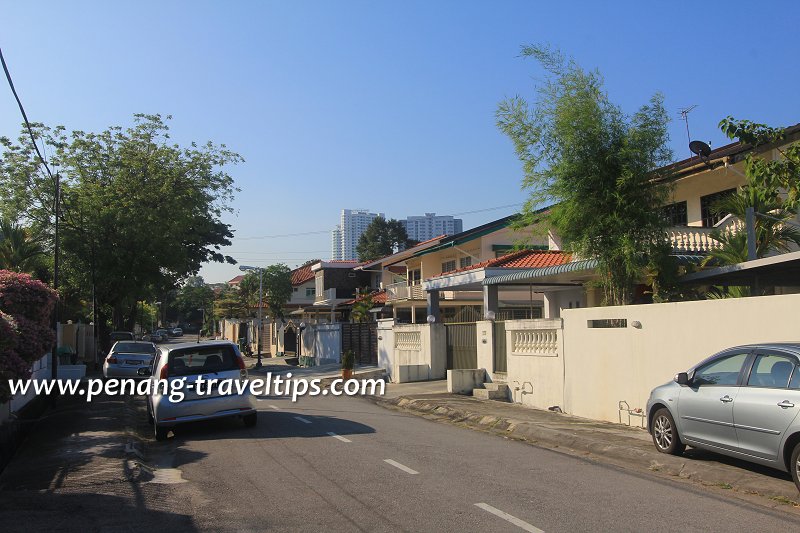 Landed properties in Penang
(3 February, 2014)

If you are working in the Bayan Lepas Free Trade Zone, unless you wish to plough through the traffic jams every day, you should not consider living in George Town or farther north. Instead, a home in Area
"D"
would be more convenient for you. On the middle and upper range are landed homes as well as condominiums in Batu Uban and Pantai Jerejak. Places such as Sungai Ara and Relau are favored by many. However, there are numerous traffic lights and junctions to negotiate.
People living in Area "D" do their grocery shopping in Sunshine Square, Jusco (at Queensbay Mall), Tesco Extra at Sungai Dua, and farther away, Tesco Penang. The main wet markets are located at Bayan Baru and Lip Sin.
1a. Working on the mainland
Many people who work on the mainland still prefer to live on Penang Island. If you wish to do the same, be aware that both the Penang Bridge as well as the Butterworth-George Town ferry can get very congested, especially during the Friday evening rush hour. The alternative is to use the Sultan Abdul Halim Mu'adzam Shah Bridge, but for most, that crossing is so lengthy that you don't gain much in term of time spent as well as fuel charges and toll, which at RM8.50 for a passenger vehicle, is higher than that of the Penang Bridge.
The expressways on both Penang Island and the mainland are all clogged up during rush hour, losing their "expressness". Should you work in the mainland, you might want to consider a property there. Price and rental is definitely lower, and size is bigger. On the other hand, be prepared to spend more on fuel, as distances on the mainland is farther apart. Also, air quality is likely to be better on Penang Island. And you might not entirely escape from traffic jams, as the roads on the mainland can get quite congested too.
2. Studying in Penang
Penang has several excellent colleges as well as Universiti Sains Malaysia, one of the foremost universities in the country. If you are coming to Penang to study, you would most likely prefer a place within the vicinity of your campus (Area "D" on the map). Students of Universiti Sains Malaysia will find places in Gelugor the most convenient. This includes Sungai Dua, University Place, Taman Pekaka, Taman Lip Sin, Minden Heights, and to a certain extend, Green Lane and Jelutong. If you are studying at TAR College, then your choice is further north (Area "A" on the map). Look for a room in Tanjung Bungah, Vale of Tempe (Jalan Lembah Permai), Mount Erskine and Fettes Park. Students of city colleges such as KDU and Stamford College should consider an address within George Town (choose a place in areas "B" and "C" or anywhere in between).
3. Retiring in Penang
If you are a senior citizen planning your retirement in Penang, you would want to live somewhere away from the hustle and bustle of the traffic, and yet be within arms reach of life's conveniences. As a foreigner on the
Malaysia My Second Home
program, you are allowed to purchase a property in Penang, on condition that it costs at least RM250,000. (Update: According to the Malaysia My Second Home Program website, the figure has been revised to RM1 million from 1 January, 2014.) With that in mind, I recommend looking for properties in the area marked
"A"
on the Properties Map on the right. Addresses to consider include those in Tanjong Tokong, Tanjong Bungah, Fettes Park and Batu Ferringhi.
The advantage of living here is that it has better panoramic view and seascape than elsewhere on the island. It is also away from the industrial zone, which can get highly congested. You will be away from the noise and crowd of George Town, but still be close to it. For shopping and groceries, you can go to Island Plaza in Tanjong Tokong or to Gurney Plaza at Persiaran Gurney. There is also a wet market in Tanjong Bungah.
Conclusion
Your choice of place to stay should be determine by your circumstance. For sure the depth of your pocket plays a huge role in determining the width of your scope. Those who can afford it will have a wider choice. Having said that, your next criteria is distance from workplace, road condition and surrounding amenities, probably in the just mentioned order. If you are coming to retire in Penang, and you will not commuting to work, your choice will be determined by the proximity of amenities, from the essential, such as nearest restaurants, to those that enhances your creature comfort, like proximity of your favourite spas and reflexology centres. For each income level, there are hundreds of places in Penang to choose from, so I would urge you to do your homework using the
Penang Residential Property Guide
before making a decision.
Add your shop/business to this website
The Penang Travel Tips website is a huge website that documents everything in Penang. On top of the hundreds of streets and tourist attractions, I also add in hundreds of shops and businesses.
If you operate a shop business in Penang, or anywhere in Malaysia or Singapore, contact me to add your business/shop into my website. It only a one-time fee, and your shop/business will be listed by location and category, helping your would-be customers find you. To find out more,
CONTACT ME
Visiting Penang? Find the lowest hotel room rates here!
Use our search engine to compare room rates from different hotel booking websites, to find the one that's lowest.
Travelling somewhere?
If you're travelling somewhere, use our online engine to find the online booking site that offers you the best room rates.
Book your hotel room here
If you're coming to Penang, book your hotel room online with Agoda. Agoda offers the best prices on 2,000,000+ properties worldwide.
Start here.
Local Guided Tours of Penang
If you are coming to Penang and need someone to show you around, I can arrange for you a licensed tour guide to take you around. Guides charge a fixed fee of RM360 for taking a small group of up to 10 people on 4-hour walking tours. Walking tours exceeding 4 hours is charged an additional RM90 per hour. Tours are tailored to guest requirement. For more details,
contact tour coordinator
. Other types of tours also available.
For details, click here.
Looking for a book? Get it from Book Depository with free delivery worldwide!
I have just discovered
Book Depository
, a subsidiary of Amazon.com, and I love it. This is where you can buy books and have them sent to you. But unlike Amazon, when you purchase using Book Depository, you enjoy free delivery worldwide.
Give it a try today!
Here's a list of the latest pages I have added or updated on my website.
My YouTube Videos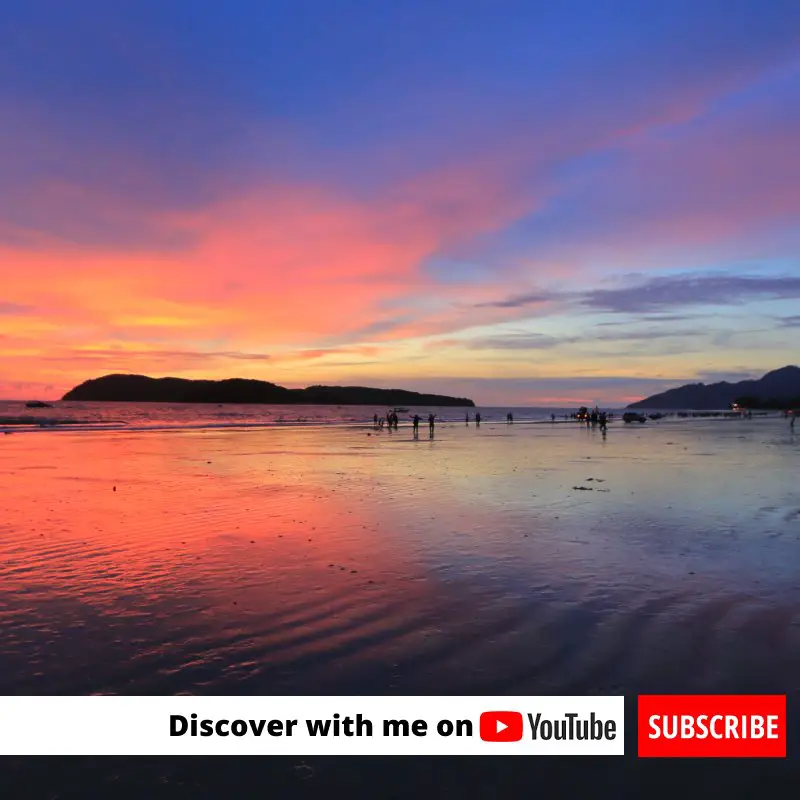 Check out
my YouTube Channel
and don't forget to subscribe!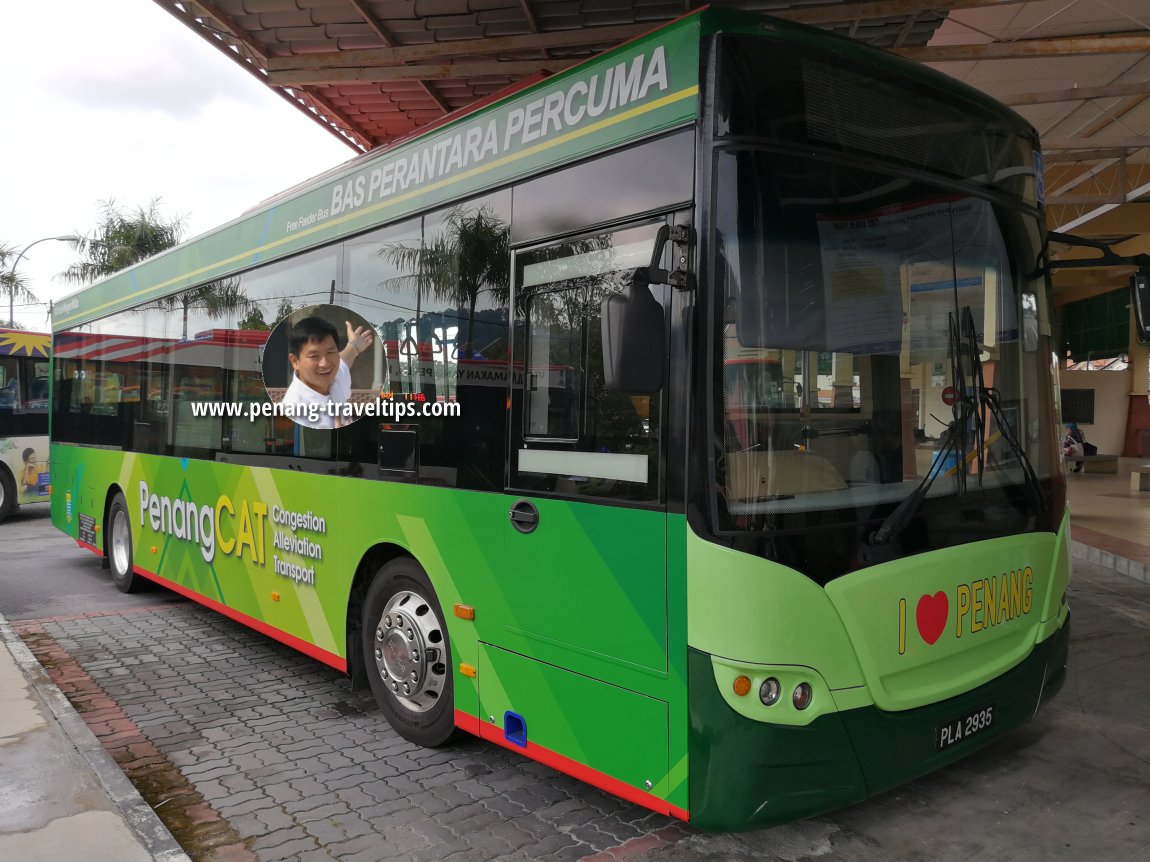 Take the CAT Free Feeder Bus
What's the best way to see Penang on a budget? Take the bus! In Penang, there are at least 12 absolutely
FREE
bus routes which cover almost every major neighbourhood on Penang Island and Penang Mainland. All you need to do is hop aboard!
Details
Vital Links
Book Your Express Bus Ticket
|
Hire a car
|
Our Recipes
|
Facebook Posts
|
Just Curious
|
Not In The Dictionary
|
Our Flowering Garden
Vital Links
Book Your Express Bus Ticket
|
Engage a Tour Guide for Penang
|
What's Up at Penang Hotels
|
Hire a car
|
Facebook Posts
|
Our Recipes
|
Our Flowering Garden
|
Guide Book on Penang Durians
Discover the World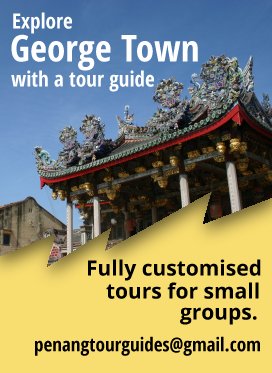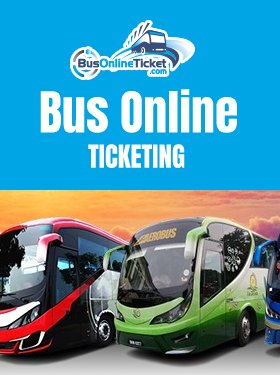 About Me
Thank you for visiting
my website
. I started it in 2003, and today it has over twenty thousand pages of information. My name is
Timothy Tye
. I would be very pleased if you enjoy the information I have put together.
As a Christian, I hope that through this website, I am able to deliver God's message to all who need it, anywhere in the world. If you are open to hearing it, please read
God's Good News to You
.
If you wish to contact me, please use this
contact form
. And don't forget to
follow me on Facebook
. See you!
Copyright © 2003-2019
Timothy Tye
. All Rights Reserved.