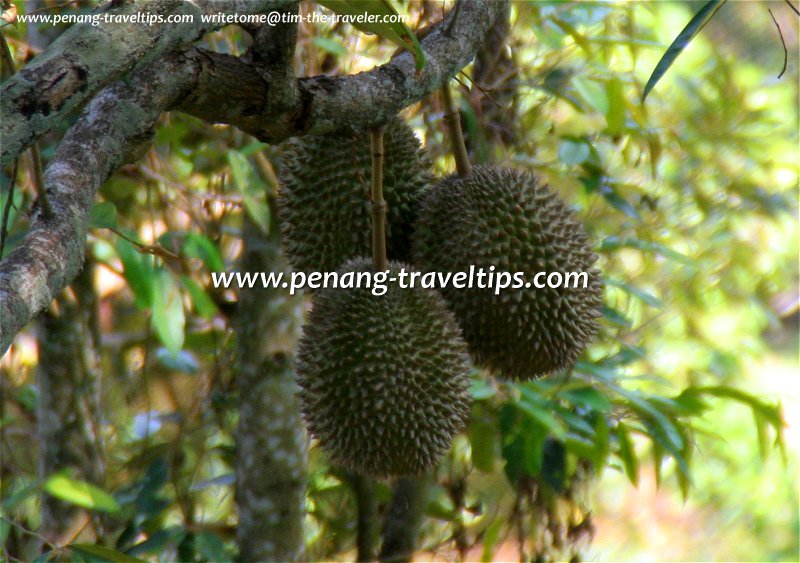 Durians in the tree
(30 May 2009)

Penang Durians
are famous throughout Malaysia. Many people would drive all the way from other states and even from Singapore just to visit the durian plantations in Penang. Most of the durian plantations on Penang Island are located on the western half of the island, which is much less developed compared to the eastern side. This are roughly corresponds to the Balik Pulau District (to be exact, South West District), and hence the term "Balik Pulau Durian" has become the metonym for good Penang durians.
On this page, I want to help you
identify Penang durians
. All the best durians of Penang are known by where they come from. Most of these were planted by serious durian enthusiasts a few decades ago, and now their children are reaping the fruits of their labour, literally so to speak.
Durian planters name their trees, caring for them like family heirloom. They can tell you exactly how the durian is going to taste like, and how it will appear. Appearance-wise, many people like durians with dark yellow to golden-colored flesh, although the taste is often unrelated to the appearance.
The best durian trees were planted about thirty to thirty five years ago (I first wrote this page in 2005, and as I am updating it now in 2014, all the trees have aged by another decade). Although younger trees may bear the same name as their parents, they cannot match the older trees in terms of quality. When visiting durian farms, it is therefore necessary to go to farms with plenty of well-maintained older trees.
Durian trees require a lot of care to produce good durians. Rot and termite-attack can affect the health of durian trees and affect both the quantity produced as well as quality. Most durian plantations set up netting to prevent the durians from hitting the ground, as the impact will damage the flesh within.
Penang people appreciate durians that are soft and flavorful. The flesh has to be uniformly soft - if any part of the flesh is harder than the rest, the durian is considered poor quality.
Generally, thick-flesh durians with a small seed are preferred over thin-flesh durians. A thin membrane encases the fresh. The flesh should separate from the seed without sticking to it. The taste should range from sweet to bittersweet.
Durian connoisseur can identify the name of the durian by taste. The "aroma" of fresh durians - which many foreigner visitors might find to be obnoxiously unpleasant - is what the locals crave for. The aroma of the durian is strongest around the stem part of the fruit, and weakest at the tail end.
The flesh at the top part of the durian is the finest quality
The full-body aroma can only be appreciated at the durian farms themselves, by consuming durians that have freshly dropped from the tree the night before. The longer it is kept, the less fresh it gets. For that reason, supermarket durians and plastic-wrapped, refrigerated durians cannot measure up.
Where durians are concerned, size doesn't matter. The best tasting durians can come from the smallest to the biggest of fruits. Having said that, however, through my personal experience, the better durians range from the small to the medium sized.
Penang durians are never plucked. They must drop from the tree naturally. Climatic factors affect the quality of durians, even from the best trees. The most flavorful durians are those that drop from the tree during a dry spell - the aroma and taste will be strongest. Too much rain during the budding and ripening seasons will have adverse effects, the former causing blossoms to drop while the latter diluting the taste. Continuous rainy days over a period would adversely affect the quality of the durian. Durians that fall during a thunderstorm or heavy downpour are not of the best quality. It is therefore sensible to time your visit to the durian plantation after a stretch of dry days.
It goes without saying that durians taste best when they have just been opened, and the best of them all are the durians that have just been collected. When I was small, I lived in the countryside, in the then undeveloped
Batu Maung
. There were even durian trees in our compound that were tendered by wholesale buyers. In return for helping them collect the durians, they would give us some. My neighbourhood friends and I have also visited the bigger farms on the slopes of the hills in Permatang Damar Laut, and we had the pleasure of eating durians to our heart's content, without paying for any. But those were the days. Now we have moved away, and I believe the very area where the trees stood is now a housing estate.
It is not sufficient simply to consume the durians, it is also required that we know what durian we are consuming. People who know their durian will be able to name them (my own favorites include the Xiǎo hóng

and the Ya3 Kang1

). To stuff yourself with durians without knowing what you are eating is like gobbling chocolate with your eyes shut. That, to me, is a waste of good durians.
For a number of years from 2006 to 2009 I used to organize durian feasts. I hold them most regularly at the Bao Sheng Durian Farm, as I find that the owner, Mr Chang (aka Durian Seng) can provide a better explanation about durian than any other durian farmer. I am glad that Mr Chang has since become quite famous for his durians, and are often visited by celebrities.
Varieties of Durian
Durians in Penang Hokkien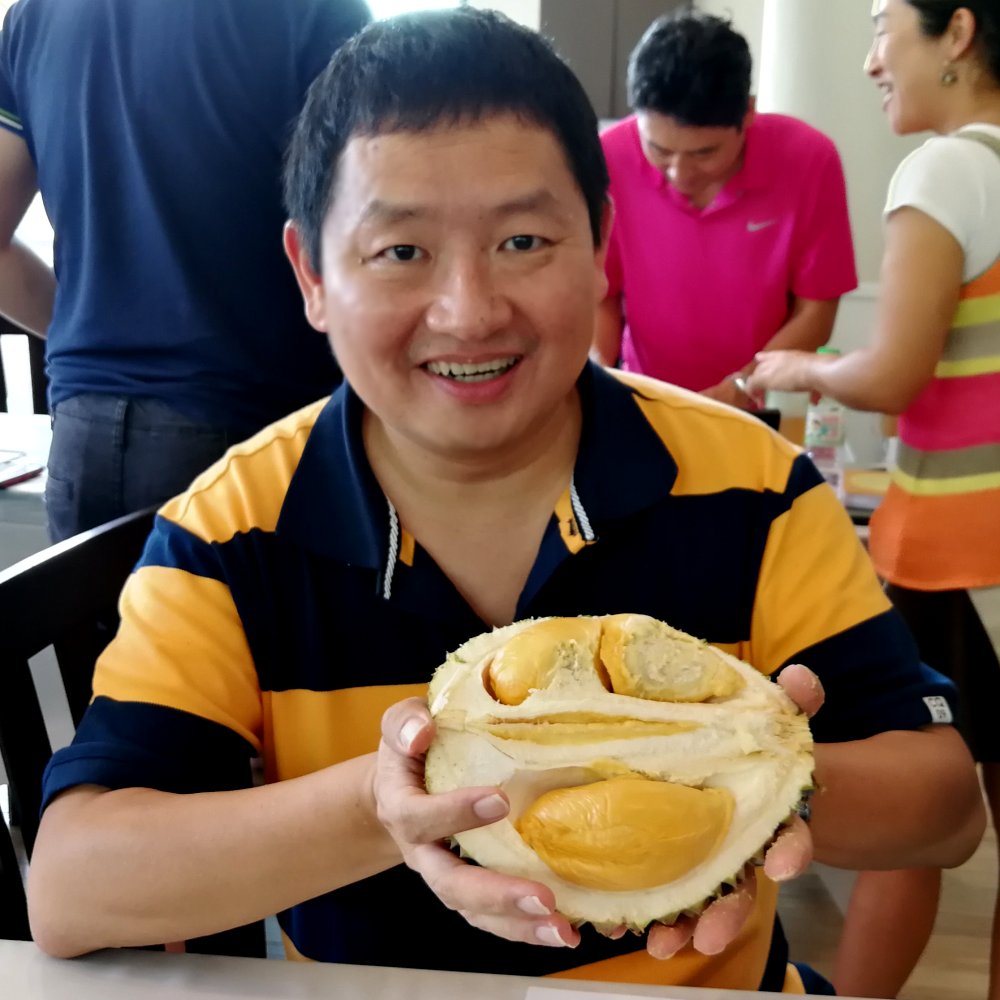 Durian Terms in Penang Hokkien
If you love durians and will be visiting durian farms in Penang, you do well in learning terms associated with the fruit in Penang Hokkien. Here's a chance to enhance your vocabulary.
Details
List of Penang Durians
I provide you here a list of some of the popular durians that I have tasted, and have the chance to photograph before hungry hands grab them. In order that you can say the names correctly, I also provide an audio output. The names are spelled using Pinyin for Mandarin and the TJ Romanisation System for
Penang Hokkien
. All the words in Penang Hokkien are also found in the
Penang Hokkien Dictionary
.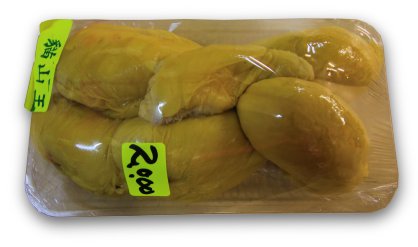 Mor3sang3 Ong2
Mor3sang3 Ong2
, which translates as Musang King in English and Raja Musang in Malay, is regarded as the king of durians. It has a strong pleasant aroma and a bitter taste that is favoured by many Malaysians. The one I show in this photo was bought at the Jelutong Market on 28 June, 2014, for RM20.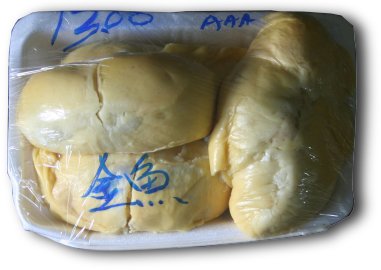 Kim3 Hu2
The
Kim3 Hu2
or Gold Fish Durian comes from a plantation in Balik Pulau, but I came across it at the Jelutong Market on 12 June, 2010, where I bought for RM13.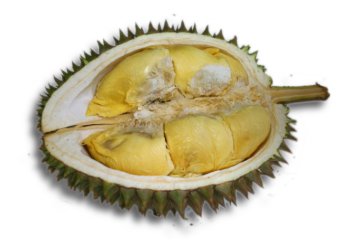 D11 (Cap3-It1 Ho33 )
"Number Eleven"
is a very popular durian in the 70's. It has creamy yellow flesh with a pleasant taste and a subtle smell. It is known in Penang Hokkien as Cap3-It1 Ho33 (the "D" is often not uttered) I first documented this durian in 2004.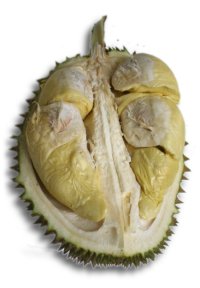 D604 (Lark3khong1see3 )
The
D604
was first cultivated by the late Mr. Teh Hew Hong of Sungai Pinang, Balik Pulau. The flesh is quite sweet, and has some "body" to it as the seed is small. I first documented this durian in 2004.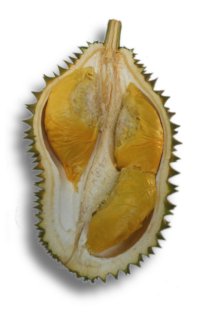 D600 (D-Lark3pak3 )
The
D600
durian originates in Sungai Pinang in Balik Pulau. The flesh has a bittersweet taste to it, with a touch of sourness. The one that I documented is a bit hard. I first documented this durian in 2004.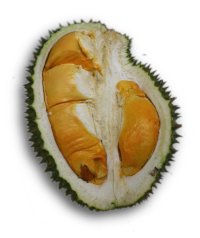 D700 (D-Chit1pak3 )
The flesh of
D700
is darker than the D600, like chrome yellow. Also slightly hard. Crispy, but the smell is not very strong.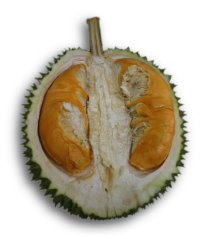 Ang3 Sim1 (Red Heart)
Ang3 Sim1
is a durian with flesh which is quite soft and very sweet, and dark yellow in colour. It also has a nice aroma. I first documented this durian in 2004 and again in 2006.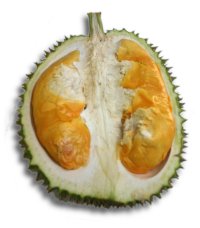 Khun Poh
The
Khun Poh
durian takes the name of the late Mr Lau Khun Poh, who first budded it (it is often mistaken for "khoon1 poh2", meaning "sleeping matron"). Khun Poh has beautiful orangy flesh with a slightly bitter-sweet taste and a heavy aroma. I first documented this durian in 2004.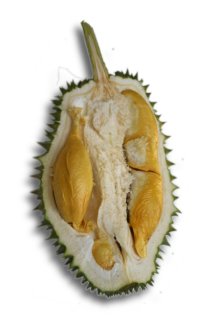 Hor3lor2 (Water Gourd Durian)
The flesh of the
Hor3lor2
is very soft, dry and quite bitter. It has a sharp smell to it. Hor3lor2 was first cultivated at the Brown orchard of Sungai Ara. It got its name from its appearance resembling a "Hor3lor2" pumpkin. If the durian hits the ground hard when it falls, the flesh tends to be bitter thereafter. I first documented this durian in 2004 and again in 2006.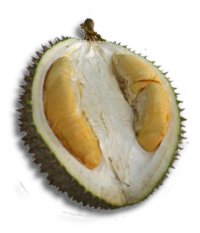 Ang3 Haeh2 (Red Prawn Durian)
Ang3 Haeh2
originates from Pondok Upeh, Balik Pulau, and has a round-shaped husk. The orange reddish flesh is highly aromatic, very soft with a bitter-sweet taste. I first documented this durian in 2004 and again in 2006.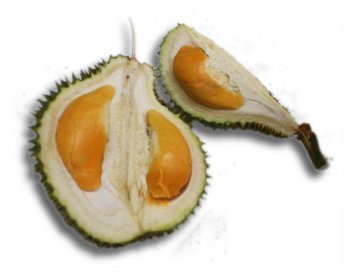 Xiǎo Hóng (Little Red Durian)
Xiǎo Hóng
, whose name means "Little Red One" in Mandarin, originates in Sungai Pinang, Balik Pulau. The flesh has a bittersweet taste to it, with a touch of sourness. The one that I tasted for this write-up is a bit hard. There are only one or two seeds per section, but the flesh is thick. I first documented this durian in 2004.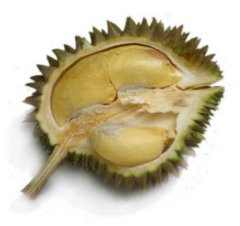 Ya3kang1 (Centipede Durian)
Ya3kang1
is one of my favourite durians. Although its flesh is whitish, the taste is superb, milky, like very sweet, melting chocolate. The name "yah kang" means centipede, and accounts for the number of centipedes found at the foot of the tree, hence giving it the rather unusual name. I first documented this durian in 2004 and again in 2006.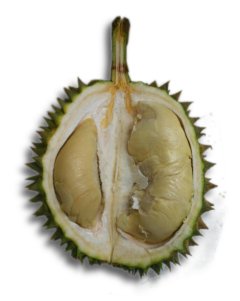 Bak1 Iu2 (Pork Fat Durian)
Bak1 Iu2
has a slightly acidic aroma. The flesh is whitish while the taste is quite bitter but nice. I first documented this durian in 2004.
The following are some of the durians I tried the first time at Peng Siew Durian orchard in Titi Serong, Balik Pulau, on the 2006 AsiaExplorers Durian Feast, on 17 June, 2006.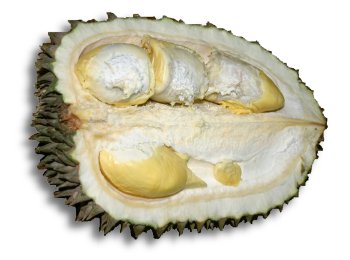 D17 (D-Cap3-Chit1 Ho33 )
The
D17
has dark cream flesh. The taste is slightly dry but sweet. It is a tasty durian. I first documented this durian in 2006.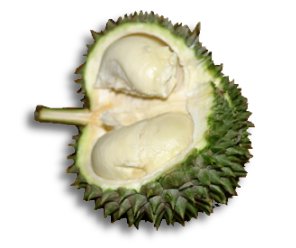 Coupling
This durian is gets its unusual name because it looks like two durians joined together, one big and one small. When split open, you almost thought the two halves belong to two different durians. Coupling has whitish flesh which is slightly dry but tastes good. I first documented this durian in 2006.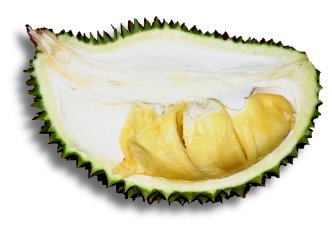 Ooi3kniau1 (Tumeric Durian)
The name
Ooi3kniau1
(tumeric) describes the colour of the bright yellow flesh of this durian. It is very sweet and tasty. AsiaExplorers first documented this durian in 2006.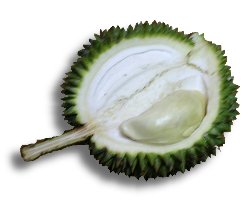 Chnae3 Phoay2 (Green Skin Durian)
Chnae3 Phoay2
is shaped like a small canteloupe. The skin is bright green, giving it the name which means "green skin". Chnae3 Phoay2 has creamy white flesh which is a bit dry, not too sweet but tasty. I first documented this durian in 2006.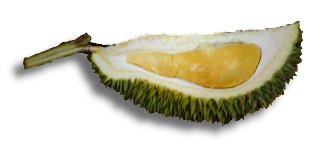 Ang3 Jin2 (Red Yolk Durian)
As the name suggests,
Ang3 Jin2
durian has deep orange flesh. It is very sweet and tasty. I first documented this durian in 2006.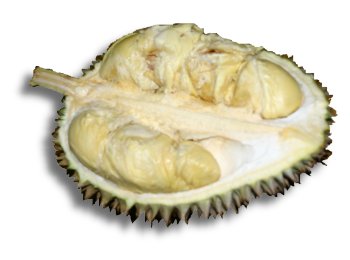 Lín Fèngjiāo 林鳳嬌
The
Lín Fèngjiāo 林鳳嬌
durian is named after Lín Fèngjiāo 林鳳嬌, aka Mrs Jackie Chan. I wonder whether it is indicative of the relationship of the celebrity couple, for Lín Fèngjiāo is a bittersweet durian, for too bitter for my liking. The flesh is whitish and wet. I first documented this durian in 2006.
The following durian is what I tried the first time at Bao Sheng orchard in Titi Kerawang, on the 2007 AsiaExplorers Durian Feast, on 24 May, 2007.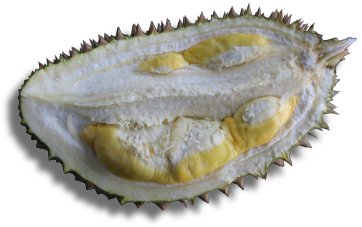 D15 (D-Cap3-Gor33 )
The D15 has yellow yellow and its taste is sweet with a slight trace of bitterness. The flesh is quite substantial.
All about durian
Thank you for using my website!
Hello and thank you for reading this page. My name is
Tim
. I wrote this page to compile what I discover, for my own knowledge, and also to share it with people who might find it useful. It is part of three inter-connected websites:
Penang Travel Tips
,
TimothyTye.com
and
Timothy Property Mart
.
I am a real estate agent, food blogger, amateur historian and travel author. This website is an encyclopedia as well as a business directory. As a real estate agent, I help people buy, sell, rent and let properties. If you have a property to sell or rent in Penang, Kuala Lumpur, Johor Bahru, Ipoh or Malacca, my team of realtors and I can help you. If you operate a restaurant, can write about your food and promote your restaurant. I can also help you engage other food bloggers to write about your food. And finally, if you are operating a business anywhere in Malaysia, you can add your shop to this website and be found by lots of customers. All you need to do is contact me with what you need.
contact Tim
You can do many things directly from this website. If you are visiting Penang, I can
arrange for you a tour guide and/or driver
to show you around. If you are traveling by bus anywhere in Malaysia or Singapore, you can
book your bus ticket
. If you seek accommodation, you can
get hotel room rates
.
As a Christian, I hope that through this website, I am able to deliver God's message to all who need it, anywhere in the world. If you are open to hearing it, please read
God's Good News to You
.
If you wish to contact me, please use this
contact form
. And don't forget to
follow me on Facebook
. See you!
Properties for sale
As a realtor, I also promote selected properties on this website. Contact me, by the number shown in the video below, if you are keen to purchase the property.
Copyright © 2003-2019
Timothy Tye
. All Rights Reserved.