Rapid Penang Tourist Passport
[an error occurred while processing this directive]


Rapid Penang Tourist Passport is a fixed price ticket to travel on the Rapid Penang buses. It costs only RM30, and allows the holder unlimited travel on the Rapid Penang buses for one week.

The Rapid Penang Tourist Passport is now available from the Rapid Penang office at Lorong Kulit.

Rapid Penang Sdn Bhd
Tel: 04 238 1313
Places to buy the Rapid Penang Tourist Passport
According to Rapid Penang, the places selling the Rapid Penang Passport are: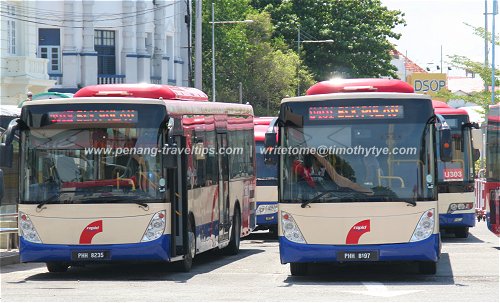 Rapid Penang Tourist Passport (28 May, 2008)


Rapid Penang Fare
First 7 km: RM1.40
Next 7 km (up to 14 km): RM2.00
Next 7 km (up to 21 km): RM2.70
Next 7 km (up to 28 km): RM3.40
Over 28 km: RM4.00








contact me

You can look for and book your hotel room direct from this website. Simply click here or use the search box below. You can filter the results based on your requirement, everything from five star hotels to homestays and more.


Look for a specific type of accommodation in Penang
All about me