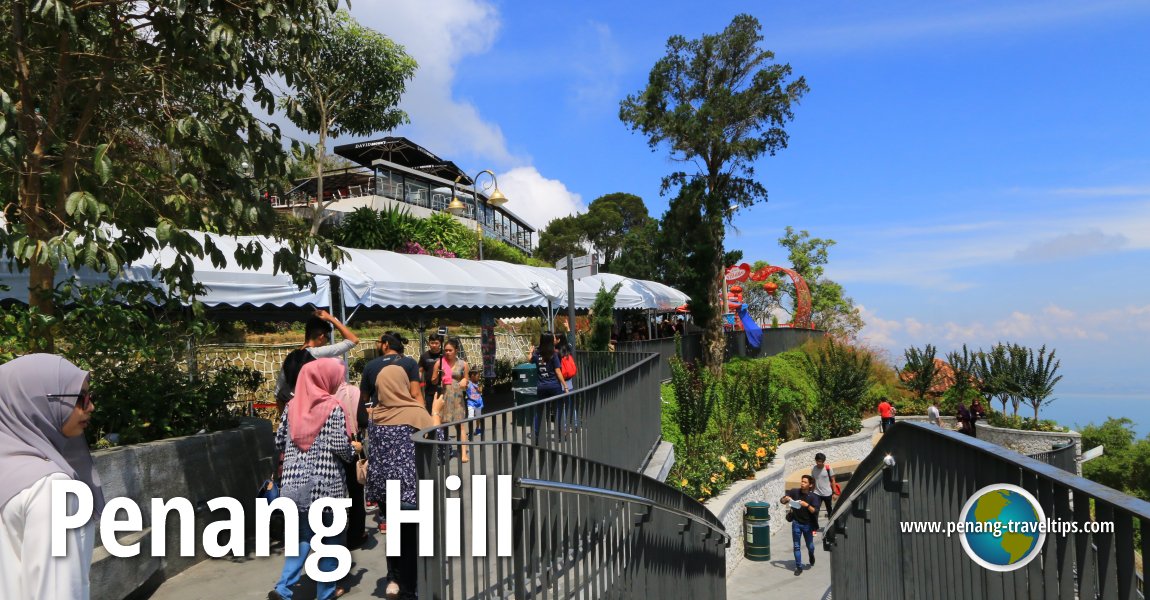 Penang Hill
(4 February, 2017)

B. Melayu
Penang Hill
(Traditional/Simplified Chinese: 升旗山; Pinyin: Shēngqí Shān;
Penang Hokkien
: Seng3 Ki3 Snua1

) is the oldest hill station in Malaysia.
Penang Hill comprises a hilly granite mass in the middle of Penang Island reaching an elevation of 833 meters (2723 ft) at Western Hill. Apart from Western Hill, the other peaks that form Penang Hill include Bukit Laksamana, Tiger Hill, Bukit Bendera and Bukit Kerajaan. Bukit Bendera, or Seng3 Ki3 Snua1 in Hokkien, is where the
funicular railway
station is located, is 735 m (2450 ft) above sea level. It was known as Flagstaff Hill by the British, because this was where the British flag used to be raised to signal that mail has come.
Location of sights on Penang Hill
Sights on Penang Hill
The following are some of the places you can explore in Penang Hill, arranged in alphabetical order.
Amenities on Penang Hill
Going to Penang Hill
Most people go up Penang Hill by taking the
Penang Hill Funicular Train
. A much smaller percentage go up by jeep or by hiking.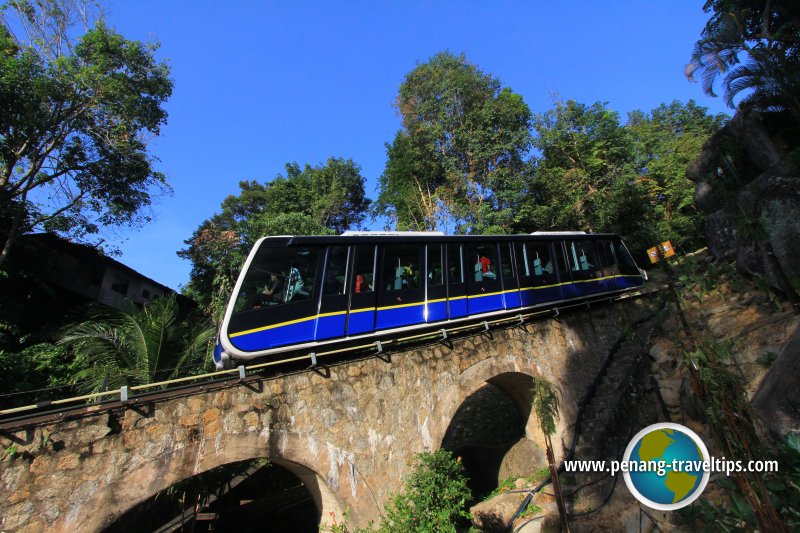 Penang Hill Funicular Train
(26 January, 2012)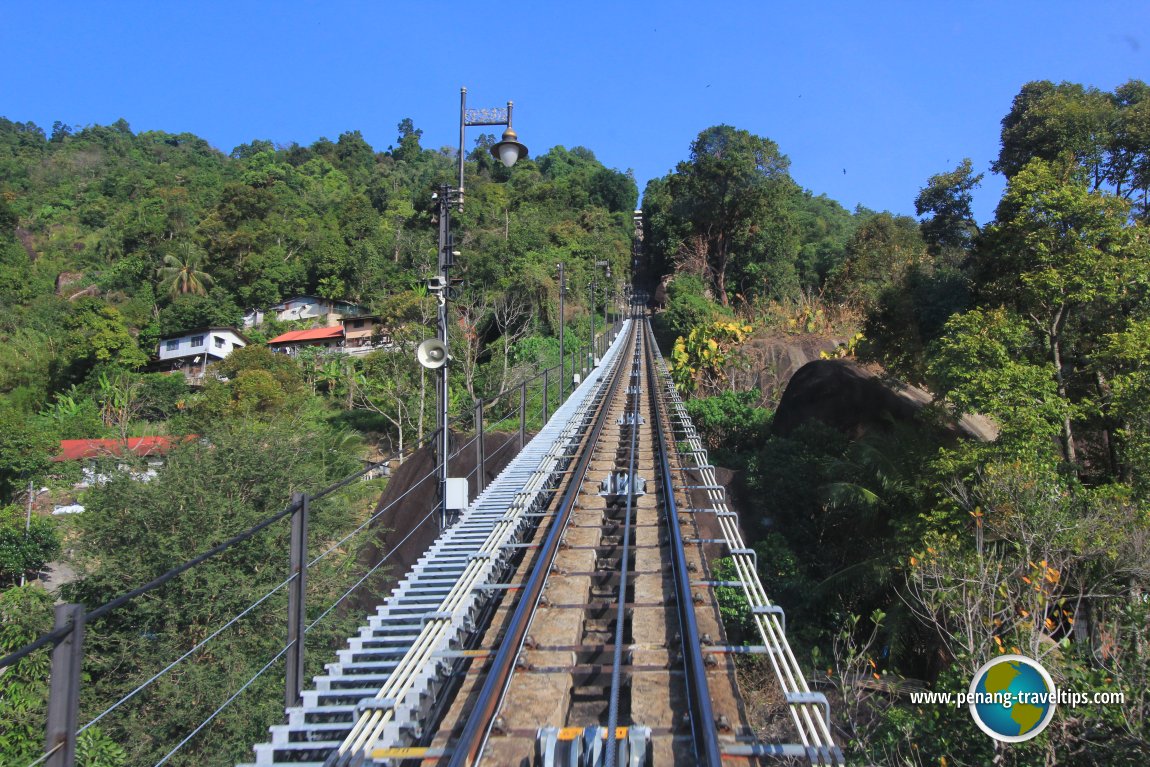 Penang Hill
(26 January, 2012)

Going up Penang Hill
The
Penang Hill Railway Lower Station
is located at the end of
Hill Railway Road
in Air Itam. You can reach it by taking Rapid Penang bus
204
. The
Penang Hop-On Hop-Off Tourist Bus
also goes there. When I visited in February 2017, visitors to Penang Hill who arrive before 9:00am enjoy special MyKad rates of just RM3 for all categories. This is applicable outside school holidays.
If you are going by car, the main parking area is the
Penang Hill Multi-Storey Car Park
. The parking rates here are quite steep. As of February 2017, it is RM2 for the first hour and RM1 for the subsequent hour on Mondays to Fridays, and RM3 for the first hour and RM1 for the subsequent hour, for Saturdays, Sundays and public holidays.
As of 1 January, 2018, the ticket fare for the Penang Hill Train is as follows: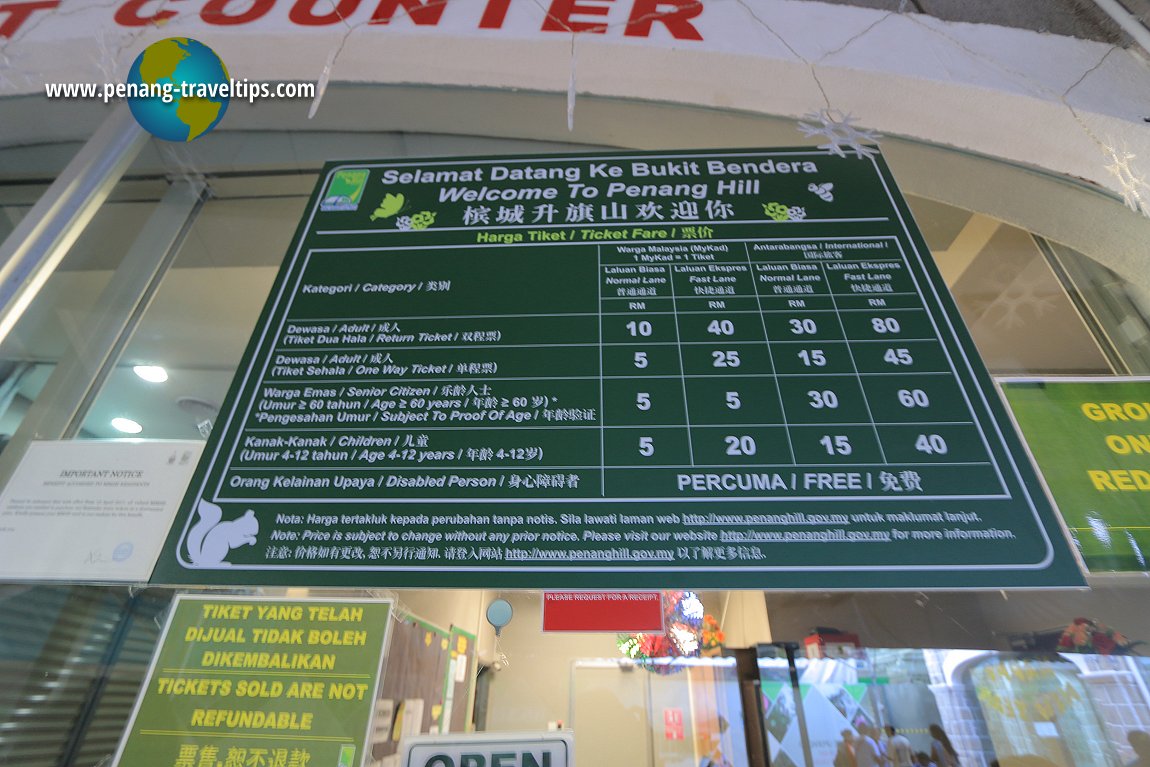 Penang Hill Train Ticket Fare
(6 January, 2018)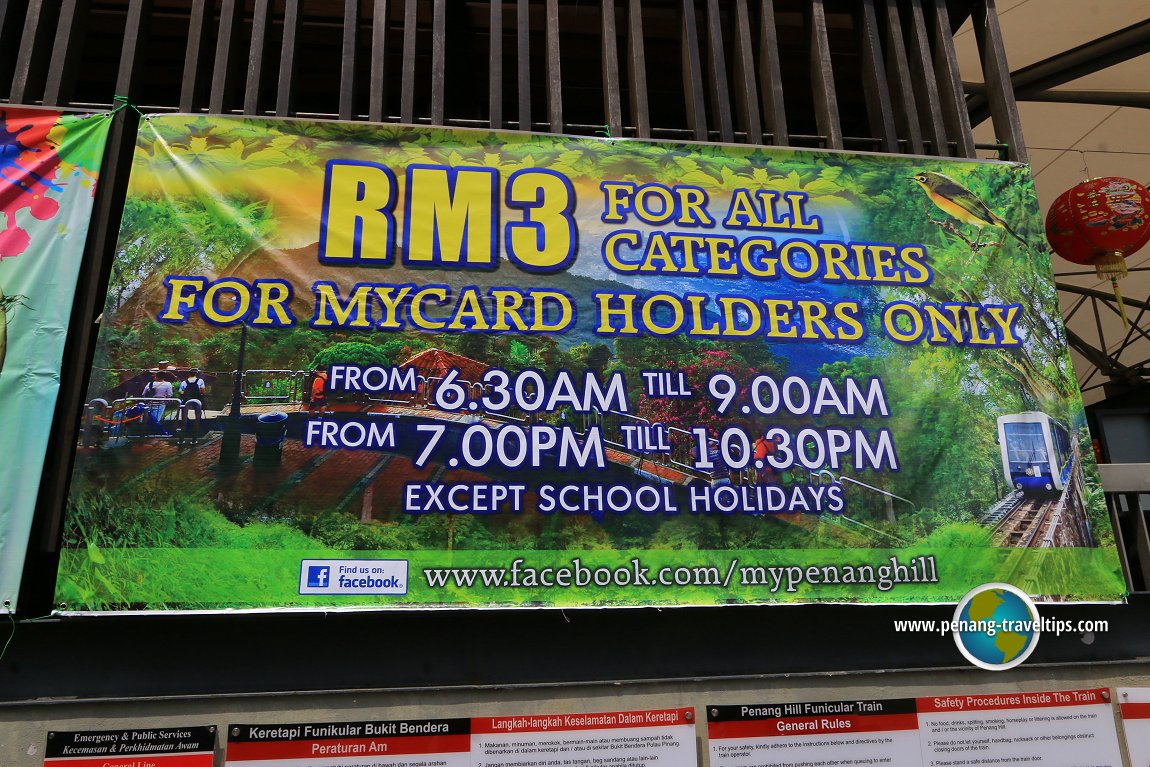 Penang Hill MyKad Rates
(4 February, 2017)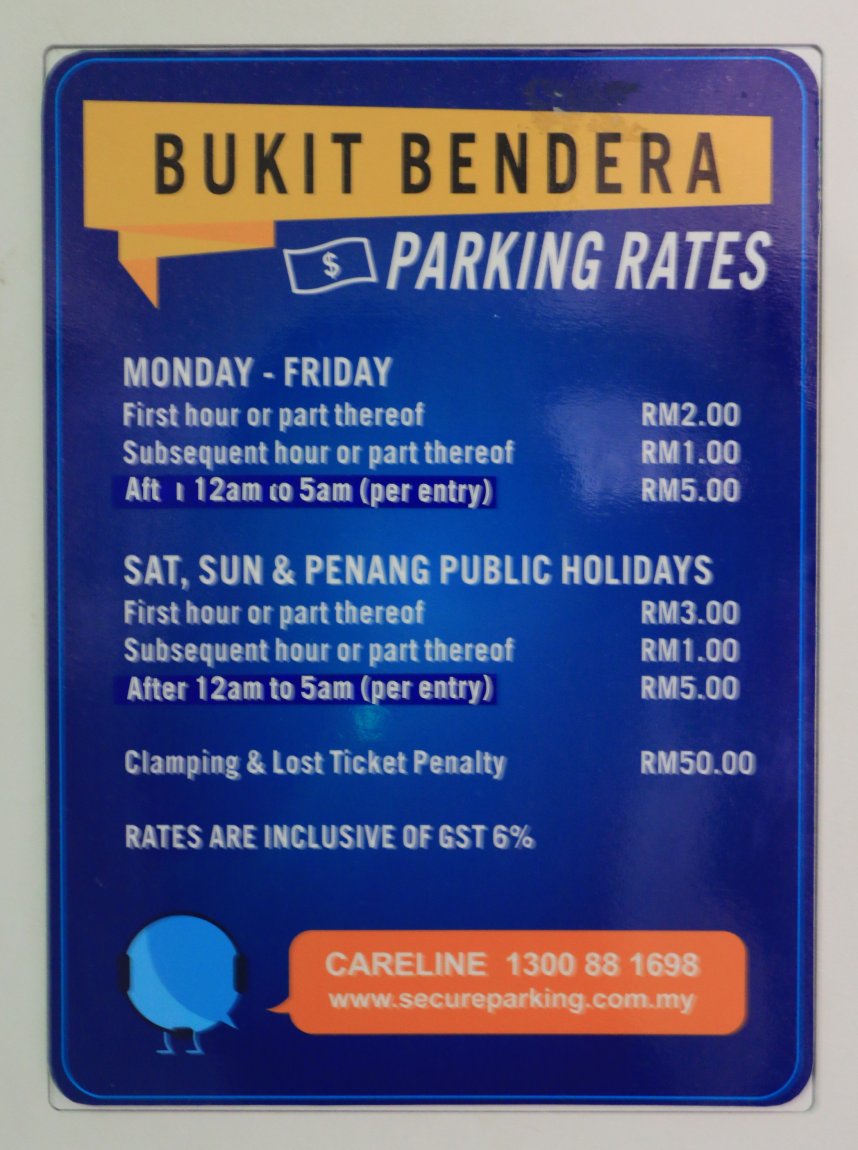 Car Parking Rates at the Penang Hill Multi-Storey Car Park
(4 February, 2017)

Penang Hill Funicular Train
I describe the Penang Hill Funicular Train in its own pages right here:
Penang Hill on Google Maps Street View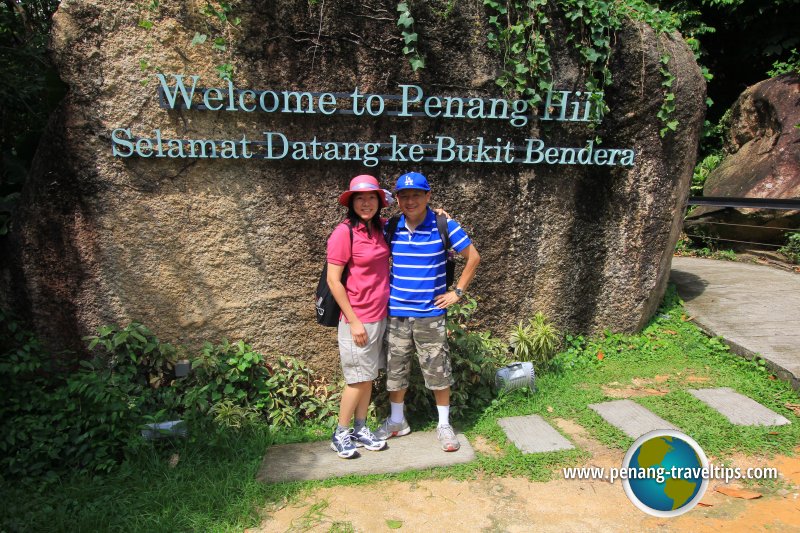 Penang Hill
(1 November, 2014)

Updates on Penang Hill
1 November, 2014
I paid a visit to Penang Hill to check on the latest development. Read here
my 2014 visit to Penang Hill
.
28 November, 2012
A roof canopy is being built between the Lower Station and the walkway to shelter visitors from the elements. As such the thoroughfare at the Lower Station is condoned off. For details, please go to www.penanghill.gov.my.
12 November, 2012
Due to construction works at the Penang Hill Lower Station, the thoroughfare will be condoned off from November 2012 until June 2013. For details, the public may contact 04-828 8880, 04-828 8839 and 04-828 8861.
26 January, 2012
The new food court, known as Astaka Bukit Bendera, opened to the public. It is also called
Cliff Cafe
.
21 February, 2010
The old
Penang Hill Railway
trains made their final run today.
The History of Penang Hill
It is said that
Captain Francis Light
was the first to plot a horse track up Penang Hill, way back in 1788. The route starts somewhere near the
Botanical Gardens Waterfall
. Penang Hill was first developed by the British to escape the tropical heat of the lowlands. During those early days, the lowlands were malaria infested, so Penang Hill was a choice for those seeking convalescence. Indeed a convalescent centre was built on Mount Hygeia for the officers of the British East India Company. It was cool, less humid, and most of all, free from malaria.
Very soon, the government departments were building hill bungalows for their senior officials. These are found mostly around Bukit Bendera. The northern part of Penang Hill is not well developed. Places such as Bukit Kerajaan and Bukit Timah are designated water catchment areas and so no development is permitted there.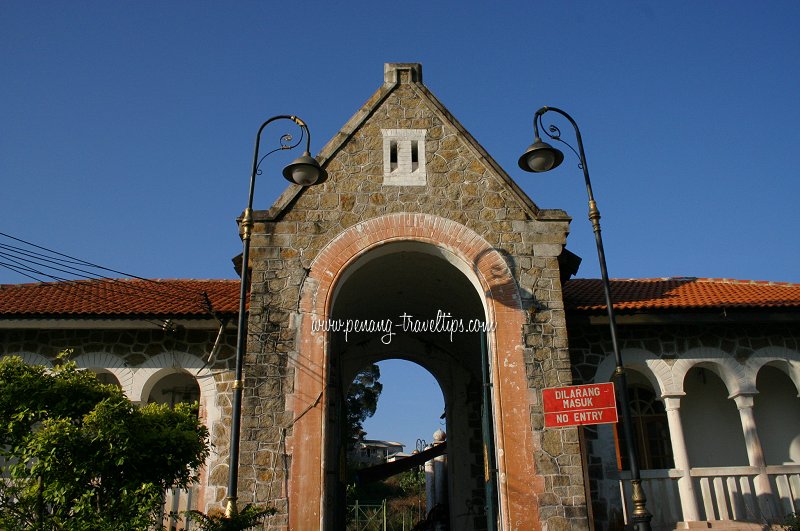 Entrance of Bel Retiro, retreat for the king and prime minister of Malaysia
(5 March, 2005)

During the colonial days, there was a form of segregation among the races. The most prestigious property was Bel Retiro, built in the 1800s as a resort for high govenment officials and visiting dignitaries. It was the favourite retreat of the first Yang di-Pertuan Agung and Tunku Abdul Rahman whenever they visit Penang. Building on the principle that proximity is next to greatness, the senior officers build their bungalows in proximity to Bel Retiro. During colonial time, no non-whites were allowed residences above the Viaduct station. Two locals whose properties came nearest the European boundaries were
Khoo Sian Ewe
and Chee War Lock, both Municipal Commissioners.
Just as it is fashionable today to own a luxurious condominium, during the early years of the 20th century, it was the in thing to own a bungalow on Penang Hill. Many of the properties owned by the Chinese were given decidedly Western names, for example Mon Sejour, Dolce Domum, Fairmont, Grace Dieu.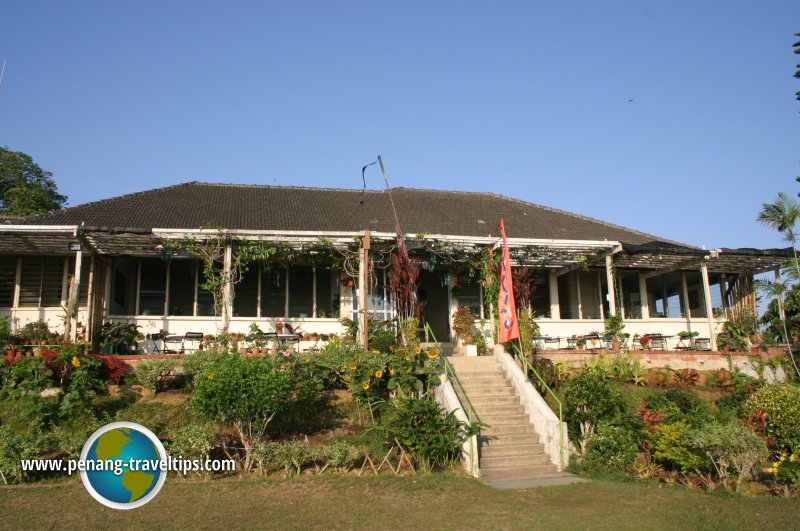 Bellevue Hotel, Penang Hill
(3 May, 2005)

Hiking is a popular option to "conquer" Penang Hill. There is the 5 kilometer tarred road popularly called the "jeep track", which is open only to the vehicles of the hill residents. The most popular pit stops along this route are 52 and 84. Here, hikers can get refreshments prepared by volunteers.
There are numerous trails from the lowlands up Penang Hill. Among them are the ones from
Moongate
, another from inside the Botanical Gardens, yet another from the
Air Itam Dam
to Tiger Hill, one from
Hye Keat Estate
and another from the
Youth Park
.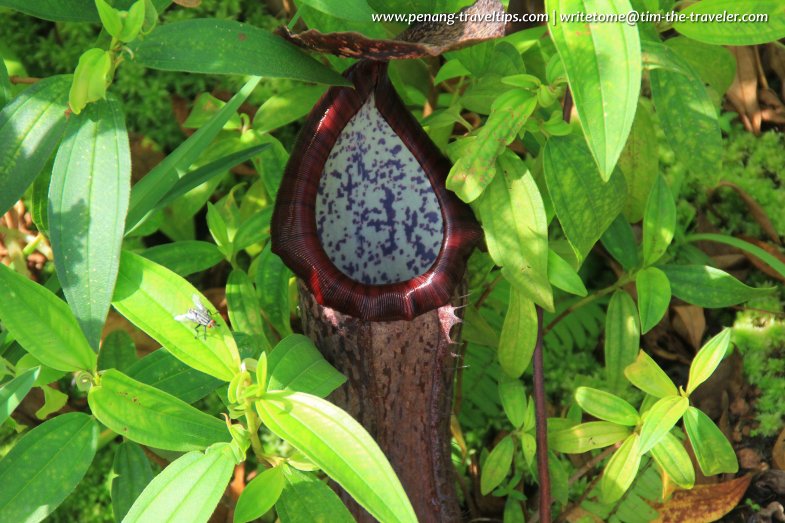 A monkey cup at Monkey Cup Garden, Penang Hill
(26 January, 2012)

Penang Hokkien Section
This section is in Penang Hokkien and is part of
Learn Penang Hokkien
. It helps you practise reading in the language. Refer to the
Penang Hokkien Dictionary
for words that you are not sure.
Seng3 Ki3 Snua1
Seng3 Ki3 Snua1 si33 cit3-leh3 chut1mia2-eh3 sor1cai3 ti1 Penang. Khah1 ce33 lang2 lai3 Penang-eh3 tnia33tiok1 tok33 boek1 khi4 Seng3 Ki3 Snua1. Tha1na1 uh33 nor33-leh3 lor4 khi4 Seng3 Ki3 Snua1. Te33-it3 tok33si33 ceh33 Seng3 Ki3 Snua1-eh3 Hoay1chia1. Ku33ca4 cit1-leh1 hoay1chia1 cin3 ban33, ta1pi1 tha1na1 ceng1hu4 tau3 sin1 eh3 hoay1chia1 liau4, e33 knia2 khah1 khuai3.
Uh33 lang3 paek3 khi4 Seng3 Ki3 Snua1 yong1 snua3lor4. Cit1-leh1 snua3lor3 si33 ti1 Ang3mor3 Hua3hnui2 khi4. A33si33 boek1 paek3, khah1 ce33 lang2 thek1 cit1 tiam1 ceng3 pnua3 ba3lu1 kau3 Seng3 Ki3 Snua1-eh3 teng4.
Translation
Penang Hill is a popular place in Penang. Most people coming to Penang will want to go up Penang Hill. There are two ways to ascend the hill. The first is by using the Penang Hill train. Formerly this train is very slow, but now the government has installed new trains that can go faster.
There are people who climb Penang Hill using the hill road. This hill road start at the Penang Botanic Gardens. To climb, most people take an hour and a half to reach the top of Penang Hill.
Bungalows on Penang Hill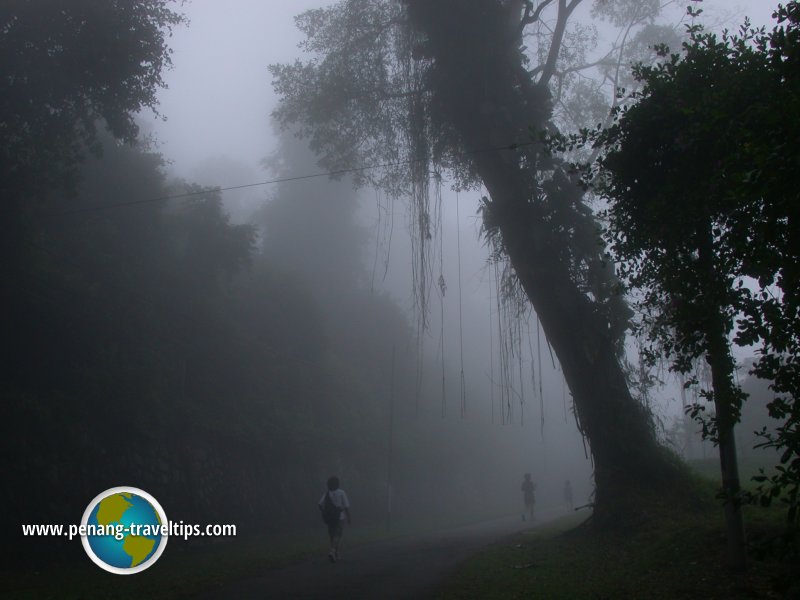 Misty Penang Hill
(2 August, 2003)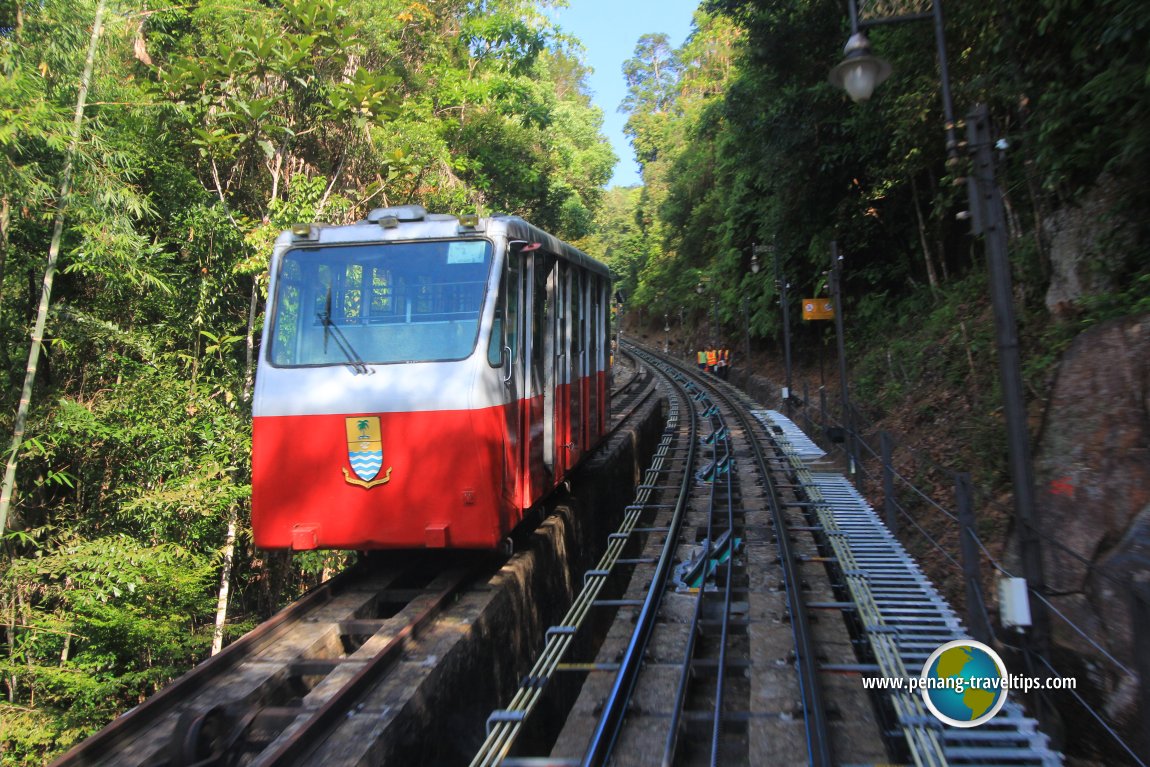 Once upon a time, there was a little red train ...
(26 January, 2012)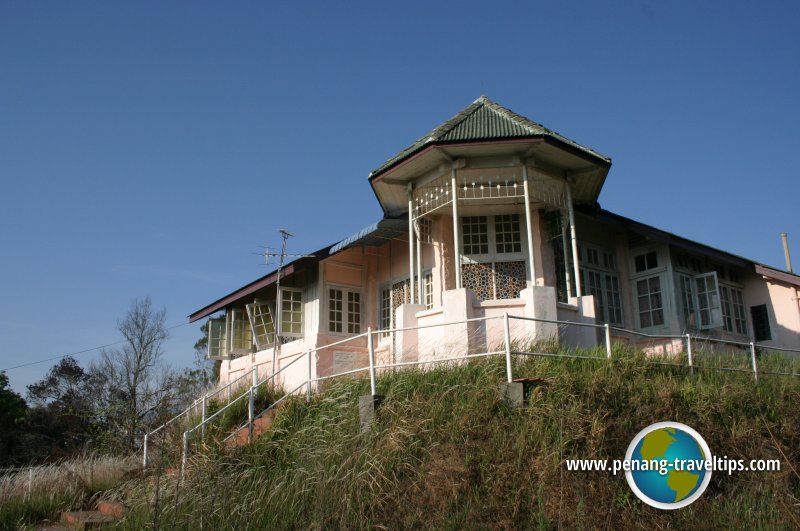 Convalescent Bungalow on Penang Hill
(3 May, 2005)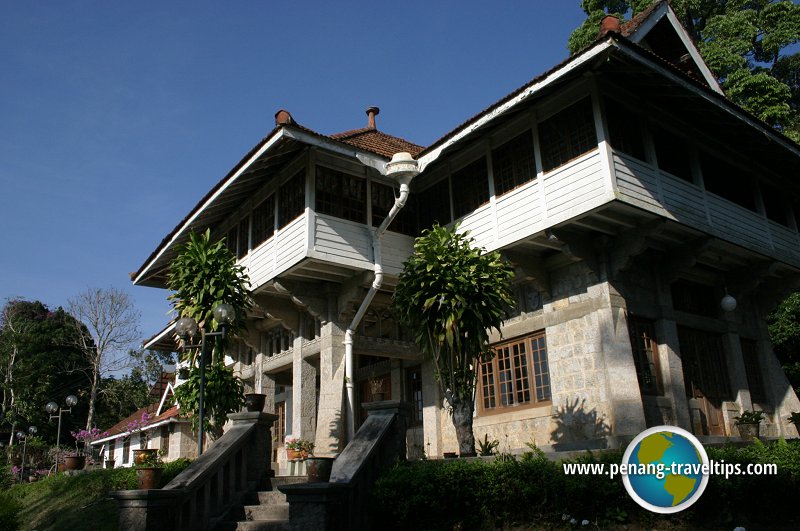 Moy Craig, also called Raj Bhavan Bungalow
(3 May, 2005)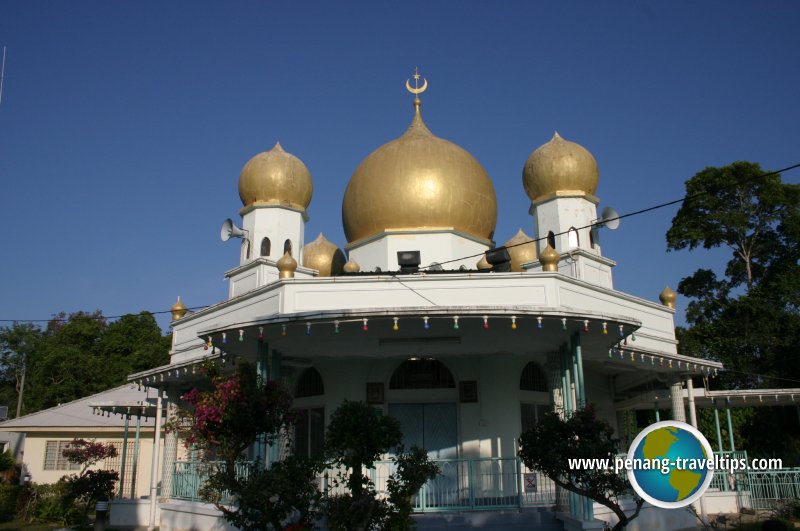 Penang Hill Mosque
(3 May, 2005)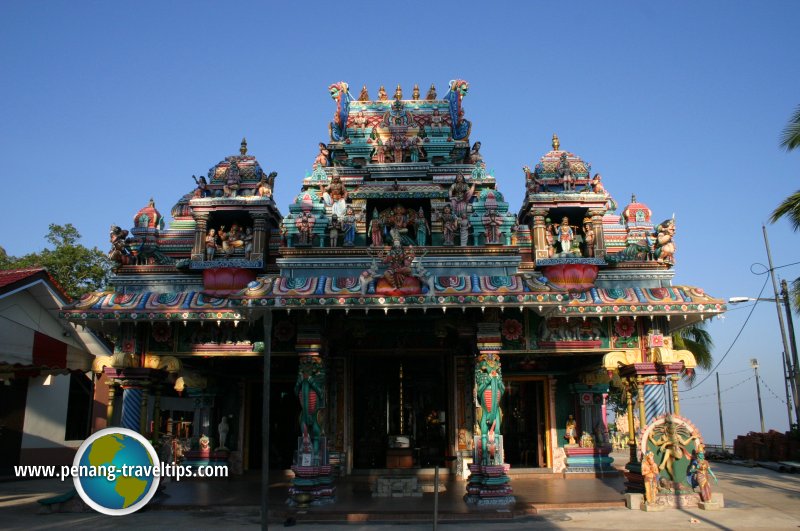 Penang Hill Hindu Temple
(3 May, 2005)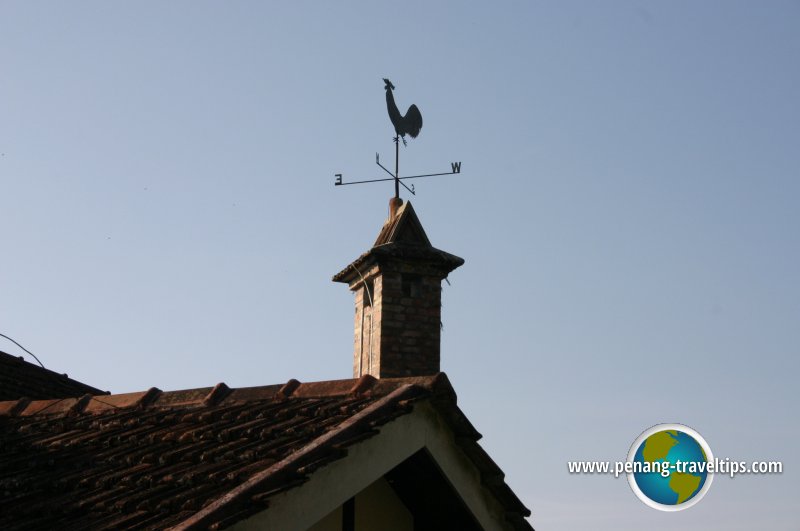 Wind vane on the roof of the cottage that was originally called Through, then renamed to Kopah Villa, and presently Bukit Pinang
(3 May, 2005)

Important links on this website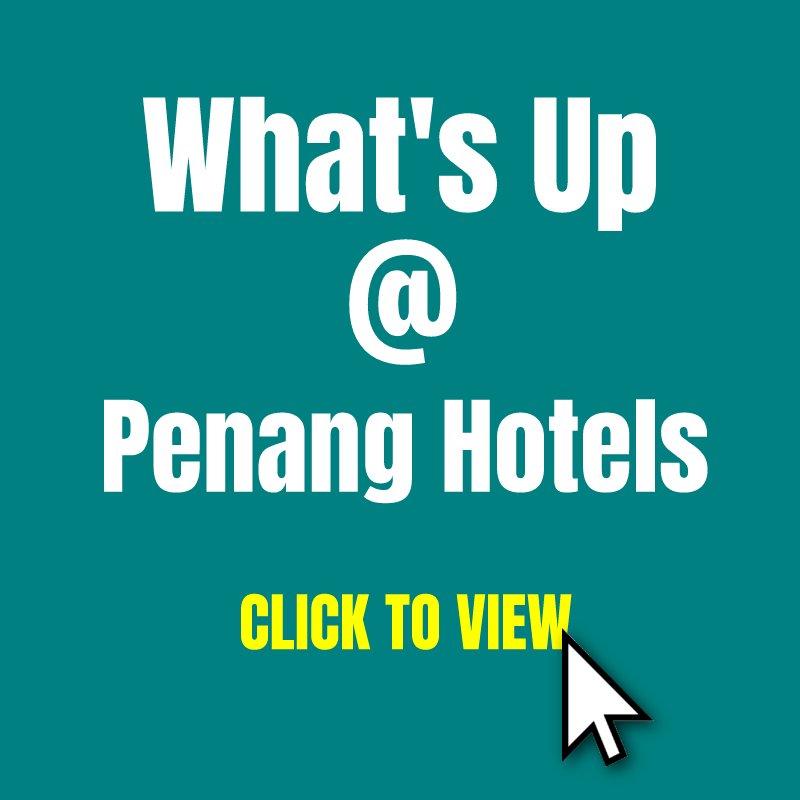 The Durian Tourist's Guide to Penang
This is a book written specially for durian lovers. If you come to Penang to enjoy durians, get this book! It provides details to help you learn about durians varieties and farms all over Penang.
Book Review Here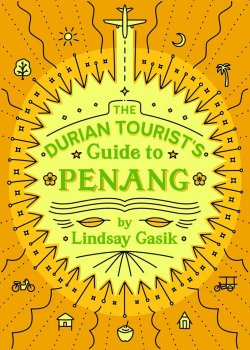 Which bus to take when in Penang?
The main bus operator in Penang is
Rapid Penang
. Take a look at all the
bus routes in Penang
:
CAT
,
CAT Air Itam
,
CAT Balik Pulau
,
CAT Bukit Mertajam
,
CAT Nibong Tebal
,
10
,
11
,
12
,
13
,
101
,
102
,
103
,
104
,
201
,
202
,
203
,
204
,
206
,
301
,
302
,
303
,
304
,
305
,
306
,
307
,
308
,
401
,
401E
,
403
,
404
,
501
,
502
,
601
,
602
,
603
,
604
,
604A
,
605
,
606
,
608
,
610
,
701
,
702
,
703
,
707
,
708
,
709
,
801
,
802
,
803
,
804
,
Penang Sentral-Parit Buntar
and
Penang Sentral-Sungai Petani
.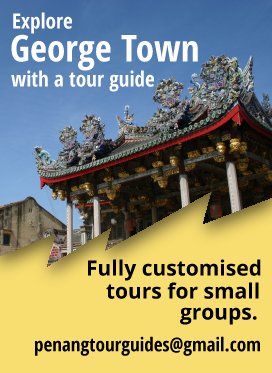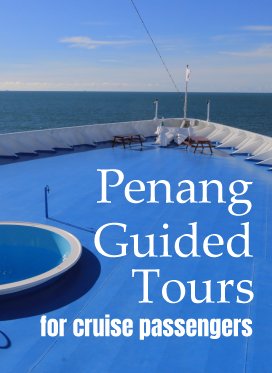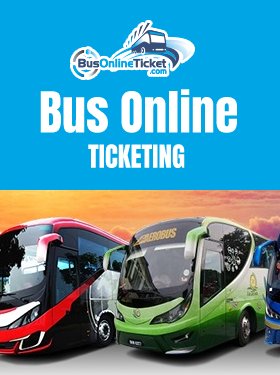 All about me
My wife and I are plant lovers. We started this website to describe the many plants and trees that we have gotten to know. These are now listed in alphabetical order.
Malaysia Travel Tips!
My
Malaysia Travel Tips
has useful information on every state in Malaysia (
Johor
,
Kedah
,
Kelantan
,
Malacca
,
Negeri Sembilan
,
Pahang
,
Penang
,
Perak
,
Perlis
,
Sabah
,
Sarawak
,
Selangor
,
Terengganu
) and every major city and destination (
Kuala Lumpur
,
Johor Bahru
,
Ipoh
,
Langkawi
,
Cameron Highlands
,
Kota Kinabalu
,
Kuching
,
Alor Setar
,
Seremban
,
Petaling Jaya
,
Putrajaya
,
Kota Bharu
,
Kuala Terengganu
,
Taiping
) and hundreds of smaller towns.
Singapore Travel Tips!
In addition to covering Malaysia, I have created the travel tips for Singapore. Please visit my
Singapore Travel Tips
for browse through the pages there.