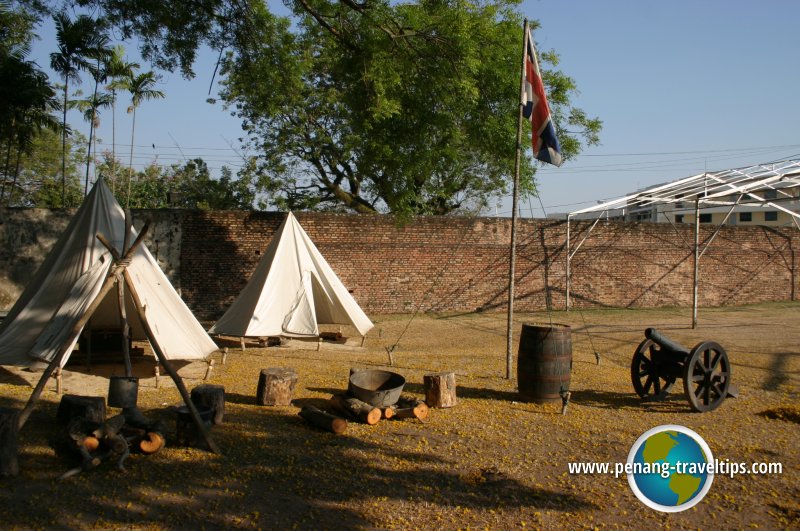 Reconstruction of the camp set up by the British upon landing in Penang, on the grounds of Fort Cornwallis
(30 January, 2005)


Read
Accommodation Tips for Busy Travelers
to save yourself some time and money when selecting a hotel in Penang!
---
Fort Cornwallis
(GPS: 5.4203, 100.34384) at
Padang Kota Lama
, George Town, is the largest intact fortress still standing in Malaysia. The fort dates back to the earliest days of British settlement on the island. When
Captain Francis Light
landed on Penang Island in 1786, the cape where he landed was called Tanjung Penaga in Malay. There, he established the British settlement and trading port of George Town. To defend the site, he built a simple stockade out of
nibong
palms.
Fort Cornwallis was named after the Governor-General of Bengal, Charles Marquis Cornwallis. (Cornwallis was the general who was defeated by General George Washington in the American Revolutionary War in Yorktown, Virginia, in 1781, paving the way for the creation of the United States). The design of the fort is similar to other British forts in India, albeit built on a smaller scale.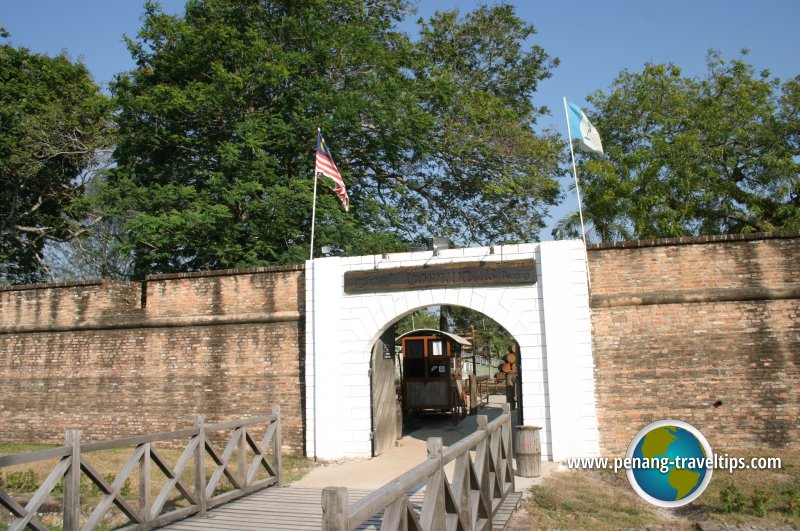 The western entrance to Fort Cornwallis
(30 January, 2005)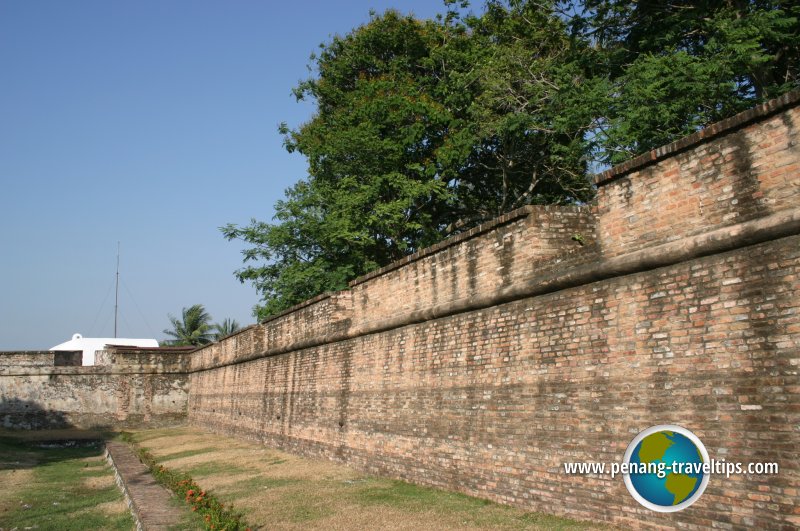 The rampart, parapet and remains of the moat of Fort Cornwallis
(30 January, 2005)

Plan of Fort Cornwallis
The numbered points refer to sites within Fort Cornwallis during the early 19th century. The unnumbered points are added later.
In 1789, three years after building the simple stockade, Francis Light rebuilt Fort Cornwallis in bricks in the star-shaped plan that we know today. The earliest batch of convict labourers arriving from India were put to work on the fort. The cost of reconstruction, completed in 1793, was 67,000 Spanish Dollars.
Cannons were mounted along the perimeter. The most famous cannon at Forn Cornwallis is the Seri Rambai. This particular cannon has a fascinating history. It was first presented by the Dutch to the Sultan of Johor in 1606. In 1613, the Portuguese took possession of Seri Rambai. Then it was taken to Java, where it stayed until 1795, when it was given to Acheh, and was brought to Kuala Selangor. Later, in 1871, the British seized the cannon and brought it over to Penang. It was installed on Forn Cornwallis, where it is still located, on the northwest bastion. Locals believe that Seri Rambai possesses magical powers, and that women who place flowers on the barrel will improve their fertility.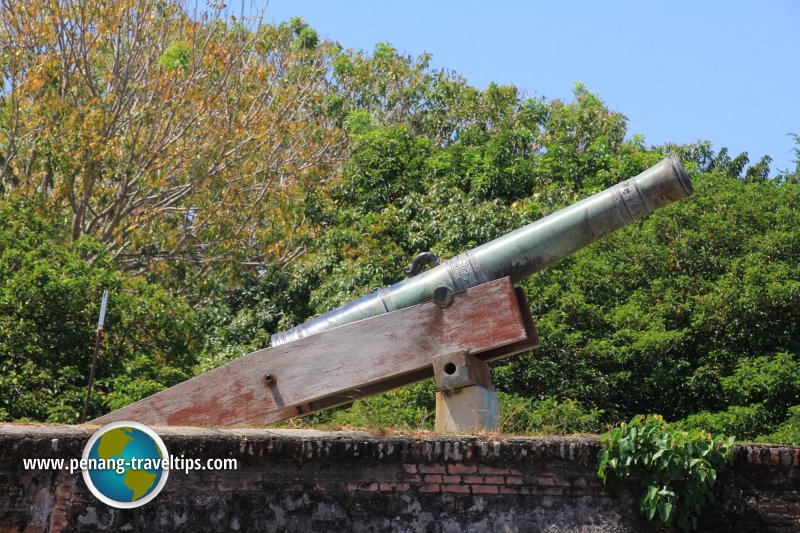 Seri Rambai, Fort Cornwallis
(22 February, 2014)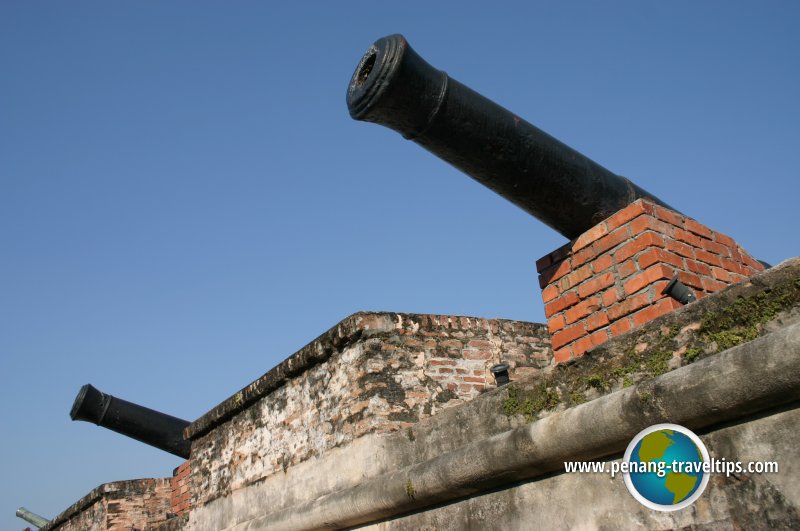 The cannons of Fort Cornwallis
(30 January, 2005)

Francis Light passed away in 1794. Under the administration of Lieutenant Governor Farquhar (of
Farquhar Street
, see
British Governors of the Straits Settlements
) in 1804-05, the fort underwent a repair at 71,000 Spanish dollars. It included land reclamation on the eastern side of the fort and the building of a semi-circular battery facing the sea. That battery, where Fort Road (the east side of
Jalan Tun Syed Sheh Barakbah
) is located, has since eroded into the sea.
In 1797, visiting Colonel Wellesley - who would later be made the Duke of Wellington - submitted a negative assessment of the fort. He reported that the located of Fort Cornwallis at the very tip of the cape makes it useless to defend the island. (Read:
Historical Plan to Relocate George Town
)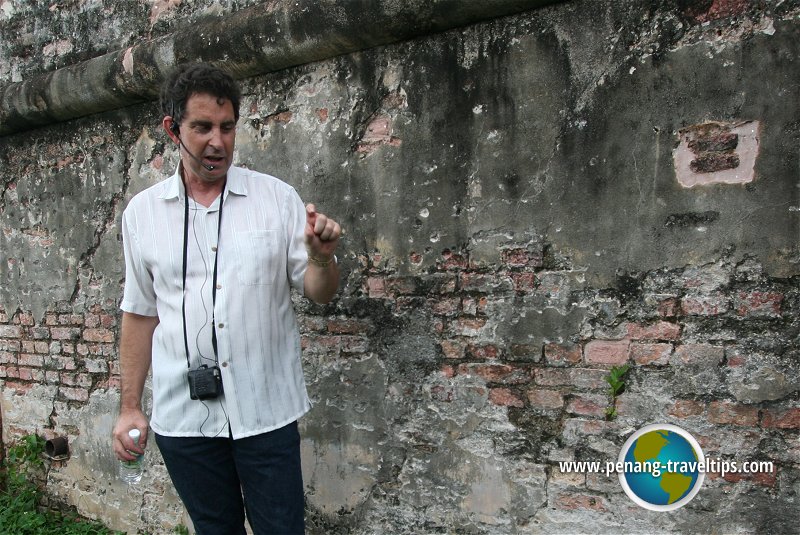 Marcus Langdon, author of Penang, Fourth Presidency of India, offering interpretation at Fort Cornwallis
(17 July, 2010)

When Penang was elevated to the status of Presidency in 1805, the British carried out a study on how to improve the defence of the island, given the threat of the French. There was a suggestion that a new fort be constructed on
Pulau Jerejak
, and that George Town be abandoned in favour of founding another new settlement, to be known as Jamestown, in the area where Bayan Baru is located today.
Although a separate revenue farm (as government tenders and licensing were known then) was established for Jamestown, the idea was eventually shot down, chiefly due to opposition from the residents of George Town who find it too costly to pack up and move. Instead, Fort Cornwallis was substantially rebuilt.
The cost of this reconstruction was 80,000 Spanish dollars. It was done in 1810 under the term of Norman Macalister - whose name lives on in Penang at Macalister Road. The shape and appearance of Fort Cornwallis as we know today dates back to Macalister's term.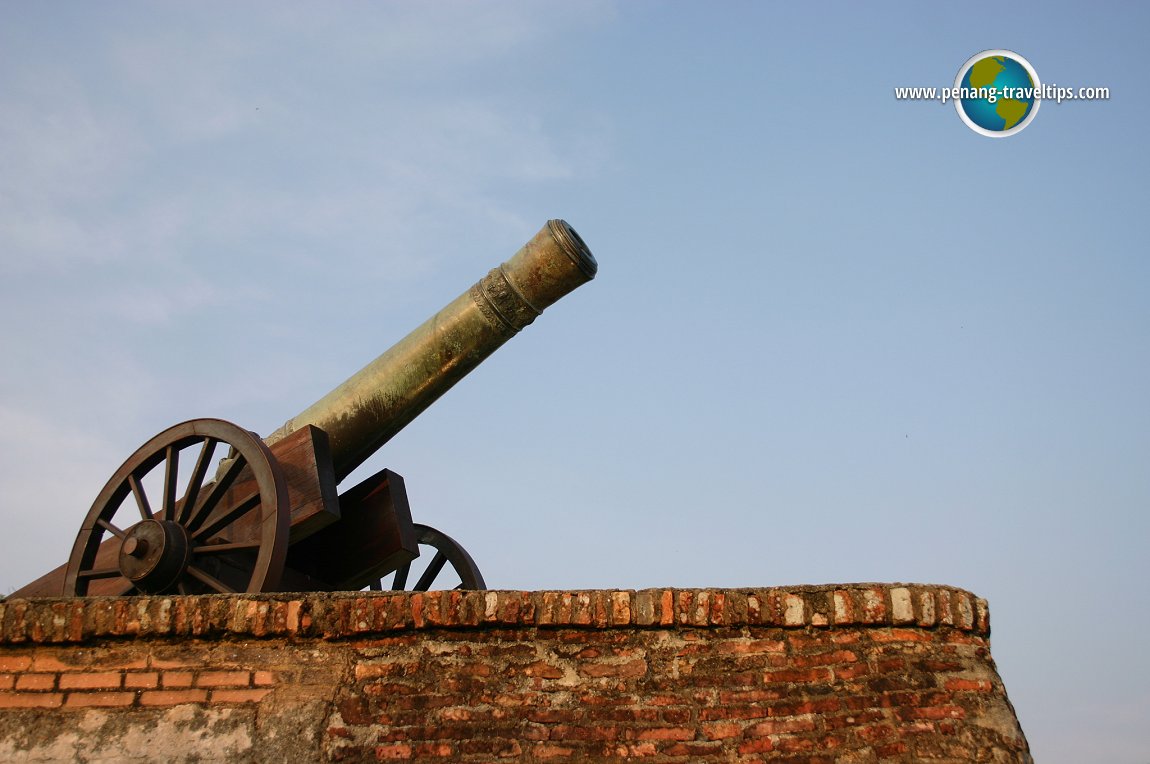 The Sri Rambai Cannon at Fort Cornwallis
(4 June, 2005)

Since the late 19th century, a lighthouse stands on the northeast side of Fort Cornwallis, and is today known as the
Fort Cornwallis Lighthouse
. Next to the lighthouse is the flagstaff that is used to send message to the other flagstaff on
Penang Hill
, signalling the arrival of mail ships. Around the time that the Fort Cornwallis Lighthouse was added to the fort, two coastal roads were also built. They were known as Fort Road and The Esplanade, and were located on the east and north sides of the fort. These two roads are today known as
Jalan Tun Syed Sheh Barakbah
, renamed in honor of a past Governor of Penang.
Forn Cornwallis was originally encircled by a 27-feet wide, 6-feet deep moat. This too is gone today, having been filled up in the 1920s to prevent malaria - following an epidemic which hit Penang then.
Fort Cornwallis was the first military and administrative base of the British East India Company. The East India Company was started in the early 17th century. On 31 December 1600, a group of British merchants were given monopoly privileges on all British trades with the East Indies, and the East India Company was started. Over the years, their business activities boomed.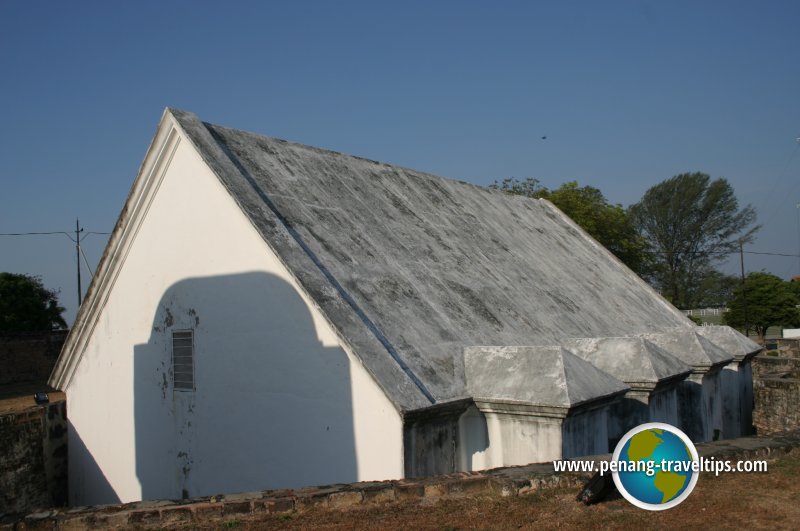 The gunpowder house (or room) at Fort Cornwallis
(30 January, 2005)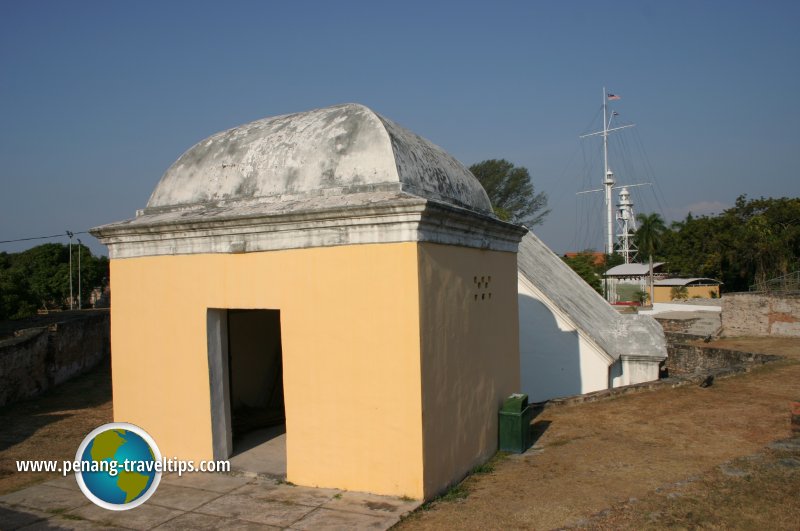 The arms magazine at Fort Cornwallis
(30 January, 2005)

The East India Company traded in spices such as cloves, nutmeg and peppercorns. In the later half of the 18th century, the East India Company managed to obtain a monopoly on the trade in silk, with Canton (Guangzhou), China. However, there was no refueling station between China and the British base in India. Hence there was a need to find a suitable port for the British vessels to stop over.
The East India Company first took steps to find a base in Southeast Asia in 1763, but the missions were unsuccessful. The Director of the East India Company sent a message to the Madras Council to try once again to secure a settlement in or near the Straits of Malacca. While the message was still in passage, something else happened to helped the British secure the settlement they were seeking.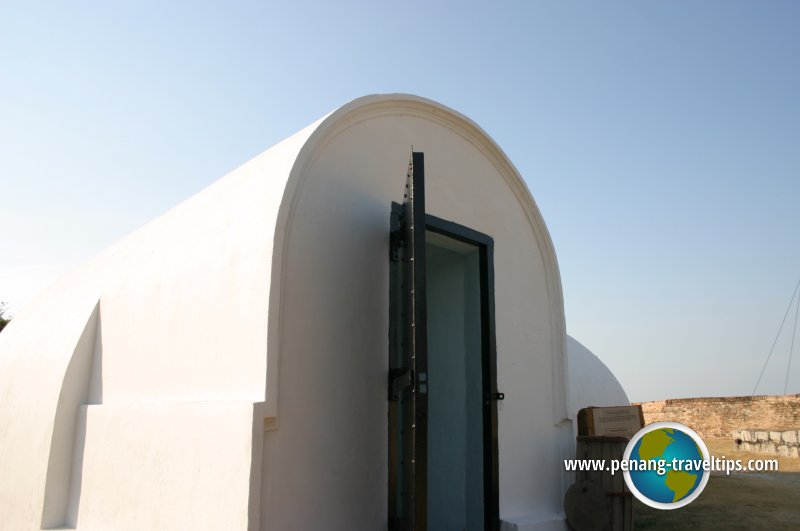 The conductor's quarters at Fort Cornwallis
(30 January, 2005)

Captain Francis Light, a seaman who has established a trading station in Kedah for the Madras firm of Jourdain, Sullivan and De Souza put together a plan that practically solved the problem. Light suggested that the island of Penang would be a suitable station for the East India Company. At the same time, Light reported to his superiors at the Madras firm that the King of Kedah had granted him Kuala Kedah as well as the entire coast including Penang Island, in return for protection against Selangor. However, after a few letters to his superiors and having been ignored in these negotiations, a bitter Francis Light withdrew to Phuket. He continued his trading activities and maintained his relationship with the ruler of Kedah. On 15 February 1786, he wrote to the acting Governor-General of India, on the success of his mission in getting Penang, and on 11 August 1786, Francis Light took formal possession of Penang Island.
For other articles on Captain Francis Light, please refer to the following pages: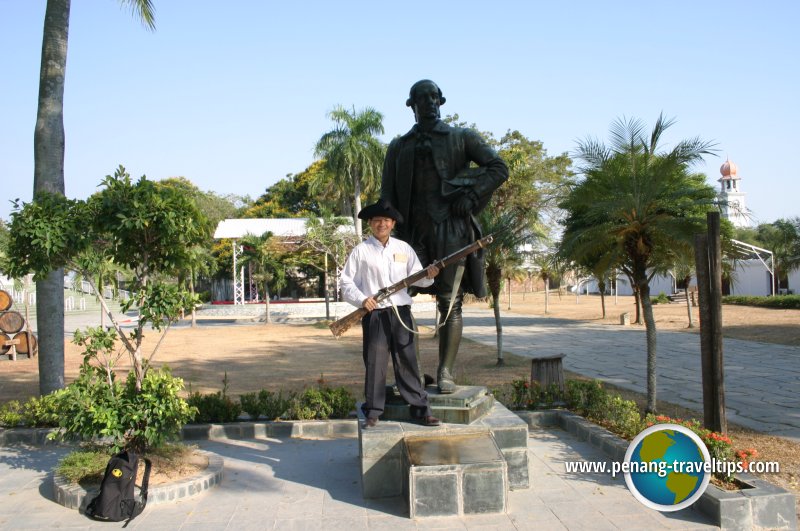 Timothy Tye with Francis Light's statue
(30 January, 2005)

Fort Cornwallis is on the map of Light Street
References
George Town: Heritage Buildings of Penang Island (MPPP, 1994)
Penang, Fourth Presidency of India, Volume Two
Your Made-In-Penang guide to visit, discover and enjoy Malaysia and more!
My mission with this website is to provide you the most detailed information of the places I've describe, information that I hope you'd find useful. It's not just about
Penang
, but about other cities too, including
Kuala Lumpur
,
Malacca
,
Johor Bahru
,
Ipoh
,
Alor Setar
,
Taiping
, and more. Major tourist destinations are covered too, like
Langkawi
and
Cameron Highlands
. So are all the states in Malaysia -
Johor
,
Kedah
,
Kelantan
,
Negeri Sembilan
,
Pahang
,
Perak
,
Perlis
,
Sabah
,
Sarawak
,
Selangor
and
Terengganu
. And also
Singapore
too!
Latest Pages & Updates on this website
This website is supported by Agoda
Penang Travel Tips is able to provide you free information thanks to its affiliate partnership with Agoda, the most reliable hotel booking engine in this region. You can support the maintenance of this website by
making your next hotel booking with Agoda right here!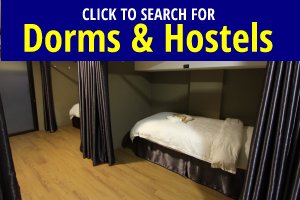 Compare room rates with HotelsCombined
To check which booking engine offers the best rate, use
HotelsCombined
.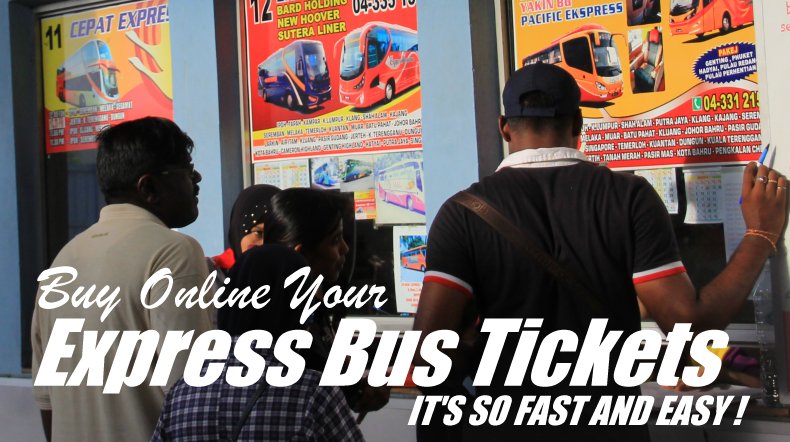 Even more sights to discover on Penang Travel Tips!
Buy Your Long-Distance Bus Tickets Here!
If you are planning to travel Malaysia and Singapore by bus, you can now purchase your long-distance bus tickets directly from
Bus Online Ticket
, where you get to check the schedule as well as price of tickets from various bus companies.
About me
My name is
Timothy Tye
and Penang Travel Tips is my website - yay! I created this to satisfy my own curiosity about the world around me, but I'm glad the information I've assembled can be helpful to others. As a Christian, my hope that though this website,
God's Good News
can reach every corner of the world and connect with every person in need of it. To contact me,
click here
. Thanks for visiting!
Social Media Presence
To interact with me, join any/all of my Facebook Groups:
Penang Travel Tips
,
Exploring Malaysia
,
Big World Out There
,
My Little Bookshelf
,
Learn Penang Hokkien
,
Penang Street Art
,
Penang Hawker Food
,
Penang Restaurant Food
,
Masa Masak
,
Penang Residential Properties
and
Armchair Traveler
.
Disclaimer
I try my best to provide you the latest and most accurate information. However, please bear in mind that details change all the time, often before I have the chance to update them. Therefore, I would always encourage you to phone in and re-verify the information. I do apologize if the information I provide to you turns out to be inaccurate or outdated, and I would be most grateful if you would could help to
update me
should you discover the right information. Your feedback helps other users.
Using the information on this website
You are allowed to make print outs of any page of this website to carry with you on your travels, for your own personal use. You are free to reference and link to any pages of this website from your blog/website without seeking my permission. You are NOT ALLOWED to copy and paste, word-for-word, the content of this website into your own blog or website. Photos bearing my copyright may only be used with my permission. Other photos bear licenses that have to be observed accordingly.
Contact me
when in doubt.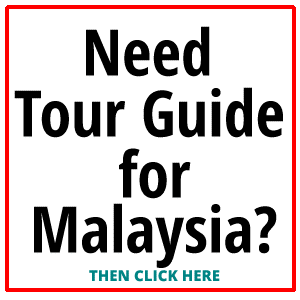 Copyright © 2003-2016
Timothy Tye
. All Rights Reserved.