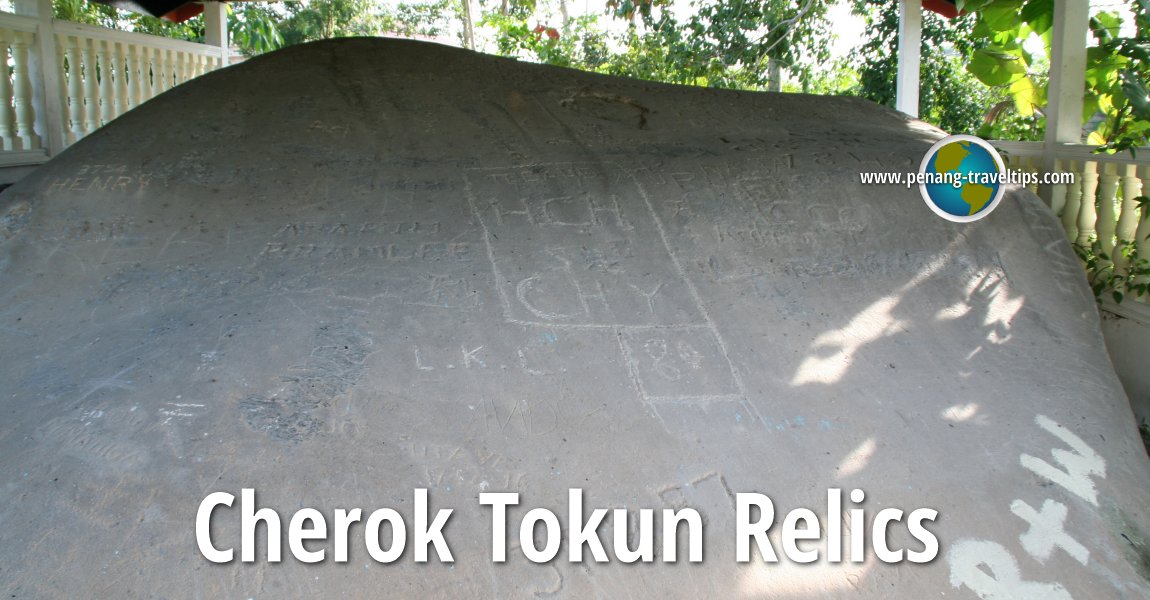 Cherok Tokun Relics
(25 November, 2007)

Cherok Tokun Relics
(GPS: 5.352123, 100.476684) are ancient inscriptions on a rock in
Bukit Mertajam
, Penang. Also called
Batu Bersurat Cherok Tokun
, it is the only ancient megalith in Penang, Malaysia, as recognised by the Malaysian Department of Museum and Antiquities. It is also regarded as the southernmost relic of the ancient civilization of
Bujang Valley
. The granite megalith is located at the foot of Bukit Mertajam, within the compound of the
St Anne Church
. To reach it, walk across the driveway from the new St Anne Church.
The Cherok Tokun Ancient Inscriptions were first documented by Colonel James Low, a British army officer, in 1845. In his log, Low recorded his disappointment of not finding a more spectacular ruin, expecting to find an ancient temple ruin. He documented what he made out to be "a group of seven inscriptions". The inscriptions were believed to be in pre-Pallava script and written in Sanskrit. They were attributed to the ancient Kingdom of Kadaaram, which flourished in northern Malaysia in the 5th to 6th centuries. However, according to J Laidlay, who translated the text in 1848, the inscription was Pali, not Sanskrit. The successor to the kingdom of Kadaaram is the present Sultanate of Kedah, whose name comes from Kadaaram.
1
Update: 28 July, 2015
: According to Dato' V. Nadarajan, in his book
Bujang Valley, the Wonder that was Ancient Kedah
(page 50), the inscription of the Cherok Tokun boulder reads in part, "I acknowledge the enemies of the contented king Ramaunibha and the wicked are ever afflicted."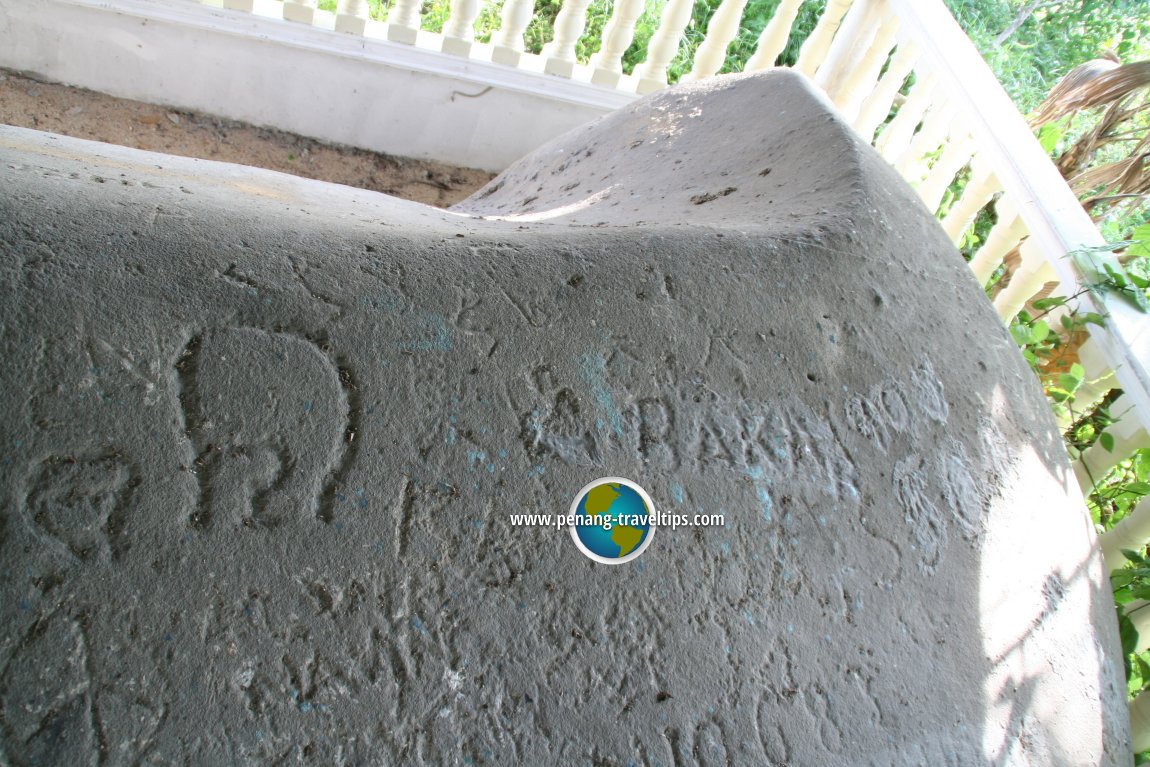 Inscriptions (and graffiti) on the Cherok Tokun Relics
(25 November, 2007)

The Museum and Antiquities Department built a shed over the megalith in 1973. It was the first and only ancient relic in Penang to be gazetted. By that time, the megalith was already covered with graffiti added by latter-day visitors, including an inscription by Colonel Low himself. Nevertheless the original inscriptions are still visible.
Getting there
The Cherok Tokun Relics is located within the compound of the Sanctuary of St Anne in Bukit Mertajam. Read my page on the
Sanctuary of St Anne
for direction to get there, then look for the shed sheltering the relics. It is across the road from the present Church of St Anne.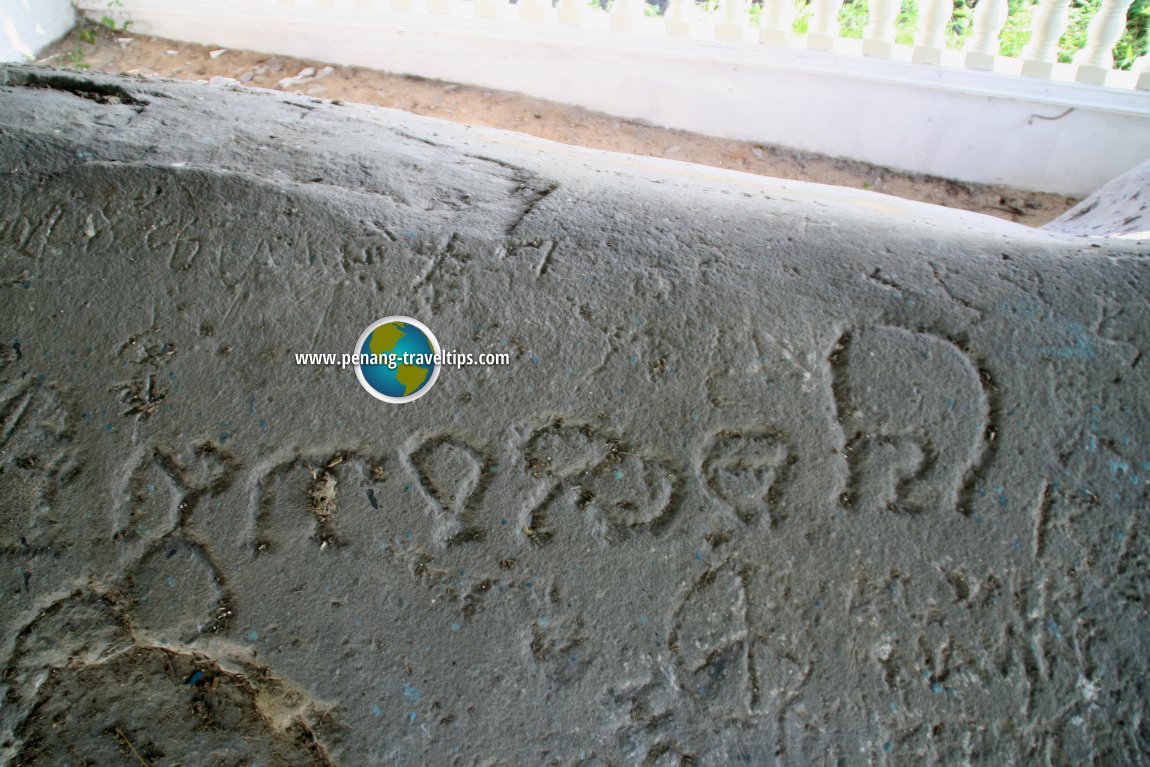 The ancient inscriptions on the Cherok Tokun Relics
(25 November, 2007)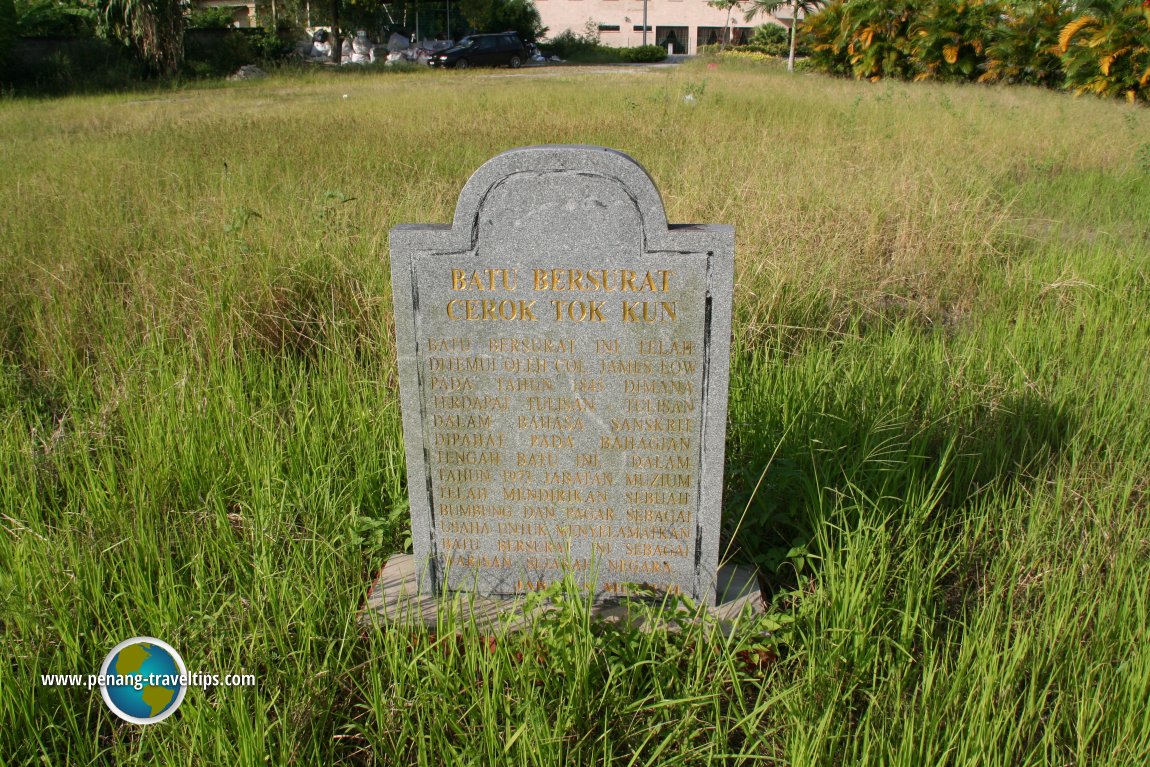 Interpretive tablet of the Cherok Tokun Relics
(25 November, 2007)

Location of the Cherok Tokun Relics on the map
Bibliographic Reference
Bujang Valley: The Wonder that was Ancient Kedah (page 27) by V. Nadarajan
The Malay Peninsula: Crossroads of the Maritime Silk Road (100BC-1300AD) by Michel Jacq-Hergoualc'h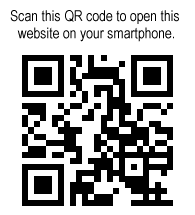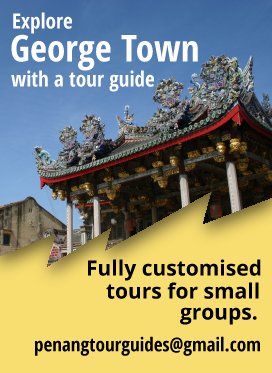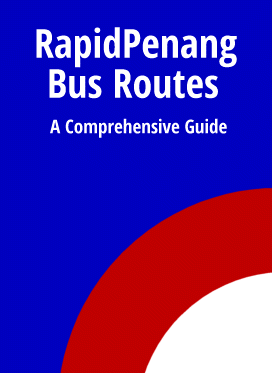 Explore the sights in Penang
So far, I have managed to write about 3430 sights in Penang, and you can explore them all right here!
Explore the rest of Malaysia
Penang Travel Tips is not just about Penang. I have described the whole of Malaysia. Yes, every state! And you can explore it right here!
Explore the Whole World!
And yes, at Penang Travel Tips, you can explore the whole world. I have described almost every country of the world, and you can start your journey exploring them from right here!