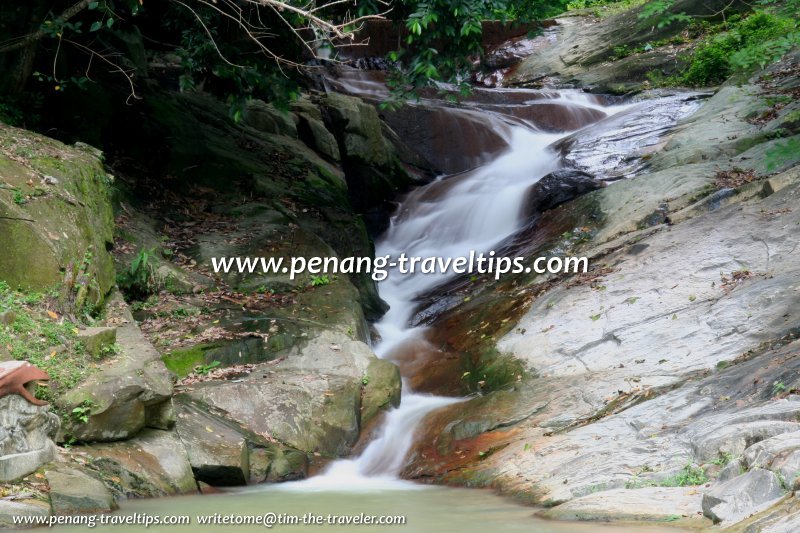 Bayan Lepas Waterfall
(21 November 2009)

The
Bayan Lepas Waterfall
(GPS: 5.29872, 100.26065) is a small waterfall just outside the town of
Bayan Lepas
. The waterfall is located behind the
Mutiara Perdana
low-cost flats and the Lembaga Urusan Tabung Haji complex.
The area around the waterfall has been landscaped and beautified by the local waterway department. A bridge is built across the cascades. The bank has also been paved so that vehicles can enter and make a U-turn to come out. There is also a wooden pavilion where you can go and have a picnic while you enjoy the scenery of the waterfall.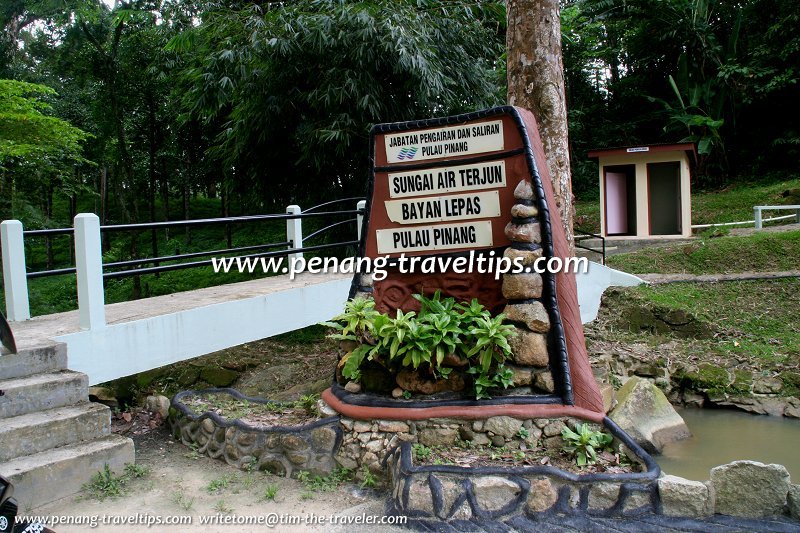 Bayan Lepas Waterfall signboard
(21 November, 2009)

The Bayan Lepas Waterfall itself has a height of about 5 meters. It cascades down the smooth rocks to empty into a pool where swimming is possible. A retaining wall is built to form the pool. From there, the water continues its way down the stream to form Sungai Bayan Lepas which flows through the
Bayan Lepas
pekan enroute to Permatang Damar Laut, where it is discharged into the sea.
The Bayan Lepas Waterfall is a serene place for locals to go, to find some serenity and greenery. One can simply sit by the bank of the river, and listen to the water as it cascades down to the pool. It is a good place to visit on a hot day.
Bayan Lepas Waterfall Video Guide
Instead of reading, try listening!
Penang Travel Tips provides an alternative to listen to this article, so that you can put on your headset and sit back to receive the information without reading.
For other video guides, go to
Penang Travel Tips Video Guides
or load the
Video Guide Playlist
.
Getting there
You can go to the Bayan Lepas Waterfall by private vehicle or by bus. You can take the
Rapid Penang
bus
302
or
308
to
Jalan Dato Ismail Hashim
. Alight at the bus stop next to Sekolah Kebangsaan Bayan Lepas. Look for the signboard pointing to the waterfall on the north side of Jalan Dato Ismail Hashim.
The Bayan Lepas Waterfall can be reached via a small lane that passes through the village houses of Bayan Lepas. Although the path is small, there is a bay for two cars to pass each other. On the way in, you pass by banana groves and a few sukun and jackfruit trees. The waterfall is about 400 meters from the main road.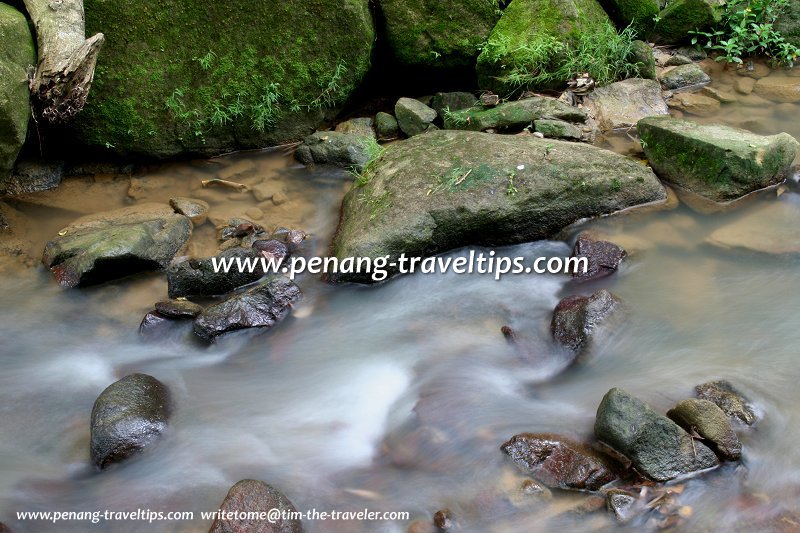 Water in motion, Bayan Lepas Waterfall
(21 November, 2009)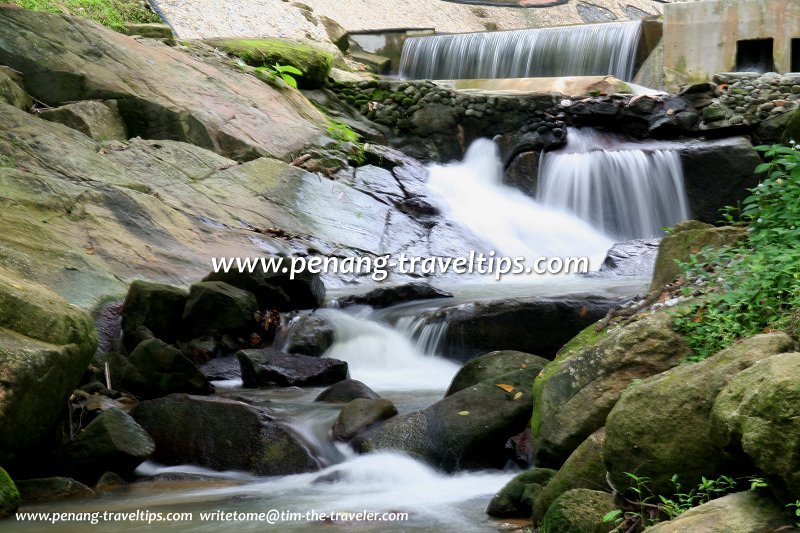 The cascades at Bayan Lepas Waterfall
(21 November, 2009)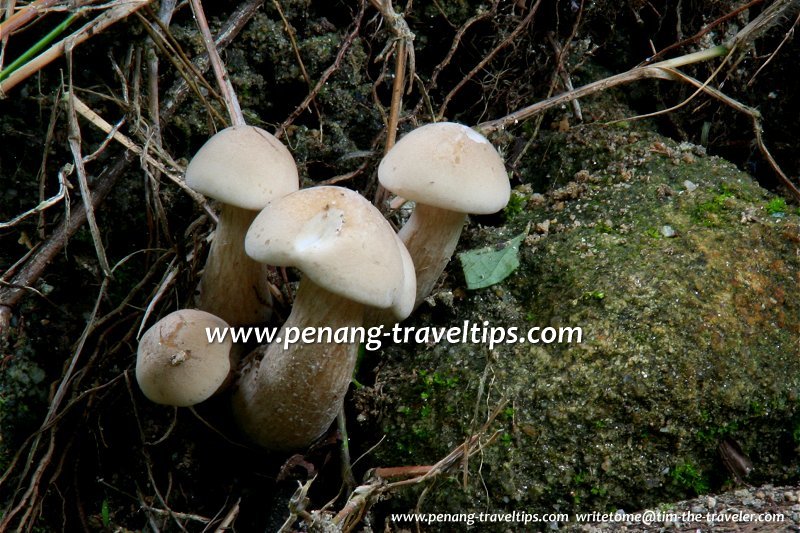 Wild mushroom growing near the Bayan Lepas Waterfall
(21 November, 2009)

Location of the Bayan Lepas Waterfall
What's up at various hotels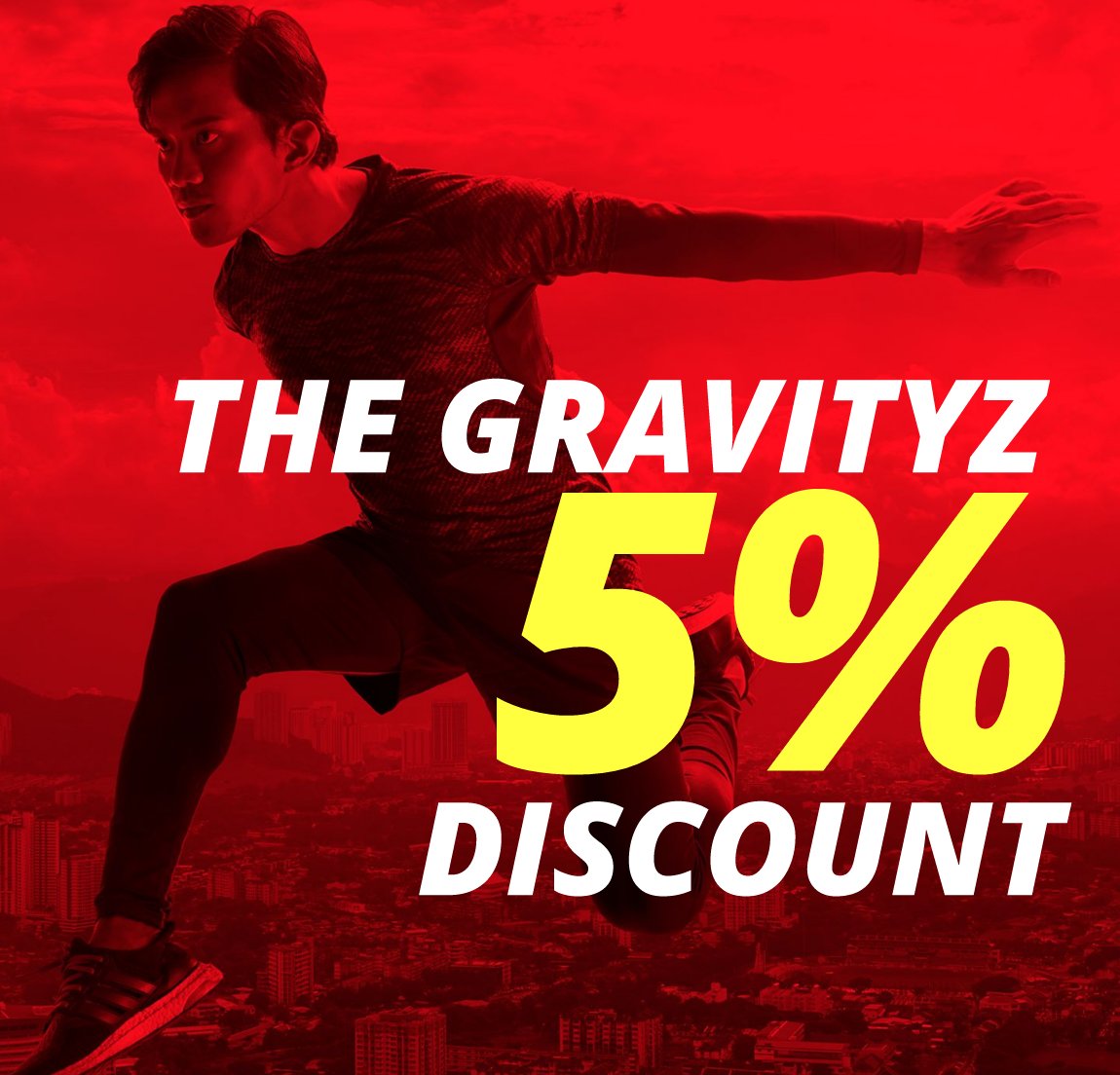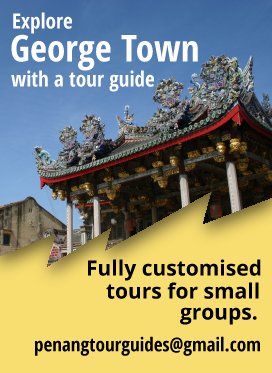 All about me
Welcome to my Singapore Travel Tips!
On top of writing Penang Travel Tips, I am expanding my writings to cover Singapore. These are the pages completed so far.