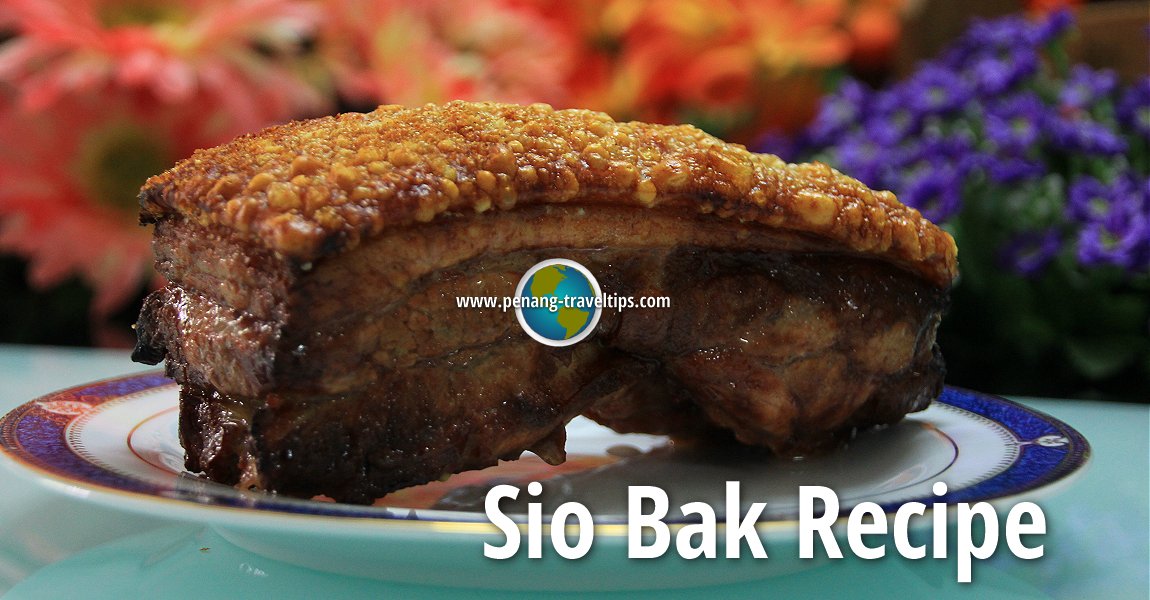 Sio Bak Recipe
(3 July, 2013)

Sio Bak

, or
Chinese Roasted Pork
is a popular dish among the Chinese in Penang. You can often find street vendors selling
sio bak
along with
char sio
(barbecued pork) and
larp cheong
(
Chinese sausages
). What makes sio bak delicious is the caramelized skin of the pork which is roasted to crispy and oozing with oils and sauces. The meat chosen for sio bak comes from the belly. It usually has layers of fat alternating with the meat. The fat gives sio bak its taste.
Let's make Sio Bak
Here's a video that I made to show step-by-step how my wife makes sio bak.
I am very fortunate in that my wife knows how to make very good sio bak, with the skin perfectly crispy. The sio bak is best eaten when it is still fresh and hot, right out of the oven. That's when it is tastiest.
To be honest, I wasn't really fond of Sio Bak when I was small, but then grew to love it as a grown up. The secret to good Sio Bak is to ensure that you get the skin very, very crispy, while the meat itself soft, juicy and not dry. It is important that you do not make the skin too hard, and I will explain how you can avoid this shortly.
The taste of your Sio Bak is dependent, to a great extend, on your marinade, which is in fact quite easy to prepare. Many people pay a handsome amount of money for just a small piece of Sio Bak, when they can make it themselves for just a fraction of the cost.
Sio Bak is definitely not for the health conscious. Not is it for people who can only consume
halal
or
kosher
food. Or vegetarians. But if you are none of the above, and you're the type the regard fatty food as good, then sio bak is a delicious threat.
Sio Bak can be eaten as it is (some people actually enjoy it as snack), taken with rice, or used as ingredient in Chinese dishes. It also enhances the taste of fried rice.
Ingredients
- 600g pork belly
Marinade
- 1 piece of red taujoo (fermented beancurd)
- 1/2 teaspoon of five spice powder
- 1 tablespoon of garlic, chopped finely
- 1/2 teaspoon pepper
For the skin
- 1 tablespoon vinegar
- 1 tablespoon salt
Steps
- First of all, mix the ingredients for the marinade together.
- Put the pork belly in a pot, with the skin facing down, add water and bring it to a boil. Then lower the heat and allow the meat to simmer for about 10 minutes before turning off the heat and allowing the meat to continue soaking in the water for a further 15 minutes. Take the meat out and dry it with kitchen towel.
- Score the meat side and then rub the marinade all over the pork belly.
- On the skin side, rub the vinegar on the skin, followed by rubbing it with salt. Dry the meat again with kitchen towel.
- Use something sharp - a pin mallet, a bundle of pins or a fork - to prick the skin. Take care to prick only the skin and not deeper than the skin, as this will result in the skin being hard and will not fluff up when you roast it. The pricking is to ensure that when roasted, the skin will become beautifully crispy.
- Wrap the meat side of the pork belly with aluminium foil, but leave the skin side exposed. Put it in your fridge, preferably overnight, or at least 6 hours, to ensure that the meat fully dries up. (It's not a dish that you can complete within one session.)
- Take the pork belly out of fridge, and leave it to warm up for about half an hour.
- Heat up your oven, with top and bottom heat, at 200°C. Remove the aluminium foil and brush the skin of the pork belly with cooking oil. Place the pork belly in your oven with the skin side up, and roast it for 45 minutes.
- After 45 minutes, use only the top heat and increase it to 250°C. Roast for another 20-25 minutes, so that the skin crackles. You should be able to hear the crackling sound, and see that the skin of your pork belly is turning into a golden brown.
- Take the pork belly out of the oven. Use a sharp knife to scrape away any bits that are charred. Leave the pork belly to cool down, then chop it up into bite-size pieces, and your Sio Bak is ready to be enjoyed.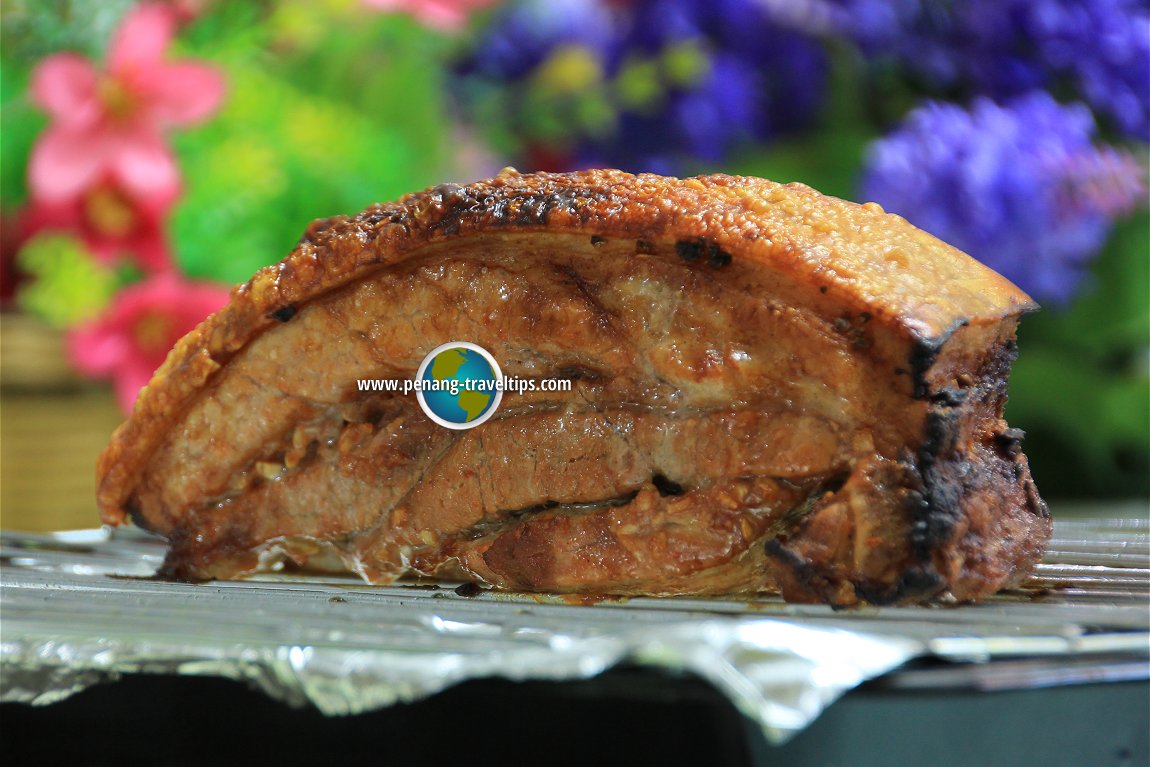 Sio Bak Recipe
(3 July, 2013)

The secret to crispy Sio Bak is this kitchen tool. We use it to punch the skin of the pork belly. My wife bought by the road side at
Chowrasta Market
.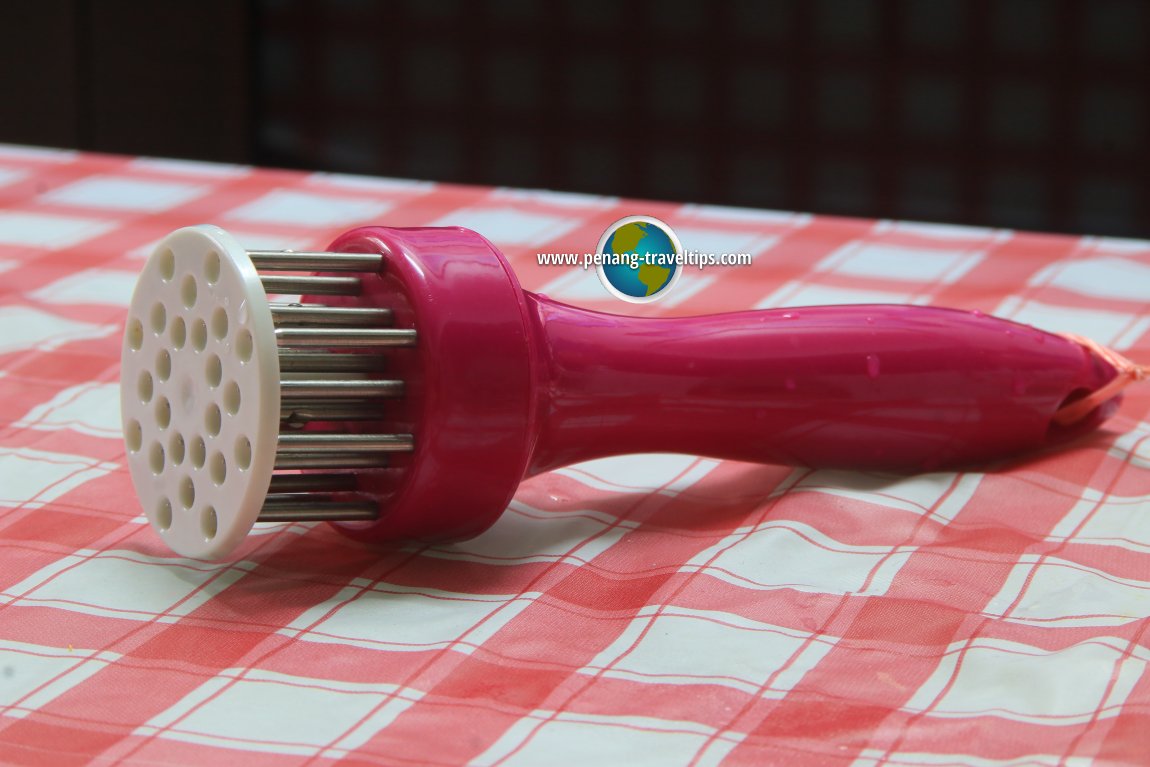 Sio Bak Recipe
(19 July, 2017)

19 July, 2017
We enjoyed eating Sio Bak so much that my wife decided to make it again for our dinner tonight.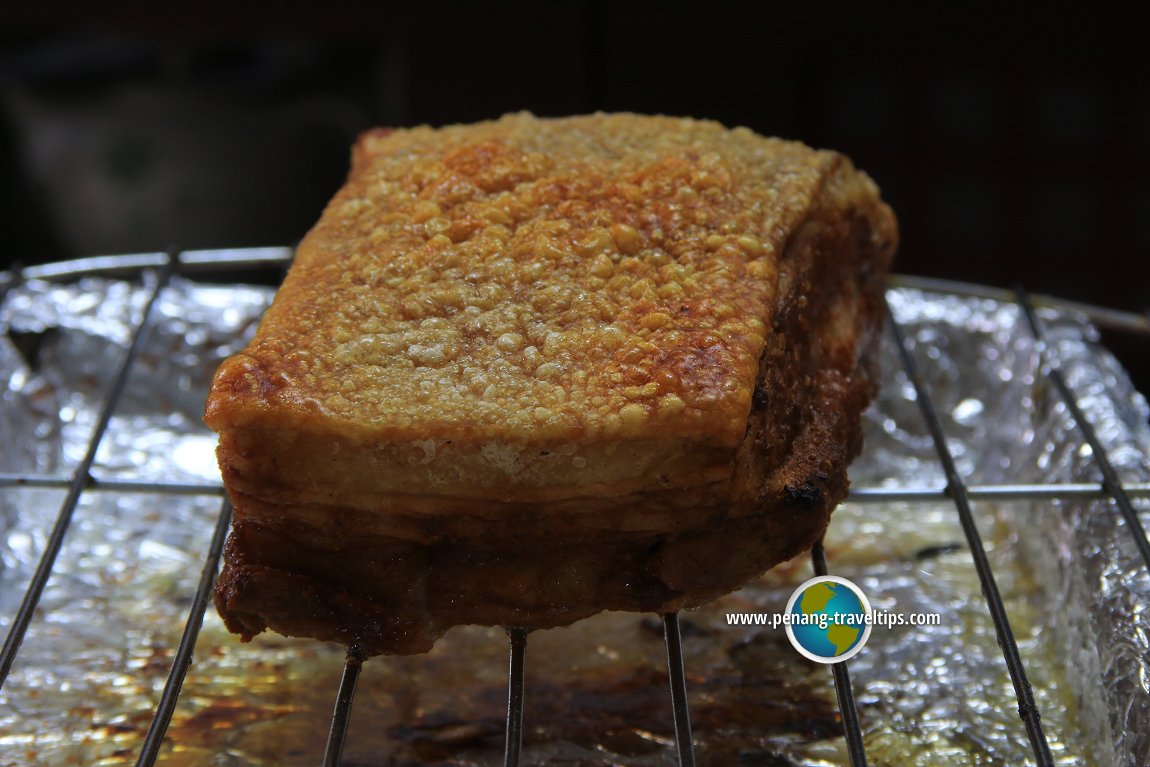 Sio Bak Recipe
(19 July, 2017)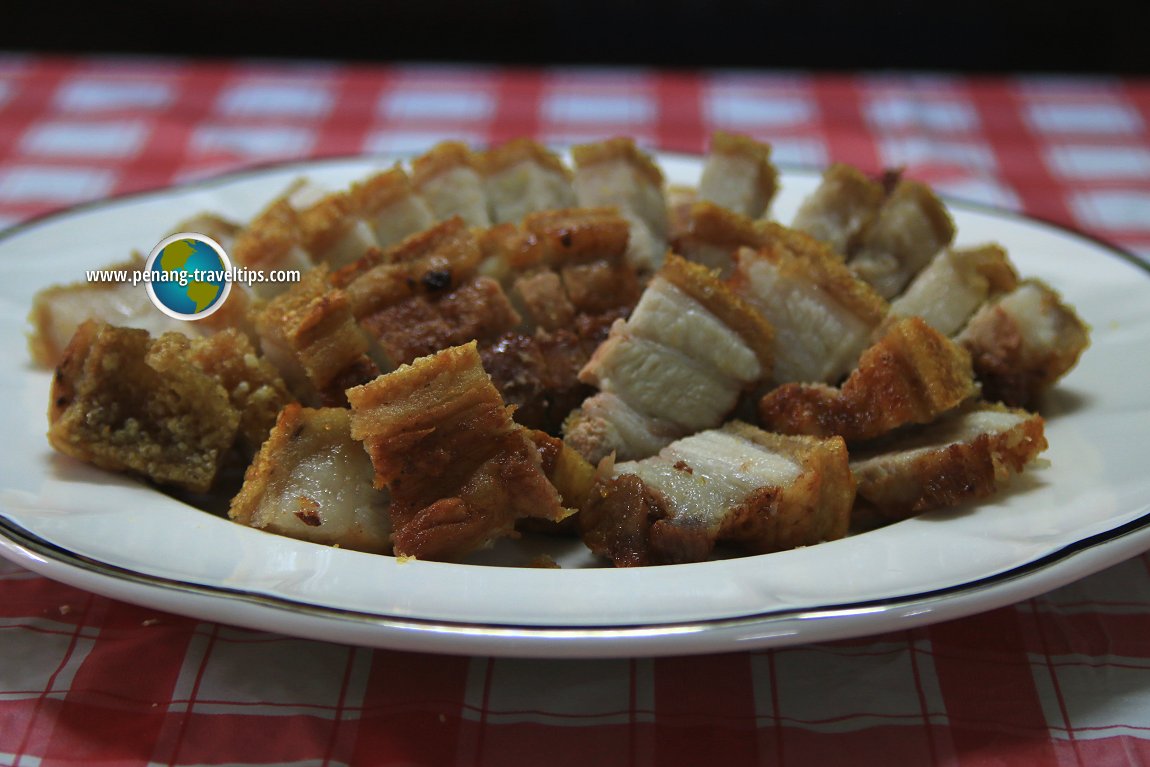 Sio Bak Recipe
(19 July, 2017)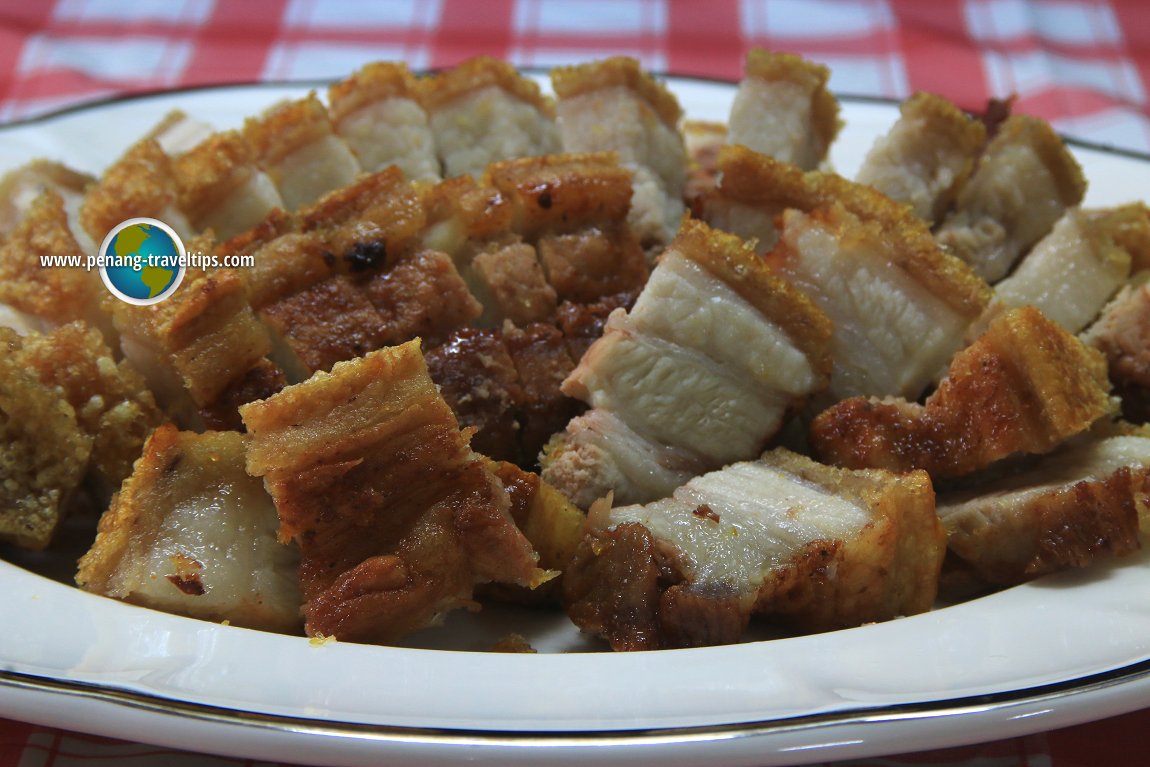 Sio Bak Recipe
(19 July, 2017)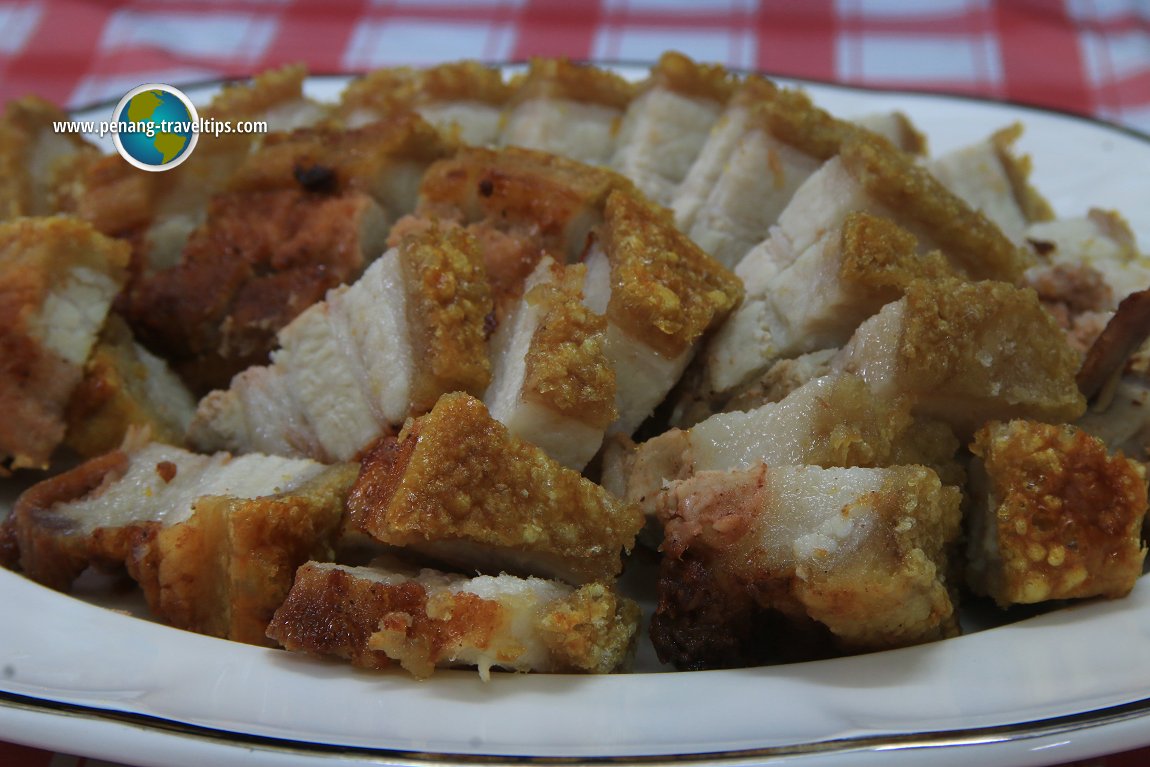 Sio Bak Recipe
(19 July, 2017)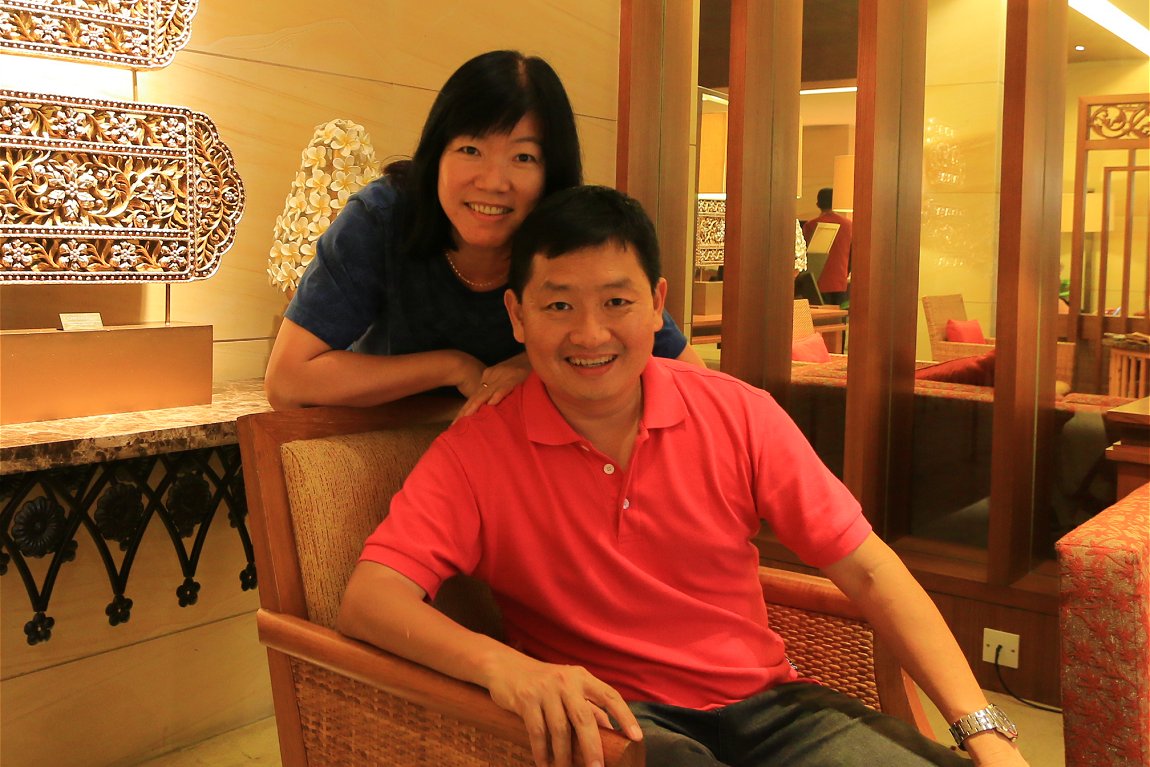 Tim & Chooi Yoke's Recipes of Homecooked Food
Let us share our recipes of homecooked food with you.
Details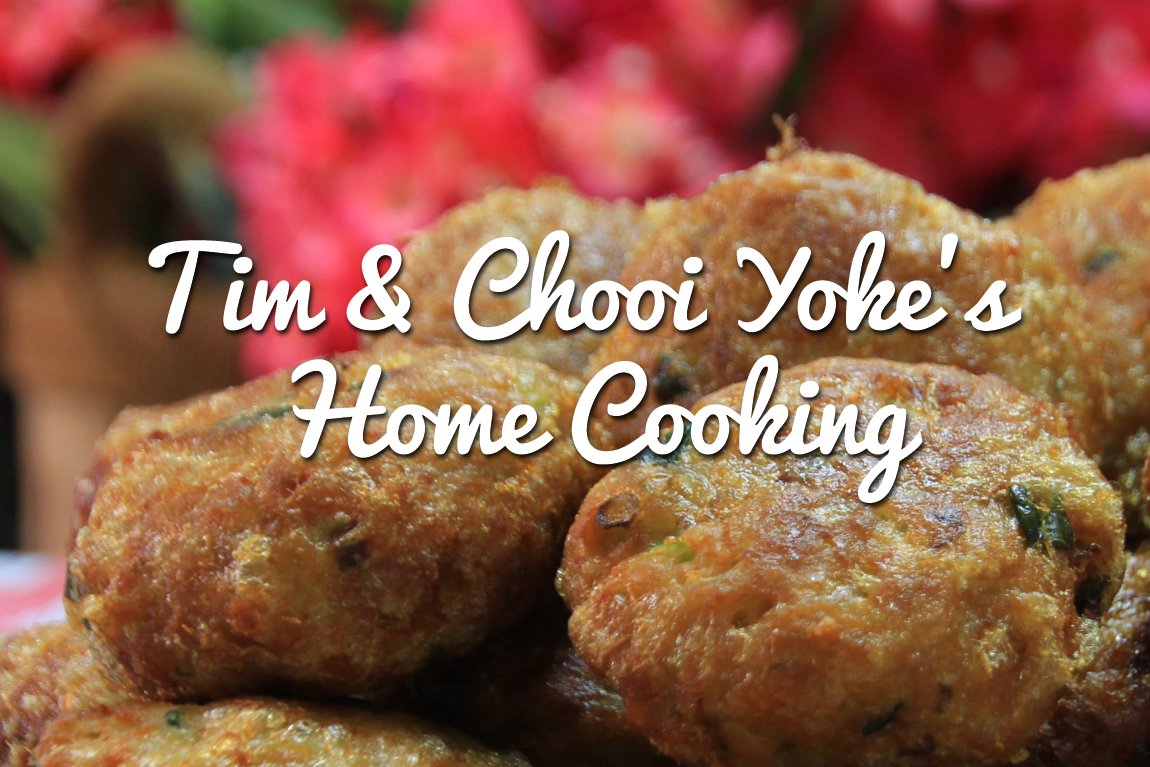 Tim & Chooi Yoke's Home Cooking
Let us share our joy of home cooking with you.
Details
Penang Condominium Market
Buy, sell, rent, let Penang condominiums. So easy!
Enter
Penang Residential Property Guide
Tips for buying and investing in residential properties in Penang
Enter
Timothy Property Homepage
The website that helps people acquire the home of their dream and invest in properties prudently. To buy, sell, rent, let property,
email me
or
WhatsApp me
at +60-12-429 9844.
Add your shop/business to this website
The Penang Travel Tips website is a huge website that documents everything in Penang. On top of the hundreds of streets and tourist attractions, I also add in hundreds of shops and businesses.
If you operate a shop business in Penang, or anywhere in Malaysia or Singapore, contact me to add your business/shop into my website. It only a one-time fee, and your shop/business will be listed by location and category, helping your would-be customers find you. To find out more,
CONTACT ME
Discover the World
About Me
Thank you for visiting
my website
. I started it in 2003, and today it has over twenty thousand pages of information. My name is
Timothy Tye
. I would be very pleased if you enjoy the information I have put together.
As a Christian, I hope that through this website, I am able to deliver God's message to all who need it, anywhere in the world. If you are open to hearing it, please read
God's Good News to You
.
If you wish to contact me, please use this
contact form
. And don't forget to
follow me on Facebook
. See you!
Copyright © 2003-2019
Timothy Tye
. All Rights Reserved.