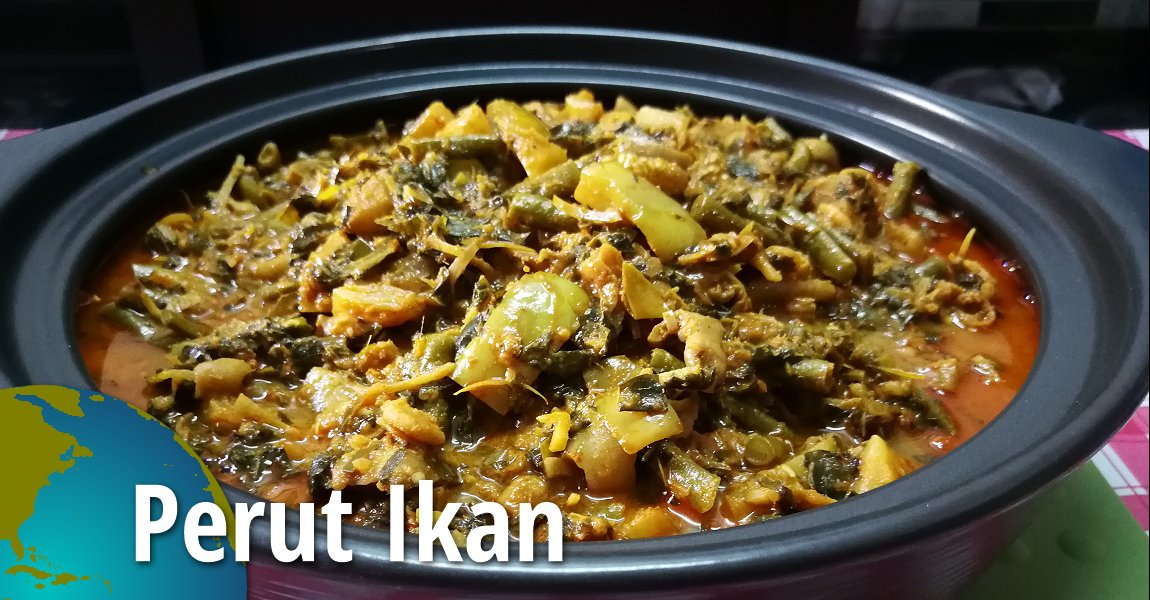 Perut Ikan
(17 March, 2018)

Perut Ikan
is a popular Nyonya dish in Penang. You can often find it as one of the dishes in the economy rice stall. Perut Ikan is also available in many Nyonya restaurants as well as ready made from the market. I like to buy ready cooked Perut Ikan from the market. You can find a big Perut Ikan stall at the
Pulau Tikus Market
. There's also a lady a
Jelutong Market
selling Perut Ikan, but she doesn't make it every day, and as we do not always go to the Jelutong Market, we only get to buy it when we are lucky.
Although I do not mind buying cooked Perut Ikan from the market, my wife prefers to make it herself. She says that the cooked Perut Ikan is not completely agreeable to her liking. Making Perut Ikan is a "major kitchen undertaking", as there's a lot of slicing involved.
Our video on Perut Ikan
Most of the ingredients for Perut Ikan are vegetables and herbs. Except for cekur leaves, which we were unable to find in the market - as it is now the dry season - the vegetables we bought for Perut Ikan include long beans, pineapple, egg plant (the round aubergine), brinjal (the elongated aubergine), daun kaduk, bunga kantan, lengkuas, kaffir lime leaves, mint leaves, Polygonum leaves, turmeric leaves, and lemongrass. If you wish, you can also add in button brinjal (y'know, like those you get in Thai green curry), but we decided we have enough vegetable in our Perut Ikan.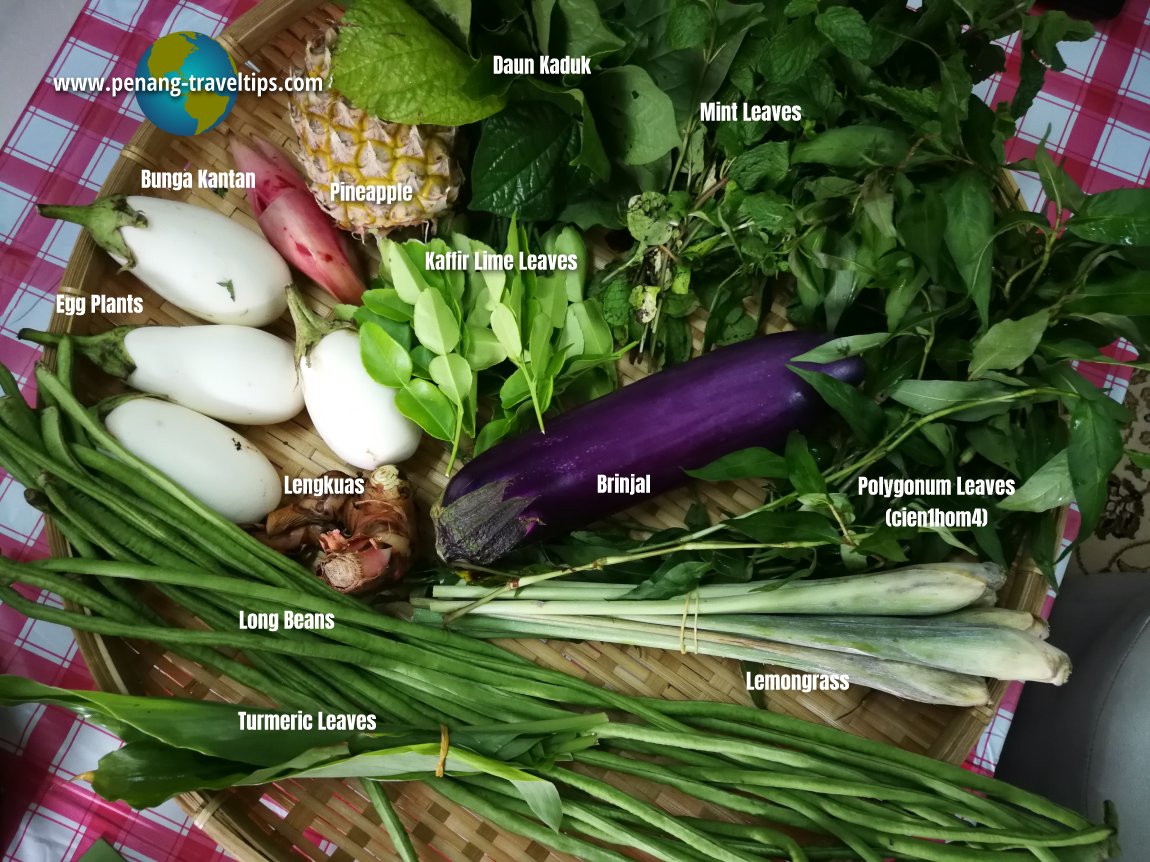 The vegetables and herbs we got to cook our Perut Ikan.
(17 March, 2018)

The two fleshy items in Perut Ikan are the prawns and the eponymous
"perut ikan"
or fish stomach. Fish stomach can be bought from the pushcart stall selling cooked food at the Pulau Tikus Market, and that's where we went to get ours.
The fish stomach is sold in bottles, where it has been preserved with salt. Lots of salt! My wife assigned the task of cleaning the fish stomach to me. First I had to get it out of the bottle. They were stuffed into the bottle like bits of cloth. I used a chopstick to pry the first few pieces out the bottleneck, but once the pieces were loosen, it was easier to simply pull them out with your finger. In addition to washing, I have to soak the fish stomach in water, to get rid of as much salt as possible, or else our Perut Ikan will be too salty.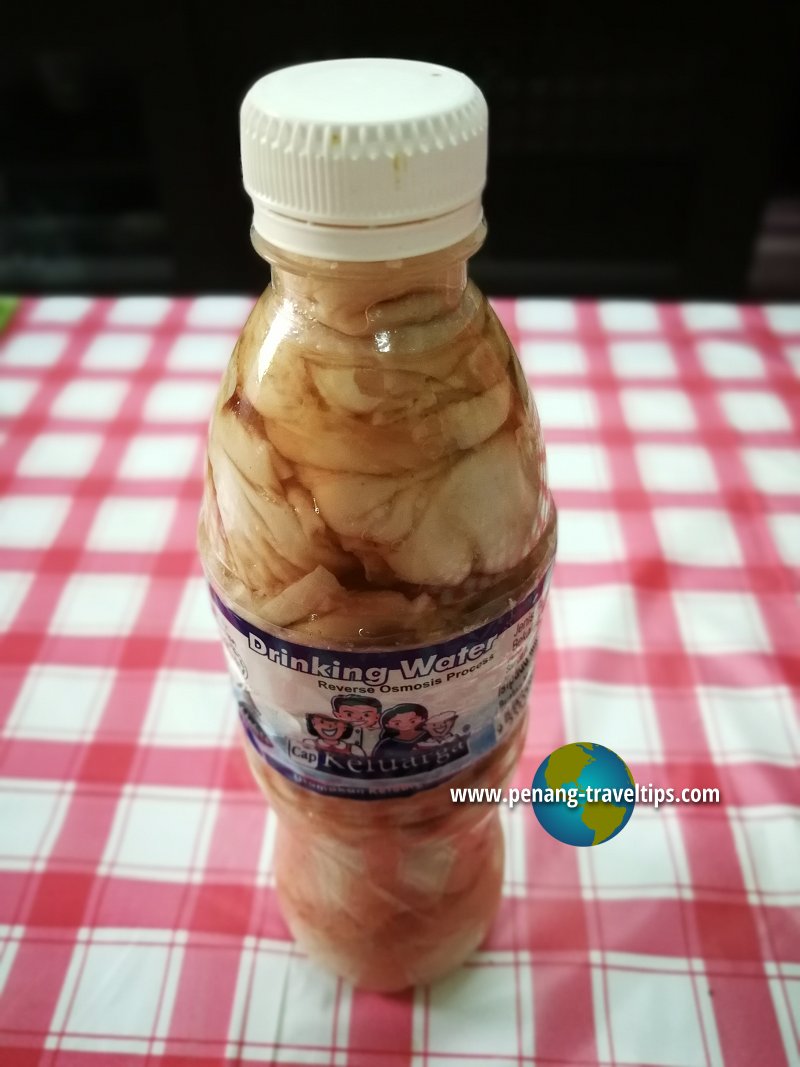 Fish stomach in salt
(17 March, 2018)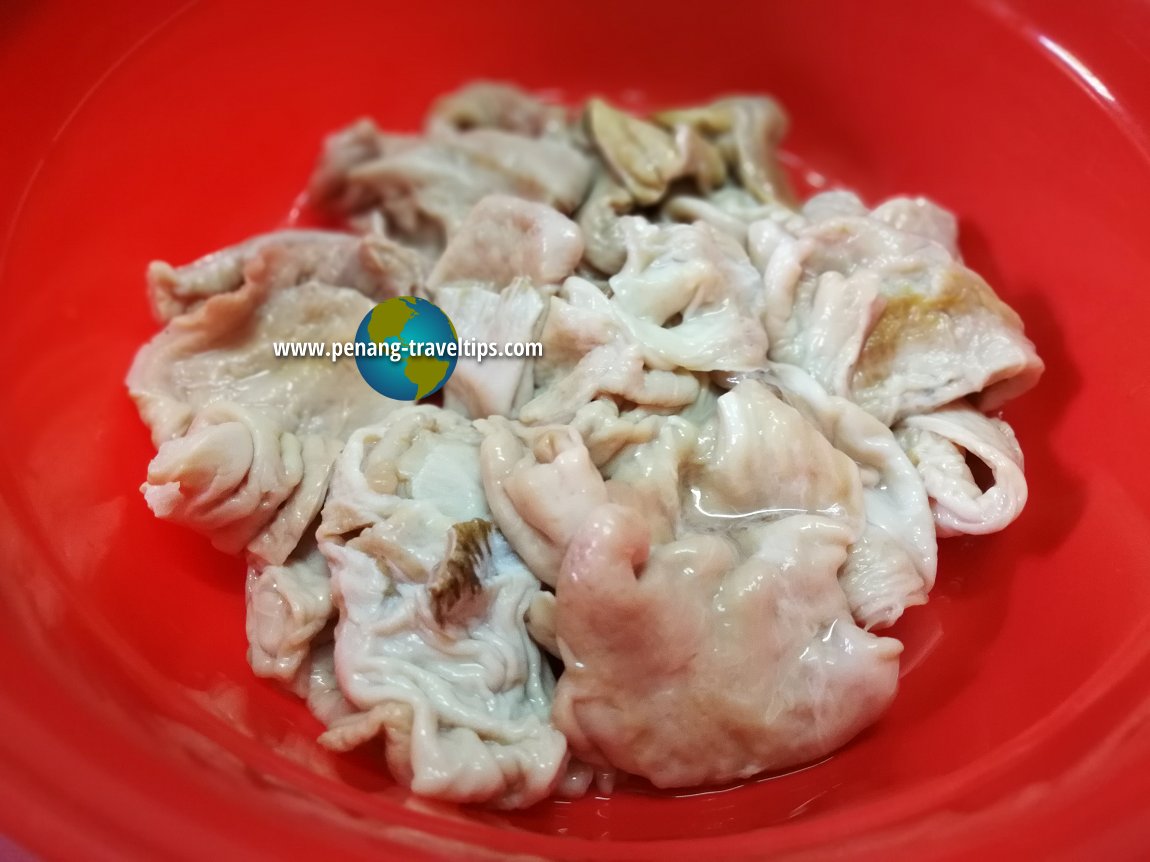 Fish stomach for making Perut Ikan
(17 March, 2018)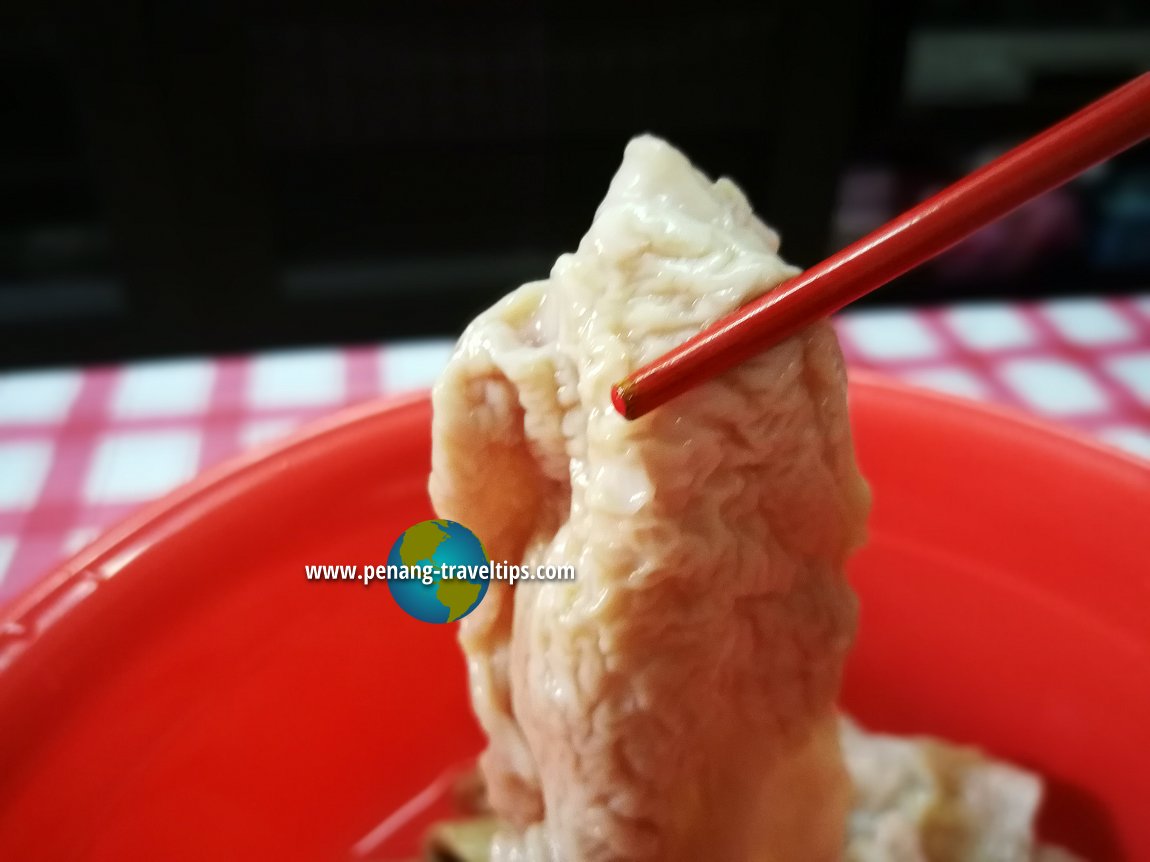 Raw Perut Ikan
(17 March, 2018)

The fish stomach alone cost RM15 per bottle (March 2018 prices), and a lot, so we have to make sure we have lots of the other ingredients. Certainly this dish is not for a single serving. It takes better when you let it age.
The spice paste we bought from a stall in the market selling curry pastes. We just tell them we are cooking Perut Ikan and informed them how much we want. To give the Perut Ikan a creamy richness, we add santan. I know some people don't, but we do. Instead, we don't add any tamarind juice, because we already get the sourness from the pineapple. Adjust the taste according to your personal preference by adding sugar, salt and more sourness, tamarind juice or assam gelugor.
We decided to cook our Perut Ikan in a wok, as our Indian cooking pot is just too small to take all the ingredients we have assembled. As you can see, we don't measure the amount of ingredient we use. All goes by estimation. Again, we relied on our regular vegetable seller. We just inform him we are making Perut Ikan, and he assembled all the vegetables and herbs that we needed. (So my advice to you is, if you are going to cook regularly, get to know the local sellers at your market.)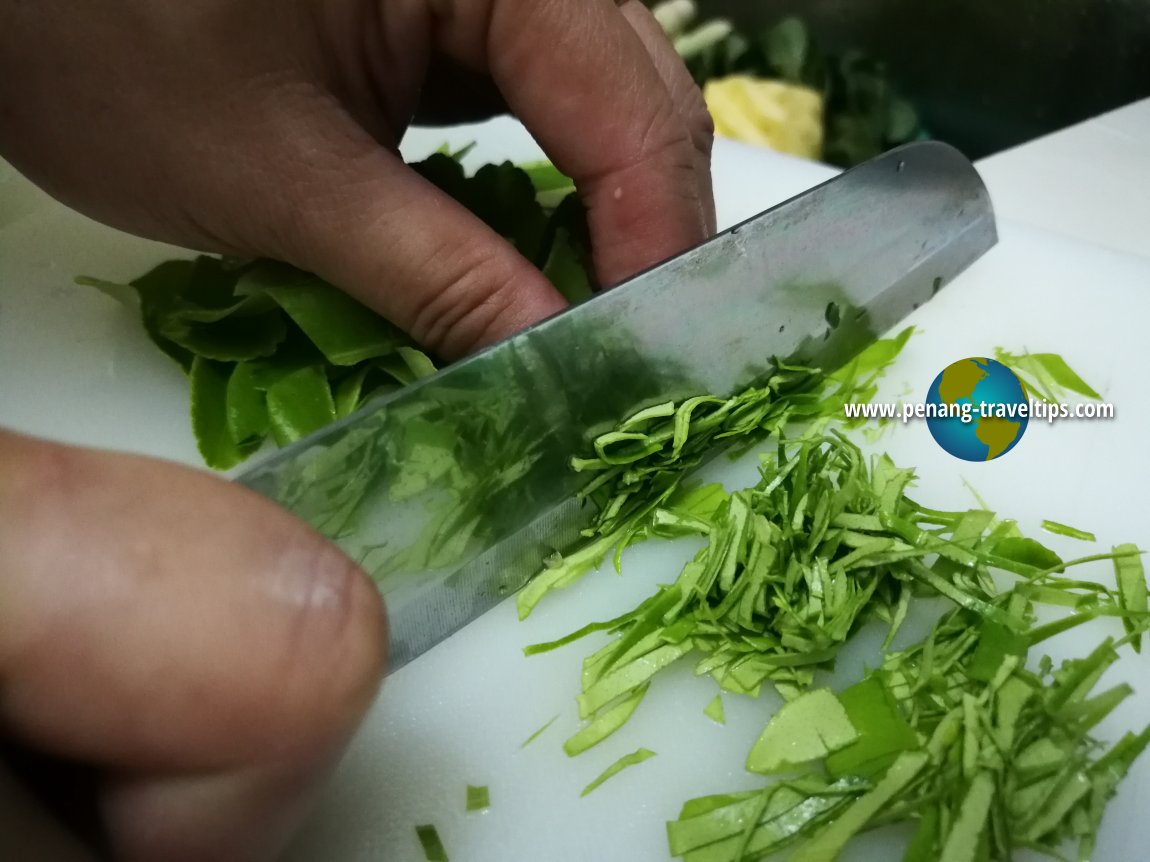 Slicing the kaffir lime leaves for Perut Ikan
(17 March, 2018)

To make Perut Ikan, expect a whole lot of slicing going on. The same is true for many Nyonya vegetable dishes. So the bulk of work involved julienning. Once that is done, the rest of the process is simply adding the vegetables into the wok, and mixed well.
After all the vegetables have been added, mix thoroughly, and pour hot water into the wok. Let it boil and stir occasionally until the vegetables have softened. Finally, add in the coconut milk, stir and let it boil briefly. The Perut Ikan is done. For the best taste, cook your Perut Ikan in the morning, and serve it in the evening.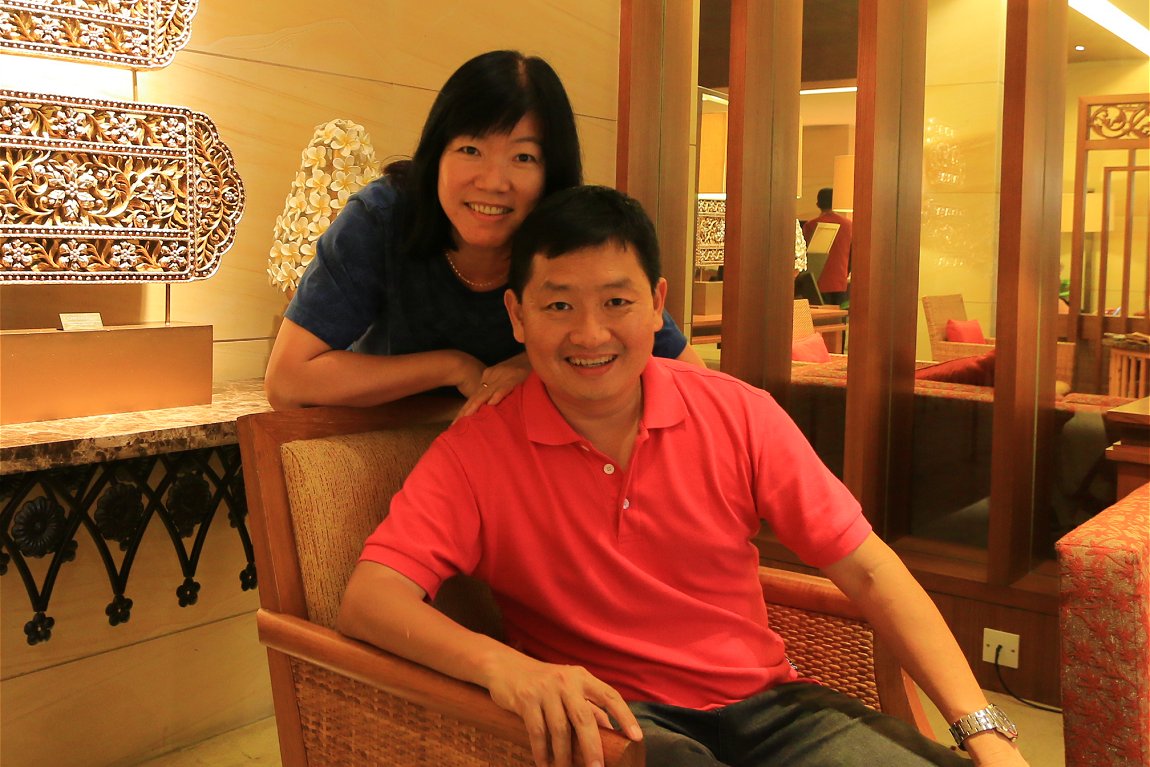 Tim & Chooi Yoke's Recipes of Homecooked Food
Let us share our recipes of homecooked food with you.
Details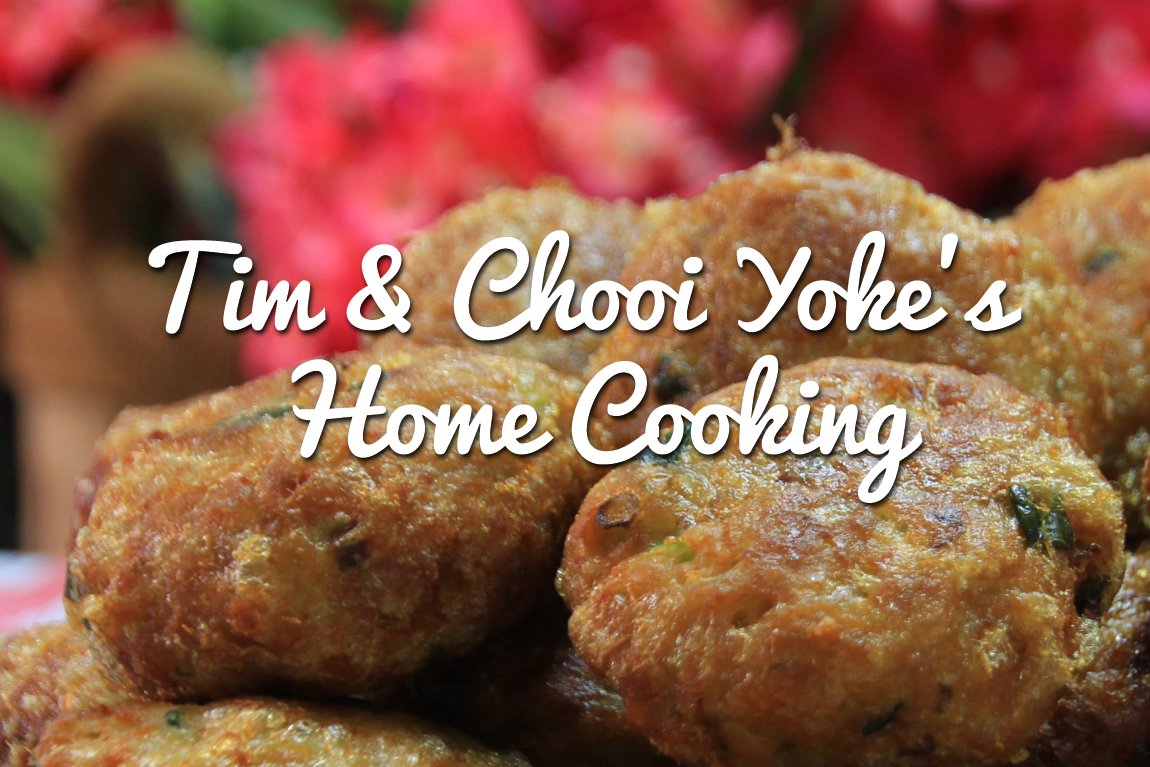 Tim & Chooi Yoke's Home Cooking
Let us share our joy of home cooking with you.
Details
Penang Condominium Market
Buy, sell, rent, let Penang condominiums. So easy!
Enter
Penang Residential Property Guide
Tips for buying and investing in residential properties in Penang
Enter
Timothy Property Homepage
The website that helps people acquire the home of their dream and invest in properties prudently. To buy, sell, rent, let property,
email me
or
WhatsApp me
at +60-12-429 9844.
Add your shop/business to this website
The Penang Travel Tips website is a huge website that documents everything in Penang. On top of the hundreds of streets and tourist attractions, I also add in hundreds of shops and businesses.
If you operate a shop business in Penang, or anywhere in Malaysia or Singapore, contact me to add your business/shop into my website. It only a one-time fee, and your shop/business will be listed by location and category, helping your would-be customers find you. To find out more,
CONTACT ME
Discover the World
About Me
Thank you for visiting
my website
. I started it in 2003, and today it has over twenty thousand pages of information. My name is
Timothy Tye
. I would be very pleased if you enjoy the information I have put together.
As a Christian, I hope that through this website, I am able to deliver God's message to all who need it, anywhere in the world. If you are open to hearing it, please read
God's Good News to You
.
If you wish to contact me, please use this
contact form
. And don't forget to
follow me on Facebook
. See you!
Copyright © 2003-2019
Timothy Tye
. All Rights Reserved.