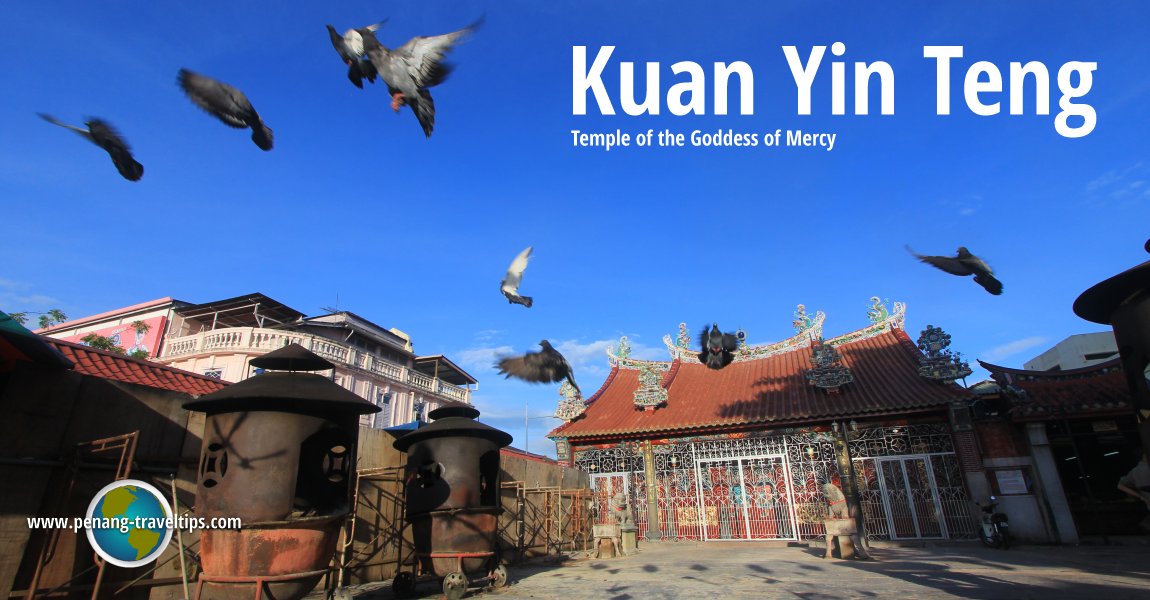 Kuan Yin Teng, Temple of the Goddess of Mercy
(5 February, 2013)

Reading passage in Penang Hokkien on the Kuan Yin Teng temple in George Town.
Kuan3 Yin3 Teng2 tok33 si33 te3-it1 lau33 eh3 am1 ti1 George Town. I1-eh3 cnia1 mia2 si33 Kong3 Hock1 Keong4, eng3-goay33 i1 si33 Kong1hu1 Lang2 kah1 Hok1kien1 Lang2 khooi1 eh2. Ti1 Penang, uh3 lang3 kio3 Kuan3 Yin3 Teng2 co1 Kuan3 Im3 Teng2, uh3 tun4 lau33lang2 kio3 i1 co1 Ka1 Lam3 Teng2. Cit1-leh1 am1 thau3-thau2-eh3 si2 si33 pai3 Ma3 Chor1 Poh2 eh2, ta1pi1 ban33-ban33 pien1 co1 pai3 Kuan3 Im1 eh2.
Kuan3 Yin3 Teng2 khi4 eh3 si2, i1 ceh3 snua1 khnua1 hai4. Heh1-leh1 si2, hai4 kau2 ka1 Beach Street. Kuan3 Yin3 Teng2 tua3 ti1 China Street-eh3 lor33thau2. Khia33 ti1 Kuan3 Yin3 Teng2-eh3 thau3ceng2, e33 hien3tiok3 hai4.
Tua3 kae3kiam4 1883 ni2 eh3 si2, Ceng1hu4 thun3hai4 co3 hai1kni2 khah1 khuah3. Thun3 liau4 hai1kni2, Ceng1hu4 khi4 go3down1 ti1 sin1-eh3 tay3, cit3thau3 cah1 hai4 khi4 lai2. Tha1na1, khia3 ti1 Kuan3 Yin3 Teng2-eh3 thau3ceng2, be33 hien3tiok3 hai4 liau4.
Ti1 thun3thor2-eh3 tay3, Ceng1hu4 khi4 Penang-eh3 Hoay1chia3cam3, liau4 haeh3 cit1-leh3 si3ceng3lau2 ti1 teng1bin33. Heh1-leh1 si3ceng1 kni4 ti1 Kuan3 Yin3 Teng2 eh3 thau3ceng2. Pan3tang1-eh3 lang2 kong4, Ceng1hu4 tiau3ti2 khi4 si3ceng3lau2 eng3-goay33 mai1 hor33 Penang-eh3 Tng3 Lang2 thai1 huat1cai2. Tiok1 a33si33 boh3 tiok1, Tng3 Lang2 ka3ki3 khnua3 ka3ki3 cai1.
Vocabulary
am1 [am]: (noun) temple


ban33-ban33 [ban-ban]: (adverb) slowly, gradually


cah1 [tsaʔ]: (verb) to block


cai1 [tsai]: (verb) to know


ceh3 snua1 khnua1 hai4 [tse-suã-khuã-hai]: (phrase) auspicious hill perch with panoramic view of the sea, favoured location for cemeteries and temples (literally, "sit on a hill looking at the sea")


Ceng1hu4 [tseŋ-hu]: (noun) Government


cnia1 mia2 [tsiã-mia]: (noun) actual name


go3down1 [go-daun]: (noun) warehouse (Malay loanword via English)


hai1kni2 [hai-kĩ]: (noun) beach


hoay1chia3cam3 [hoe-tshia-tsam]: (noun) railway station


huat1 cai2 [huat-tsai]: (verb) to gain prosperity


ka3ki3 [ka-ki]: (pronoun) own self, oneself, alone


keong4 [kiɔŋ]: (noun) palace, often used in names of Chinese temples


khuah3 [khuaʔ]: (adjective) wide


Kuan3 Yin1 [kuan-yin]: (noun) Kuan Im, Guanyin, Goddess of Mercy, Avalokitesvara, bodhisattva associated with compassion


lor3thau2 [lɔ-thau]: (noun) junction


Ma3 Chor1 Poh2 [ma-tsɔ-po]: (noun) Mazu, Matsu, Ma-tsu, the Chinese goddess of the sea


pai3 [pai]: (verb) to worship


pan3tang1 [pan-taŋ]: (noun) abstinence; (adjective) superstitious (Malay loanword)


see3ceng1 [si-tseŋ]: (noun) clock


see3ceng3lau2 [si-tseŋ-lau]: (noun) clocktower


teng1bin33RW [teŋ-bin]: (preposition, adverb) above


thau3ceng2 [thau-tseŋ]: (preposition) front


thau3-thau2 [thau-thau]: (adverb) at first, in the beginning


Tng3 Lang2 [tŋ-laŋ]: (noun) Chinese person, Chinese people


tok3si3 [tok-si]: (verb) emphatic form of is/are/was/were


All about me
Thank you for visiting
my website
. I started it in 2003, and today it has over twenty thousand pages of information. My name is
Timothy Tye
. You can call me Tim. I have been writing my website full time since 1 November 2007, and I am enjoying every moment of it. I write my website to satisfy my own curiosity, but I am glad if the information is useful to you.
As a Christian, I hope that through this website, I am able to deliver
God's Good News
to those who need it all over the world. If you wish to contact me, please submit the
contact form
. Thanks again, don't forget to
follow me on Facebook
!
Buy Your Long-Distance Bus Tickets Here!
If you are planning to travel Malaysia and Singapore by bus, you can now purchase your long-distance bus tickets directly from
Bus Online Ticket
, where you get to check the schedule as well as price of tickets from various bus companies.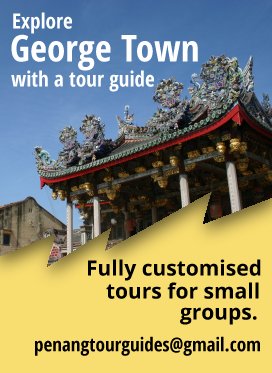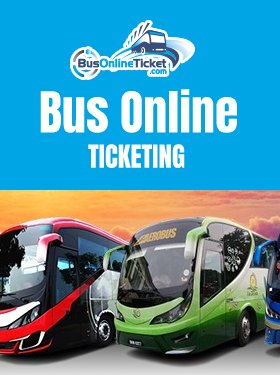 Malaysia Travel Tips!
My
Malaysia Travel Tips
has useful information on every state in Malaysia (
Johor
,
Kedah
,
Kelantan
,
Malacca
,
Negeri Sembilan
,
Pahang
,
Penang
,
Perak
,
Perlis
,
Sabah
,
Sarawak
,
Selangor
,
Terengganu
) and every major city and destination (
Kuala Lumpur
,
Johor Bahru
,
Ipoh
,
Langkawi
,
Cameron Highlands
,
Kota Kinabalu
,
Kuching
,
Alor Setar
,
Seremban
,
Petaling Jaya
,
Putrajaya
,
Kota Bharu
,
Kuala Terengganu
,
Taiping
) and hundreds of smaller towns.
Singapore Travel Tips!
In addition to covering Malaysia, I have created the travel tips for Singapore. Please visit my
Singapore Travel Tips
for browse through the pages there.
My wife and I are plant lovers. We started this website to describe the many plants and trees that we have gotten to know. These are now listed in alphabetical order.
[an error occurred while processing this directive]
Copyright © 2003-2018
Timothy Tye
. All Rights Reserved.