Little Boy with Pet Dinosaur Mural
(GPS: 5.41541, 100.33883) is a whimsical mural painted on the wall at
Ah Quee Street
,
George Town, Penang
. The painting is the work of
London-trained artist Ernest Zacharevic
, who is commissioned by the Penang Island Municipal Council (MPPP) to provide a collection of street art in conjunction with the 2012 George Town Festival.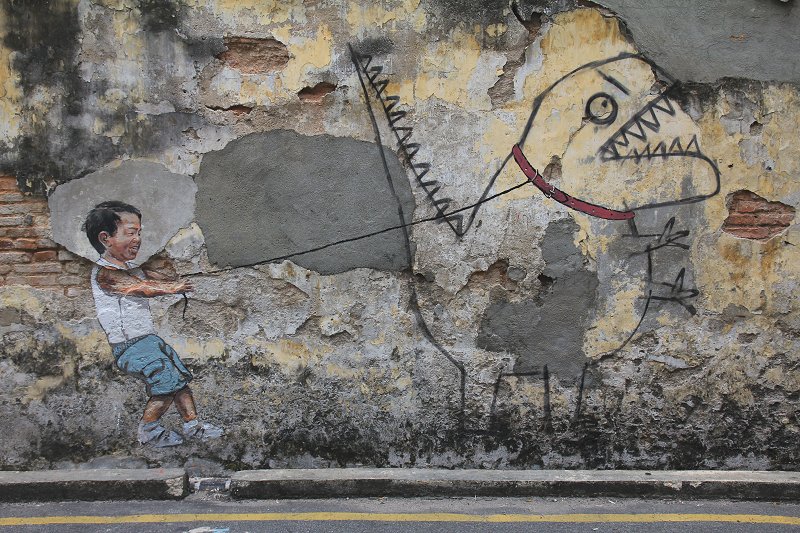 Little Boy with Pet Dinosaur Mural, Ah Quee Street, George Town, Penang
(30 June, 2012)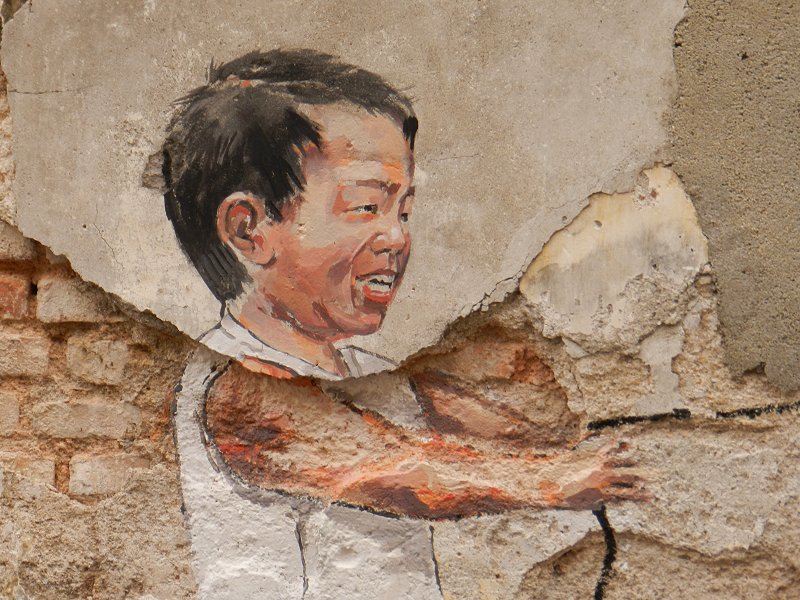 Close-up view of the little boy
(30 June, 2012)

"Little Boy with Pet Dinosaur" depicts a small boy taking his dinosaur for a walk. The fact that the dinosaur is rendered in the form of child-like graffiti expresses the creative mind of small children and how they merge fantasy with reality. This painting works so well despite its off beat subject. It could have been "Little Boy with His Kite", and would have come across as mundane.
Updates
20 September, 2014
The wall on which
Little Boy with Pet Dinosaur
and
Boy on a Bike
murals are painted is presently undergoing restoration. I hope that with this restoration, the faded murals will also be touched up.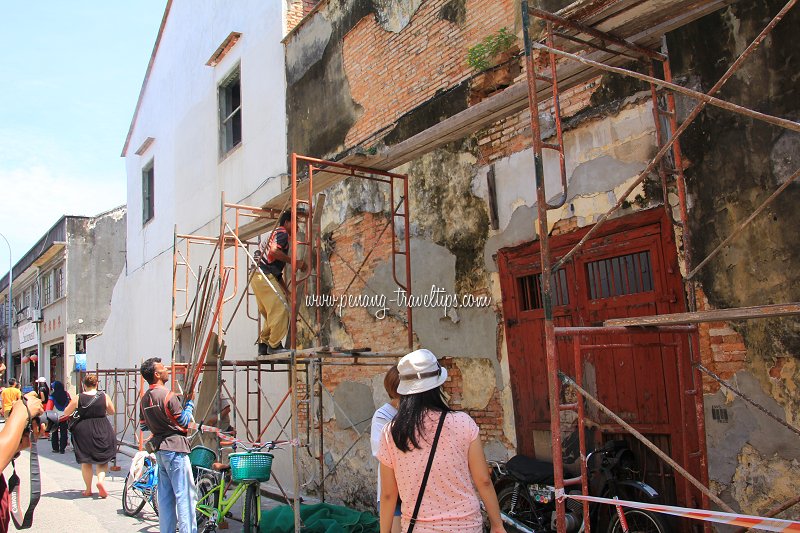 Wall where murals are painted undergoing restoration
(29 September, 2014)

30 June, 2014
Two years after it was painted, the mural has greatly deteriorated.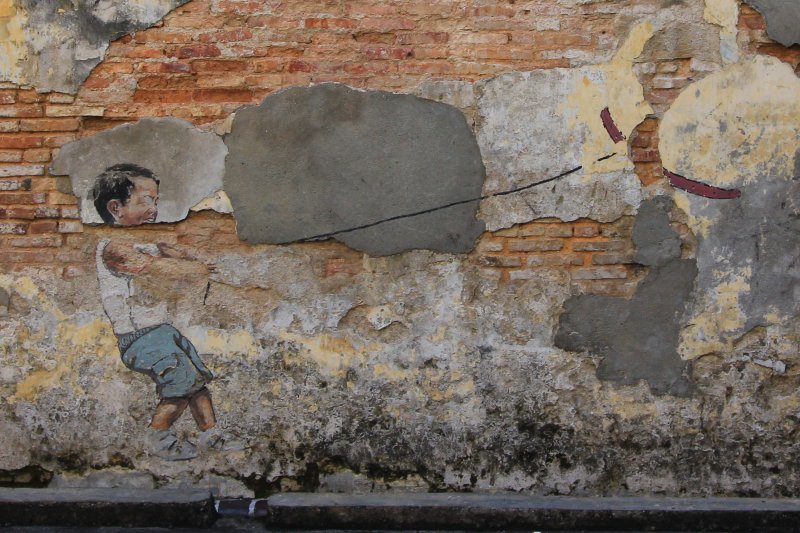 Little Boy with Pet Dinosaur, 2014
(30 June, 2014)

28 August, 2012
: The
Little Boy with Pet Dinosaur
mural appeared in the news when it was found to be vandalised. Someone had scratched on it with what appeared to be charcoal lines. It was the second Ernest Zacharevic mural to be vandalised, the first being
Little Children on a Bicycle
.
Latest Pages & Updates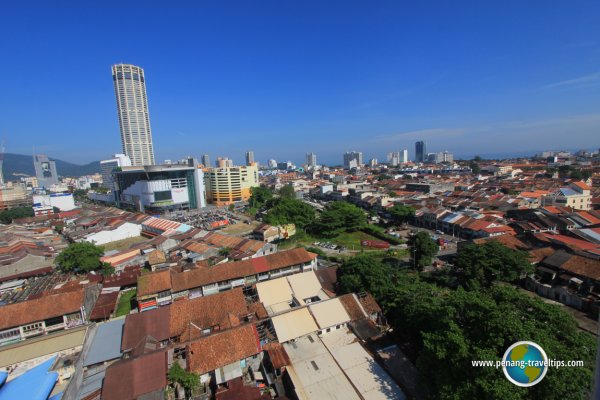 Useful Tips for Visiting Penang
You are visiting Penang soon and you are excited to make it a memorable trip. But you have many questions - how to take the bus, where to get a taxi, which hotel to choose. I have received these questions over and over. To help you enjoy a wonderful holiday in Penang, I have put together a list of articles I have written on this subject. Please read through them. I am sure there is something useful to answer the questions you may have.
Enter
Even more sights to discover on Penang Travel Tips!
There's thousands and thousands of sights waiting for you to explore and discover. Here are just some of them!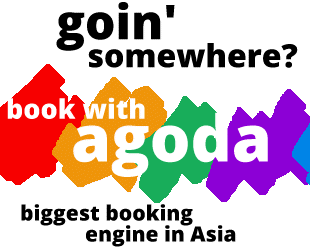 Buy Your Long-Distance Bus Tickets Here!
If you are planning to travel Malaysia and Singapore by bus, you can now purchase your long-distance bus tickets directly from
Bus Online Ticket
, where you get to check the schedule as well as price of tickets from various bus companies.
About me
My name is
Timothy Tye
. I write this website to provide people information on Penang. Together with
Exploring Malaysia
and
Big World Out There
, I am describing everything around me. If you run a business, hotel or restaurant in Malaysia, feel free to let me know, and I will list it on my website. To do that, just complete the
Add My Business
form. It's free!
As a Christian, I write this website so that
God's Good News
can reach every corner of the world and connect with those needing it. Why is this message important for all mankind? Because we would never know
if tomorrow never comes
.
To know more about me, visit my personal website,
www.timothytye.com
. To ask me a question or if you found an error, please let me know. You can reach me
here
. Thank you for visiting, and have a great day!
Copyright © 2003-2015
Timothy Tye
. All Rights Reserved.