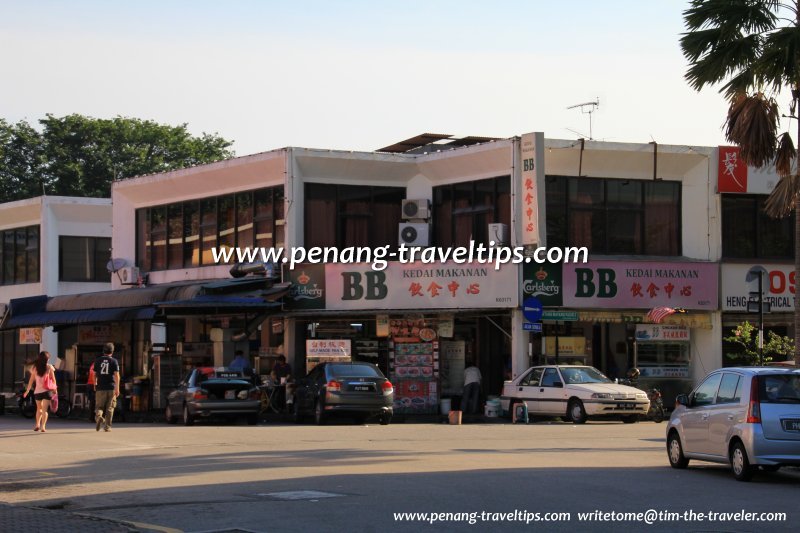 Kedai Makanan BB
(17 September, 2012)

Kedai Makanan BB
(GPS: 5.32629, 100.28609) is a coffee shop at the heart of the
Sunshine Square
commercial centre in
Bayan Baru
. It is at 106 Lintang Mayang Pasir 2. The coffee shop is open daily during lunch time. In addition to the ground floor space, there are also tables in the air-conditioned section upstairs.
Among the stalls at Kedai Makanan BB include the
chicken rice
,
Hokkien mee
,
wan tan mee
,
char koay teow
,
curry mee
,
chee cheong fun
, pai tee,
Lor Bak
,
laksa
,
mee goreng
,
mee rebus
and economy rice.
My Meals at Kedai Makanan BB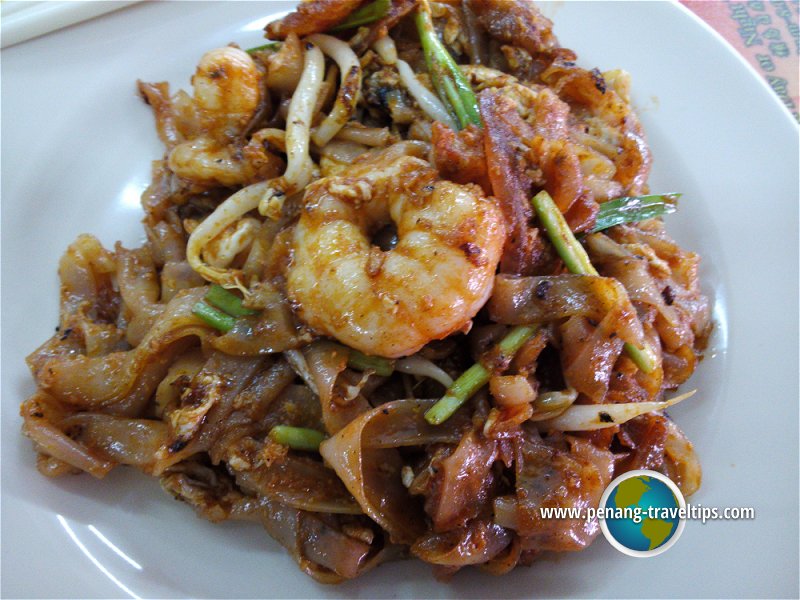 Char Koay Teow at BB in Bayan Baru
(24 May, 2015)


It's been a while since I last ate at BB in Bayan Baru, so my wife and I decided to go there during lunch time. I was having a craving for char koay teow, so I went over to the stall. The sight of the hawker about to smoke a straw cigarette put me off a bit, but nevertheless I proceeded to order my plate of char koay teow. This is how it looked like (above photo). The char koay teow was surprisingly tasty (even though I would not have high regard to the hawker's sense of hygiene). It cost RM4.50, which is "not too bad".
Food Rating: Kedai Makanan BB
Char Koay Teow (24 May, 2015):
A
26 October, 2014
We visited BB once again, this time without our camera, as we didn't expect to be having lunch outside. It has been a very long time since I last had the chicken rice here, so I ordered it again, asking for a chicken drumstick and a stewed egg (lor1nui33). Meanwhile my wife ordered pan mee.
My chicken rice cost only RM3.80 and is good. It has been a long while since I tasted good chicken rice at such a low price. My wife's pan mee cost RM4.00 but she found it to be less than satisfactory.
Food Rating: Kedai Makanan BB
Chicken Rice (26 Oct, 2014):
A
Pan Mee (26 Oct, 2014):
B
13 September, 2014
It has been such a long time since I visited BB, so my wife and I decided it's time to give it another try. We remember that the Hokkien Mee there was quite popular, but we couldn't well remember the taste anymore.
On this visit, we ordered the
Hokkien Mee
,
popiah
and
chee cheong fun
.
From the look of it, all three items can be described as "not too bad". Taking a look at the photos above, I suppose you can even say that they look quite good. The Hokkien Mee did not disappoint me. However, perhaps my expectation for Hokkien Mee has grown a lot since I last took Hokkien Mee here.
That's because I do not find the BB Hokkien Mee that I had, for this particular visit, to be sufficiently fragrant. The taste is also okay, not isn't at the top three of my favorite Penang Hokkien Mee. I like it that it has a fair amount of prawns. Perhaps I am now spoilt, but I wish it also has spare ribs. Perhaps I went a little too late? I am not sure.
At the moment, the top three Hokkien Mee stalls for me, is
Ah Soon Kor
,
Seng Lee Cafe
and
Sin Yin Nam Cafe
. Will I return to try BB's Hokkien Mee again. I sure would. As I've said, it's not bad. But I need to return to it again, to find a reason if it could pose a challenge to the three favorite stalls.
As for the popiah and chee cheong fun, there is nothing much to say. In other words, they are okay but not particularly outstanding and would cause me to rave. It's of the expected taste. Here are the three items: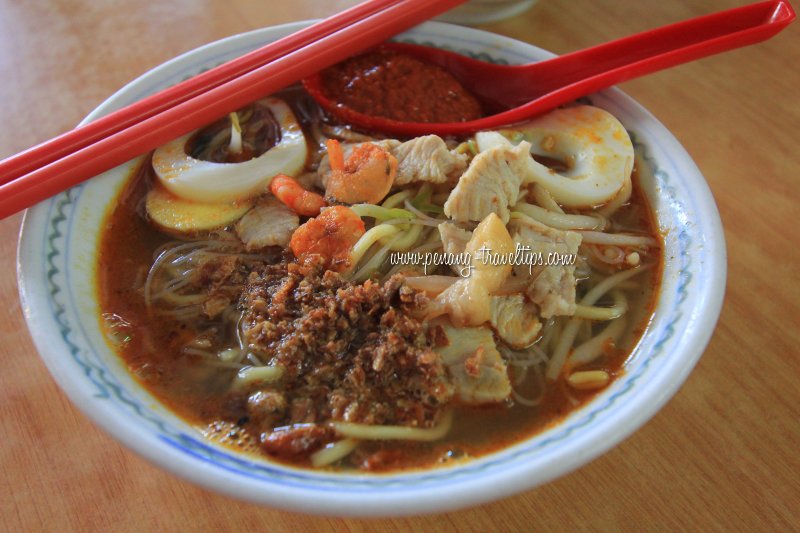 Hokkien Mee at BB, Bayan Baru
(13 September, 2014)

Popiah at BB, Bayan Baru
(13 September, 2014)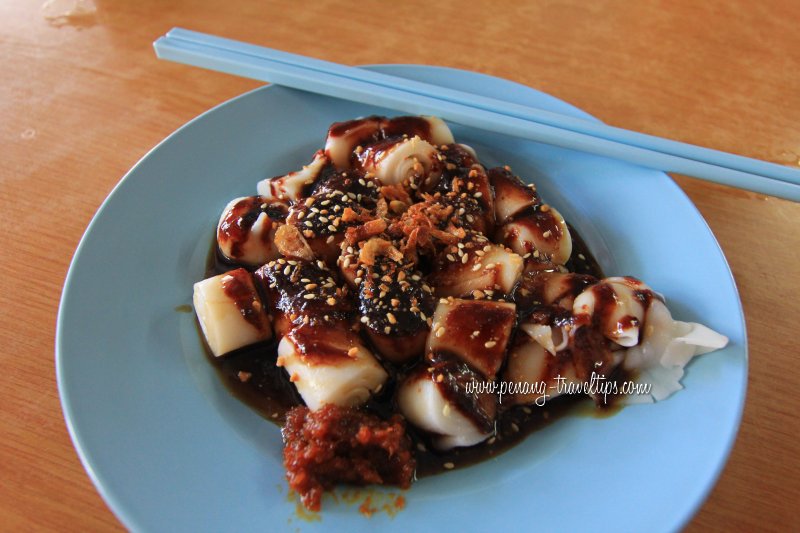 Chee Cheong Fun at BB, Bayan Baru
(13 September, 2014)

Food Rating: Kedai Makanan BB Hokkien Mee (13 Sept, 2014): B+
Chee Cheong Fun (13 Sept, 2014): B
Popiah (13 Sept, 2014): B
View Kedai Makanan BB, Bayan Baru, Penang in a larger map


Timothy Tye's Penang Eating Tips
Timothy Tye's Penang Eating Tips