Ernest Zacharevic Murals in Penang
---
Ernest Zacharevic is a young Lithuania-born artist who is "making a scene" in Penang, particularly on the streets of George Town, Penang. This comes in the form of beautifully executed wall paintings, or murals, at selected streets in the inner city. The project, known as Mirrors George Town, is part of George Town Festival 2012.

Ernest Zacharevic's wall paintings in George Town include figure drawings and portraitures that celebrate the exuberance of life in the inner city. They range from the pensive "Boy on a Bike", the lively "Little Children on a Bicycle" to the whimsical "Little Boy with Pet Dinosaur".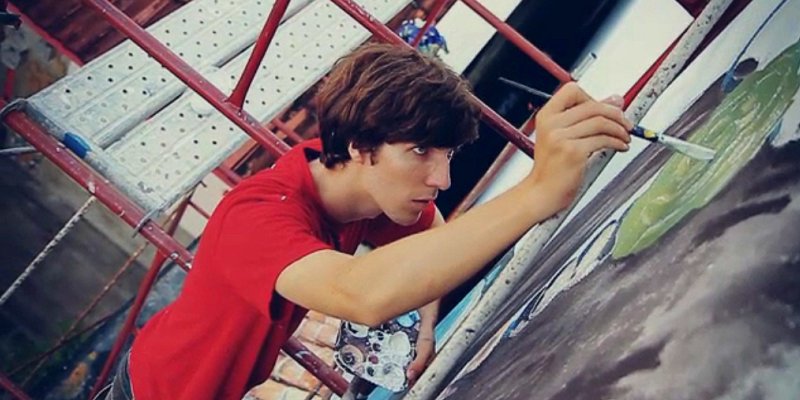 Ernest Zacharevic


So far six murals have been completed, with perhaps one more in the making. The project is funded by George Town Festival while the paint was sponsored by a paint company, Murobond.

The process began with Zacharevic combing the city, looking for suitable walls. After he has selected the walls to be painted, the Penang Island Municipal Council (MPPP) contact and obtain a signed agreement from the property owner. Then he starts working on his mural. In the process, he is generating much interest from passer-by traffic, becoming a welcoming sight in the city. As the project becomes increasingly popular, more people started offering their walls.

The following are the completed murals. Note that these murals were never given names, but I have taken the liberty to provide a descriptive name for each, to help them easily recognisable.




Ernest Zacharevic Art Exhibition:
"Art is Rubbish is Art" (2014)



Location: Brick Kiln Road
"The Awaiting Trishaw Pedaler" Mural



Location: Penang Road
Penang Street Art Facebook Group
For the latest on the street art in Penang, please join the Penang Street Art Facebook Group!





Hello and welcome to my website, Penang Travel Tips, yay!

My name is Timothy Tye. I write this website, and continue to update it regularly, to share with you everything that I know about Penang. It is one of my several travel websites, which include Exploring Malaysia and Big World Out There. To know more about me, visit my website, www.timothytye.com.

Help me keep my pages updated. If you found errors, please do kindly let me know. For all correspondences, click here to contact me. Thank you for visiting, and have a great day!
Here are some of the most useful pages on Penang Travel Tips. I put them together to help you get the best for your visit to Penang.


I am extremely active online and I interact closely with my readers through my many Facebook Groups. It's the place where you can interact with me on topics of my interest. Do join some or even all these groups! I would love to see you there.
Copyright © 2003-2015 Timothy Tye. All Rights Reserved.
---
Terms & Condition of Use | Privacy Policy