Ernest Zacharevic Murals of George Town
---
Ernest Zacharevic is a young Lithuania-born artist who is "making a scene" on the streets of George Town, Penang. This comes in the form of beautifully executed wall paintings, or murals, at selected streets in the inner city. The project, known as Mirrors George Town, is part of George Town Festival 2012.

Ernest Zacharevic's wall paintings in George Town include figure drawings and portraitures that celebrate the exuberance of life in the inner city. They range from the pensive "Boy on a Bike", the lively "Little Children on a Bicycle" to the whimsical "Little Boy with Pet Dinosaur".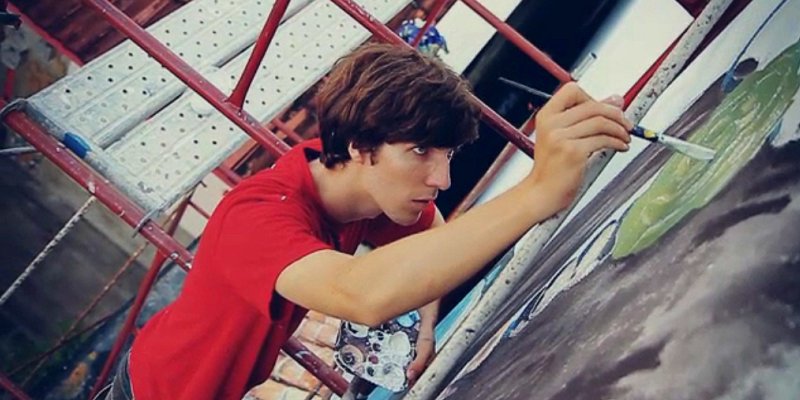 Ernest Zacharevic


So far six murals have been completed, with perhaps one more in the making. The project is funded by George Town Festival while the paint was sponsored by a paint company, Murobond.

The process began with Zacharevic combing the city, looking for suitable walls. After he has selected the walls to be painted, the Penang Island Municipal Council (MPPP) contact and obtain a signed agreement from the property owner. Then he starts working on his mural. In the process, he is generating much interest from passer-by traffic, becoming a welcoming sight in the city. As the project becomes increasingly popular, more people started offering their walls.

The following are the completed murals. Note that these murals were never given names, but I have taken the liberty to provide a descriptive name for each, to help them easily recognisable.



Ernest Zacharevic Art Exhibition:
"Art is Rubbish is Art" (2014)



Location: Brick Kiln Road
"The Awaiting Trishaw Pedaler" Mural



Location: Penang Road
Penang Street Art Facebook Group
For the latest on the street art in Penang, please join the Penang Street Art Facebook Group!






Before you go anywhere in the Big World Out There, spend a moment to find the best Flights and Hotels.



| | |
| --- | --- |
| | Hello and thanks for visiting! My name is Tim! I created Penang Travel Tips so that I can tell you everything that I know about Penang. I hope my website provides you the information you are looking for, and that you will enjoy visiting it as much as I enjoyed writing it for you! If you found any errors, please let me know and I will correct it. Thank you! |

If you love to know everything about Penang, join me at Penang Travel Tips Facebook Group, Penang Street Art Facebook Group, Penang Hawker Food Facebook Group, Learn Penang Hokkien Facebook Group and Masa Masak Facebook Group!
Rapid Penang Bus Routes: This very useful page provides you all the information to take the public bus to visit any place in Penang.
Arriving by plane: Essential information for independent travelers (those not following a tour package) on taking the bus or taxi upon arrival at Penang International Airport.
Taking the Taxi: Taxi stands can be found at all major shopping malls. You can also call a taxi by phone. Get the details here.
Personal Guided Tours of Penang: If you like a licensed tour guide to show you around, get in touch with me and I'll arrange it for you. The fee is RM90 per hour. Payment for the first two hours collected upon booking.
Hospitals in Penang: Penang is a major regional medical tourism destination. If you are planning to come here for therapy or treatment, find out about the various hospitals available.
Penang Island Residential Property Guide: If you ever consider buying a residential property on Penang Island, read this guide before taking any action.
Penang Visitor FAQ: Frequently asked questions of visitors planning their trip to Penang.
Shopping malls of Penang: Penang has plenty of malls. Visitors often find that prices in Penang are often lower than back home. Get to know the malls in Penang.
Ernest Zacharevic George Town Murals: The murals by a young Lithuanian artist, created for the 2012 George Town Festivals, has become the biggest tourist attraction in Penang. Get information and a full list of the murals that everybody loves to photograph!

Copyright © 2003-2014 Timothy Tye. All Rights Reserved.
---
Terms & Condition of Use | Privacy Policy