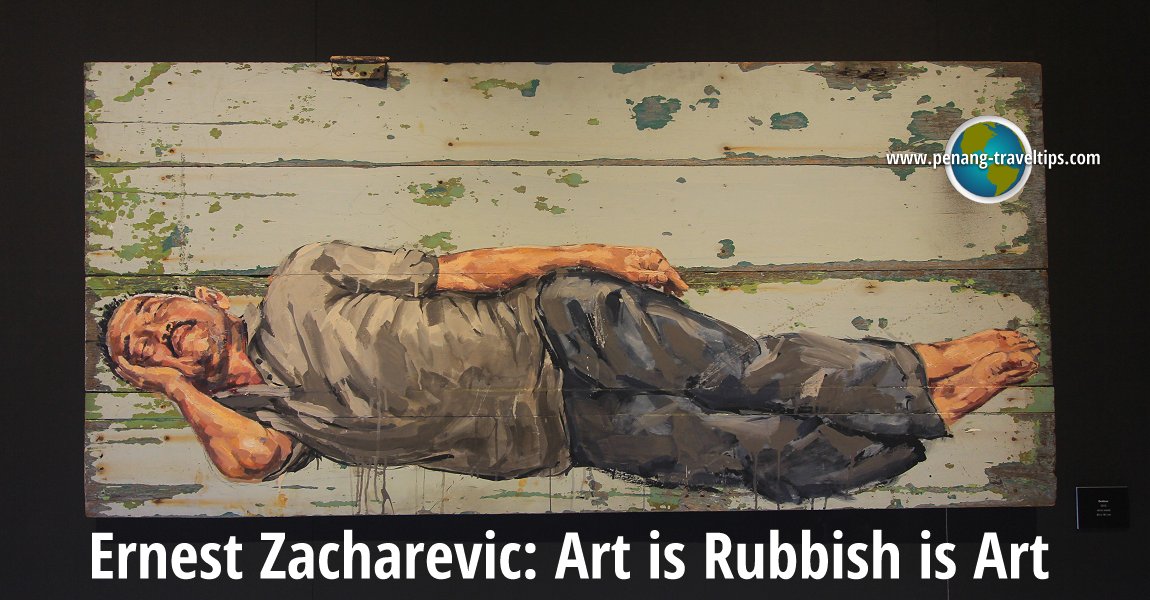 Ernest Zacharevic: Outdoor (2013)
(20 January, 2014)
Oil on Wood, 84 x 181 cm

Art is Rubbish is Art
(GPS: 5.41214, 100.32801) is the first solo art exhibition by Lithuanian artist Ernest Zacharevic in Penang. It is held at the
Hin Company Bus Depo
along
Brick Kiln Road
and opened to the public from 19 January, 2014 until 14 February. The exhibition features close to thirty pieces of artwork, comprising both wall murals, paintings and 3D art. I was invited to the opening on 17 January, but could not make it. Nevertheless, here I am now, three days later.
Opening Hours
Art is Rubbish is Art is open daily from 12:00 noon until 8:00 pm.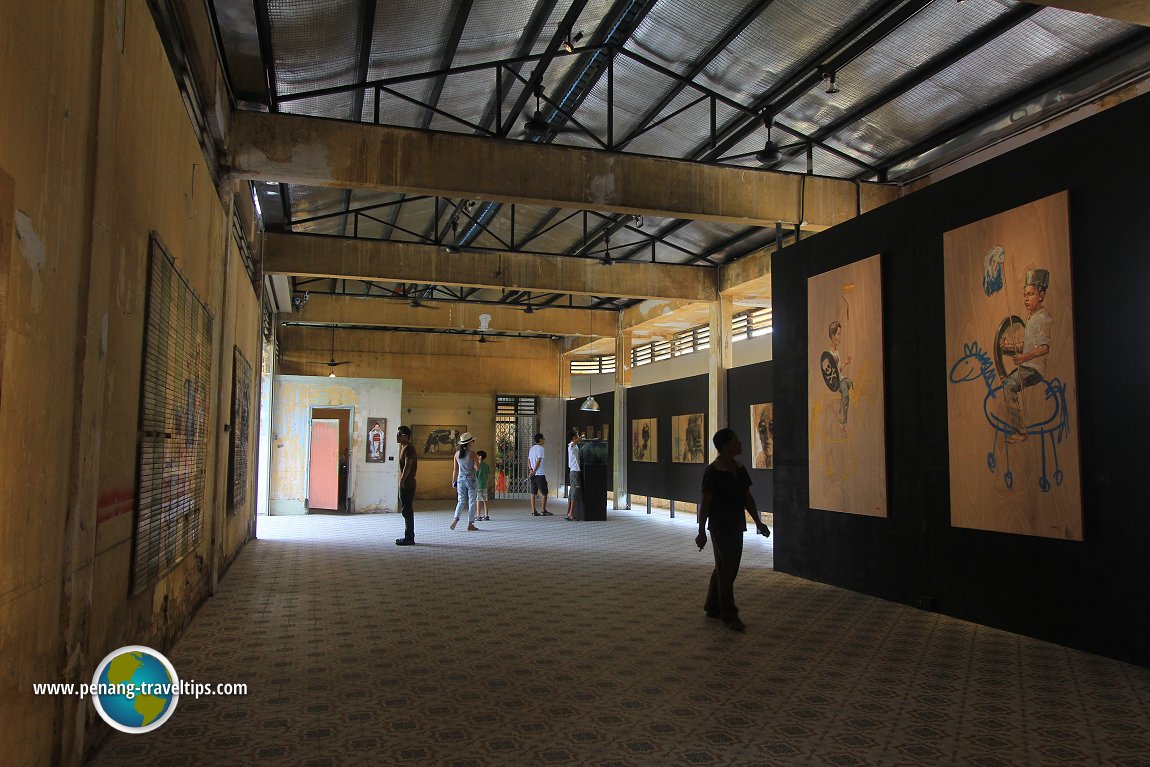 Gallery space at the Hin Company Depot
(20 January, 2014)

The Review of Art is Rubbish is Art
The title of this exhibition suggests works from discarded material. For the most part, this is true, as we see blinds and gunny sacks that once contained coffee beans given a new life as artform. Cupboards and switchboards are turned into three-dimensional art. Even the venue itself, a disused bus depot, becomes the canvas for the artist's murals.
Two years after Ernest Zacharevic appeared on the art scene of George Town, I finally met up with him in person. He is a charming, wonderful person, very obliging to have photos taken with his fans. Wow, he is tall. I only came up to below his shoulder. I also finally met Gabija Grusaite, who serves as Zacharevic's publicist. I spent about an hour or so going through every piece of art in the exhibit. At the same time, I observed the visitors as they stroll from one painting to the next.
Leaving the exhibition, I drove home in silence as I sorted out my feelings over
Art is Rubbish is Art
. Okay, I will say it. This exhibition has given me a caving feeling of despondency. Could it be that I have set the bar a little too high, I asked myself. How do I tell my readers? Do I pretend to be ecstatic?
Can Ernest Zacharevic paint? The answer to that is of course a resounding yes, he can paint very, very well. Just look at this engaging piece, see how well he captures the girl's expression. Beautiful.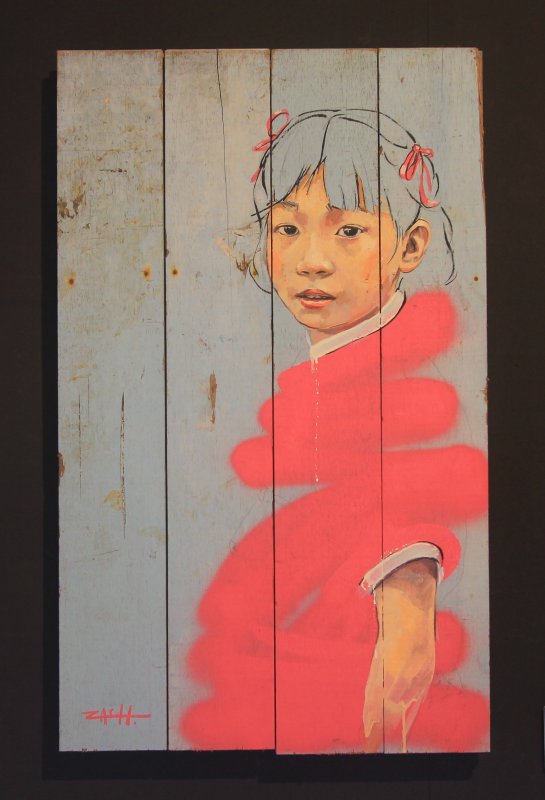 Ernest Zacharevic: Girl in Pink (2014)
(20 January, 2014)
Oil & spray paint on wood, 91 x 56 cm

There are works by other artists at the gallery. If you take their work and put it side by side to Zacharevic's art, theirs pale in comparison. There are local artists whose work I rave, but those I see here, maybe next time, when they have improved significantly. Zacharevi's paintings are miles ahead. Then what seems to be the issue?
Well, simply put: if you are Ernest Zacharevic, you are no longer appraised by how well you paint. That's a given. In Penang, you are not Mr Nobody Artist, so you can expect my expectation of you to be set many notches higher. Critical appraisers do not just look at how well you paint, they listen to what message your art speaks, and they will intrepret that message back into words.
The overall takeaway I got from this exhibit is that Zacharevic has replaced the vivacity and flair that characterised his most famous murals with paintings that are morose and pensive. Just look at the two sullen kids on horseplay. The children in the boat - why do they look so upset? The grimaces, the frowns, the scowls.
Look & Learn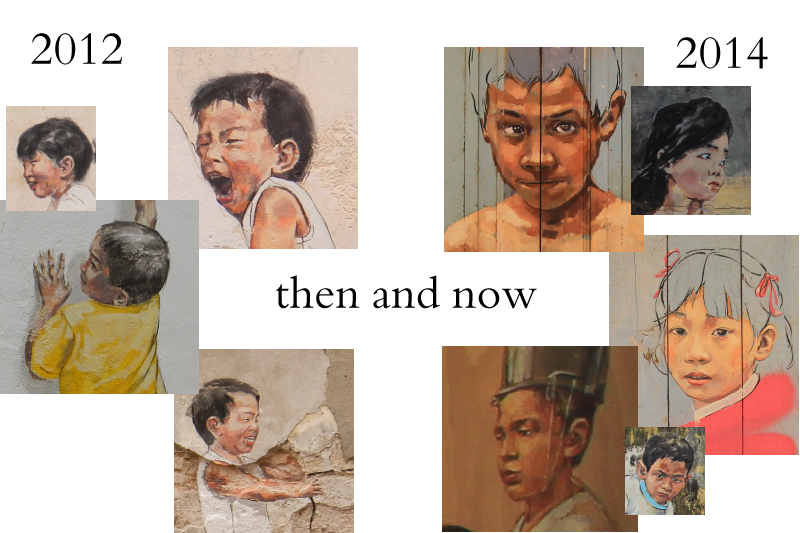 A comparison of children's faces painted by Ernest Zacharevic, in 2012 and 2014
(20 January, 2014)

What struck me on looking at Zacharevic's 2014 paintings of children is this:
why has their laughter stopped?
I can't help asking myself, are these paintings a reflection of the artist's present state of mind. What has happened?
Considering the artist worked from photographs, one may argue that he has no control over whether the children choose to be happy or otherwise. On the other hand, it is also up to the artist whether to select photographs depicting exuberance or melancholy. Of all the paintings in the exhibition, only one shows a smiling face, and it belonged to an elderly man.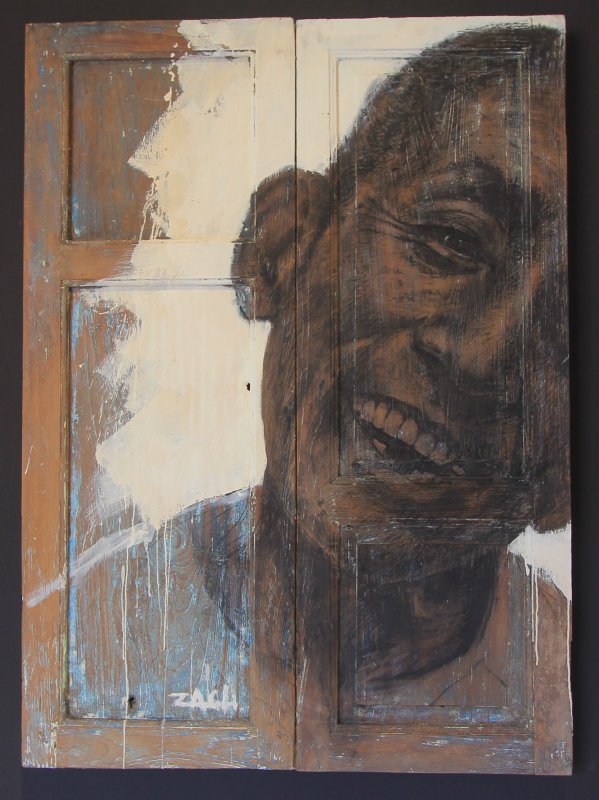 Ernest Zacharevic: International (2013) - the only smiling face in the entire exhibit
(20 January, 2014)
charcoal & murobond on wood, 120 x 39 cm

I believe it is pertinent to ask the question, "Why do throngs of people continue stream to Armenian Street and Cannon Street, to have their photographs taken with the murals there?" The 2012 George Town Festival is now a distant past, yet people continue to pay homage to the
Little Children on a Bicycle
. Most of these visitors might not be able to articulate their interpretation, other than to say that they find that mural endearing.
The Little Children on a Bicycle mural was like a winning lottery ticket, for the artist and for Penang. It planted Penang on the street art map and made Ernest Zacharevic a household name. But as with lottery wins, it is something that is difficult to repeat. In many previous articles I have explained clearly what worked with that mural, why it continue to draw crowds - and I must remind here that not all Zacharevic murals have the same effect.
Yes, a steady stream of visitors will make their pilgrimage to the Hin Company Bus Depot to admire the paintings. Most come out of curiosity and will be pleased simply because the artist painted something. The more descerning ones would seek to intrepret these pieces. To Penangites, Ernest Zacharevic is our own treasure. We created him. Having created him, what's our next step?
I sincerely believe that there's still another masterpiece in Ernest Zacharevic waiting to emerge. All the paintings and murals at Art is Rubbish is Art are well executed. Having said that, they are incomparable to the three famous Zacharevic children's murals on the streets of Penang.
Virtual Gallery of Art is Rubbish is Art
On this section I provide a virtual gallery of some of the pieces at the exhibition. There's nothing like going there yourself to view the pieces upclose. I would urge all art lovers to make a trip to the Hin Company Bus Depot at Brick Kiln Road to have a look at these piece and to interpret them in your own way.
Paintings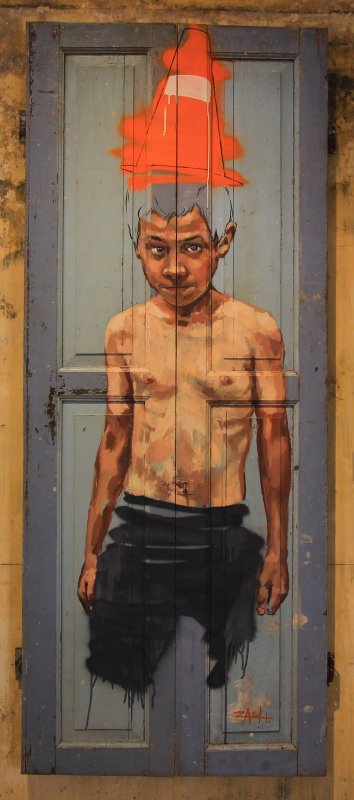 Ernest Zacharevic: The Roadwork Wizard (2014)
(20 January, 2014)
Oil & spray paint on wood, 197 x 77.5 cm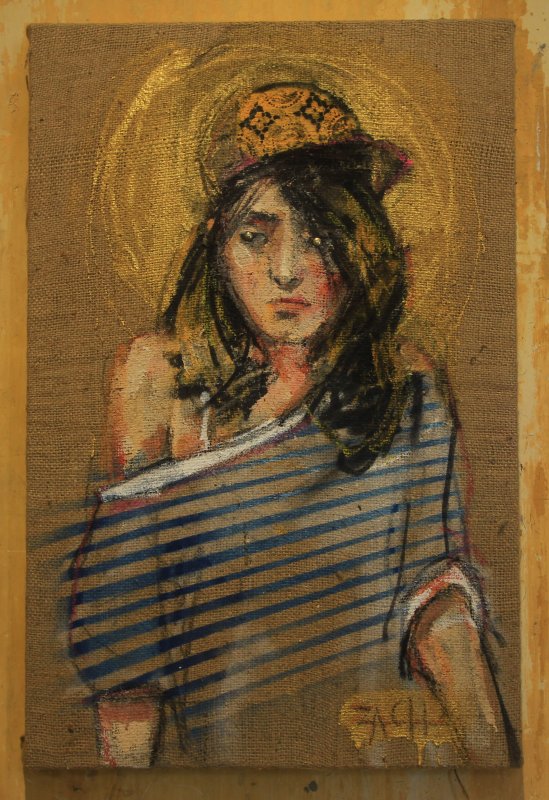 Ernest Zacharevic: Juste (2013)
(20 January, 2014)
Charcoil & oil on coffee bag canvas, 92 x 61 cm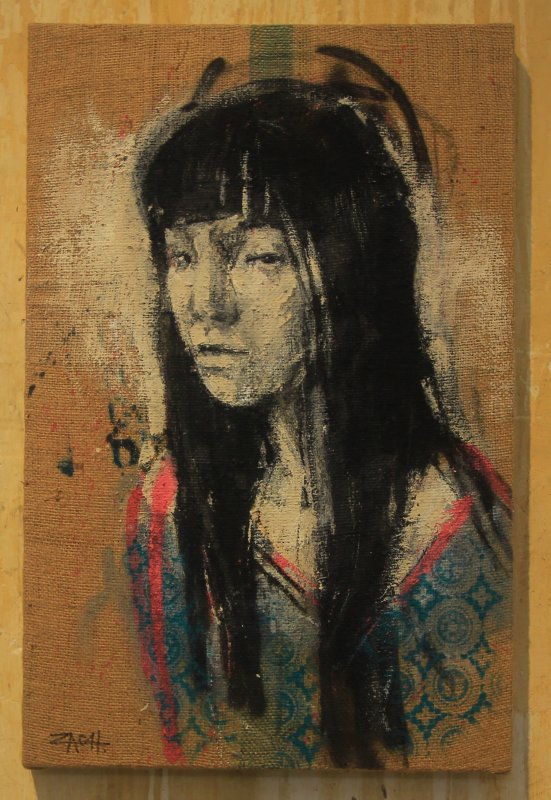 Ernest Zacharevic: Jolin (2013)
(20 January, 2014)
Charcoal & oil on coffee bag canvas, 92 x 61 cm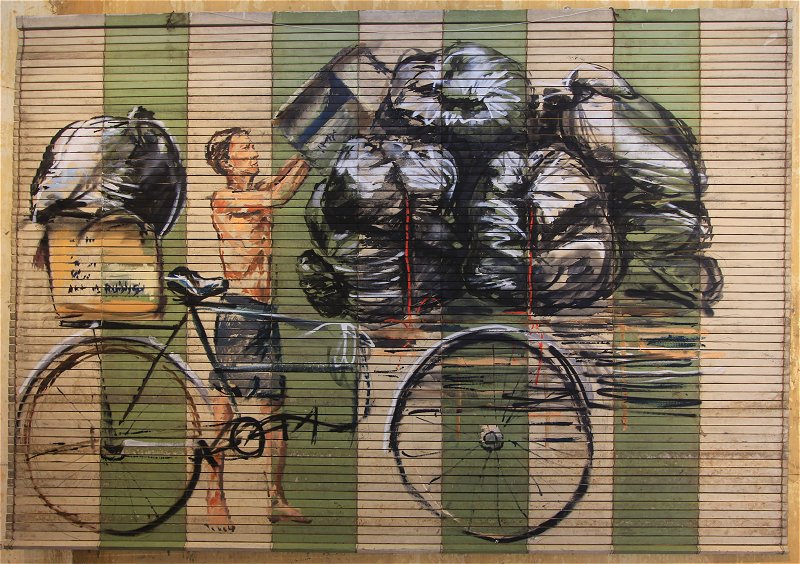 Ernest Zacharevic: Recycle (2014)
(20 January, 2014)
Oil on wood blinds, 187 x 275 cm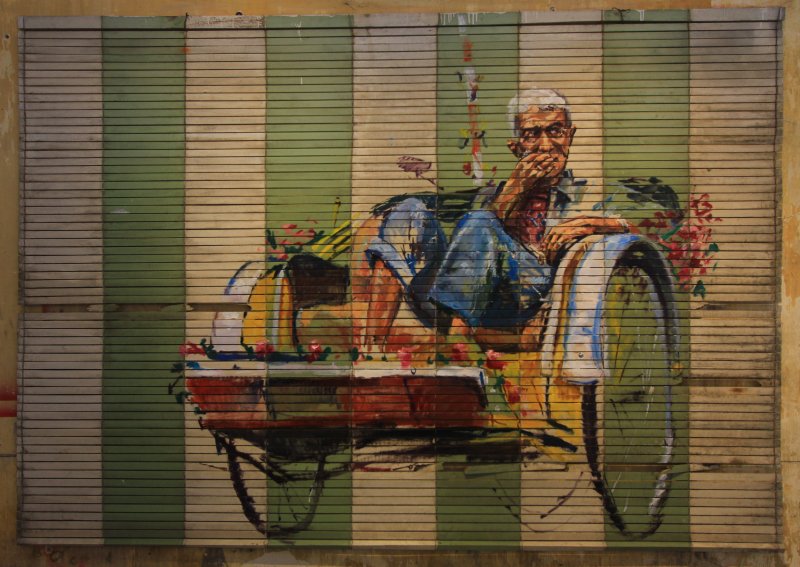 Ernest Zacharevic: Trishaw Guy (2014)
(20 January, 2014)
Oil on wood blinds, 182 x 272 cm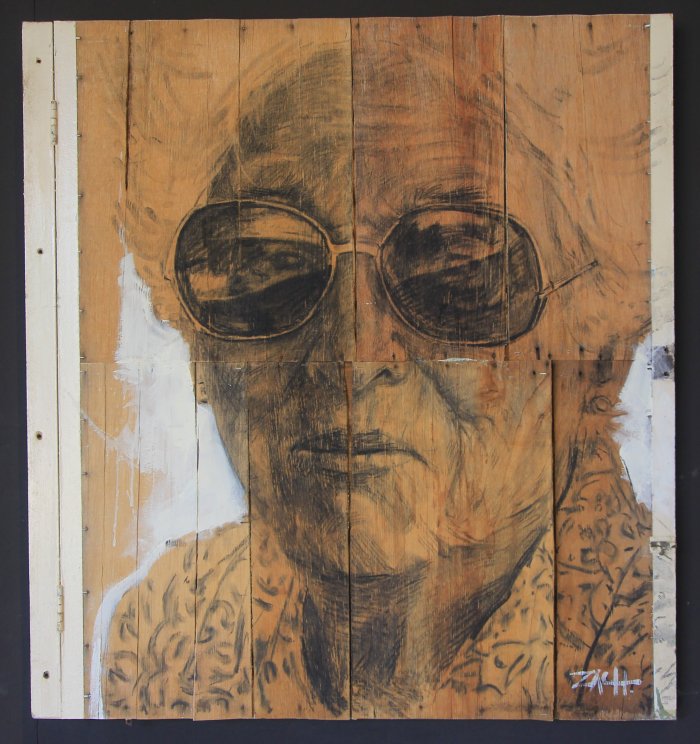 Ernest Zacharevic: Betty (2013)
(20 January, 2014)
Charcoal & murobond on wood, 104 x 99 cm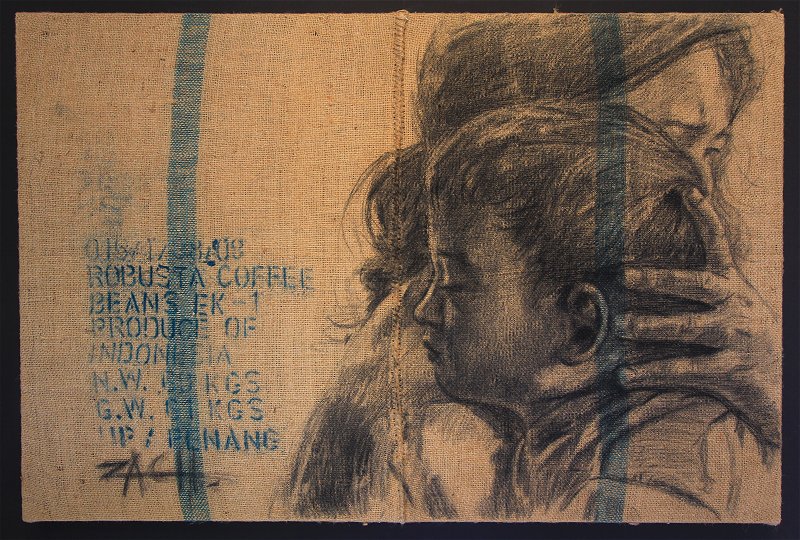 Ernest Zacharevic: Produce of Indonesia (2013)
(20 January, 2014)
Charcoal on coffee bag canvas, 91 x 141 cm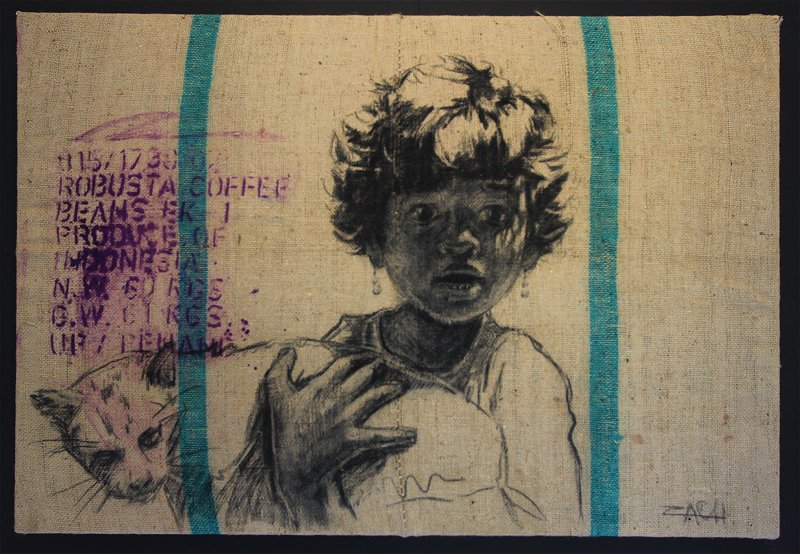 Ernest Zacharevic: Girl with a Cat (2014)
(20 January, 2014)
Charcoal on coffee bag canvas, 91 x 141 cm


Ernest Zacharevic: Michael Jackson (2014)
(20 January, 2014)
Oil on boards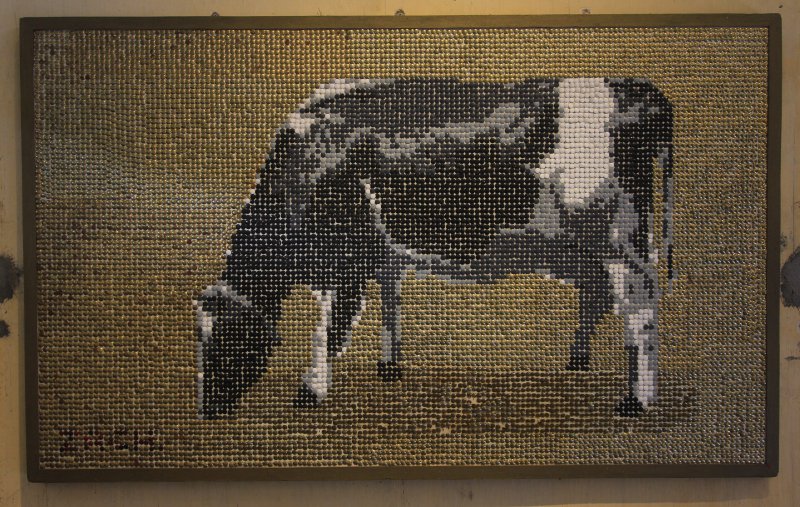 Ernest Zacharevic: Cash Cow (2013)
(20 January, 2014)
Thumb tacks on wood, 92 x 159

Murals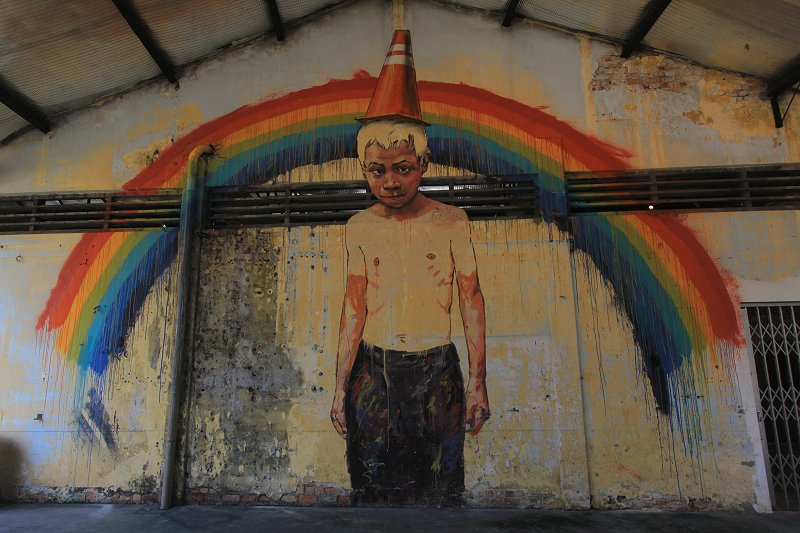 The Roadwork Wizard Mural
(27 February, 2013)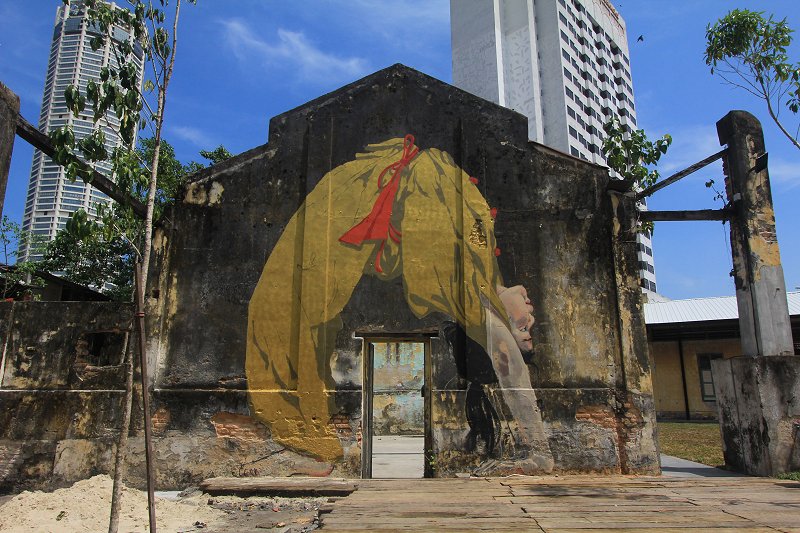 Young Acrobat Mural
(20 January, 2014)


Children in a Boat
(20 January, 2014)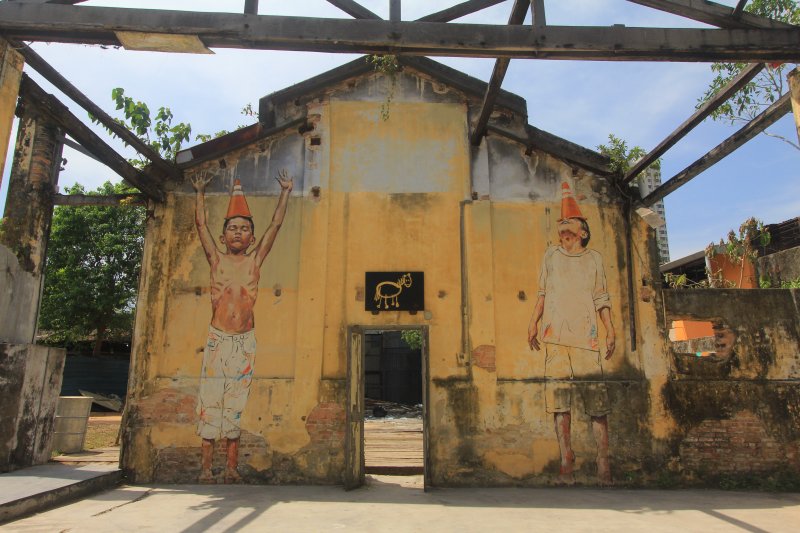 Boys with Cones
(20 January, 2014)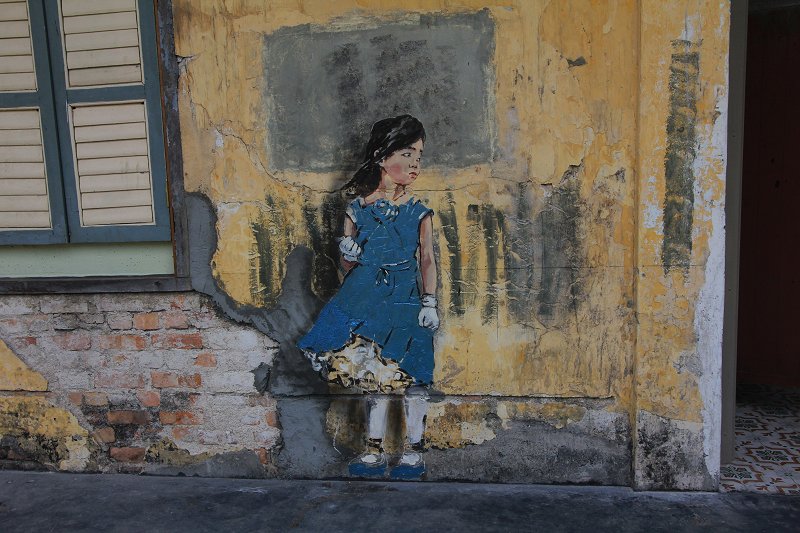 Little Girl in Blue
(20 January, 2014)

3D Art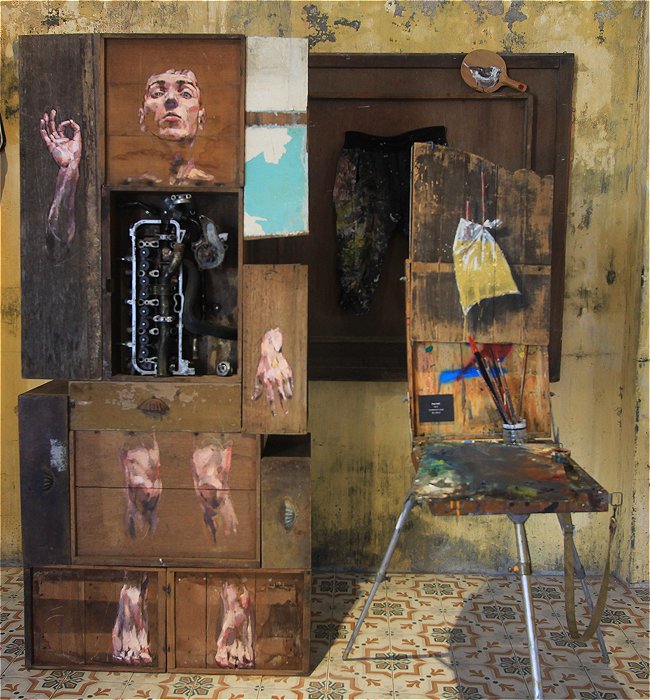 Kopi Gold
(20 January, 2014)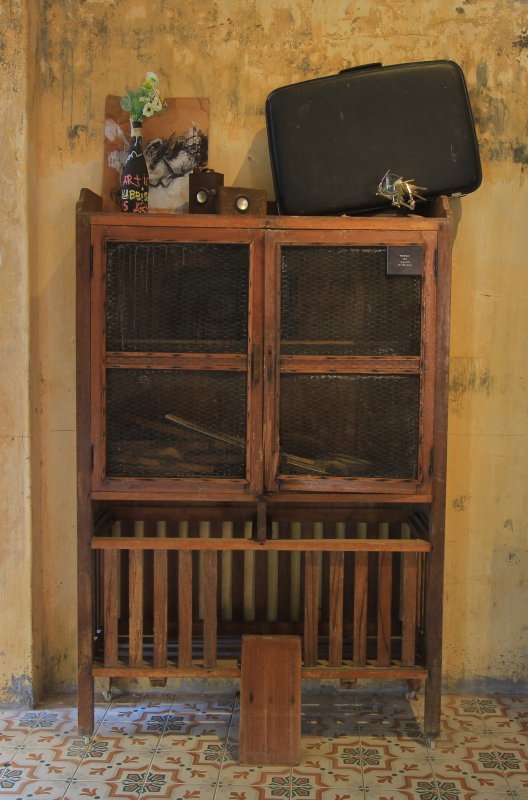 The Drawer
(20 January, 2014)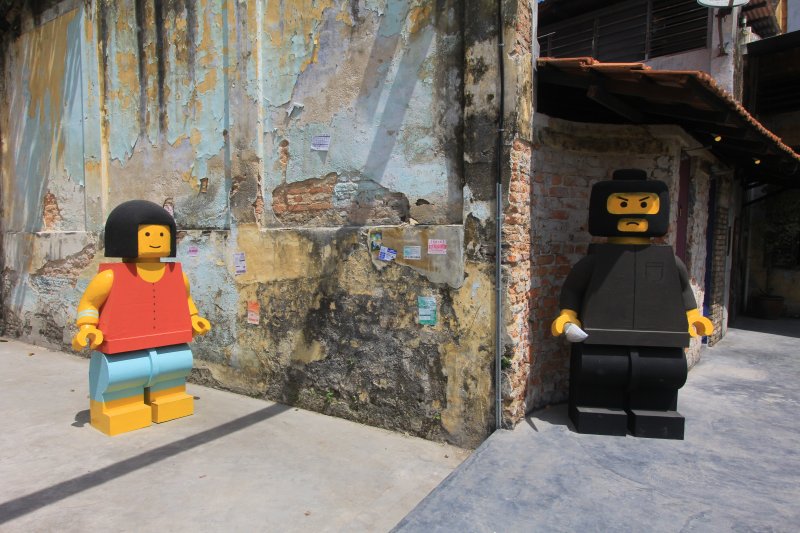 The Unsuspecting Shopper
(20 January, 2014)

In conclusion ...
No matter how critical I may be of what I saw at this exhibition, the art of Ernest Zacharevic is still leaps and bounds in front of many local artists of his age. Having said that, there are a few who comes to mind whom I would single out as worthy of mention, among them Louis Gan. I suppose what I saw today is Zacharevic at his morose period. Perhaps in a few years from now, as he continues to mature, we will experience a different Zacharevic. I hope that local artists who have the opportunity to work in close proximity to him may learn a thing or two.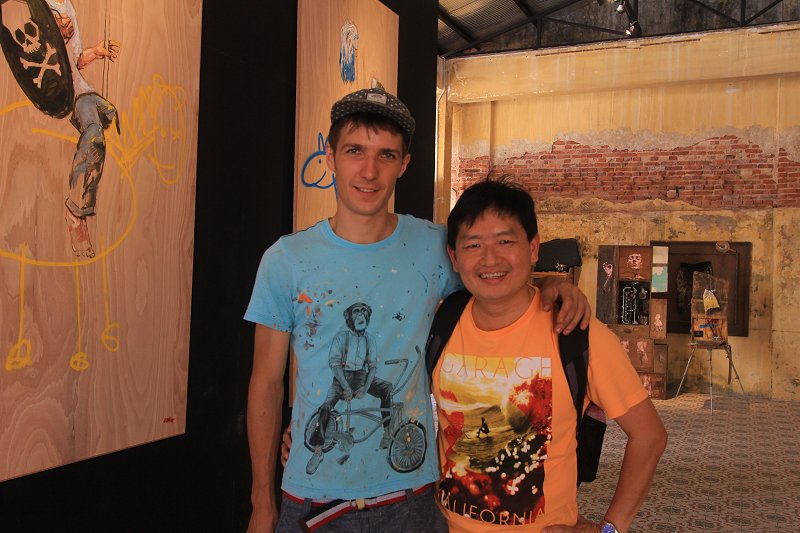 Tim with Ernest Zacharevic
(20 January, 2014)

Add your shop/business to this website
The Penang Travel Tips website is a huge website that documents everything in Penang. On top of the hundreds of streets and tourist attractions, I also add in hundreds of shops and businesses.
If you operate a shop business in Penang, or anywhere in Malaysia or Singapore, contact me to add your business/shop into my website. It only a one-time fee, and your shop/business will be listed by location and category, helping your would-be customers find you. To find out more,
CONTACT ME
Visiting Penang? Find the lowest hotel room rates here!
Use our search engine to compare room rates from different hotel booking websites, to find the one that's lowest.
Travelling somewhere?
If you're travelling somewhere, use our online engine to find the online booking site that offers you the best room rates.
Book your hotel room here
If you're coming to Penang, book your hotel room online with Agoda. Agoda offers the best prices on 2,000,000+ properties worldwide.
Start here.
Local Guided Tours of Penang
If you are coming to Penang and need someone to show you around, I can arrange for you a licensed tour guide to take you around. Guides charge a fixed fee of RM360 for taking a small group of up to 10 people on 4-hour walking tours. Walking tours exceeding 4 hours is charged an additional RM90 per hour. Tours are tailored to guest requirement. For more details,
contact tour coordinator
. Other types of tours also available.
For details, click here.
Looking for a book? Get it from Book Depository with free delivery worldwide!
I have just discovered
Book Depository
, a subsidiary of Amazon.com, and I love it. This is where you can buy books and have them sent to you. But unlike Amazon, when you purchase using Book Depository, you enjoy free delivery worldwide.
Give it a try today!
Here's a list of the latest pages I have added or updated on my website.
My YouTube Videos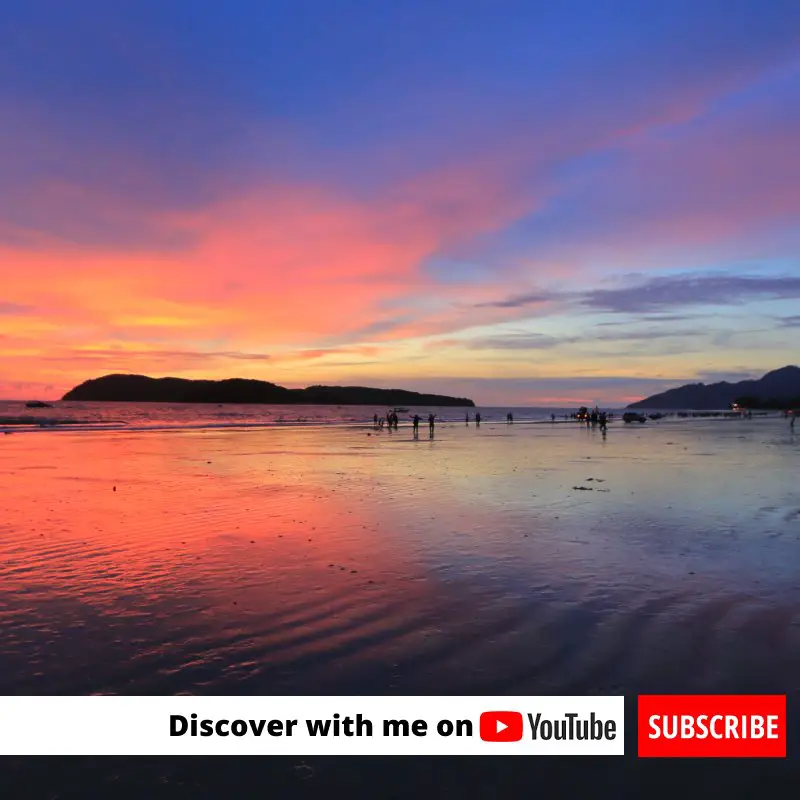 Check out
my YouTube Channel
and don't forget to subscribe!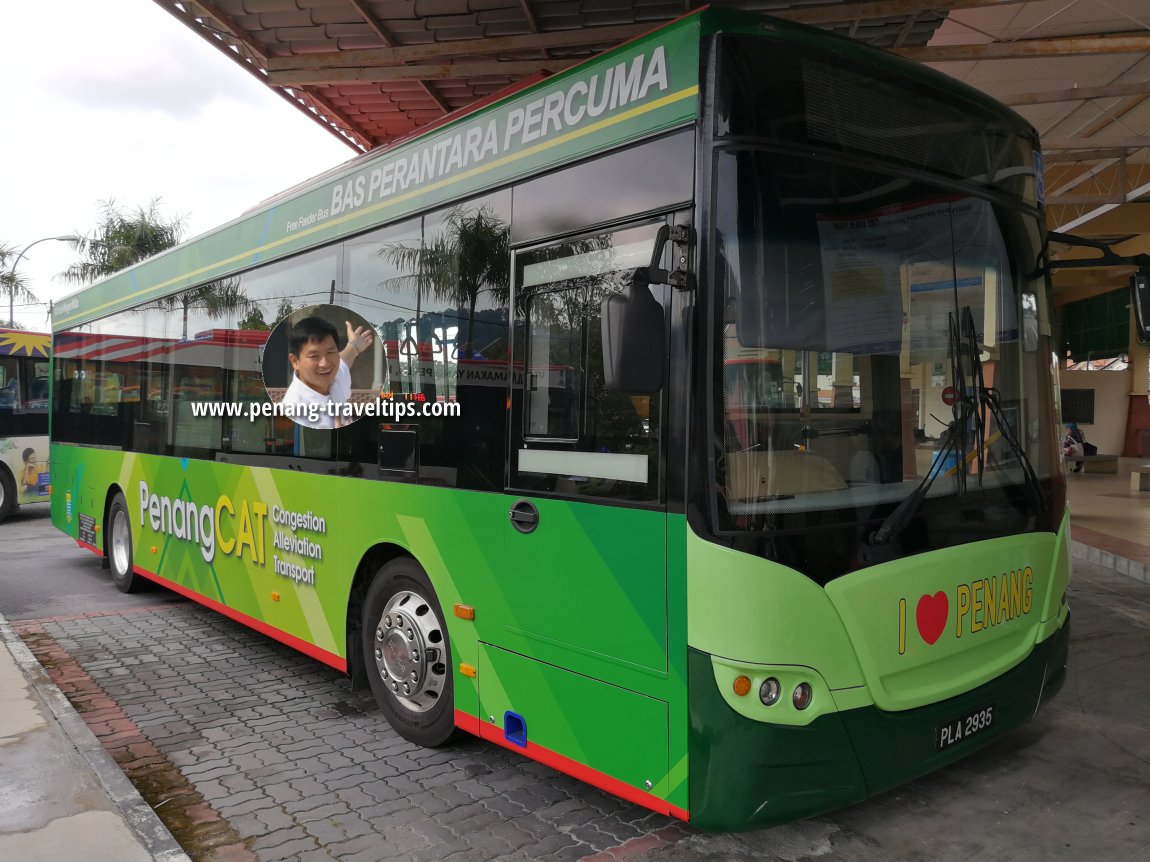 Take the CAT Free Feeder Bus
What's the best way to see Penang on a budget? Take the bus! In Penang, there are at least 12 absolutely
FREE
bus routes which cover almost every major neighbourhood on Penang Island and Penang Mainland. All you need to do is hop aboard!
Details
Vital Links
Book Your Express Bus Ticket
|
Hire a car
|
Our Recipes
|
Facebook Posts
|
Just Curious
|
Not In The Dictionary
|
Our Flowering Garden
Vital Links
Book Your Express Bus Ticket
|
Engage a Tour Guide for Penang
|
What's Up at Penang Hotels
|
Hire a car
|
Facebook Posts
|
Our Recipes
|
Our Flowering Garden
|
Guide Book on Penang Durians
Discover the World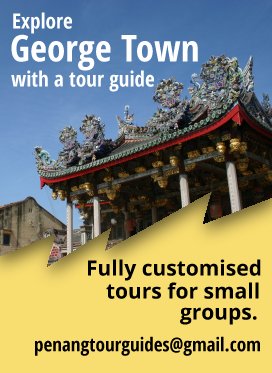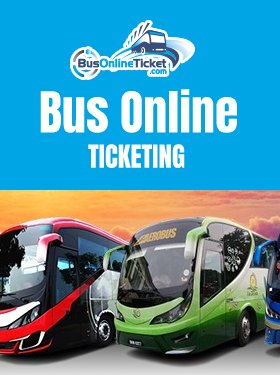 About Me
Thank you for visiting
my website
. I started it in 2003, and today it has over twenty thousand pages of information. My name is
Timothy Tye
. I would be very pleased if you enjoy the information I have put together.
As a Christian, I hope that through this website, I am able to deliver God's message to all who need it, anywhere in the world. If you are open to hearing it, please read
God's Good News to You
.
If you wish to contact me, please use this
contact form
. And don't forget to
follow me on Facebook
. See you!
Copyright © 2003-2019
Timothy Tye
. All Rights Reserved.