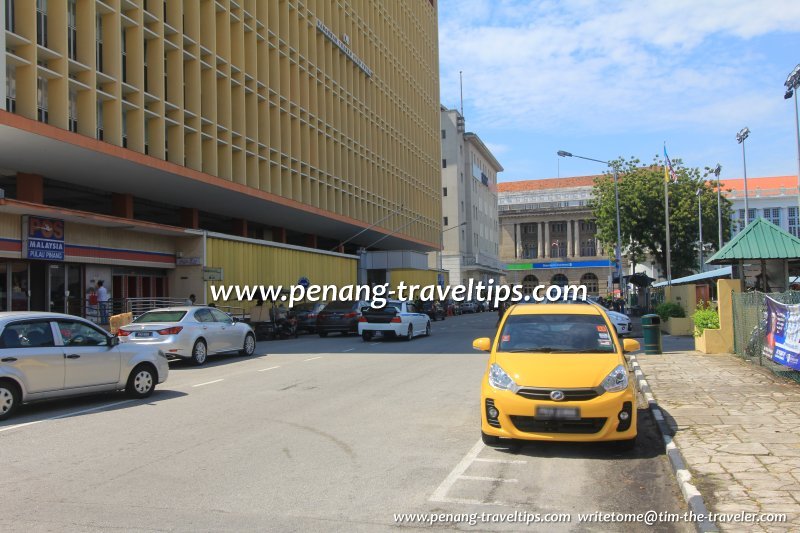 Downing Street, George Town, Penang
(25 January, 2013)

Downing Street
, or
Lebuh Downing
, is the street within the Central Business District of George Town. It was named after the famous Downing Street in London, but while the British Prime Minister has his official residence at
10
Downing Street, the British built their government offices on Penang's Downing Street.
The land on which Downing Street is located was reclaimed in the early 1880s, and from then on the block of land bordered by Downing Street, Beach Street, the future
King Edward Place
and the future
Weld Quay
was developed in stages. Due to its civic nature, the site was called the
Government Quadrangle
.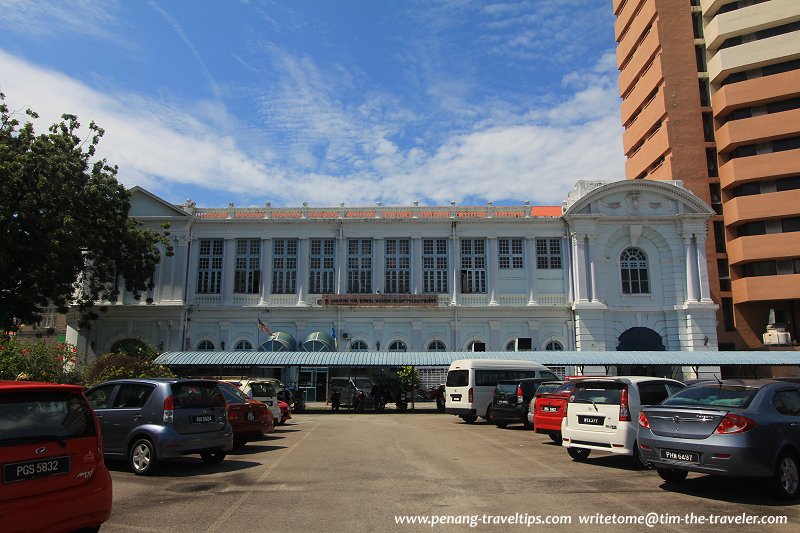 Remnant of Government Offices, today the Penang Islamic Council Building
(25 January, 2013)

At the junction of Downing Street and Beach Street there originally stood the offices of the
Chinese Protectorate
. Also lated here was the
Indian Immigration Depot
. These two departments looked after the affairs of the Chinese and Indian immigrants respectively. On the area presently occupied by the parking lot was Penang office of the British East India Company. All these three are no longer extant. The Government Offices were erected there in phases. The earliest portion, no longer extant, faced King Edward Place. The Government Offices eventually formed a "U" with the last section completed in 1907. This section is the only one still standing, as the rest were destroyed during the Second World War. It serves as the
Islamic Council Building
today.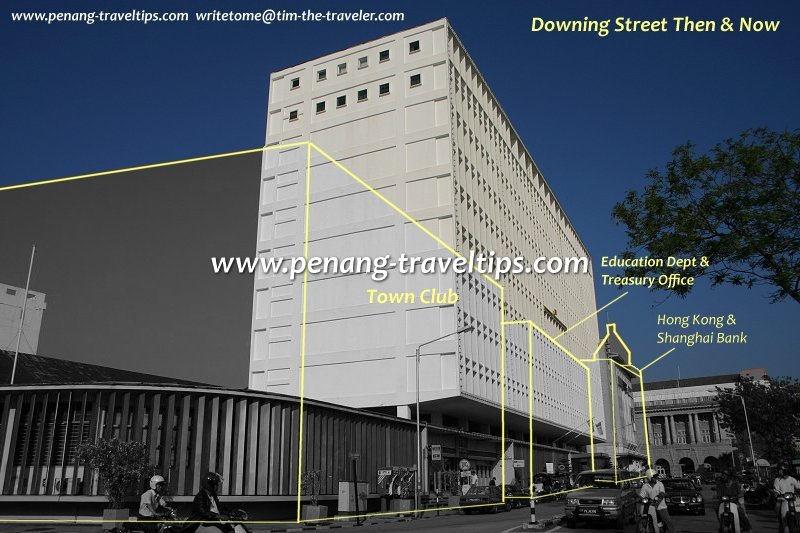 Downing Street then (before 1941) and now (2013)
(29 January, 2005)

Most of the buildings in the Government Quadrangle is now gone, and the area is occupied by the car park for civil servants. The
Penang Malay Chamber of Commerce Building
was erected on the plot facing the
Light Street Roundabout
in the 1980s. The General Post Office is located at the international-style
Bangunan Tuanku Syed Putra
completed in 1962. It replaces the Post Office that was part of the Government Offices across the street.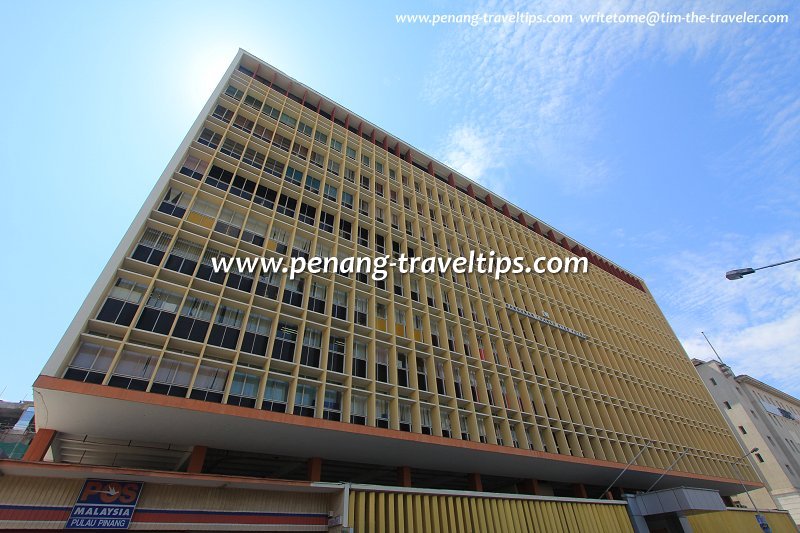 Tuanku Syed Putra Building, Downing Street
(25 January, 2013)

The present
HSBC Building
was also built after the war, as the previous building was also destroyed by Allied bombings.
The Downing Street of today has lost most of its stately buildings that were there before the Second World War. Unfortunately the prime area that was once the Government Offices has not been re-developed, and has remained a car park for the past few decades.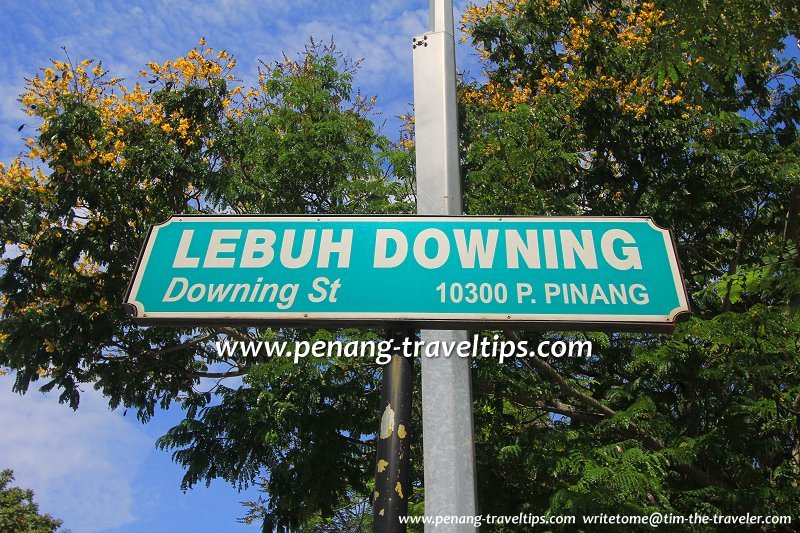 Lebuh Downing road sign
(25 January, 2013)

Getting there
From the
Weld Quay Ferry & Bus Terminal
, cross the pedestrian bridge and then turn right, walk along Pengkalan Weld, and you'd eventually arrive at Downing Street on your left. You can also take
Rapid Penang Free Shuttle Bus
, get down at Station No. 19 (Lebuh Downing).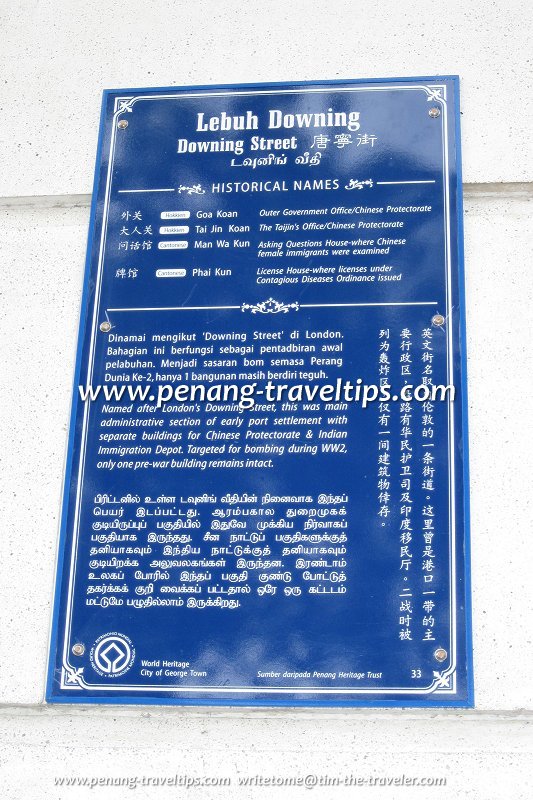 Downing Street history plaque
(25 January, 2013)

Sights along Downing Street
View
Downing Street, George Town, Penang
in a larger map

contact me
You can look for and book your hotel room direct from this website. Simply
click here
or use the search box below. You can filter the results based on your requirement, everything from five star hotels to homestays and more.
Look for a specific type of accommodation in Penang
Map of Roads in Penang
All about me