Thean Hock Keong Temple, Bagan Ajam
---

Thean Hock Keong Temple, Bagan Ajam, Butterworth
© Timothy Tye




The Thean Hock Keong Temple in Bagan Ajam is one of the oldest temples in Butterworth, Penang. It was founded in the Year of the Dog, 1888. A prominent Penangite Khoo Thean Teik was a major benefactor who contributed to the construction. The present Thean Hock Keong Temple was completed on January 3, 1997. The exterior is of ornately carved granite. There are two pavilions in the raised front court.

The patron deity at the Thean Hock Keong is Kwan Kong. Like many Taoist deities, Kwan Kong, whose name is Guan Yu (162-219), was a deified military general under the warlord Liu Bei during the late Eastern Han Dynasty and the Three Kingdoms period. The historical account of Guan Yu's life has since been mixed with legend and fiction, passed down the generations as folklore, and was depicted in the historical novel Romance of the Three Kingdoms.

Kwan Kong is usually portrayed as a red-faced warrior with a long black beard. While his beard was mentioned in the Romance of the Three Kingdoms, his red face was most likely derived from Chinese opera, where red faces represent loyalty and righteousness. He is usually shown holding a Kwan Dao, a pole weapon that is often used in wushu. The creation of Kwan Dao is attributed to Kwan Kong.
How to go to Thean Hock Keong Temple
The Thean Hock Keong Temple is located along Jalan Pantai Bersin in Bagan Ajam, a short distance from the sea at Jalan Pantai Bersih. At the junction between Jalan Teluk Air Tawar, Jalan Sungai Puyu and the Butterworth Outer Right Road (BORR), proceed north into Jalan Teluk Air Tawar, and take the first turning on the left. The Thean Hock Keong Temple is a short distance down the road, on the right side of the road.




Period lamps at the front entrance of the Thean Hock Keong Temple.
© Timothy Tye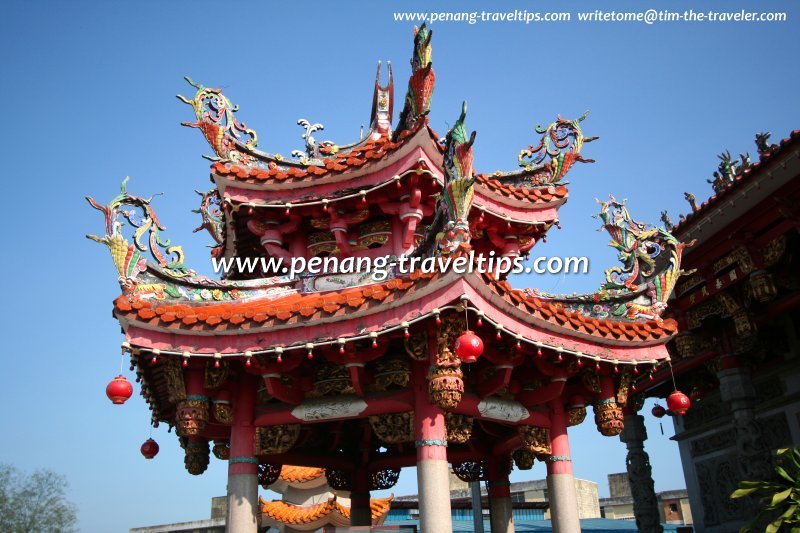 One of the two pavilions of Thean Hock Keong Temple (15 April, 2006)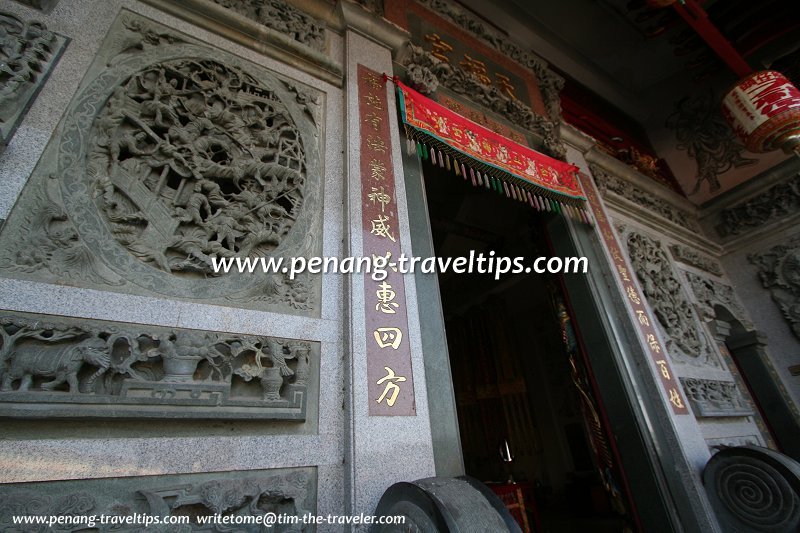 Thean Hock Keong Temple, front façade (15 April, 2006)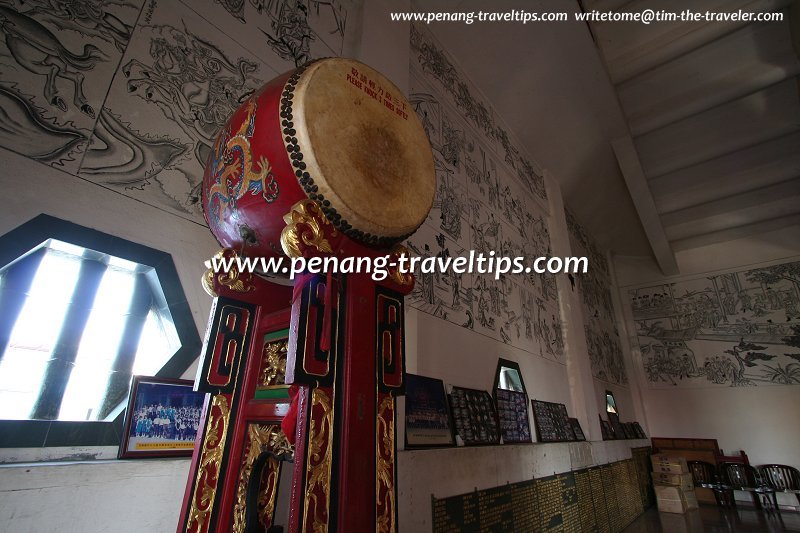 Thean Hock Keong Temple, ceremonial drum (15 April, 2006)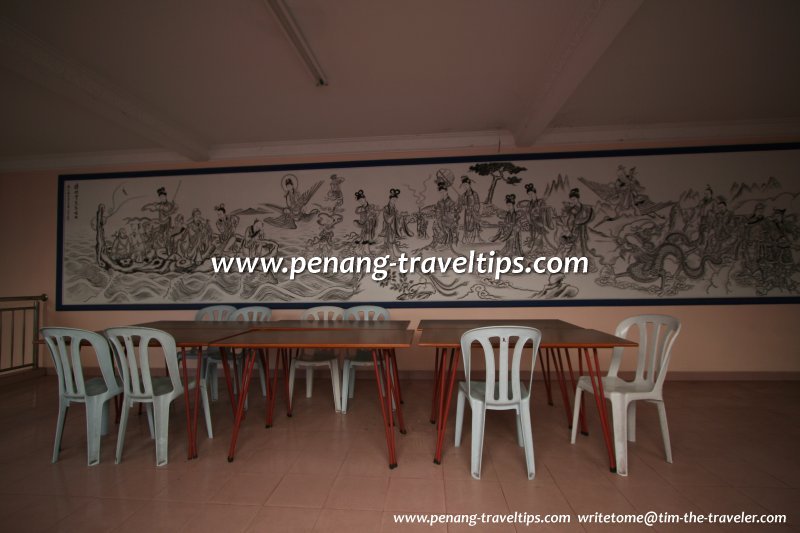 Thean Hock Keong Temple, ink painting (15 April, 2006)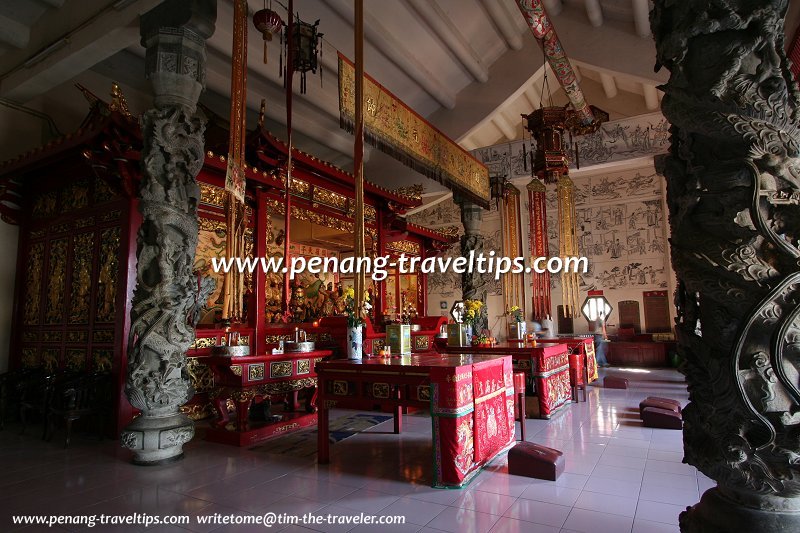 Thean Hock Keong Temple, main altar (15 April, 2006)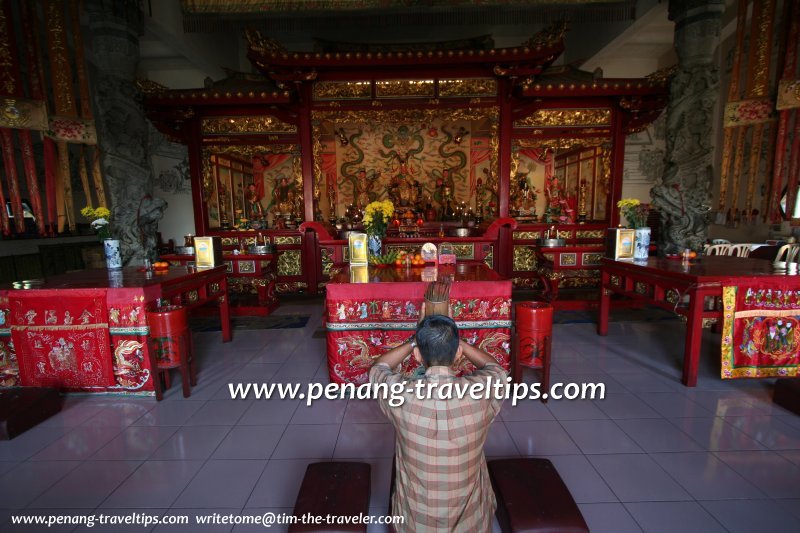 Devotee worshipping at Thean Hock Keong Temple (15 April, 2006)






View Thean Hock Keong Temple, Bagan Ajam in a larger map


Before you go anywhere in the Big World Out There, spend a moment to find the best Flights and Hotels.



| | |
| --- | --- |
| | Hello and thanks for visiting! My name is Tim! I created Penang Travel Tips so that I can tell you everything that I know about Penang. I hope my website provides you the information you are looking for, and that you will enjoy visiting it as much as I enjoyed writing it for you! If you found any errors, please let me know and I will correct it. Thank you! |

If you love to know everything about Penang, join me at Penang Travel Tips Facebook Group, Penang Street Art Facebook Group, Penang Hawker Food Facebook Group, Learn Penang Hokkien Facebook Group and Masa Masak Facebook Group!
Rapid Penang Bus Routes: This very useful page provides you all the information to take the public bus to visit any place in Penang.
Arriving by plane: Essential information for independent travelers (those not following a tour package) on taking the bus or taxi upon arrival at Penang International Airport.
Taking the Taxi: Taxi stands can be found at all major shopping malls. You can also call a taxi by phone. Get the details here.
Personal Guided Tours of Penang: If you like a licensed tour guide to show you around, get in touch with me and I'll arrange it for you. The fee is RM90 per hour. Payment for the first two hours collected upon booking.
Hospitals in Penang: Penang is a major regional medical tourism destination. If you are planning to come here for therapy or treatment, find out about the various hospitals available.
Penang Island Residential Property Guide: If you ever consider buying a residential property on Penang Island, read this guide before taking any action.
Penang Visitor FAQ: Frequently asked questions of visitors planning their trip to Penang.
Shopping malls of Penang: Penang has plenty of malls. Visitors often find that prices in Penang are often lower than back home. Get to know the malls in Penang.
Ernest Zacharevic George Town Murals: The murals by a young Lithuanian artist, created for the 2012 George Town Festivals, has become the biggest tourist attraction in Penang. Get information and a full list of the murals that everybody loves to photograph!

Copyright © 2003-2014 Timothy Tye. All Rights Reserved.
---
Terms & Condition of Use | Privacy Policy