Penang
comprises
Penang Island
and
Seberang Perai
(also called Province Wellesley) on the mainland. The central part of Penang Island is hilly. The capital, George Town, rolls out from the northeast tip of Penang Island and spreads across the lowlying areas like a concrete carpet. The tourist belt of Batu Ferringhi and Tanjung Bungah are located on the hilly northern side of Penang Island. Over here, whatever land there is for development hugs the hillside, required much leveling and cutting before anything can be built there.
Penang Hill, located at the centre of the island, prevents the city from marching westward, forcing it to develop southward through Gelugor all the way to Batu Maung to the south. The demand for housing has resulted in new development taking place in Teluk Kumbar, Gertak Sanggul as well as Balik Pulau. Balik Pulau, a town whose name translates roughly as "hindside of the island", was pretty much a sleepy backwater until recently. Today Balik Pulau is undergoing rapid development. Nevertheless, the town is still popular among Penangites for its orchards, particularly of durians and nutmeg.
Seberang Perai is relatively flat, save for Bukit Mertajam, the name of a hillock as well as the town at its foot. The snooty urban folks of Penang Island seldom venture into Seberang Perai - regarding it as a far-away countryside - until the pressing need for cheap housing forced some of them to live there. Now towns in Seberang Perai such as Juru, Jawi, Sungai Bakap and Nibong Tebal, once regarded as the agricultural hinterland as late as a decade ago, have experience rapid development, in terms of industrialization and the sprouting of new housing estates. These towns are expected to benefit from the construction of the second Penang Bridge.
The Penang Bridge carries a dual-lane carriageway, the E36, across the channel connecting Penang Island and the mainland. Linked to the Penang Bridge is Route 1331, comprising Jelutong Expressway and Bayan Lepas Expressway. This is the main motorway on the east side of Penang Island, connecting Batu Maung in the south to Weld Quay in George Town.
On the mainland side, the Penang Bridge connects to the North-South Expressway, E1, the main motorway running along the west coast of Peninsular Malaysia. The E1 connects to the Butterworth-Kulim Expressway, E15, and the Butterworth Outer Ring Road, E17. With the exception of the Jelutong and Bayan Lepas Expressways, all the motorways mentioned are tolled.
George Town, the capital, is located on the northeast tip of Penang Island. It is where most of the sights of historical significance and tourist attractions are located. It is also where most visitors to Penang will be staying.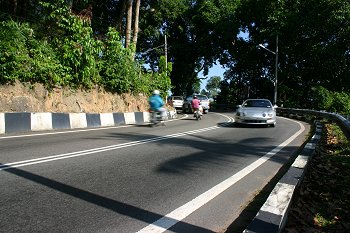 The road on the north coast of Penang island is characterised by sharp bends.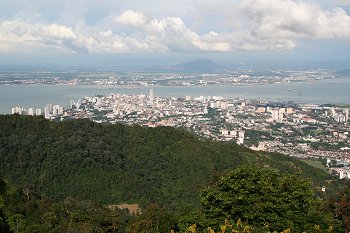 Penang Hill, foreground, prevents George Town from further developing westward.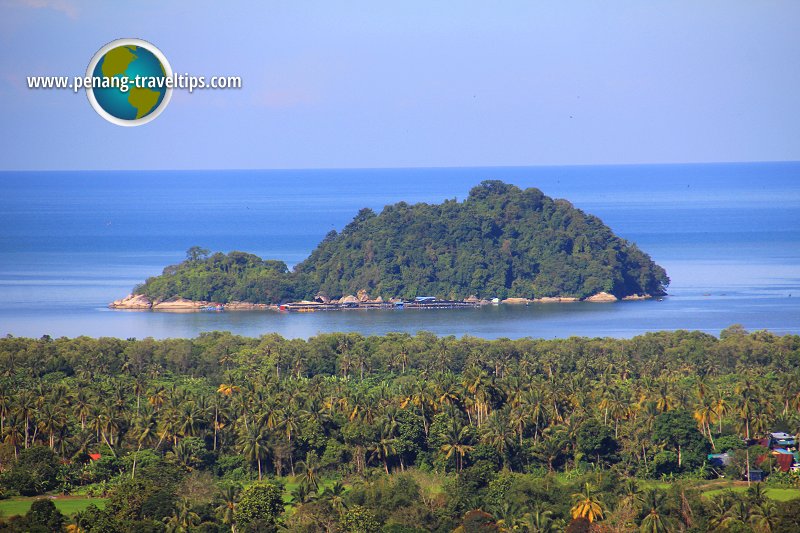 Pulau Betong, on the southwest of Penang island


Latest Pages & Updates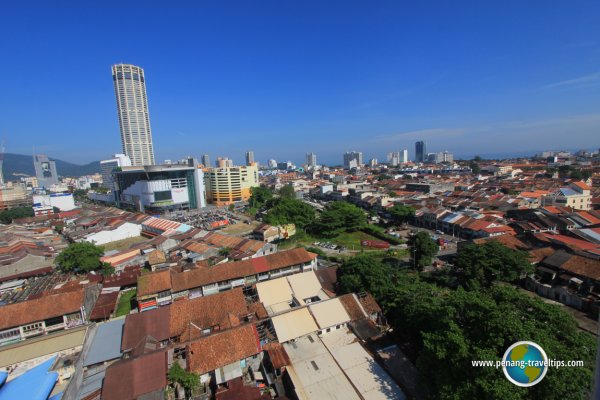 Useful Tips for Visiting Penang
You are visiting Penang soon and you are excited to make it a memorable trip. But you have many questions - how to take the bus, where to get a taxi, which hotel to choose. I have received these questions over and over. To help you enjoy a wonderful holiday in Penang, I have put together a list of articles I have written on this subject. Please read through them. I am sure there is something useful to answer the questions you may have.
Enter
Even more sights to discover on Penang Travel Tips!
There's thousands and thousands of sights waiting for you to explore and discover. Here are just some of them!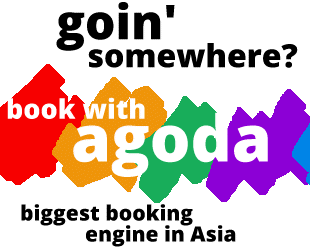 Buy Your Long-Distance Bus Tickets Here!
If you are planning to travel Malaysia and Singapore by bus, you can now purchase your long-distance bus tickets directly from Bus Online Ticket, where you get to check the schedule as well as price of tickets from various bus companies.
About me
My name is
Timothy Tye
. I write this website to provide people information on Penang. Together with
Exploring Malaysia
and
Big World Out There
, I am describing everything around me. If you run a business, hotel or restaurant in Malaysia, feel free to let me know, and I will list it on my website. To do that, just complete the
Add My Business
form. It's free!
As a Christian, I write this website so that
God's Good News
can reach every corner of the world and connect with those needing it. Why is this message important for all mankind? Because we would never know
if tomorrow never comes
.
To know more about me, visit my personal website,
www.timothytye.com
. To ask me a question or if you found an error, please let me know. You can reach me
here
. Thank you for visiting, and have a great day!
Copyright © 2003-2015
Timothy Tye
. All Rights Reserved.