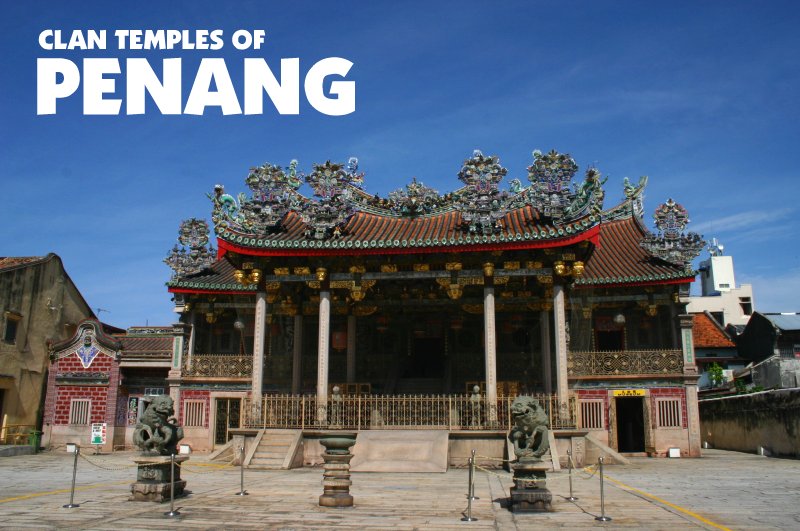 Clan Temples of Penang
(22 July, 2015)

Penang Clan Temples
are built by the different clan associations in Penang during the mid 19th to the early 20th centuries. These clan temples are constructed for the purpose of worshipping the patron deities of the clans as well as to venerate ancestors. Within these clan temples are usually ancestral tablets of those who have departed. Hanging on the walls of these temples are the photographs of clan members who have achieved academic or financial success. These are usually the benefactors of the clan associations.
Clan associations in Penang are created by Hokkien Chinese who immigrated here in since the early 19th century. They set up clan associations to assist their fellowmen, to settle into the new environment and find employment. Eventually, those who have settled and prospered give back by assisting newcomers of a similar clan. Although the clans were initially set up for the sake of offering helping, by the second half of the 19th century, intense rivalry manifested itself as one clan tried to outdo the other. Nevertheless, the Hokkien clans remained close-knit against peoples of other dialect groups, such as the Hakka and the Cantonese.
The wealthiest of the Hokkien clans is the Khoo, which built the most extravagant clan temple, Leong San Tong Khoo Kongsi, at Cannon Square. It is not the only Khoo clan temple in Penang. A short distance away is the quieter, less visited Boon San Tong Khoo Kongsi, also another clan temple belonging to a subset of the main Khoo clan. Within Penang, five Hokkien clan associations are regarded as the backbone of the Penang Hokkien clan associations. They are the Khoo, the Tan, the Lim, the Cheah and the Yeoh, and they each has a clan temple somewhere in George Town. On this page, we will visit these clan temples and get to know them more closely.
In addition to the Hokkien clans, the Cantonese built district associations which have similar functions to the Hokkien associations. Among these are the Ng Fook Thong District Association and the San Wooi Wooi Koon. We are now in the process of documenting other clan associations and district associations and will post them on this page when ready.
In addition to this list, view also the list of
Clan Associations in Penang
.
Location of the Clan Temples in Penang on the map
List of the Clan Temples in Penang
Clan Association Offices
Also listed here are clan association offices that operate without a detached clan temple within their premises. There are numerous clan associations for the various Chinese surnames in Penang, many of which have their premises in shoplots all over George Town.
Low Clan Association occupies a shoplot along Magazine Road.