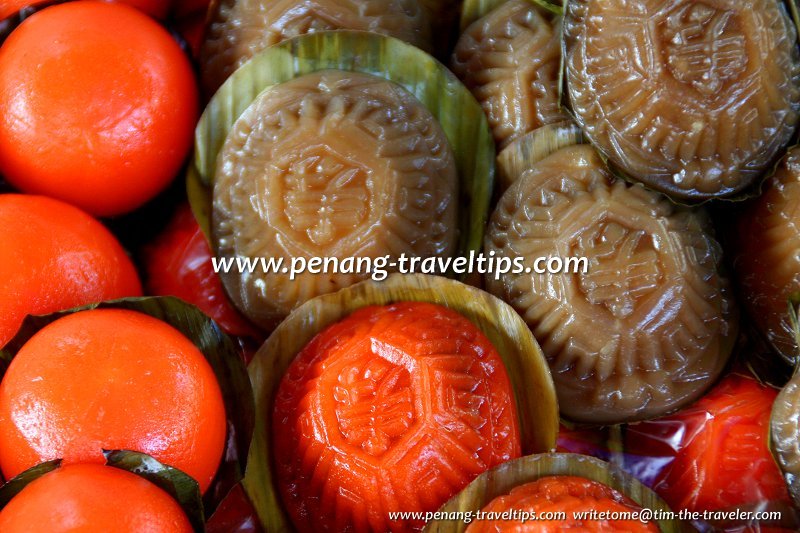 Ang Koo (this one is not our home made ang koo, but shot at a stall at Kuala Kangsar Road Market)
(16 July, 2008)

Ang Koo
, which is translated as red tortoise, is a Nyonya confectionery that forms part of the Full Moon offering. Traditionally, ang koo is only eaten during special feast days. Nowadays, however, it is common to see ang koo being sold at the market place by the Nyonya Kueh vendors.
The skin of the ang koo is made of glutinous rice flour which is coloured red with edible colouring. The filling is made of green beans or mung beans. To prepare the green beans for ang koo, they are washed and soaked overnight. After that, the green beans are steamed with some pandan leaves, to enhance its aroma.
The use of Ang Koo is usually associated with the worship of Chinese deities, particular the
Jade Emperor
. Ang Koo also features prominently in the Baby's Full Moon Celebration (
Muah Goay
), an offering made by parents after their new born child as passed a full month of age. The Baby's Full Moon is both a thanksgiving celebration to the gods for giving them the child. It is also a proclamation to friends, relatives, as well as to the deities and long-departed ancestors, that a new member has been added to the household.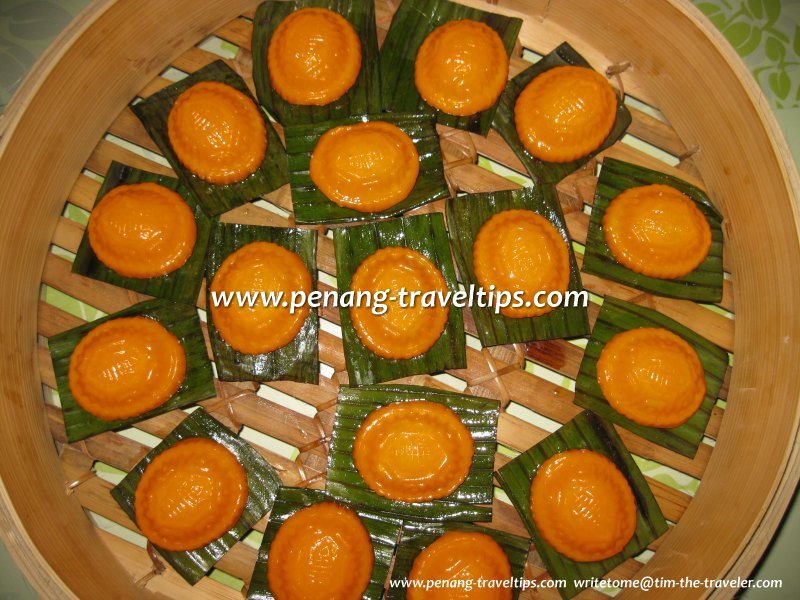 Ang Koo in a bamboo steamer
(13 October, 2012)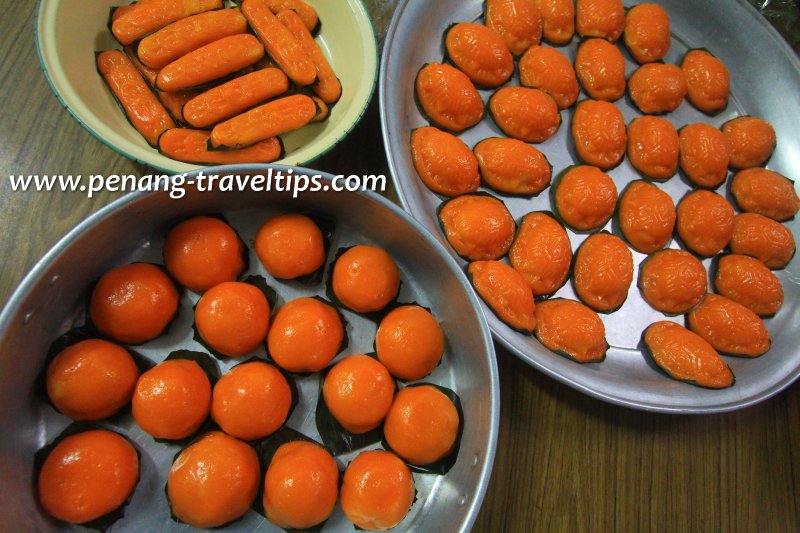 Trays of Ang Koo
(7 February, 2013)

The food items associated with Baby's Full Moon, are chicken curry, nasi kunyit (tumeric glutinous rice), boiled eggs with their shells dyed red, and of course, the Ang Koo. Every item carries a symbolic meaning. The rice is a wish for the baby to always have a staple meal, the chicken that there's meat on the table, the eggs signifies new life and potentiality, while the Ang Koo determines gender.
There are two types of Ang Koo associated Baby's Full Moon. The Ang Koo shaped to resemble a tortoise shell means the baby is a girl. If the baby is a boy, then the Ang Koo is round and plain. I do not fully understand why the girl baby gets the more ornamental Ang Koo, or that boy babies get the Ang Koo that look like a pair of balls, but perhaps you get the picture.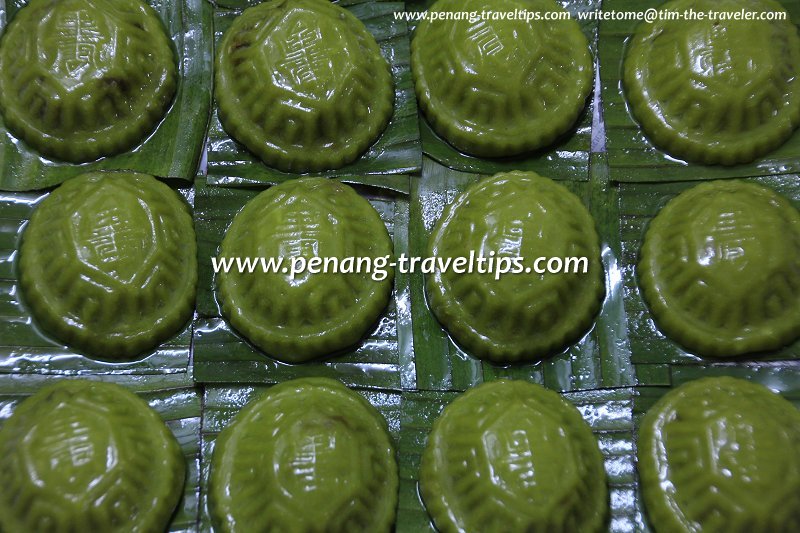 Pandan Ang Koo, or perhaps they should be called Chnae Koo, "green tortoises"
(12 November, 2012)

These items are laid into beautiful lacquerware tiffin carriers called
siah nah
, and carried house to house visiting friends and relatives, where the siah nah is opened and its contents distributed. The recipients will then insert an Ang Pow into the siah nah as a thank you. I am of course referring to a bygone era.
Today, the Baby's Full Moon combo pack is available in styrofoam or plastic packages, some with slots for the different items, packed into a nifty cardboard box. The
siah nah
no longer makes the round, having been consigned to the showcase. Well, at least some parents still give away the traditional pack, as some have even gone ahead to pass around KFC or McDonald's vouchers.
In addition to the tortoise-shaped Ang Koo, the same ingredients are also used to made round orbs known as Ang Ee and elongated pastries known as Tharn. These are particularly used by the Hokkiens for worship during the Jade Emperor's Birthday celebration.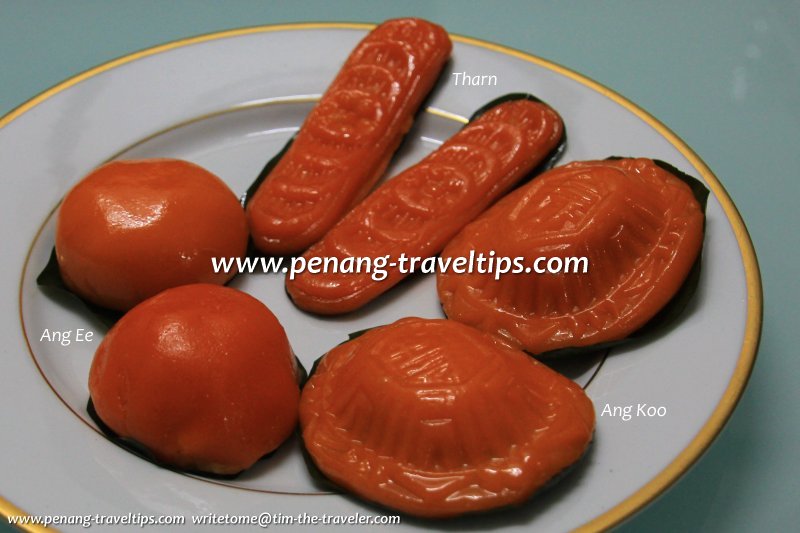 Different types of Ang Koo (these are made by my mother-in-law)
(17 February, 2013)

Ang Koo Kuih Recipe
Skin ingredients:
250 g Glutinous rice flour
1 tablespoon Rice flour
200 g Orange sweet potato - steamed and mashed
1 tablespoon sugar
A pinch of salt
100 ml Hot water
10 tablespoon Cooking oil
Few drops Orange-red food dye
Filling:
200 g Mung bean - soaked 2 hours until expand
120 g Sugar
1/4 teaspoon Salt
3 tablespoon Cooking oil
Banana leaves - cleaned and cut into sizes that are a little bigger than the ang koo mould, grease the surface Extra cooking oil for brushing the surface of cooked ang koo kuih.
Preparation method for the filling:
Steam the soaked mung beans over high heat for 20 minutes or until cooked.
Remove the steamed mung beans and while still hot, place in a food processor together with sugar, salt, and oil.
Blend until the filling is smooth and binds together.
Shape into lime-sized balls. Put aside.
Preparation method for the ang koo skin:
Mix glutinous flour, rice flour, orange sweet potato, sugar and salt into a mixing bowl, and mix until resembles breadcrumbs.
Gradually add in hot water, oil and food dye. Knead until dough is smooth and soft.
Set aside and cover with a damp kitchen towel.
To assemble the ang koo:
Divide the dough into balls slightly bigger than the filling.
Flatten, wrap in filling and seal. Place the dough into the flour-dusted ang koo mould.
Lightly press to shape, and knock out once done. Place over a piece of greased banana leaf.
Steam over medium heat for 8-10 minutes, or until done.
Brush the cooked ang koo surface with oil and trim the excess banana leaf.
The ang koo kuih is ready to be served.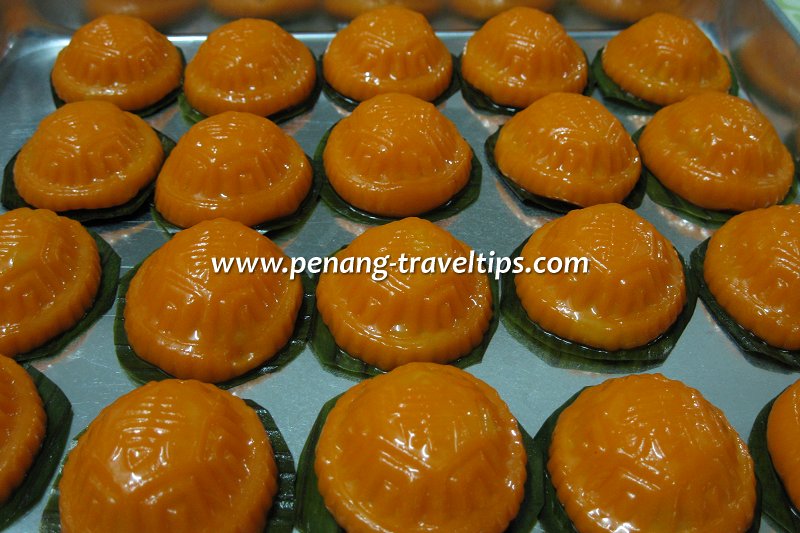 Ang Koo in tray
(13 October, 2012)

皮料:
250 克 糯米粉
1 汤匙 粘米粉
200 克 橙色番薯泥
1 汤匙 白糖
1/4 茶匙 盐
100 毫升 热水
10 汤匙 食油
少许 食用橙红色素
馅料:
200 克 去皮绿豆 -浸泡2 小时至膨胀
120 克 白糖
1/4 茶匙 盐
3 汤匙 油
香蕉叶- 洗净,剪成比红龟糕模具稍大一点的塊状,表面涂油
额外食油 - 涂龟糕表面
馅料做法:
把浸泡过的绿豆用大火蒸20分钟至熟透。
趁热把熟透绿豆连糖,盐和油放入电动搅拌器,拌至细滑并结合成团。
取出分成酸柑般大小,放置待用。
皮料做法:
把糯米粉,橙色番薯泥,白糖和盐混合, 拌成糠状。
逐渐倒入热水,食油和少许食用橙红色素,拌成软面团。
取出面团,用微湿面巾覆盖,待用。
做法:
取番薯粉团分小等份,体积比馅料稍大一点即可。
把粉团搓圆,压平,包入馅料,封口。
放入撒粉的红龟糕模具,轻轻压平后倒扣出来,放在涂油的香蕉叶上。
放入蒸锅内用中火蒸8-10 分钟,或至熟。
在熟的红龟糕上涂油,把香蕉叶修剪,即可享用。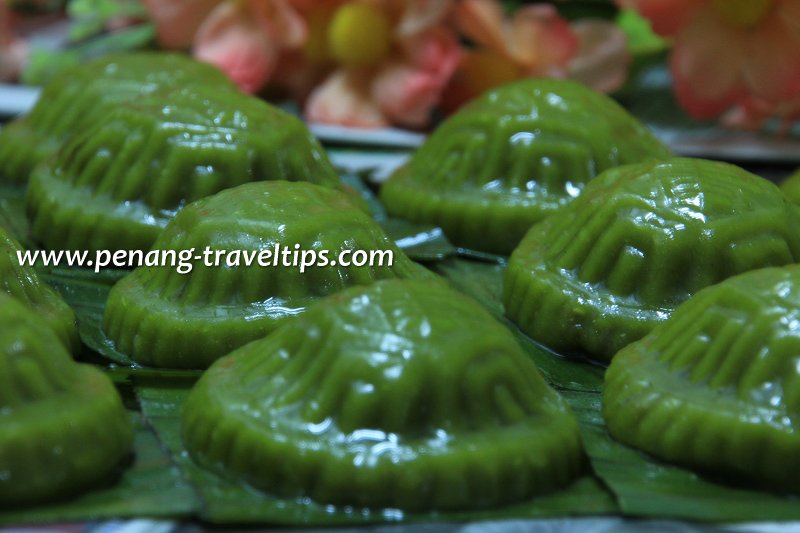 Green Ang Koo
(12 November, 2012)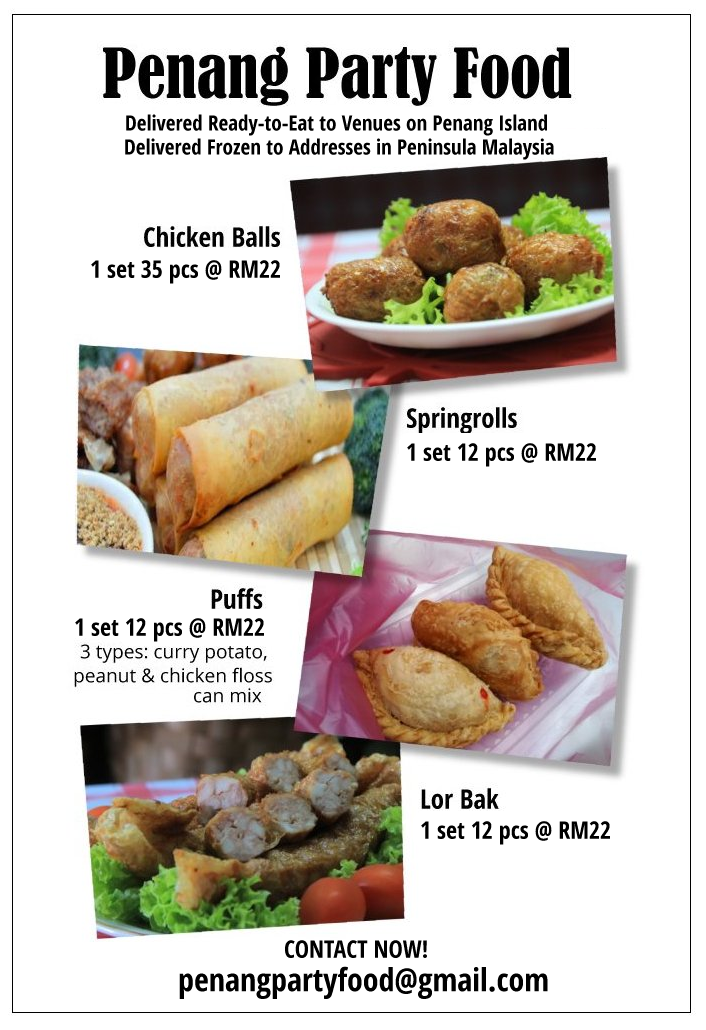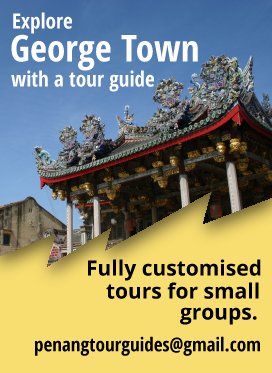 All about me
Thank you for visiting
my website
. I started it in 2003, and today it has over twenty thousand pages of information. My name is
Timothy Tye
. You can call me Tim. I have been writing my website full time since 1 November 2007, and I am enjoying every moment of it. I write my website to satisfy my own curiosity, but I am glad if the information is useful to you.
As a Christian, I hope that through this website, I am able to deliver
God's Good News
to those who need it all over the world. If you wish to contact me, please submit the
contact form
. Thanks again, don't forget to
follow me on Facebook
!
Welcome to my Singapore Travel Tips!
On top of writing Penang Travel Tips, I am expanding my writings to cover Singapore. These are the pages completed so far.
Copyright © 2003-2018
Timothy Tye
. All Rights Reserved.