Getting to know the Streets of George Town
Get to know the Streets of George Town, find out its history, and learn how it got its name. The streets in George Town are some of the oldest in Malaysia, older than many of the towns and cities of this country including Kuala Lumpur, Ipoh and Taiping. Only streets in Malacca can be considered older. The
Directory of 790Streets in Penang
is one of the most complete listing of the streets in Penang, with most of the streets in George Town covered. If you are visiting George Town, feel free to print out any of the pages of this website and use them on your exploration. Read also the companion list under
Roads of Penang Island
, covering the roads located outside of George Town.
Exploring the Streets of George Town is something which I enjoyed tremendously. I created it to help you unlock the history and beauty of the inner city of George Town, inscribed a UNESCO World Heritage Site in 2008 along with Melaka. When it was made a Unesco World Heritage Site, George Town joined the ranks of other Asian cities that have received similar recognition, including Macau and Luang Prabang.
In each case, an area within the city is gazetted as the Core Zone, with the areas bordering it designated Buffer Zones. This type of World Heritage Site listing is different from those accorded to specific monuments such as Taj Mahal or Borobudur, and within the Core Zone itself, there are numerous sights or "monuments".
George Town is a kaleidoscope, but it does not willingly share its secrets. To uncover the sights, you have to walk and explore its nooks and crannies. What makes George Town so charming is that not only are the sights along its streets worthy of mention, its streets themselves each tells a story. If you trace the history of George Town from its founding in 1786 to this present day, you will realize that it is a very cosmopolitan city, even more so in the 19th and early 20th century than it is today. Throughout their two-hundred-plus years history, these streets have seen peoples from different parts of the world, coming together, often living alongside one another.
To make it easy for you to explore the streets of George Town, I am presenting them in alphabetical order, according to their English names, with the official Bahasa Malaysia name in parenthesis. (I am doing it this way rather than the other way around to avoid having every listing start with "Lebuh" or "Jalan".) Also, it allows related streets to be stacked one over the other (ie. Chulia Street, Chulia Street Ghaut). All rules are meant to be broken, and at times I deliberately switch the order by placing the Bahasa Malaysia name ahead of the original colonial name, especially if the old name is not that familiar to people nowadays (ie Jalan Tun Syeh Sheh Barakbah - The Esplanade / Fort Road). These link to the individual pages describing the streets. Within those pages, you learn what the streets were called by each community. Quite often, the communities living along a long street may segmentize it into different names, each name providing a graphic description of the characteristics of each segment.
The streets of George Town did not appear all at once, overnight, but were built over time, as the city spread outwards. As it does so, forests transformed into farmland and farmland made way for townships. Rivers became canals, then drains, paved over, filled in, many now forgotten. I will mention these long-lost waterways as we pass them over the present-day streets.
How did I manage to find the story behind all these streets? By doing research, massive amount of research, combing through archieved documents, asking people, spending time in libraries, etc. Of course, when you're dealing with things that happened in the past, at a time when you are not yet born, you cannot expect 100% accuracy, especially when the people involved are now "pushing up daisies". Hence, pages often have to be revised and updated, as new information come to light. The more familiar I get with the streets in George Town, the story behind them seems to fit together, they make sense, answer my own questions, thrill me as much as I hope they will thrill you. You will find that some streets have not yet been described - I just haven't come around to putting what I have researched onto the page. It takes a lot of time to work on these pages, and I hope you will bear with me.
Many of the streets of George Town that are today over a hundred years old were not there when the city was founded in 1786. In fact the land where it is standing on is not there either, but was created through land reclamation that took place from the mid to the end of the 19th century.
With so many streets in George Town, which should you explore first? To help you answer that question, I place an astericks ( * ) against streets of considerable significance, and double-astericks ( * * ) against streets of major significance. Start with the ( * * ) streets if you are pressed for time.
Historic Blue Plaques of George Town
When you explore the streets, be on a look out for the
blue plaques
placed by the Penang Tourism Action Council.
As space on the plaques is limited, we only managed to place the most essential information. For more indepth details, you should read this website.
New Penang Road Signs
Just as the historic blue plaques were put up, the State Government also put up new
Penang road signs
. It caused a furore among the politicians.

Add your business to my website
This website of mine is a unique directory of places and businesses. If you operate a business anywhere in Malaysia or Singapore, you may contact me to add your business/shop in. It only requires a one-time fee, and you may opt for either "contact listing only" or "full webpage of your own". As this website gets a lot of organic traffic, you will enjoy lots of exposure from people looking for the products and services that you provide. To find out more about adding your business/shop to this site,
CONTACT ME
Travelling somewhere?
If you're travelling somewhere, look for accommodation using the Search Hotel engine below. It helps you find the online booking site that offers the best rates for the room you want.
Looking for a book? Get it from Book Depository with free delivery worldwide!
I have just discovered
Book Depository
, a subsidiary of Amazon.com, and I love it. This is where you can buy books and have them sent to you. But unlike Amazon, when you purchase using Book Depository, you enjoy free delivery worldwide.
Give it a try today!
Here's a list of the latest pages I have added or updated on my website.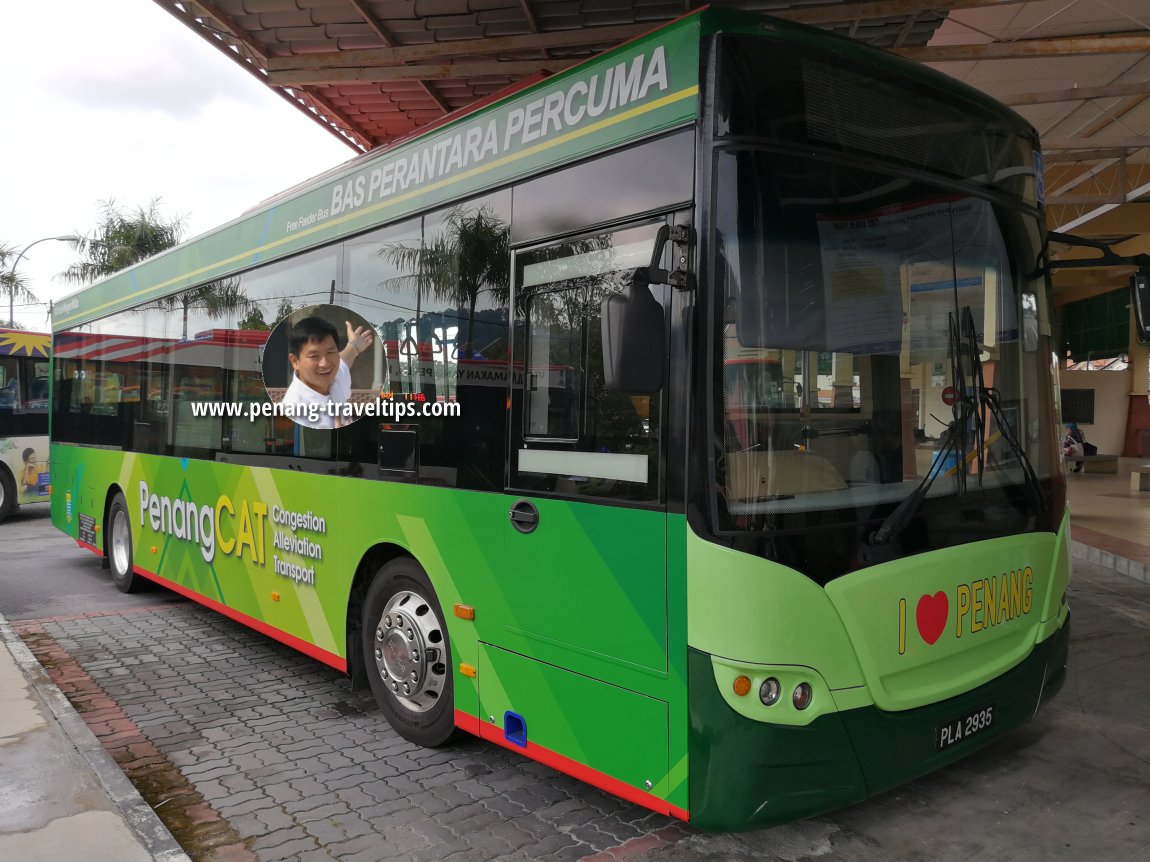 Take the CAT Free Feeder Bus
What's the best way to see Penang on a budget? Take the bus! In Penang, there are at least 12 absolutely
FREE
bus routes which cover almost every major neighbourhood on Penang Island and Penang Mainland. All you need to do is hop aboard!
Details
Vital Links
Book Your Express Bus Ticket
|
Engage a Tour Guide for Penang
|
What's Up at Penang Hotels
|
Hire a car
|
Facebook Posts
|
Our Recipes
|
Our Flowering Garden
|
Guide Book on Penang Durians
Discover the World
About Me
Thank you for visiting
my website
. I started it in 2003, and today it has over twenty thousand pages of information. My name is
Timothy Tye
. I would be very pleased if you enjoy the information I have put together.
As a Christian, I hope that through this website, I am able to deliver God's message to all who need it, anywhere in the world. If you are open to hearing it, please read
God's Good News to You
.
If you wish to contact me, please use this
contact form
. And don't forget to
follow me on Facebook
. See you!
Copyright © 2003-2018
Timothy Tye
. All Rights Reserved.