Wat Chaiyamangkalaram, Penang
---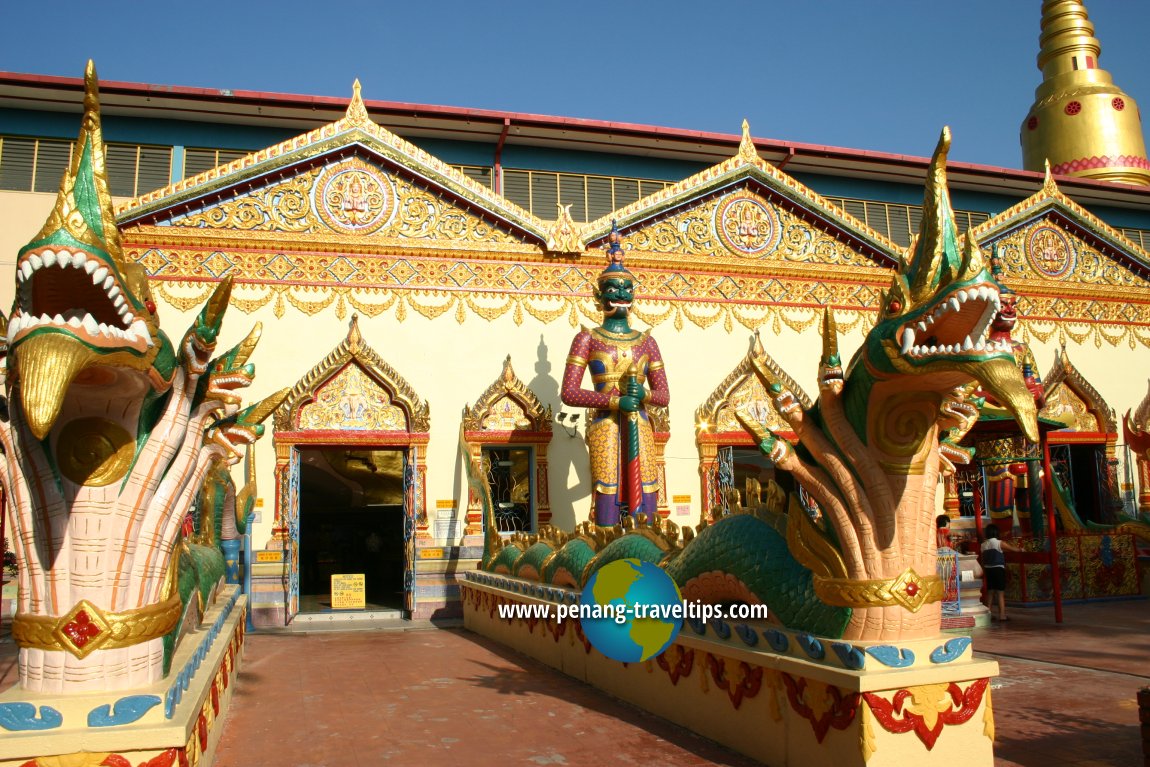 Wat Chaiyamangkalaram, Penang (15 February, 2004)




Wat Chaiyamangkalaram (Thai: วัดไชยมังคลาราม

), also written Wat Chaiya Mangkalaram, is the largest Thai Buddhist temple in Penang. It is often called the Temple of the Reclining Buddha of Penang, on account of its magnificent reclining Buddha image housed in the vihara. The image, called the Phra Chaiya Mongkol, measures 33 meters (108 ft) from end to end. It was built in 1958, in conjunction with the 2500th anniversary of the birth of Buddha, at a cost of M$100,000.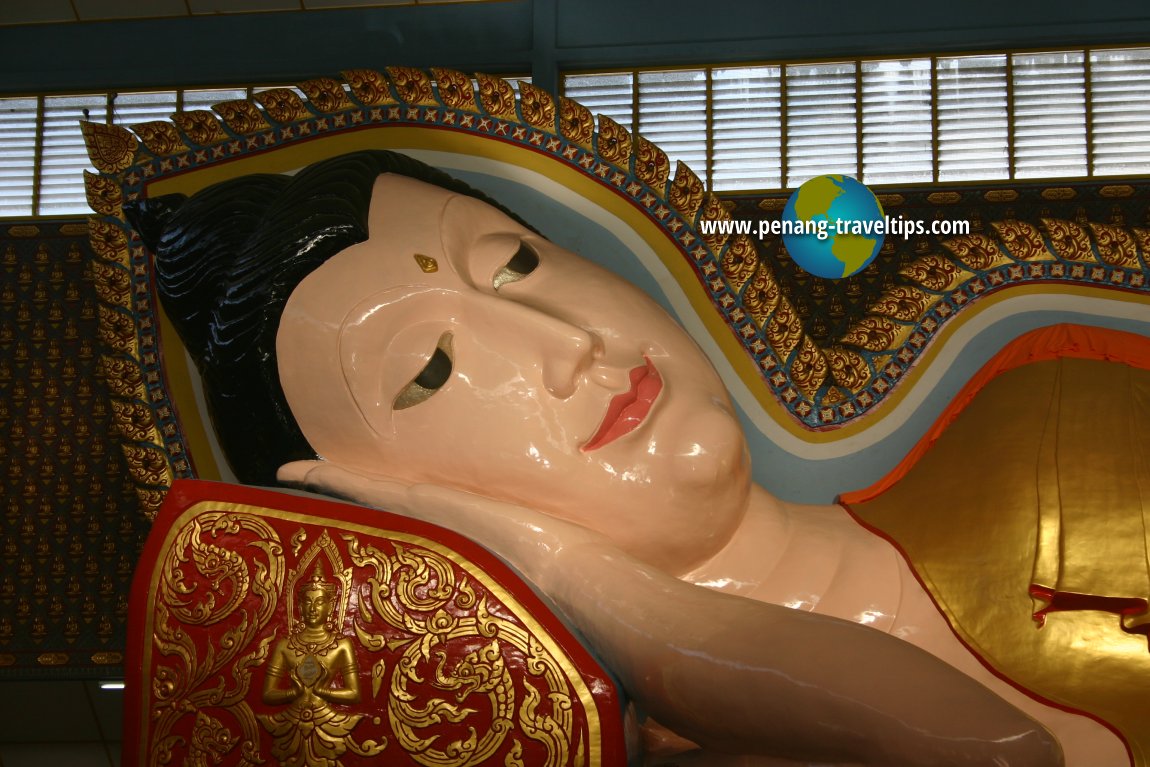 The reclining Buddha of Wat Chaiyamangkalaram (15 February, 2004)





Although the reclining Buddha of Wat Chaiyamangkalaram is certainly massive, it is not the biggest in the world. Listed below are some other reclining Buddhas in other temples in Asia.
Wat Po, Bangkok, Thailand
Kyaukhtatgyi Buddha, Yangon, Myanmar
Shwethalyaung Buddha, Bago, Myanmar
Wat Phothivihan, Tumpat, Kelantan, Malaysia.
The Buddha image is actually a columbarium housing niches for urns of the cremated. There is a crematorium within the temple complex in addition to the gilded prang (pagoda), another magnificent sight at Wat Chaiyamangkalaram. A small Thai community still live within the complex. There is also a Thai cemetery.

When Francis Light founded Penang, he adopted an open-door policy to make Penang a conducive place for different communities to co-exist. As a result, within George Town are enclaves of diverse communities including the Armenians, Acheenese, Chulia, Malabaris, Burmese as well as the Thai.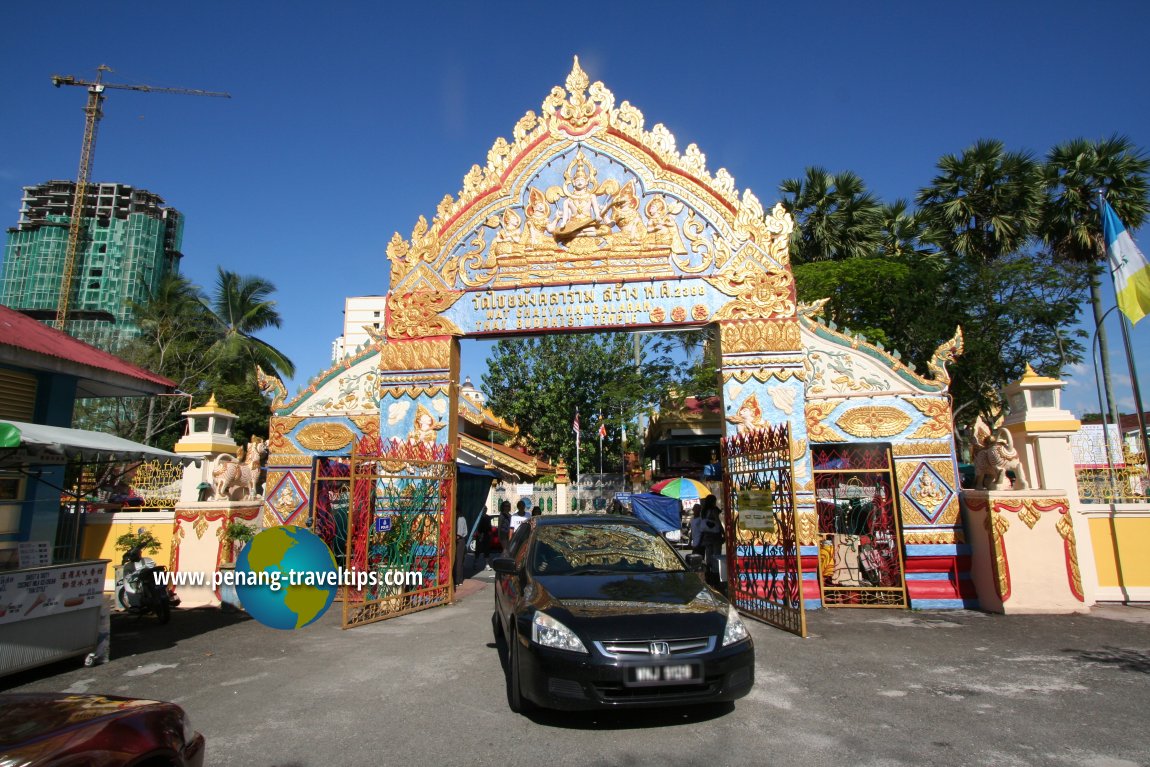 The entrance arch of Wat Chaiyamangkalaram (7 June, 2009)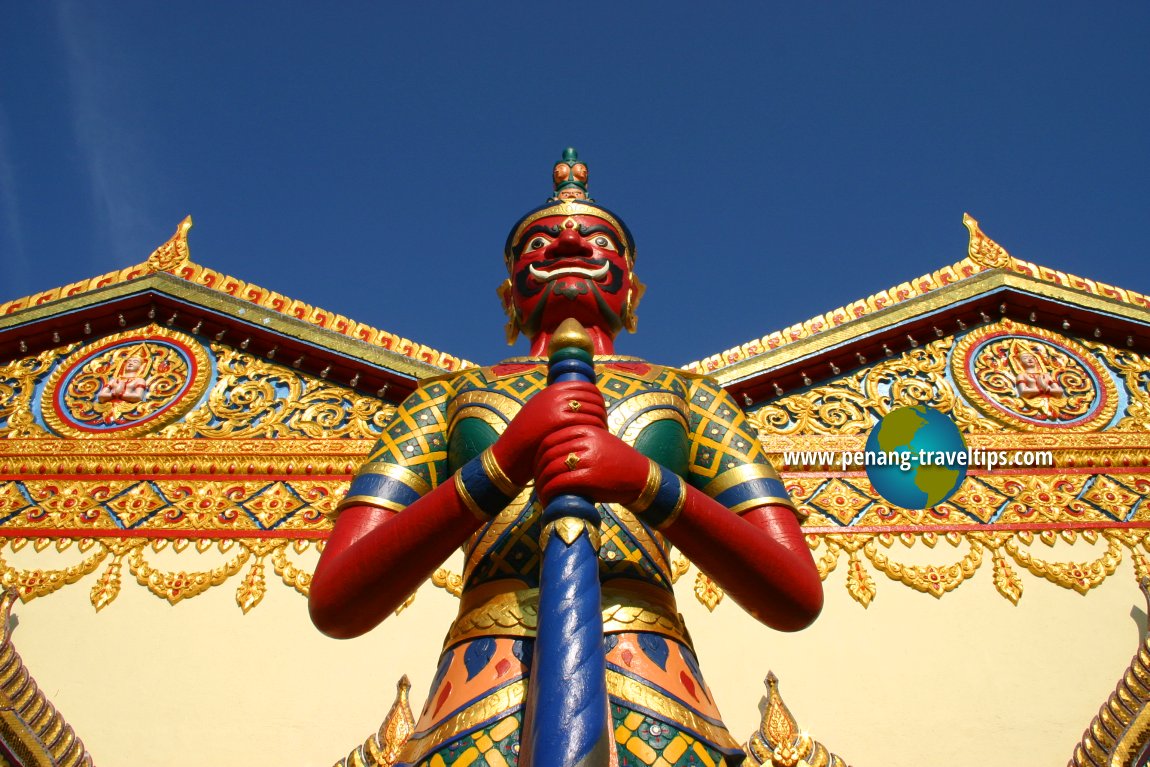 A sentinel guarding Wat Chaiyamangkalaram (15 February, 2004)





In 1845, the Thai community sought a piece of land. As a gesture to promote trading relations with Siam, Queen Victoria granted a five-acre piece in Pulau Tikus to them. The land grant was presented by the Governor of Penang, W.L. Butterworth to four women trustees, on 22 July 1845.

Another interesting information about Wat Chaiyamangkalaram was that the first monk was a Theravada Buddhist called Phorthan Kuat, or "Powerful Monk". According to legend, he was very fond of laksa, a local specialty. Today devotees continue to offer bring laksa as offering to his shrine.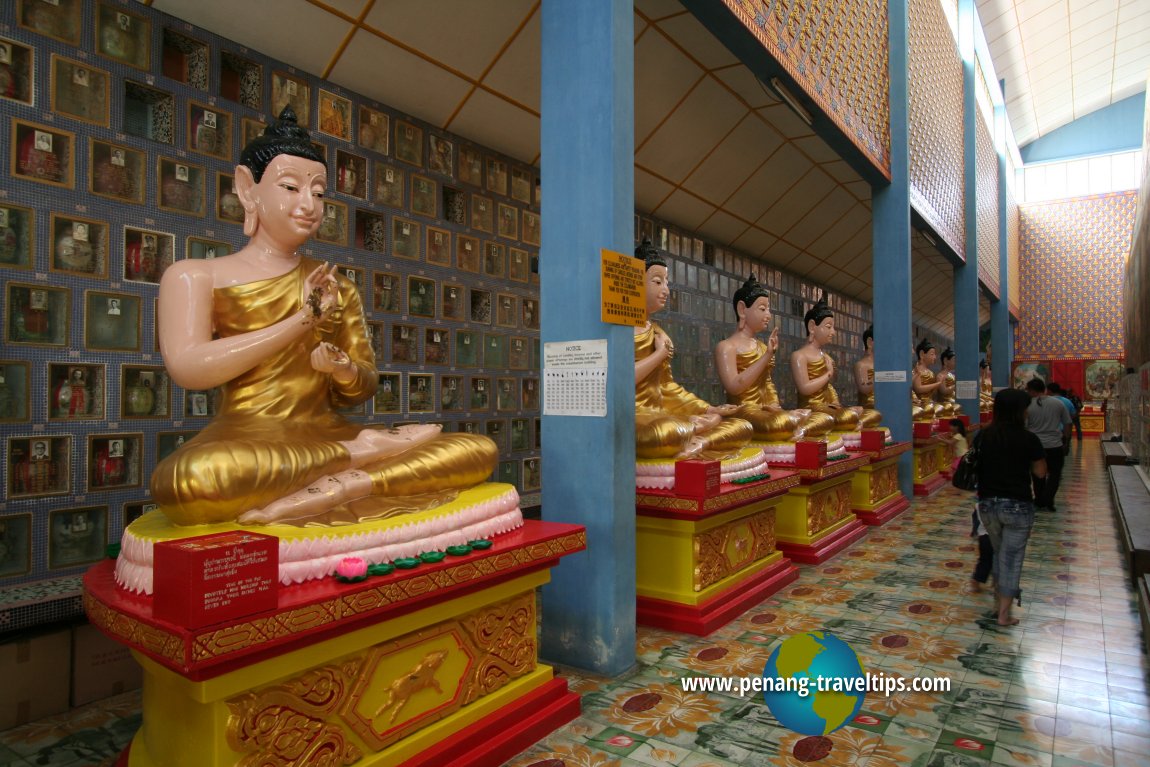 Buddha images in various postures at the columbarium of Wat Chaiyamangkalaram (7 June, 2009)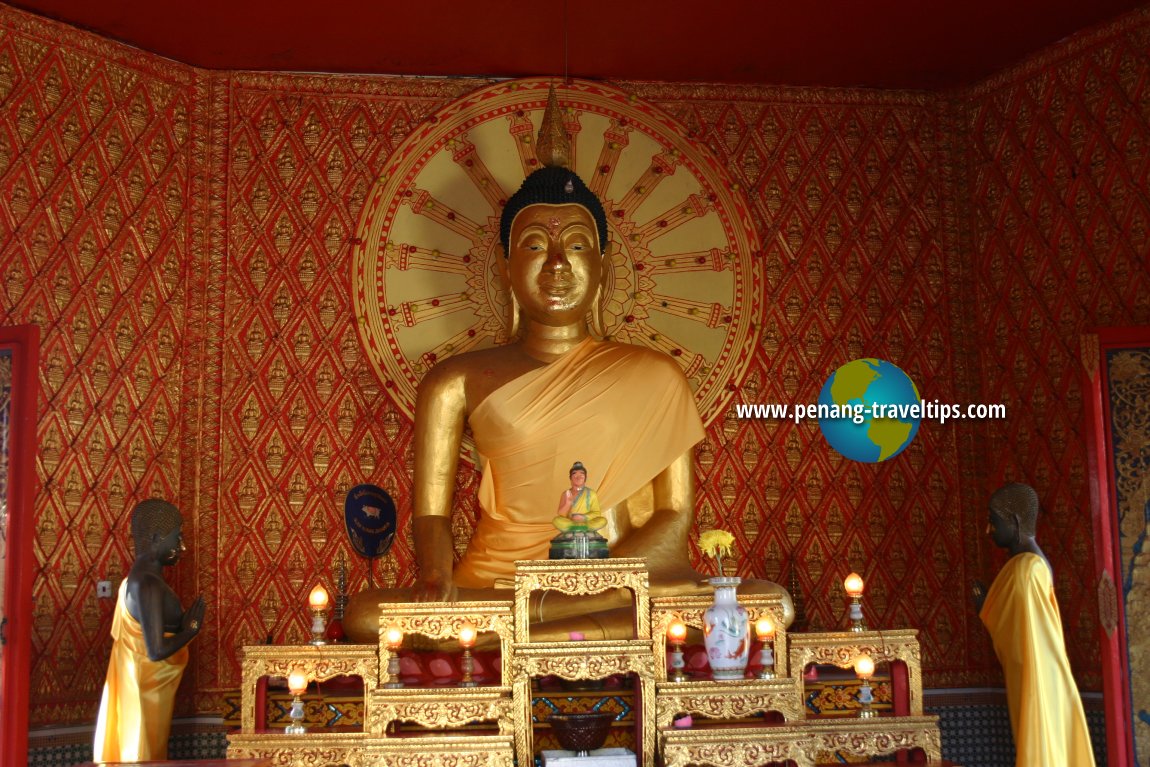 A seated Buddha image at Wat Chaiyamangkalaram (15 February, 2004)





Wat Chaiyamangkalaram is one of the two temples often involved in the staging of Thai festivals such as Loy Krathong and Songkhran.




| | |
| --- | --- |
| | As a member of the Penang Travel Tips Facebook Group, you are invited to post your photos of Penang, and selected shots will be listed in Penang Travel Tips, according to sight location, and alphabetical order according to member's FB name. The links go directly to the photos' permalink on Facebook. Let's share our own perspective of Penang with others! |
Going to Wat Chaiyamangkalaram by public transport
Take any bus that passes through Burmah Road or Kelawei Road. From either of these, walk from bus stop to Burmah Lane to reach Wat Chaiyamangkalaram. Buses to take include Rapid Penang 101, 103 and 104. You should also plan a visit to the Dhammikarama Burmese Temple across the road.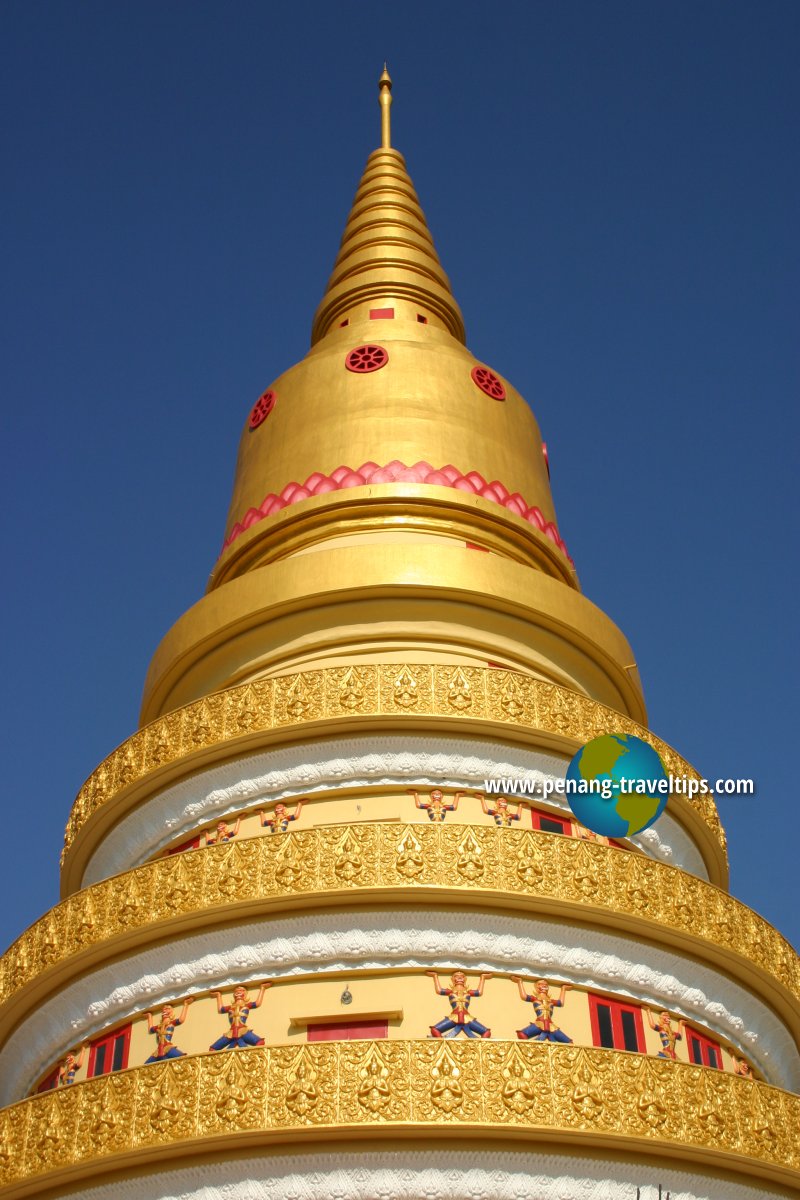 The chedi of Wat Chaiyamangkalaram, as viewed from the base (15 February, 2004)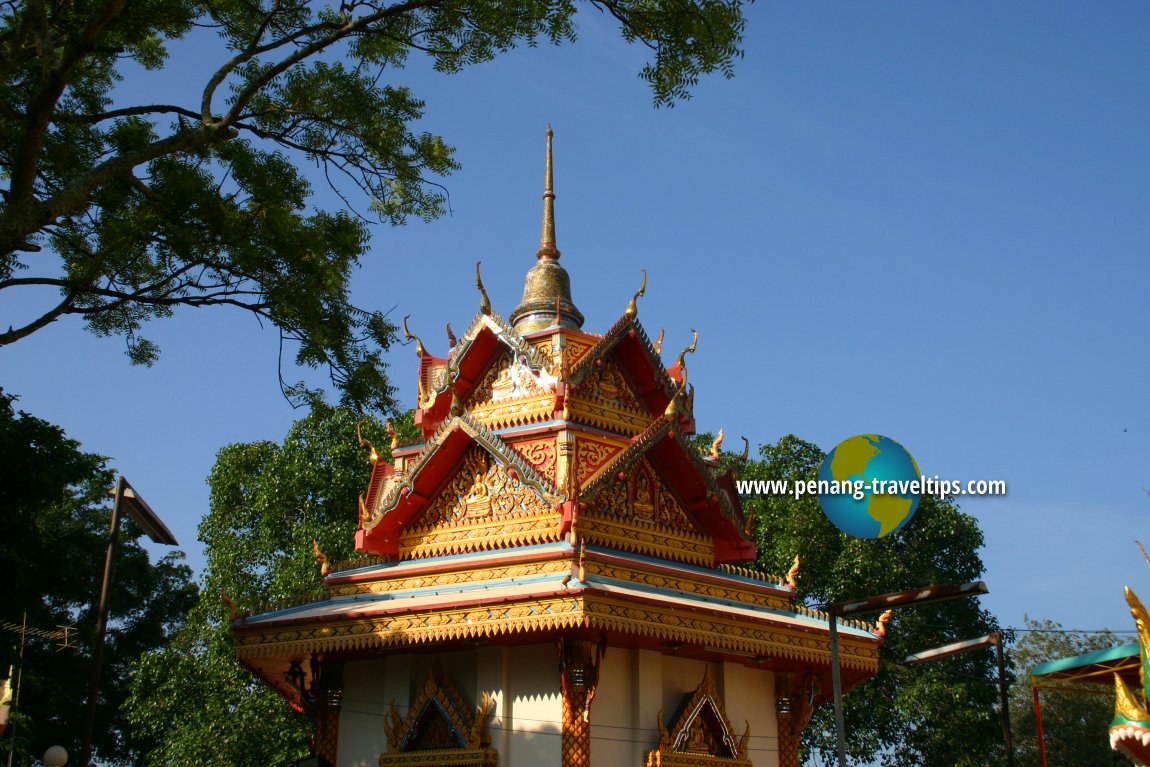 A pavilion at Wat Chaiyamangkalaram (15 February, 2004)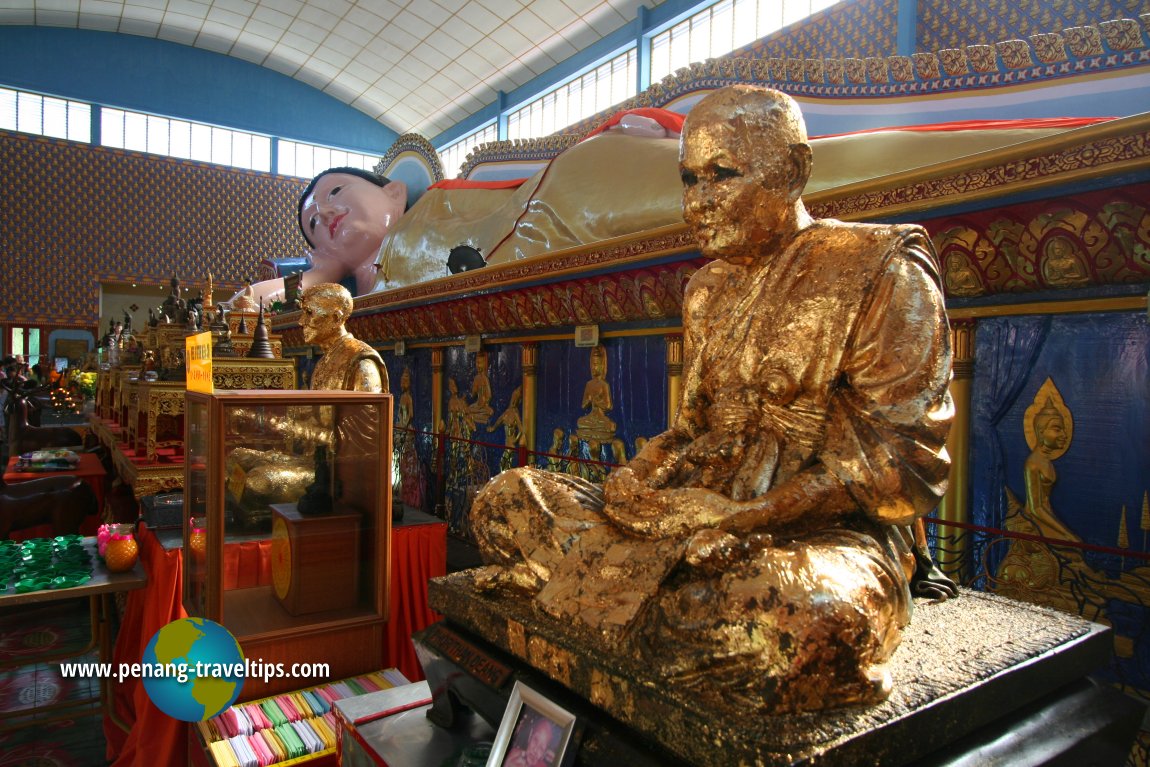 Gold-encrusted monk image at Wat Chaiyamangkalaram (7 June, 2009)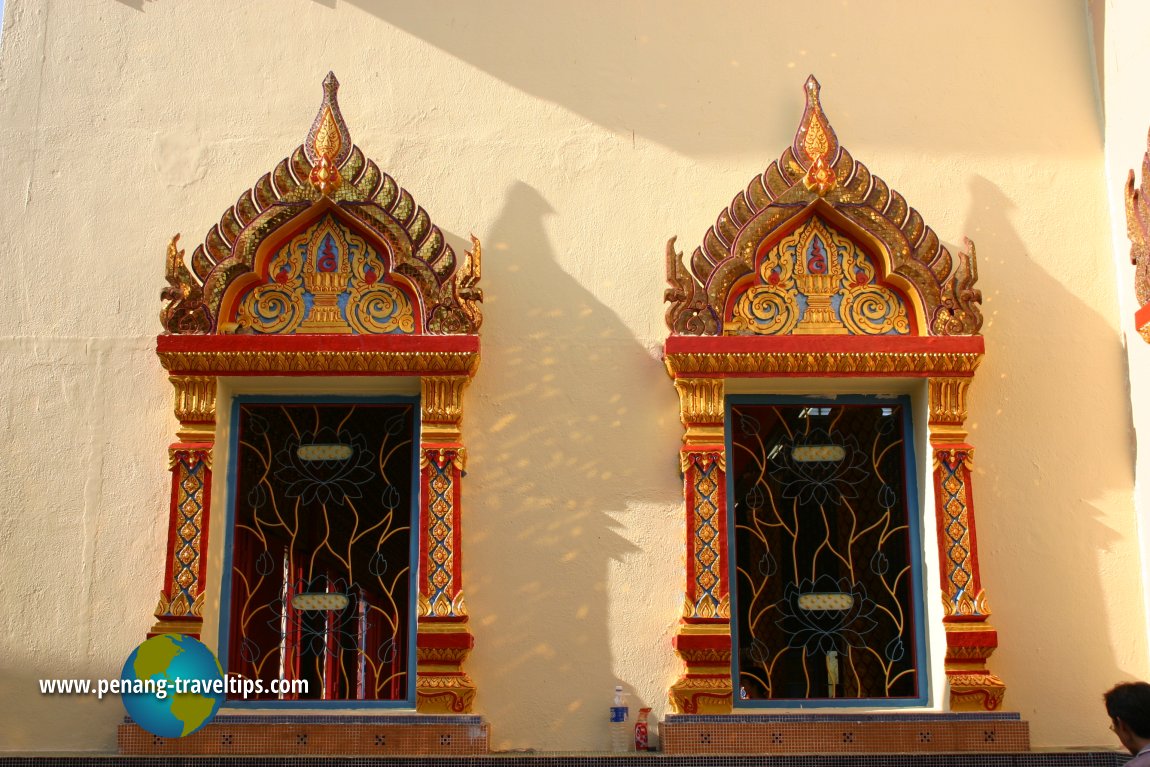 Windows of the main hall of Wat Chaiyamangkalaram (15 February, 2004)






View Wat Chaiyamangkalaram, Penang in a larger map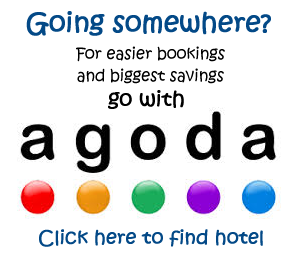 Going somewhere? Whether you are travelling to Penang or from Penang or from somewhere else to somewhere else, you can now book your bus tickets online right here! Pay using credit cards (Visa, Mastercard, American Express), Paypal, or even bank transfers!





Hello and welcome to my website, Penang Travel Tips, yay! As you would expect, the articles on this website don't write themselves. Well, they are all written by me, Timothy Tye, based on my research and exploration of Penang.

I created it to compile everything that I know about Penang and to share it all with you. I hope my website provides you the information you are looking for, and that you will enjoy browsing and reading it! If you found any errors, please let me know so that I can correct it. For all correspondences, click here to contact me. Thank you and have a nice day!


Copyright © 2003-2015 Timothy Tye. All Rights Reserved.
---
Terms & Condition of Use | Privacy Policy