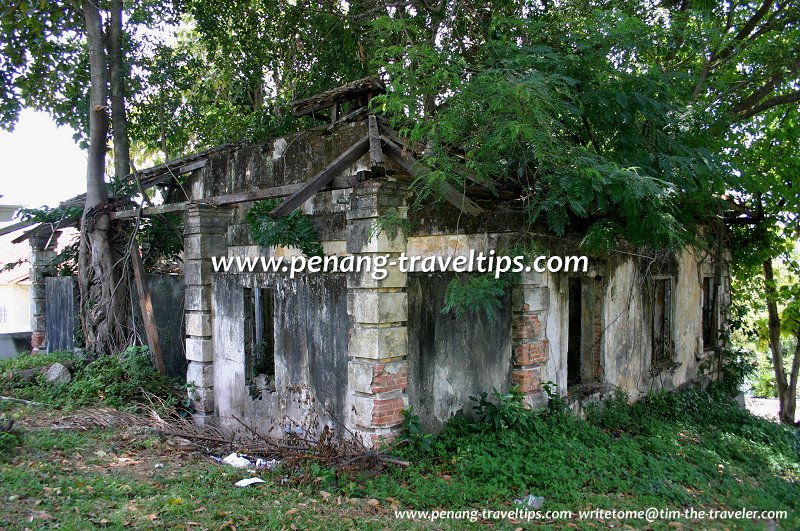 Tunku Kudin House, Gelugor, Penang
(12 February 2005)

Udini House
, also known as
Tunku Kudin House
or
Rumah Tunku Kudin
, is a dilapidated bungalow in Gelugor. It belongs to Tunku Dhiauddin ibni almarhum Sultan Zainul Rashid, also known by the nickname, Tunku Kudin. Tunku Kudin was the Raja Muda (crown prince) of Kedah and younger brother of 23rd sultan of Kedah, Sultan Ahmad Tajuddin Mukarram Shah (reign 1854-1879). He was also the granduncle of the late Tunku Abdul Rahman Putra al-Haj, the first prime minister of Malaysia.
Upon his marriage to the daughter of the Sultan of Selangor, Tunku Kudin was appointed Wakil Yam Tuan (viceroy) of Selangor by the sultan. In that position, he was involved in settling the dispute between Raja Abdullah and Raja Mahdi. Both wanted to be the chief of Selangor, as that position would allow them control of the lucrative tin mines of Klang and Kuala Selangor. Similar to Perak, the tin mines in Selangor were worked by members of the two secret societies, Ghee Hin and Hai San.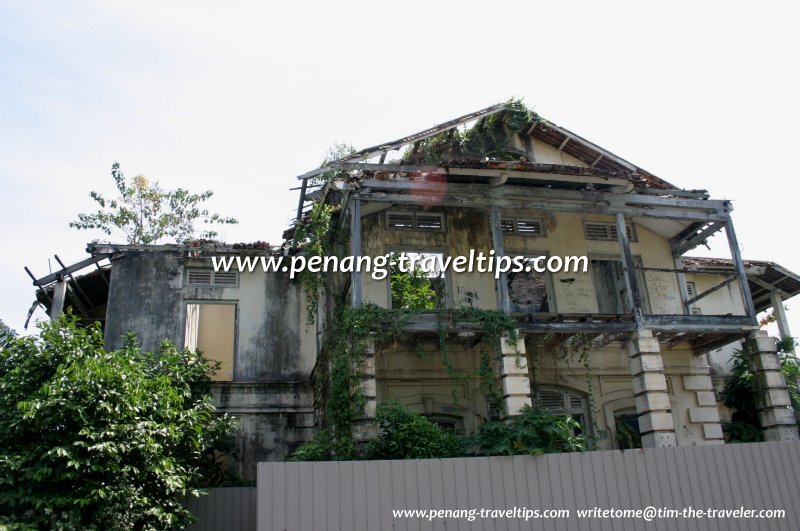 The dilapidated Tunku Kudin House, also called Udini House
(12 February 2005)

Tunku Kudin took the side of Raja Abdullah, who was aligned with Yap Ah Loy, who was the Kapitan China of Kuala Lumpur as well as the leader of the Hai San. Raja Mahdi, on the other hand, was aligned with Ghee Hin, and had the support of Selangor royalty and noblemen. The clash between the two fractions, lasting seven years from 1866 to 1878, resulted in British intervention, which like Perak, places Selangor with a Resident. Under the British, Tunku Kudin retained his position as the Viceroy of Selangor.
The Malay noblemen in Selangor painted a bad picture of Tunku Kudin to the Sultan of Kedah, regarding him as having sided with foreign forces (the British) and meddling in the affairs of a state outside his own. It displeased the sultan, and he decided to bar Tunku Kudin from ever returning to Kedah. Tunku Kudin's house at Bukit Tinggi was also confiscated while another person was appointed as the crown prince.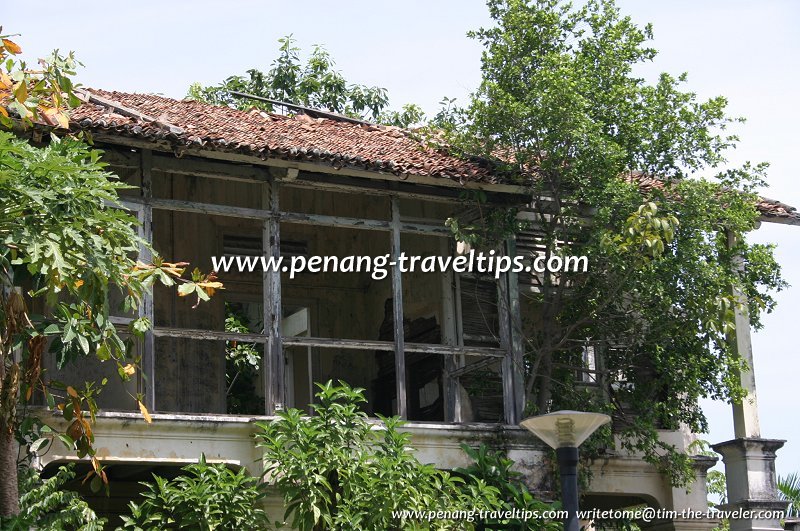 Remains of the façade of Udini House
(12 February 2005)

Tunku Kudin took up residence in Penang, at a house next to
Istana Kedah
, along
Jalan Sultan Azlan Shah
. After the sultan died in 1778, he tried to persuade Siam (Kedah was a vassal state of Siam at that time) to allow him back, but was unsuccessful. Resigned to a life in exile, Tunku Kudin decided to build a more permanent residence in Penang. That was how Tunku Kudin House was built. Tunku Kudin lived there from around 1884 until his death in 1906.
Tunku Kudin should not be confused with Ku Din Ku Meh (1848-1932), also known as Tunku Kudin, who built
Segara Ninda
in George Town. He is also a different Tunku Kudin (?-1831) from the one who built Kota Bukit Pinang. However, Tunku Kudin (of Segara Ninda) bought Tunku Kudin House in 1910 when it was mortgaged by Tunku Bahadur, the son of the other Tunku Kudin.
Today Tunku Kudin House is still standing, but is unrestored, and is located within the compound of the Marine Police department.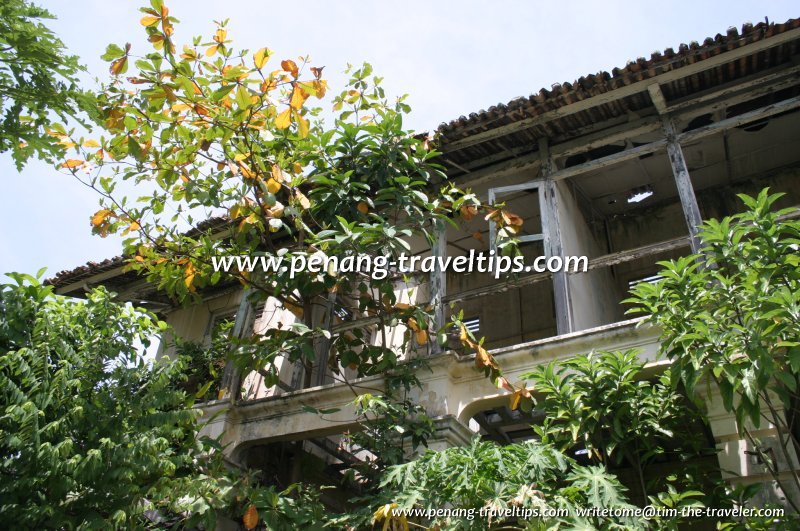 Ruins of Udini House
(12 February 2005)

Getting there
The best way to reach Tunku Kudin House is by car. Otherwise, the nearest bus reaches to Tesco Penang, from where you have to walk up the hill to Tunku Kudin House.
Rapid Penang 206
goes to
Tesco Penang
.
Nearby Sights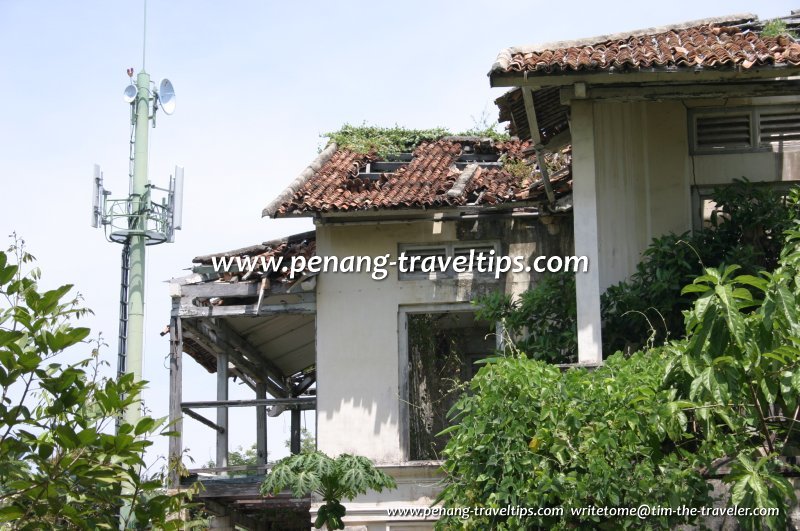 Transmission tower near Tunku Kudin House
(12 February 2005)

Other Malay bungalows in George Town
Location of Tunku Kudin House on the map

contact me
You can look for and book your hotel room direct from this website. Simply
click here
or use the search box below. You can filter the results based on your requirement, everything from five star hotels to homestays and more.
Look for a specific type of accommodation in Penang
All about me