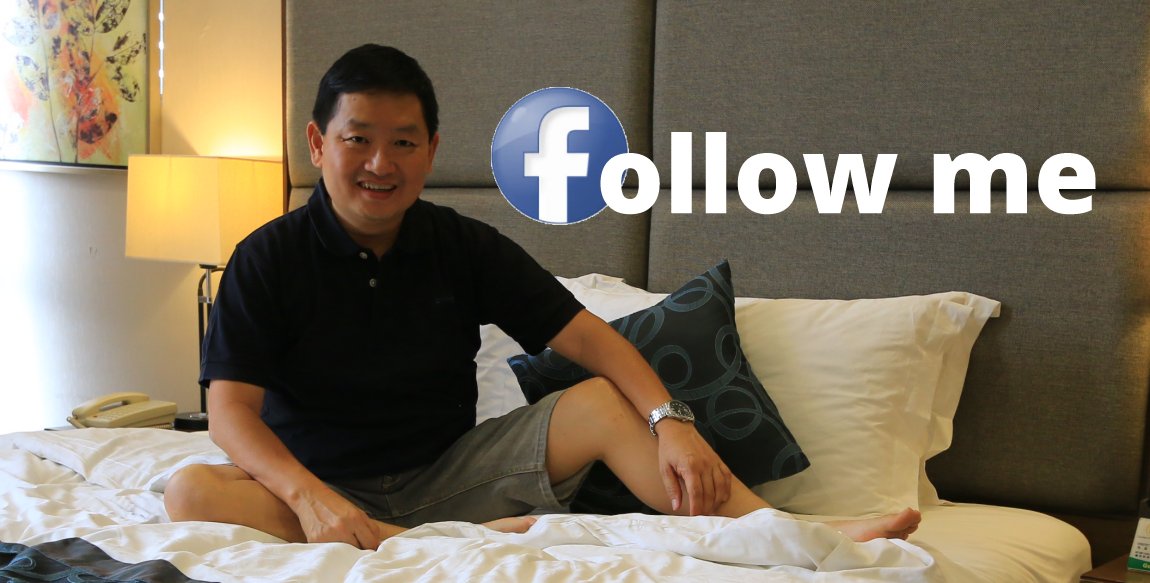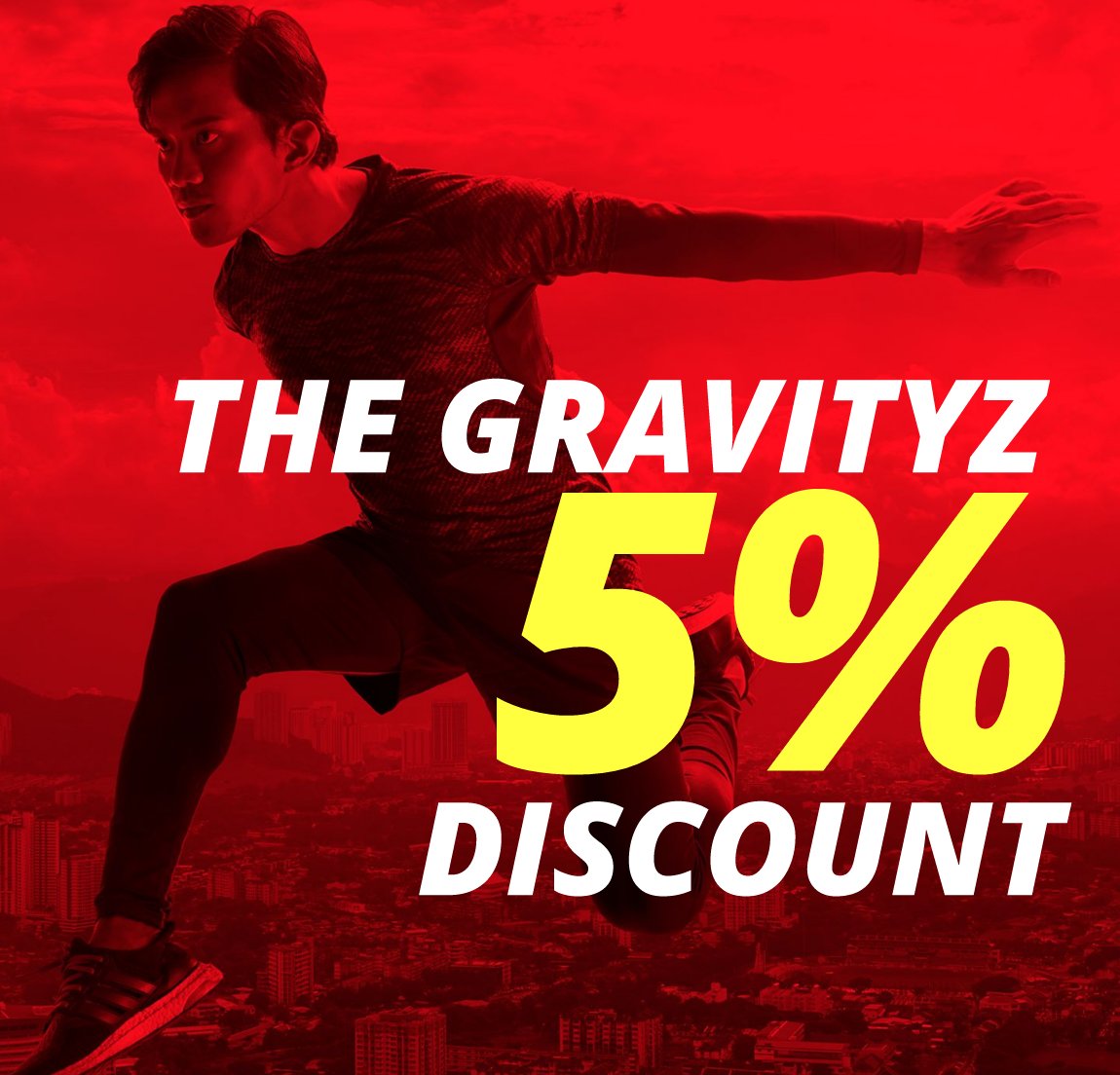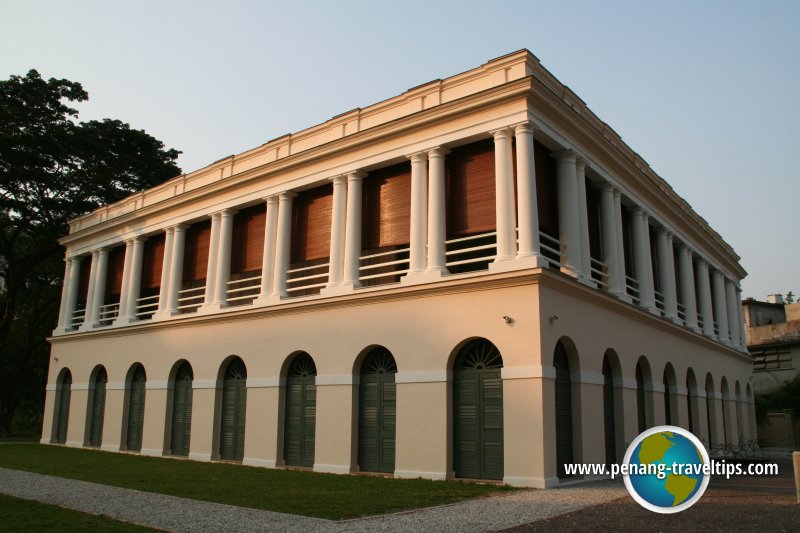 Suffolk House, Penang
(30 June 2007)

Suffolk House
, located off
Jalan Air Itam
, George Town, is a house standing on the estate that was originally owned by Captain Francis Light. Few buildings in Penang garnered as much attention as Suffolk House, and yet, decades would pass before this very significant yet forlorn structure could be put together again. Suffolk House has been part of Penang history for almost as long as Penang history itself. By learning about Suffolk House, we learn also the lives and times of the first 35 years of the British settlement on this island.
Much has been written and debated over the founding of Penang Island by
Francis Light
. Many claimed that Light was not the founder, on the basis that the island has already been inhabited by Malay fishermen long before he landed there, and that its existence has even been mentioned in the chronicles of Admiral Zheng He, the famous Chinese eunuch explorer.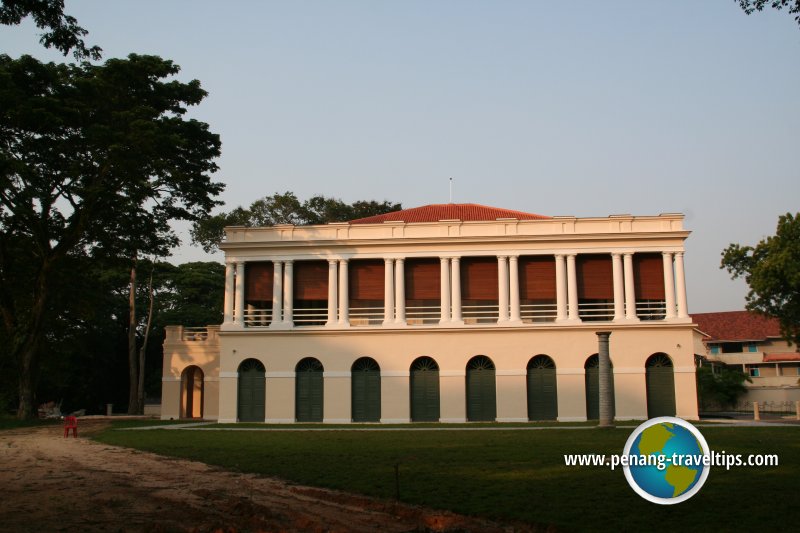 Western façade of Suffolk House
(30 June 2007)

While it may be true that Francis Light did not
discover
Penang the same way Christopher Columbus discovered America, the fact remains that he
did
establish the trading port on the island of "Pooloo Pinang", and it was through this act, and not any earlier settlements by any others that propelled Penang to become the most important city in that part of the peninsula.
Say what you will, but without Francis Light, Penang would be as well-known today as Pulau Aman today. To deny him credit would, to paraphrase a Malay idiom, be
like the nut that deserted its shell
. Francis Light renamed the island Prince of Wales Island, after the future George IV, and its settlement George Town, after the reigning British monarch, George III.
Many magazines and websites mention to the affect that Francis Light built Suffolk House. While he did own the pepper estate which he called Suffolk, after his homeland (he was born in 1740 in Dallinghoo, near Woodbridge, Suffolk, England) there is no evidence to suggest that he built the handsome Georgian country mansion we call Suffolk House.* In all likelihood, he would be too busy to do that.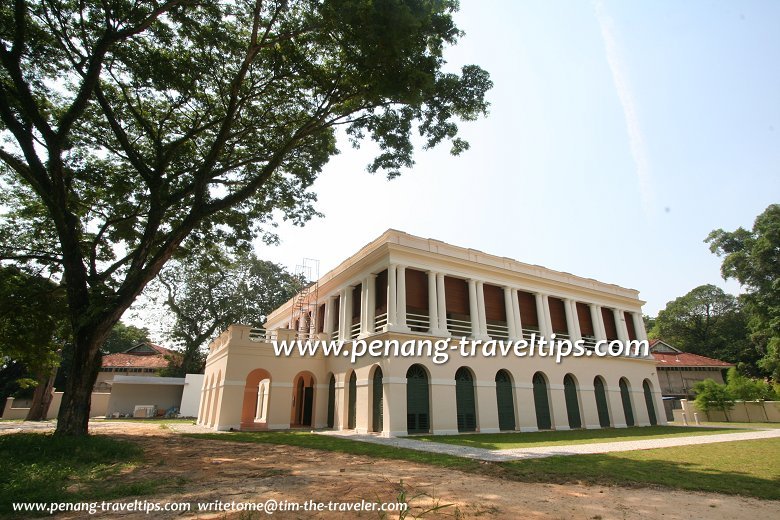 View of Suffolk House from the southwest
(30 June 2007)

After founding Penang in 1786, he only lived another 8 years before his life was abruptly cut short by malaria. In those eight short years, he had to juggle between clearing the swampy, mosquito-infested land (blasting silver coins into the jungle did propel willing hands to clear some trees), putting up a
makeshift fort
, enticing business to his prototype free-trade zone, and laying out a town without any town-planning experience, while simultaneously fending off troops of the enraged Sultan Abdullah of Kedah. Yes, he was a pretty busy man.
When Francis Light passed away in 1794, his business partners James Scott and William Fairlie were the executors of his will. Light had willed his estate to Martina Rozells, the woman he lived with for 22 year but never officially married. The union produced five children, three girls, Sarah, Mary and Ann, and two sons, William and Francis Lanoon. In an age when women have little or no say, Scott and Fairlie swiftly transferred Light's properties to their own names, including his estate Suffolk.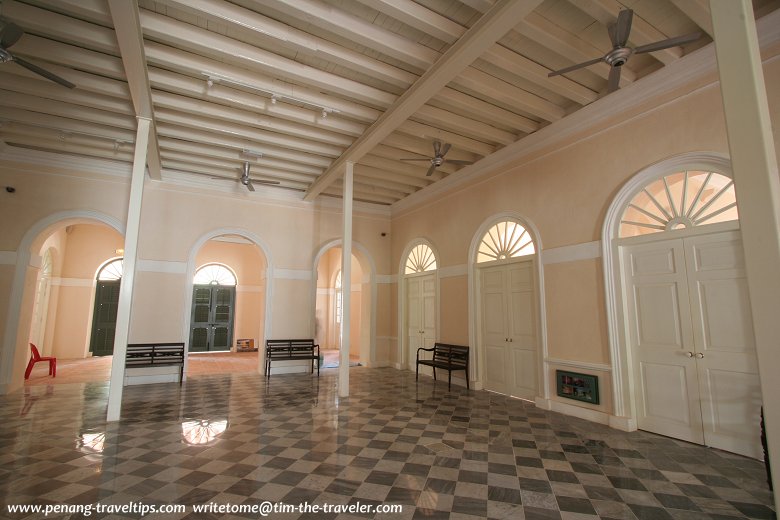 Main Hall, Suffolk House
(30 June 2007)

Martina went to court seeking justice, but it eluded this unfortunate woman who was one part Portuguese, one part Siamese, and no part British. She was, after all, just someone's common-law wife - a.k.a mistress - and in all likelihood, illiterate. To keep her mouth shut, they gave her a pension. Surely the British East India Company would rather have this very important piece of real estate safe in British hands than to see justice served.
Why didn't Francis Light marry Martina Rozells? Perhaps in the eys of the British administrators, he didn't. But among the Eurasians and the Thai community, he probably did. There are plenty of hurdles barring Light, an Anglican, from a matrimonial union with a Catholic woman. As there would have been religious prejudice in the late 18th century against those who were Catholic, Light puts his own job on the line if he should reveal that he was married to Martina. As a result, she had to be accepted - in the eyes of the British administators, at least - as the woman that Light co-habited.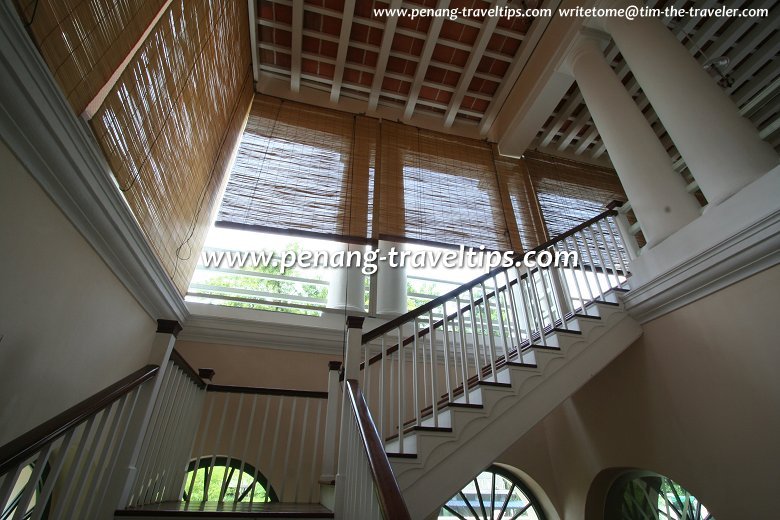 The staircase at Suffolk House
(30 June 2007)

Who built Suffolk House and when? Francis Light's will mentioned a garden house (he wrote,
"the pepper gardens with my garden house, plantations and all the land by me cleared in that part of this island called Suffolk..."
) If we take that literally, it would well mean Francis Light's house was just a simple thatch-roof adobe. Not the elegant mansion we know of as Suffolk House, as shown in those early Penang paintings.
Suffolk House probably came afterwards, the work of someone else. That someone else is most likely William Edward Phillips. An army administrative officer, Phillips arrived in Penang on 20 April 1728, to become the secretary of Lieutenant Governor Sir John Leith and quickly rose in the ranks. Between 1802 and 1820, he was
acting
Governor of Prince of Wales Island
for more than one occasion, each due to some calamity making the post vacant. In 1818, he married Governor Bannerman's daughter in the just completed
St George's Anglican Church
. He finally became Governor for real in 1820, when his father-in-law died, and he held the post till 1824, when ill health forced him to give it up and go home.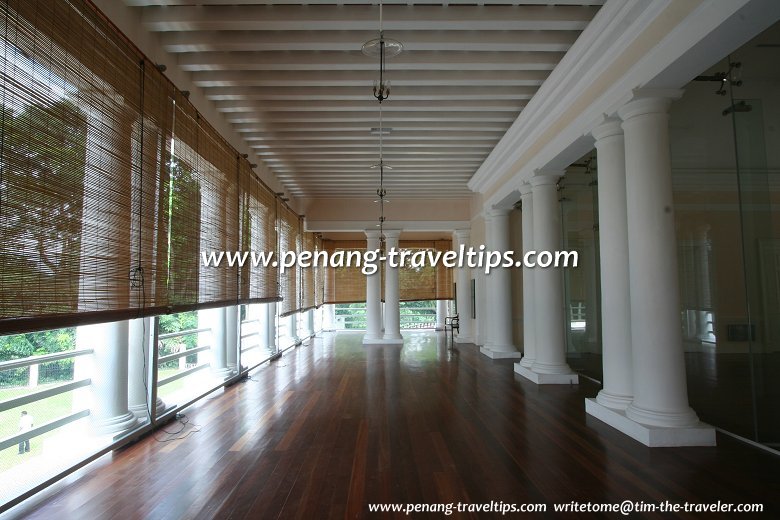 The colonnade at Suffolk House
(30 June 2007)

In 1805 Phillips bought the Suffolk estate from James Scott and William Fairlie. When Lord Minto paid a visit in 1811, he mentioned "Phillip's magnificent lodge", indicating that Suffolk House was already built by then, and that Phillips was the owner. As there was no access road to Light's pepper estate until 1808, it must also have to be built after 1808. From such deduction, it is quite likely the construction of Suffolk House began some time in 1809, long after Francis Light had passed on.
How then did Francis Light manage his pepper estate without an access road? He either came on horseback, or relied on a battalion of labourers and slaves to carry him in. Another possibility is that Sungai Pinang, the river that flows through the estate, was much deeper then, and allowed boats to go upriver all the way to the estate.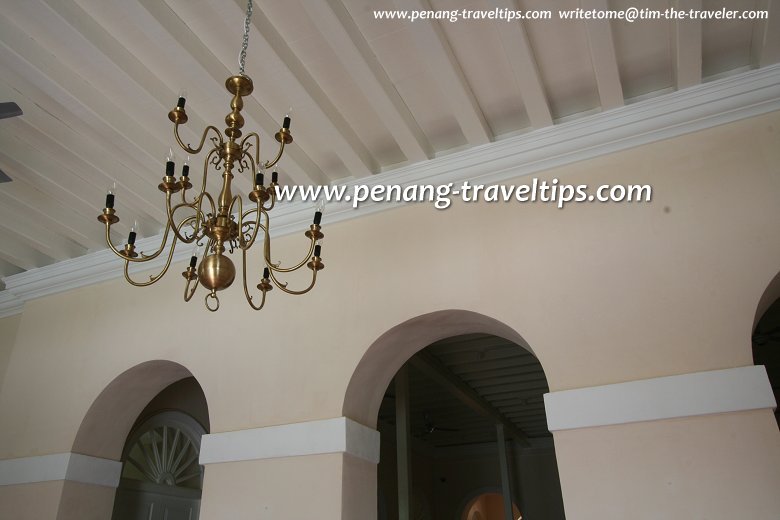 Chandelier at entrance to main hall of Suffolk House
(30 June 2007)

Phillips is said to have bought the plot of land between the Sungai Pinang at his estate, from laundry matron
Ranee Dhoby
(not her actual name but rather a title meaning "laundry queen") who controlled the laundry operations along this stretch of
Sungai Pinang
, all the way till
Dhoby Ghaut
.
We do know that a stream of early Penang governors and British VIPs came to stay at Suffolk House, which was probably the most handsome mansion in Penang at its time. There was Governor Colonel John Alexander Bannerman - whose daughter was married to Phillips. He lodged at Suffolk from 1818 to 1819. Visiting Governor Colonel Bannerman in 1818 was Sir Stamford Raffles and Lady Raffles.
We learn from the log of one Captain J.G.E. Crawford, of the ship Investigator; he was invited to dinner on New Year Eve, 1818, and he described sitting with the Governor, the Governor's niece Mrs Burney, Sir Stamford and Lady Raffles, and Mr Philips. It happened a year before the founding of Singapore - was the intention to found that new colony ever discussed in Suffolk House? That, we could but speculate.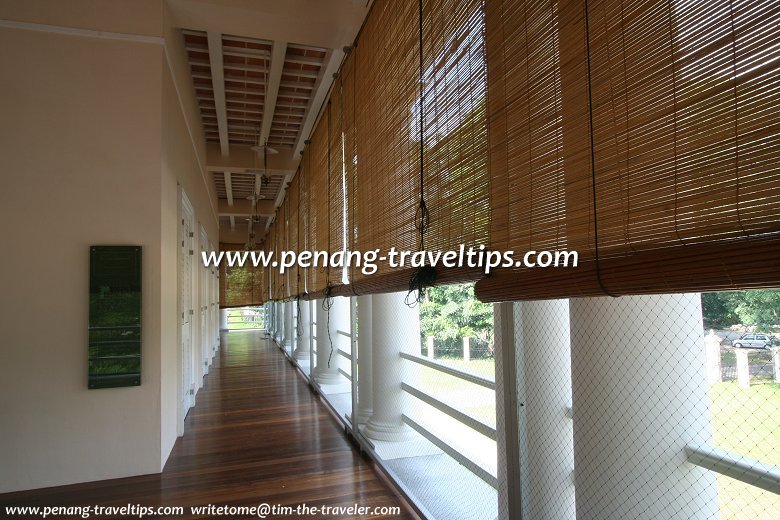 Blinds and netting provide some protecting to the colonnade at Suffolk House
(30 June 2007)

In 1929
3
, Reverend P.L. Peach secured the use of Suffolk House as one of the sites for the Anglo-Chinese School Penang (ACSP), the precursor of Methodist Boys School. It was first used as the high school and after the Methodist Boys School building had been completed, served for a few more years as the school tuckshop. Eventually, the Suffolk House building became quite dilapidated, and was deemed unsafe for occupancy, and from 1975 became unoccupied.
My visit to Suffolk House
On 30 June, 2007, my wife and I had the privilege of a private tour of Suffolk House with Laurence Loh, the conservation architect who worked on the building. We learned from Laurence first hand the condition of the house when he first took on the project, the decisions that he had to make to restore it. It had passed through numerous ownerships and undergone as many alterations. To remain faithful to its original design, Laurence relied on paintings of Suffolk House done between 1811 and 1818. Even the electric lamps, which were ordered from India, are similar in design to the period oil lamps seen in the old photographs.
As we walked through the property, workmen were still putting finishing touches. Much landscaping still had to be done to bring Suffolk House to its former glory, as seen in those
Penang Museum
paintings. And as seen in other restored projects like the
Cheong Fatt Tze Mansion
, the conservationist has to wrestle to find an equilabrium between remaining faithful to the original design, and keeping the house in good order. Netting was installed to prevent birds and bats from entering (I did see a bird worm its way in, though). The fans on the ceiling are remotely controlled, so that there aren't any ugly wiring, nor the need to break the wall to embed them. At the moment, they are not of period design - Laurence was still looking.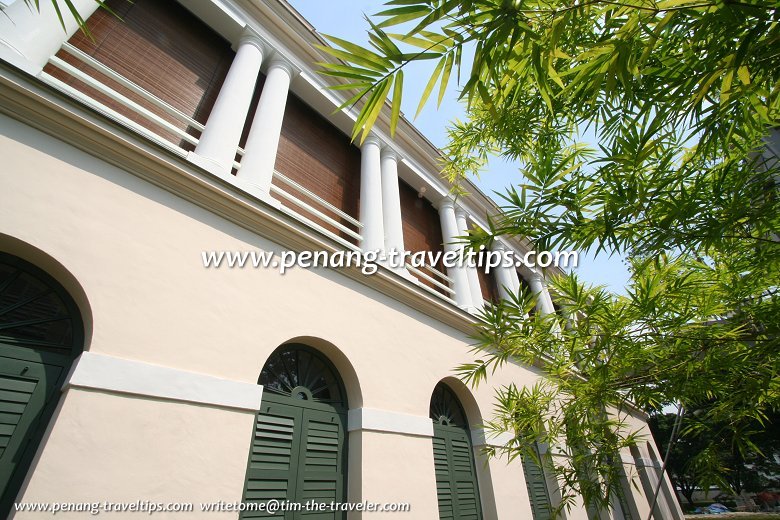 Exterior of Suffolk House
(30 June 2007)

When I was council member of the Penang Heritage Trust, I was involved in the restoration through the setting up of the PHT website to kick off the fund raising campaign. I am pleased to say that the restoration has been done in good taste, and as sympathetic to the Georgian style as it is possible, according to material available today. As of time of writing, Suffolk House is not yet opened to the public, but I hope that one day, the public will have the opportunity to walk its halls, envisioning those sharp-dressed men in deep discourse, speaking and planning the beginnings of the first British trading port settlement in the Far East, the port settlement called Penang.
For other mentions of Captain Francis Light in AsiaExplorers, refer to the following pages: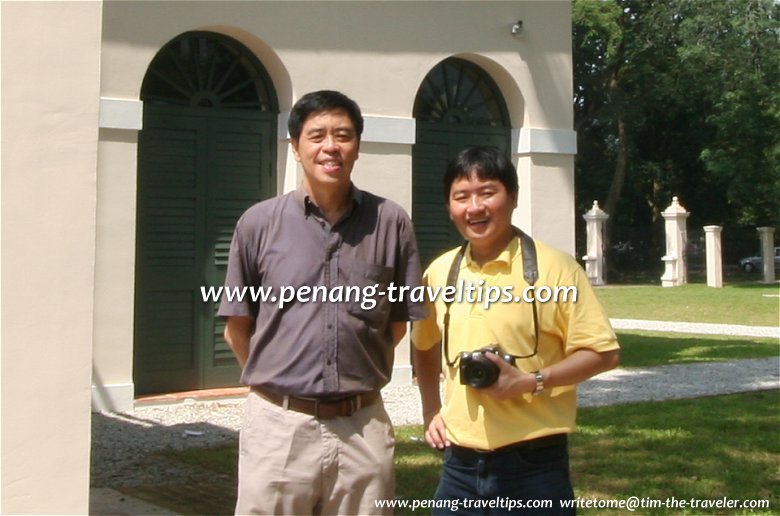 Tim with Laurence Loh at Suffolk House
(30 June 2007)

Bibliographical Updates
* 30 January, 2010: In my original article above, I theorised that it was unlikely that Francis Light built Suffolk House. I have had this argument challenged by many "historians" and tour guides. Recently I come across additional literature in support of my assertion.
According to Laurence Loh, the conservation architect who worked on the Suffolk House project, in the book Suffolk House, (2007, HSBC Bank Malaysia Berhad), it mentioned on page 16 that Suffolk House was built between 1808 and 1811, making it an impossible project for Light, who passed away in 1794.


Raymond Flower, in the book The Penang Adventure (2009, Marshall Cavendish Editions) described on page 65 how W.E. Philips managed to purchase the estate from James Scott, who in turn got it under rather questionable circumstances from Light's will. Flower states that it was Phillips who built the magnificent mansion. He also mentions that Phillips managed to buy a riverside plot from the Queen of Dhobies, so that Suffolk House can be reached from Sungai Pinang. The Queen of Dhobies, as mentioned by Flower's book, is of course Ranee Dhobi (which translates as Dhoby Queen), the matriach of the Indian laundry business, who built the Sri Rama Temple. Flowers was indebted to John Sjovald Hoseason Cunyngham-Brown, the Acting Resident Commissioner of Penang (1954) and President of the Municipal Council of George Town (1952-1956). Cunyngham-Brown has collaborated with Flowers to write the story of Penang. Unfortunately he passed away on 1 April, 1989, ten years before Flowers was able to get the book published.
Methodist Boys School: Our Heritage
Suffolk Estate Bridge
Located in front of Suffolk House is the
Suffolk Estate Bridge
across the Ayer Itam River. The bridge was restored and completed in 2007, about the same time as the house.
Acknowledgement
AsiaExplorers wish to thank Mr Laurence Loh for his help in preparing this article on Suffolk House, and offering us a glimpse into this very important restoration project.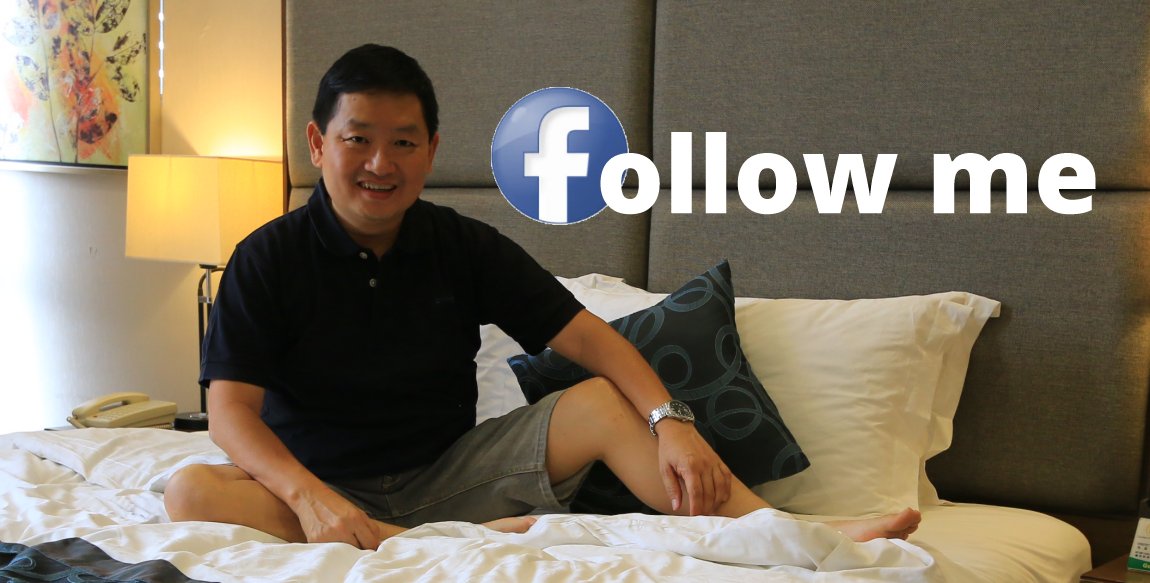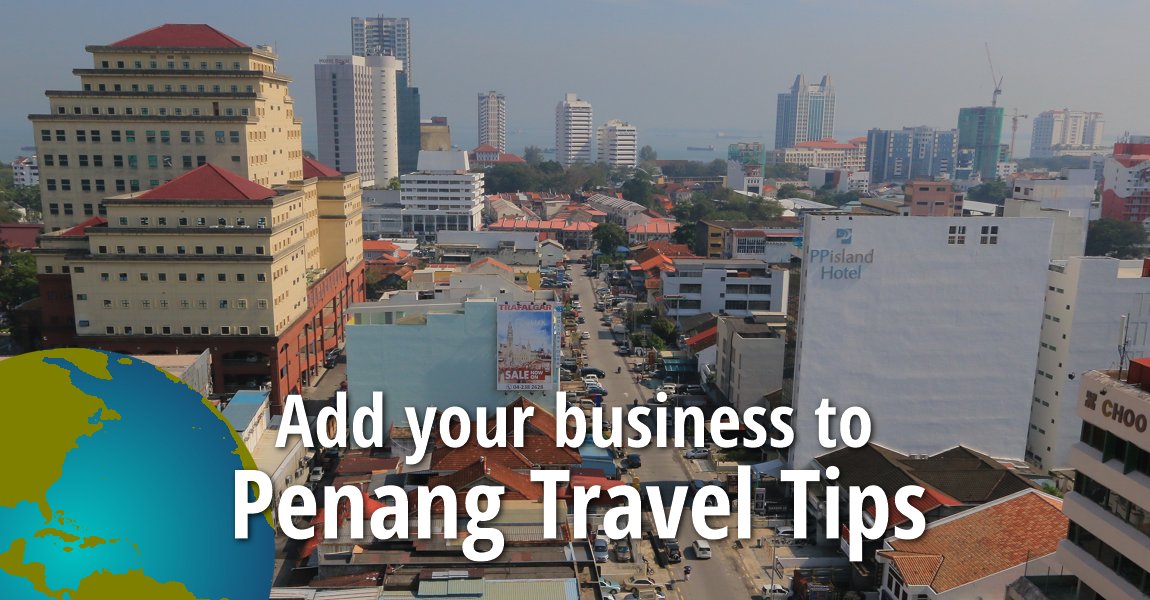 Add your business to Penang Travel Tips
Get a permanent page for your business on Penang Travel Tips, the most comprehensive website on Penang. If you business is in Penang, you should be on Penang Travel Tips!
Details
Contact me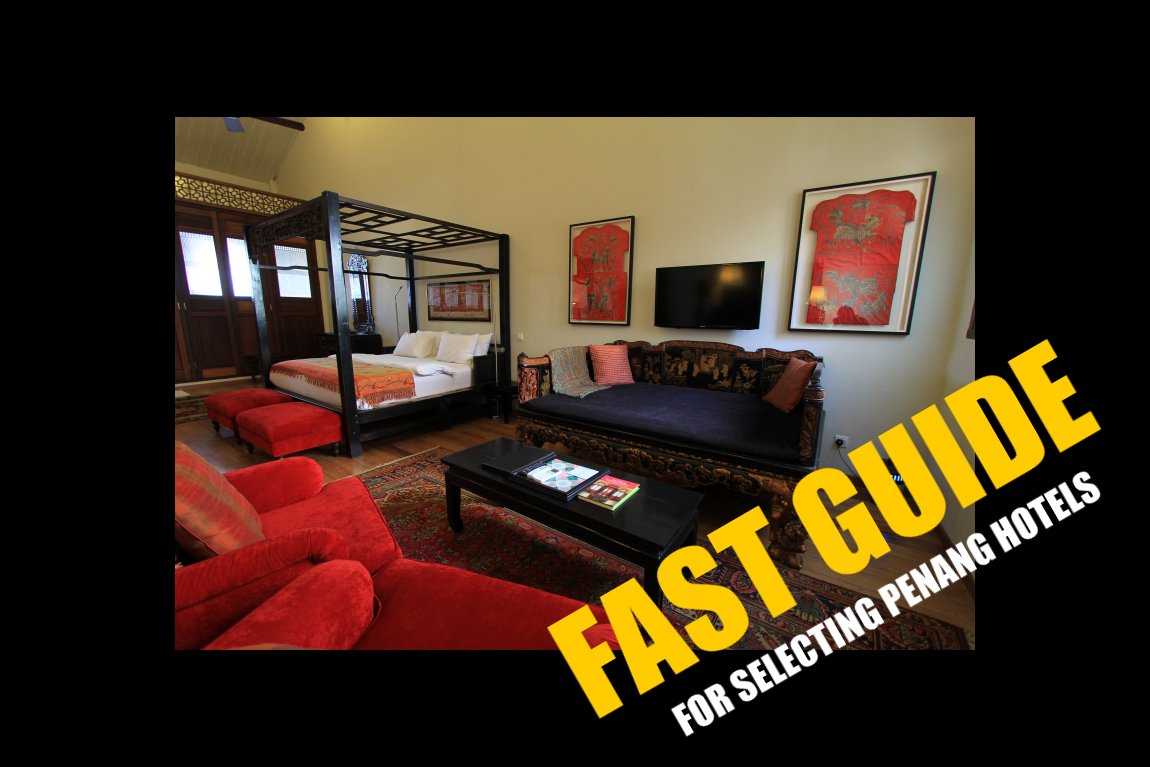 Fast Guide for selecting Penang Hotels
Quick help for choosing the hotel that's right for you.
Details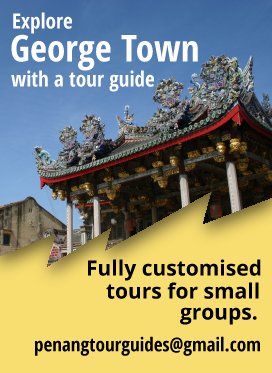 All about me
Thank you for visiting
my website
. I started it in 2003, and today it has over twenty thousand pages of information. My name is
Timothy Tye
. You can call me Tim. I have been writing my website full time since 1 November 2007, and I am enjoying every moment of it. I write my website to satisfy my own curiosity, but I am glad if the information is useful to you.
As a Christian, I hope that through this website, I am able to deliver
God's Good News
to those who need it all over the world. If you wish to contact me, please submit the
contact form
. Thanks again, don't forget to
follow me on Facebook
!
Welcome to my Singapore Travel Tips!
On top of writing Penang Travel Tips, I am expanding my writings to cover Singapore. These are the pages completed so far.
Copyright © 2003-2018
Timothy Tye
. All Rights Reserved.