Protestant Cemetery, George Town, Penang
---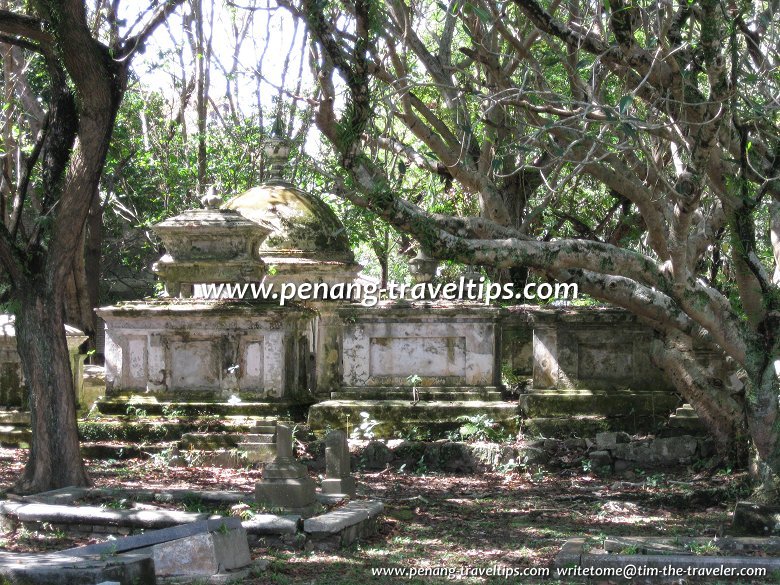 Protestant Cemetery (23 February, 2009)
© Timothy Tye using this photo




The Protestant Cemetery at Northam Road (Jalan Sultan Ahmad Shah) is the oldest Christian cemetery in Penang. It holds some of the oldest graves on the island (though not necessarily the oldest, as there may be unnamed Muslim graves, especially along Sungai Pinang which are older than the British settlement itself).

The Protestant Cemetery was created to bury the early administrators, European traders as well as missionaries who arrived following the establishment of the British colony by Captain Francis Light in 1786.

Francis Light's grave, as well as that of his business partner James Scott, are also in the cemetery, along with some members of the Scott family. Also buried there are many of the early governors of Penang, many of whom succumbed to tropical diseases such as malaria.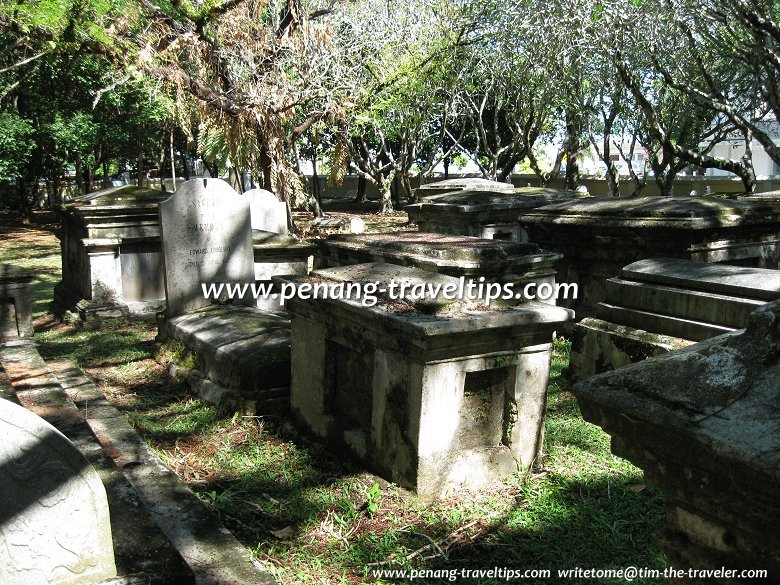 Protestant Cemetery (23 February, 2009)
© Timothy Tye using this photo



At the time the Protestant Cemetery was created, the area was at the edge of town. It was surrounded by vegetable plots and paddy fields. Over time, these farm lands gave way to village houses (early 19th century) which in turn were replaced by brick houses (late 19th century). Today it is right within George Town itself, as the city has expanded far beyond its original boundaries.

The Protestant Cemetery was used until the late 19th century, when the Western Road Cemetery was created on a bigger piece of land, and new burials were carried out there. Since then, the Protestant Cemetery ceased to accept new burials. However it is today recognised for its historic value as the final resting place of the early founders and administrators of the colonial settlement and trading post of George Town.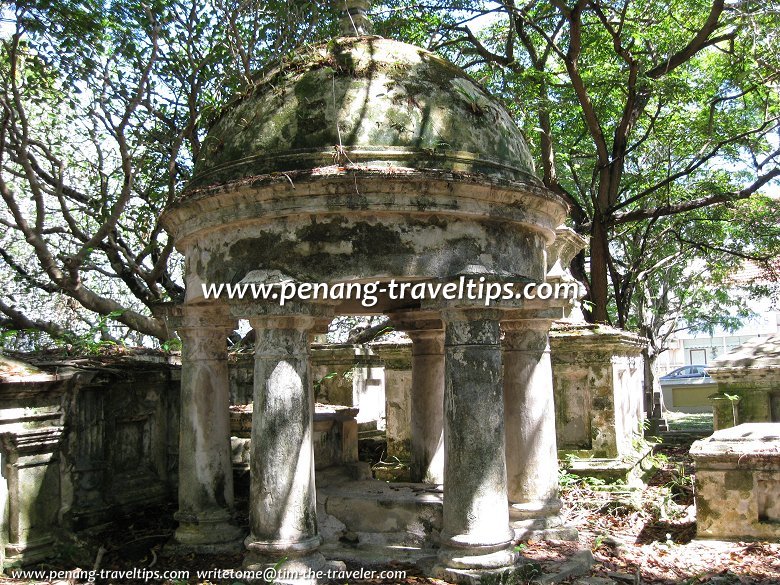 Protestant Cemetery (23 February, 2009)
© Timothy Tye using this photo
Tombs at the Protestant Cemetery
Most of the graves at the Protestant Cemetery are built as squarish tombs. The following are tombs that I have been able to identify.
Also buried there are the following persons, whose tombs I have not yet identified.
John Alexander Bannerman (1758-1819)
Colonel John Alexander Bannerman was the Governor of Penang from 1817-1819. The St George's Church was completed during his term.


Reverend Hutchings (1782-1827)
Reverend Sparke Hutchings was the leader of the St George's Church who founded the Penang Free School.


Thomas Leonowens (1828-1859)
Husband to Anna Leonowens, the lady who was hired by King Mongkut (Rama IV) to tutor his children, resulting in her romanticised account which was made famous as "The King and I".


William Edward Philips (1782-1827)
W.E. Philips purchased the property of Captain Francis Light, on which Suffolk House stands. (It is still a debate whether Suffolk House was built by Light or by Philips). Philips also acted as the Governor of the Penang for a few terms, within his own capacity as well as acting on behalf of another. His wife Janet, the daughter of John Alexander Bannerman, was buried with him.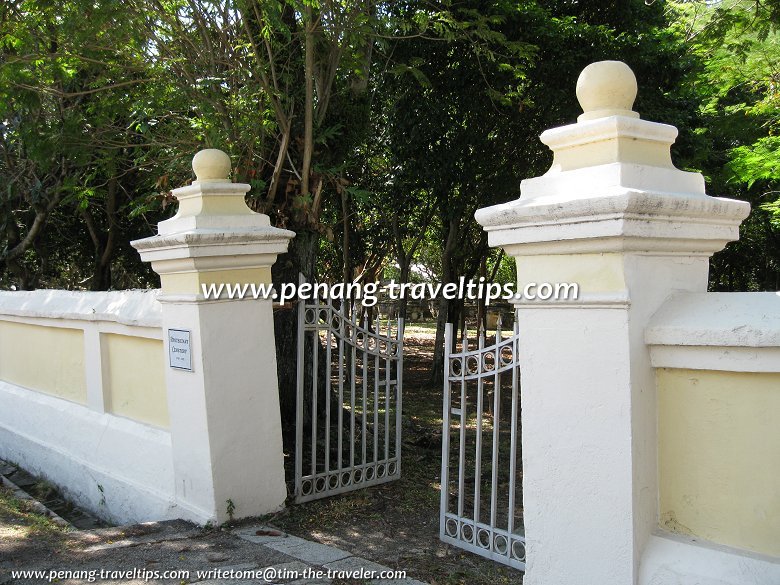 Protestant Cemetery (23 February, 2009)
© Timothy Tye using this photo
Nearby Sights
Getting there

Take the Rapid Penang Free Shuttle Bus to Station No. 7 (Lebuh Muntri Station), located along Penang Road at the junction of Muntri Street. From there, walk north along Penang Road until junction of Northam Road. Turn left at Northam Road, walk a short distance and you will find the Protestant Cemetery on your left.



View Larger Map





Hello and thanks for visiting! I'm Timothy Tye, aka Tim the Traveler! Penang Travel Tips is one of some seventy websites I've written to describe the whole world. I created it to tell you about Penang. In this website you can find everything you'd want to know, from essential arrival information to bus routes, tourist attractions, places of worship, businesses, residential properties, street history, street art, famous food, Nyonya culture, history and even learn Penang Hokkien!


Please follow me in Penang Street Art and Penang Travel Tips. If you enjoy local cooking, follow Masa Masak!
Rapid Penang Bus Routes: This very useful page provides you all the information to take the public bus to visit any place in Penang.
Arriving by plane: Essential information for independent travelers (those not following a tour package) on taking the bus or taxi upon arrival at Penang International Airport.
Taking the Taxi: Taxi stands can be found at all major shopping malls. You can also call a taxi by phone. Get the details here.
Personal Guided Tours of Penang: If you like a licensed tour guide to show you around, get in touch with me and I'll arrange it for you. The fee is RM90 per hour. Payment for the first two hours collected upon booking.
Hospitals in Penang: Penang is a major regional medical tourism destination. If you are planning to come here for therapy or treatment, find out about the various hospitals available.
Penang Island Residential Property Guide: If you ever consider buying a residential property on Penang Island, read this guide before taking any action.
Penang Visitor FAQ: Frequently asked questions of visitors planning their trip to Penang.
Shopping malls of Penang: Penang has plenty of malls. Visitors often find that prices in Penang are often lower than back home. Get to know the malls in Penang.
Ernest Zacharevic George Town Murals: The murals by a young Lithuanian artist, created for the 2012 George Town Festivals, has become the biggest tourist attraction in Penang. Get information and a full list of the murals that everybody loves to photograph!
My World Travel Guides: List of all the countries I have described.