Penang Free School
---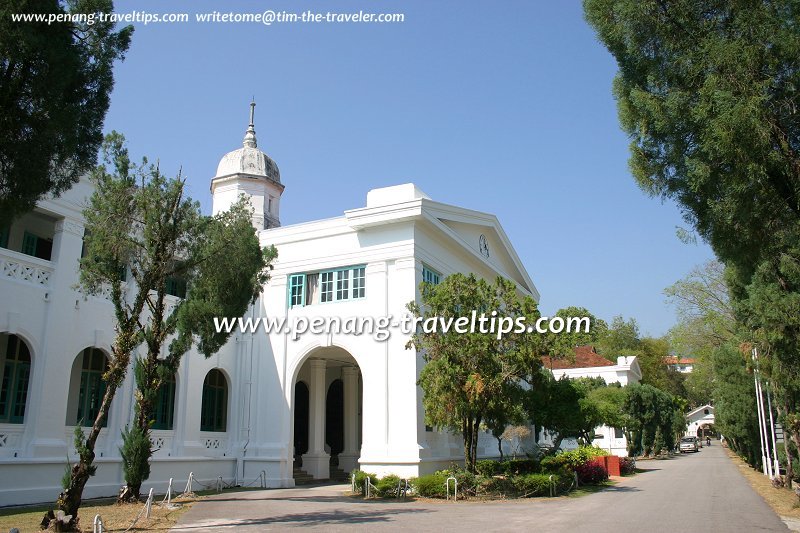 Penang Free School (29 January, 2005)





The Penang Free School is the oldest English-language school open to children of commoners in Southeast Asia. The person who is credited with leading the idea of setting up such a school was Reverend Sparke Hutchings, and the proposal was forwarded to the Governor of the then Prince of Wales Island in 1815.

The original plan, which was proposed by a committee set up by the Governor, called for two schools, one for boys, another for girls. Care was to be taken in providing secular education, and the sentiments of parents against any Christian teachings should be respected. Fees were collected only from those who could afford it. Children whose Malay and Indian parents do not wish for their children to be taught English could be taught in their own languages.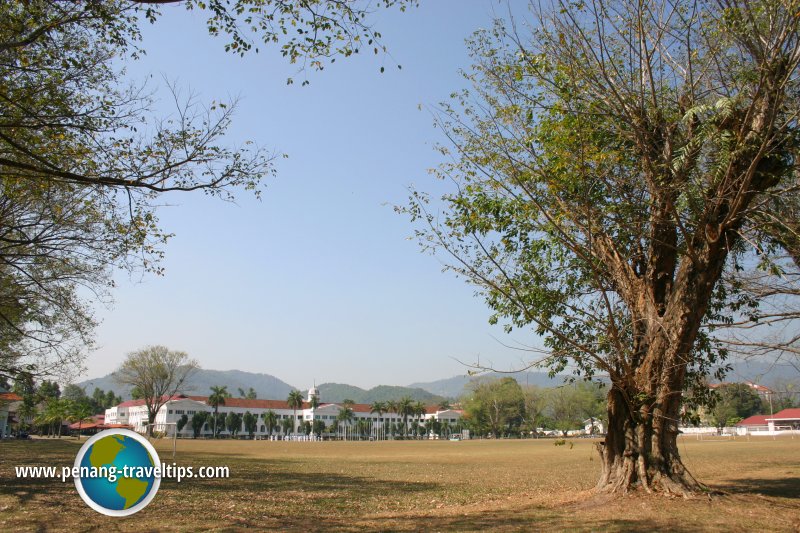 Penang Free School field (29 January, 2005)






Those were the plans but they were never carried out in their entirety. A school was set up, on 21 October 1816, to commemorate the 30th anniversary of the demise of Captain Francis Light. It was housed in Love Lane, and at other rented premises, while awaiting the completion of the building in Church Square. As expected, the name Penang Free School created a misunderstanding. Many parents thought "free" means free from fees, but actually, the "free" means the school is "open to all".

As initially planned, within Penang Free School are the Malay school and Tamil school to conduct classes in the pupils' own languages. These were started in 1821, but lasted only a few years, although there was a branch of the Malay school in Gelugor that remained until 1863.

Up until 1897, the Penang Free School comprised a few isolated buildings that took up all the land granted to it. At the same time, a permanent building was under construction. It was a symmetrical structure to be built in two phases. The first phase was completed in 1896, and was the wing closest to the St. George's Anglican Church. The remaining wing was completed in 1906.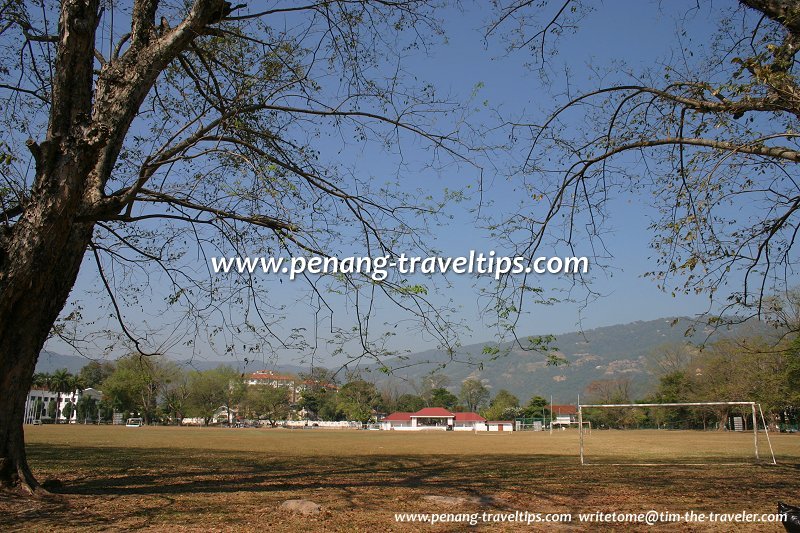 Penang Free School field and pavilion (29 January, 2005)





With the completion of the permanent building, those isolated structures were demolished, allowing the school to have its own football field for the first time. With the passing of the Constitution of Free School, all instructions were given in English and no native languages were taught.

By 1919, even the permanent buildings were already overcrowded. It required space for science laboratories, workshops and a gymnasium. There was a suggestion to move the upper forms to a new premises on the outskirts of town, leaving the lower forms in the original building. At the request of the Board of Trustees, the Old Frees Association convened and decided to rename the original school as Hutchings School, after the school's original founder.

Meanwhile, a 30-acre site at Green Lane (Jalan Masjid Negeri) was identified for the new Penang Free School premises. It will have a school complex that includes quarters for the senior staff. Construction began in 1924, and was officially opened on 9 January 1925 by Ralph Scott, Resident Councillor of Penang.

Within the grounds of the Penang Free School is the two-storey Straits-style bungalow for the residence of the headmasters of the school. After being empty for some years, it was recently refurbished and turned into a hostel and homestay programme known as Puspahome Homestay and Event House.

When D.R. Swaine was principal, the House System was introduced for its extra-curricular activities, resulting in the creation of the following houses: Cheeseman, Hamilton, Hargreaves, Pinhorn and Wu Lien Teh House. Under this system, the student is attached to the house until he leaves school. With this system, and the rivalry generated, it is hoped that the student will take a keener interest in games.

The Second World War had a disruptive effect on the Penang Free School, although it remained intact throughout the war, even though its former premises, the Hutching School (now housing the Penang State Museum), lost a wing to Allied bombing. One of the most famous students of the school after the war ended was P. Ramlee, Malaysia's most famous entertainer, who studied there from 1945 to 1947. It was used as the headquarters of the Indian National Liberation Army. When it finally reopened after the war in 4 October 1945, the school had lost much of its furniture and prized documents.

Further improvements to the school included the building of new classrooms in 1991, which enabled single session school since that year. The school's main entrance arch was built and declared open in September 1979.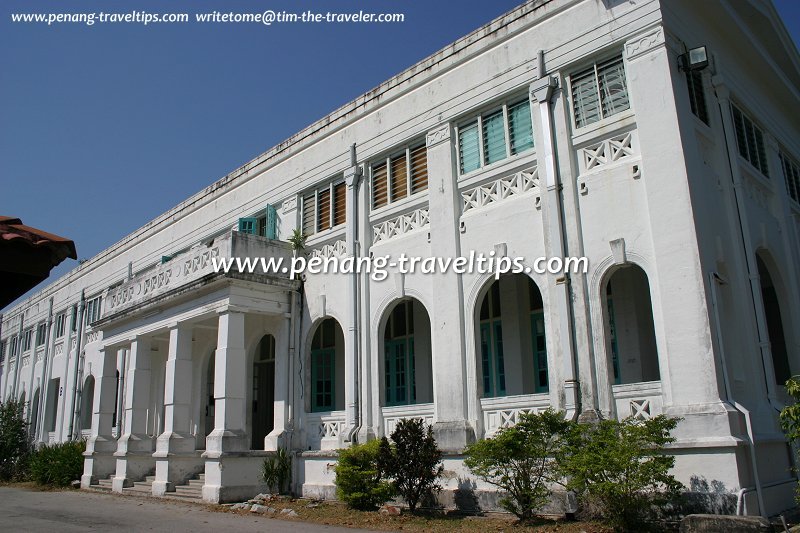 Penang Free School classrooms (29 January, 2005)


Headmasters of the Penang Free School
1816-1821: Mr. J. Cox
1821-1822: Mr. Churcher
1822-1826: Mr. Porter
1826-1828: Mr. Anchant
1828-1843: Mr. J. C. Smith
1843-1846: Mr. Bruton
1846-1853: Mr. Fitzgerald
1853-1871: Mr. J. Clark
1871-1891: Mr. G. Griffin
1891-1904: Mr. W. Hargreaves
1904-1925: Mr. R. H. Pinhorn
1925-1926: Mr. W. Hamilton
1927-1928: Mr. D. R. Swaine
1928-1929: Mr. L. W. Arnold
1929-1931: Mr. D. W. McLeod
1931-1933: Mr. M. R. Holgate
1934-1946: Mr. L. W. Arnold
1947-1949: Mr. D. Roper
1949-1950: Mr. M. F. Crocopile
1950-1951: Mr. P. F. Howitt
1951-1957: Mr. J. E. Todt
1957-1963: Mr. J. M. B. Hughes
1963-1969: Mr. Tan Boon Lin
1969-1971: Mr. Poon Poh Kong
1972-1974: Mr. K. G. Yogam
1974-1979: Dr. Goon Fatt Chee
1979-1983: Mr. R. Visvanathan, P.J.K.
1983-1988: Mr. G. Krishna Iyer
1988-1993: Mr. Goh Hooi Beng
1993-2000: Mr. Hj. Ismail bin Ibramsa
Jan 2000-Dec 2000: Mr. Abdul Rahman
2001-2006: Mr. Arabi Sulaiman, P.K.T.
2006-2006: Mr. Mohd Yusof bin Omar
2006-2012: Mr. Hj. Ramli bin Din
2012-present: Mr Jalil bin Saad
Penang Free School House Colours
The students at Penang Free School are split into six houses namely Cheeseman (red), Hamilton (yellow), Hargreaves (brown), Pinhorn (blue), Tunku Putra (orange) and Wu Lien Teh (green).
Roads in Penang Free School Headmasters
The roads named after past headmasters of the Penang Free School include Cheeseman Road, Hamilton Road, Hargreaves Road, Hutchings Garden and Pinhorn Road. Jalan Tunku Abdul Rahman and Wu Lien Teh Road are two of the roads in Penang named after prominent former students of the school.
Nearby Sights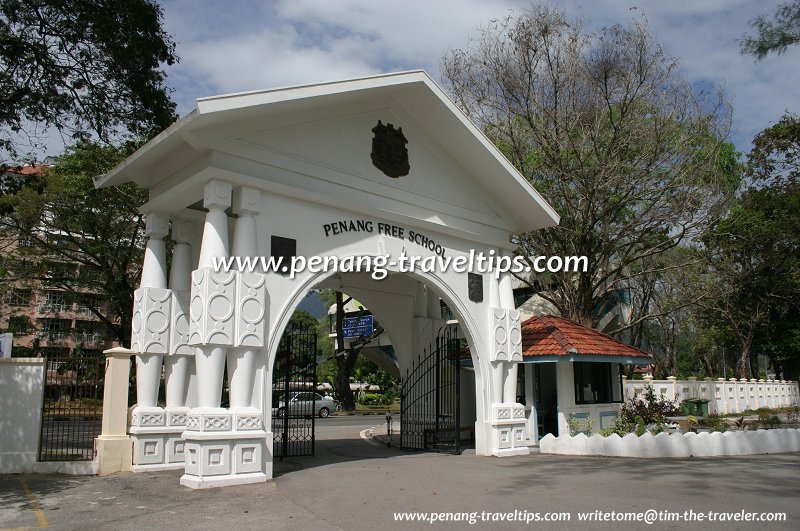 The Penang Free School main gate which was declared open on 29 September 1979 (22 January, 2005)


Getting there
The nearest bus stop is along Green Lane in front of the school. The bus stop is served by Rapid Penang bus 102, 206 and 304.



View Penang Free School in a larger map



Hello and welcome to my website, Penang Travel Tips, yay!

My name is Timothy Tye. I write this website, and continue to update it regularly, to share with you everything that I know about Penang. It is one of my several travel websites, which include Exploring Malaysia and Big World Out There. To know more about me, visit my website, www.timothytye.com.

Help me keep my pages updated. If you found errors, please do kindly let me know. For all correspondences, click here to contact me. Thank you for visiting, and have a great day!
Here are some of the most useful pages on Penang Travel Tips. I put them together to help you get the best for your visit to Penang.


I am extremely active online and I interact closely with my readers through my many Facebook Groups. It's the place where you can interact with me on topics of my interest. Do join some or even all these groups! I would love to see you there.
Copyright © 2003-2015 Timothy Tye. All Rights Reserved.
---
Terms & Condition of Use | Privacy Policy