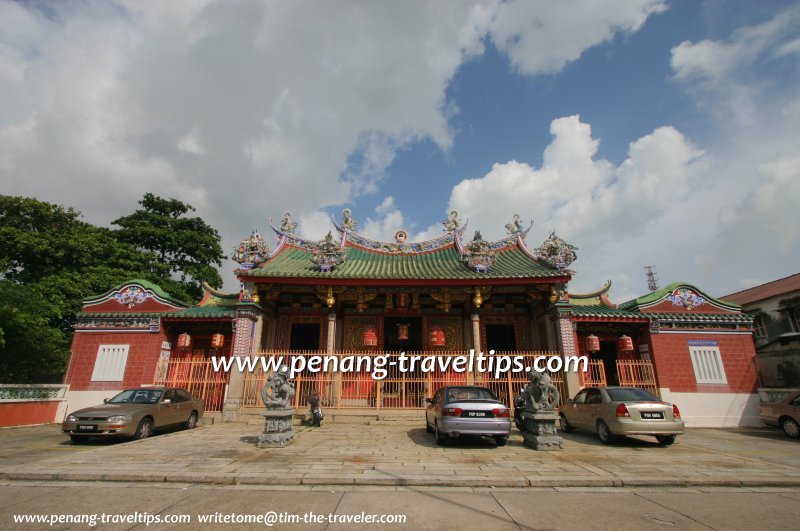 Ong Kongsi, Penang Road, George Town
(6 August, 2005)

Thye Guan Tong Ong Kongsi
(GPS: 5.41502, 100.32883) is a clan temple along busy
Penang Road
in George Town. Ong Kongsi is the
clan association
of the Min Hokkien bearing the Ong surname.
The original Min Hokkien Ong ancestral temple was established in 1891 and was built by the sea in Jelutong, with an extension into the Kin Jiu Pah (banana grove, or banana jungle). The present clan temple, the
Seh Ong Kongsi
, is located on a 30,827 sq ft plot at 436 Penang Road. It was purchased in 1894, and today is located right in the heart of George Town facing
Komtar
.
The Ong Kongsi on Penang Road is by no means the only Thye Guan Tong Clan Association in Penang. Other branches of the clan association has its premises in other places including at
Thye Guan Tong Sungai Puyu
and
Thye Guan Tong Bukit Tambun
.
The clan temple was built through the donation from three brothers, Han Teng, Han Chong and Han Siew, who spent $41,000 to build it. The building was completed in 1900 and was named the Min Hokkien Ong Kongsi, or
Kai Meng Ong Beow
. It is dedicated to the pioneer king, who led the Chinese across the sea to settle in the Nanyang, or Southern Seas, during the late Tang Dynasty, thus becoming the first ruler, or
ong
, of the Hokkien State.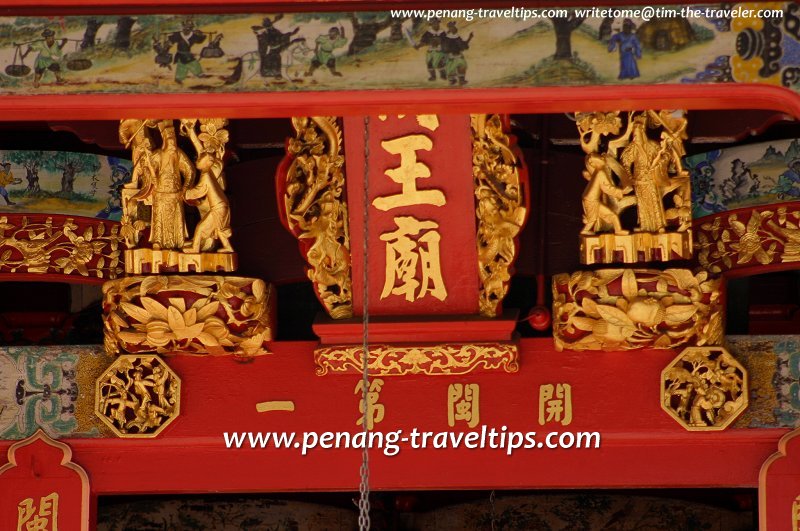 Door plaque at Ong Kongsi
(6 August, 2005)

The Ong Kongsi registered itself in 1904 as the Thye Guan Tong Ong Kongsi and the Ong Si Thye Guan Tong. A pair of granite lions for the entrance were donated by Ong Chin Teik in 1905. An extension was built on the left, at a cost of $18,000, in 1916 while in 1918, a wall was built on the right.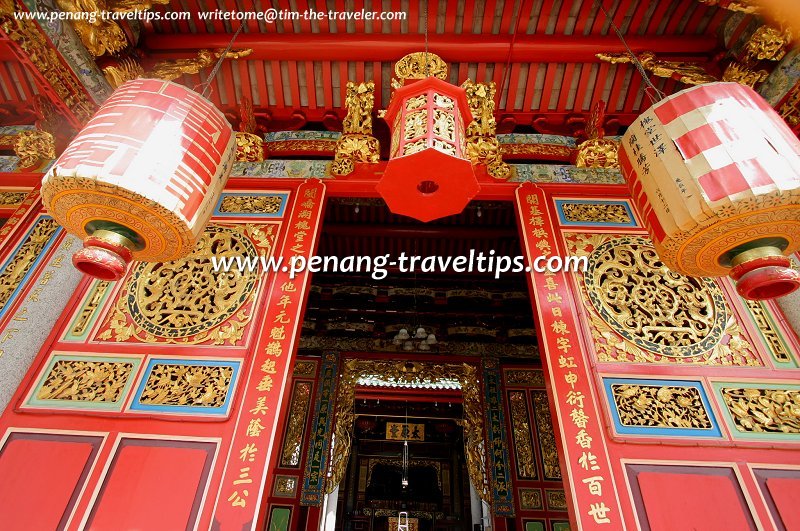 Entrance to Ong Kongsi
(6 August, 2005)

The clan association received donations for several properties including 14 acres of land in Kedah from Ong Ah leong in 1917, and 3 houses also in Kedah from Ong Chin Poh in 1921. These were sold off, and the proceeds used to purchase 4 houses, costing $43,500 which are behind the temple. These are rented out in addition to another 4 purchased in 1988 for $430,000 in
Goh Teow Lor
, otherwise known as Lebuh Macallum.
Restoration and renovation work were carried out on the Ong Kongsi clan temple in 1951, 1964 and 1991, in conjunction with Ong Kongsi's centenary celebrations. The Kongsi retains its benefactorial role with the establishment of a scholarship fund in 1971, followed in 1985 by a loan scheme for Ong clansmen to attend local universities. A Welfare Committee & Youth Section also ensure the relevance of this association in keeping with the times.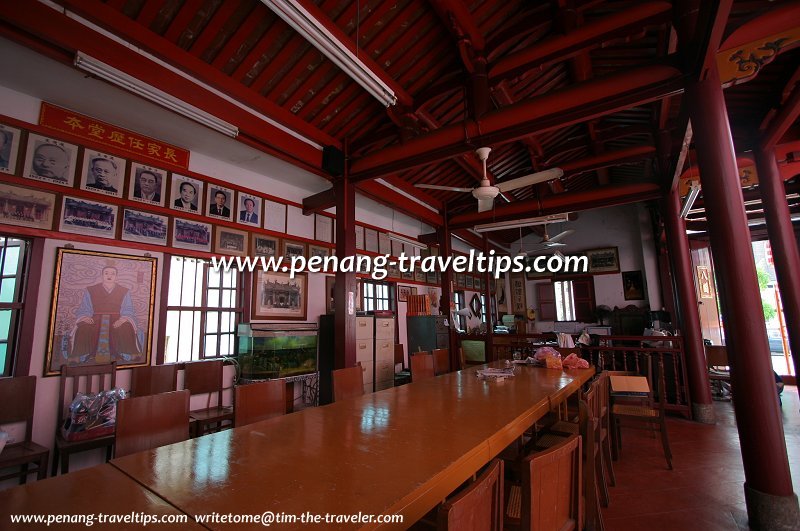 Meeting Hall at Ong Kongsi
(6 August, 2005)

Getting there
Take the
Rapid Penang
bus to Komtar (see the
Rapid Penang Bus Routes
to select one). From the
Komtar Bus Terminal
, walk along Lebuh Tek Soon to Jalan Penang, then turn left. A short distance one (about 25 meters), you will see Ong Kongsi on the right side of Jalan Penang. Cross the road to it at the pedestrian crossing.
What to see and do
Ong Kongsi is not geared for tourist visits. Nevertheless, you should be able to wander around it and admire the ornate architecture.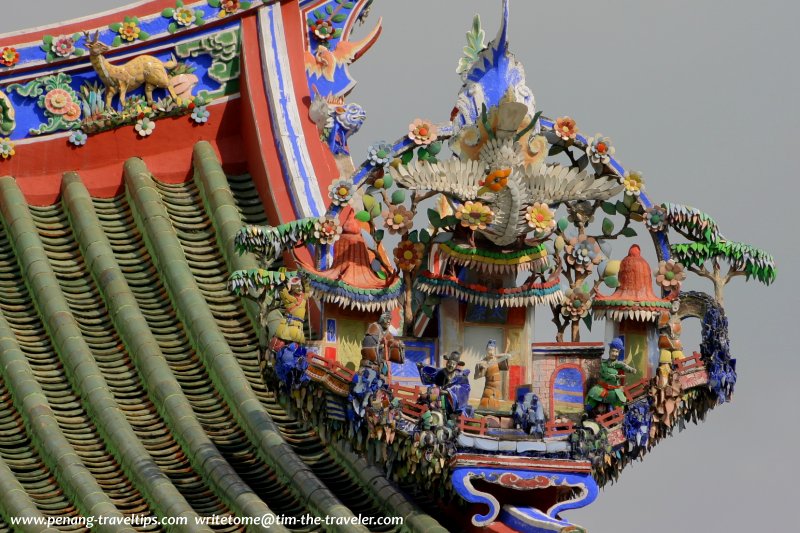 Roof ornamentation, Ong Kongsi
(6 August, 2005)

Nearby Sights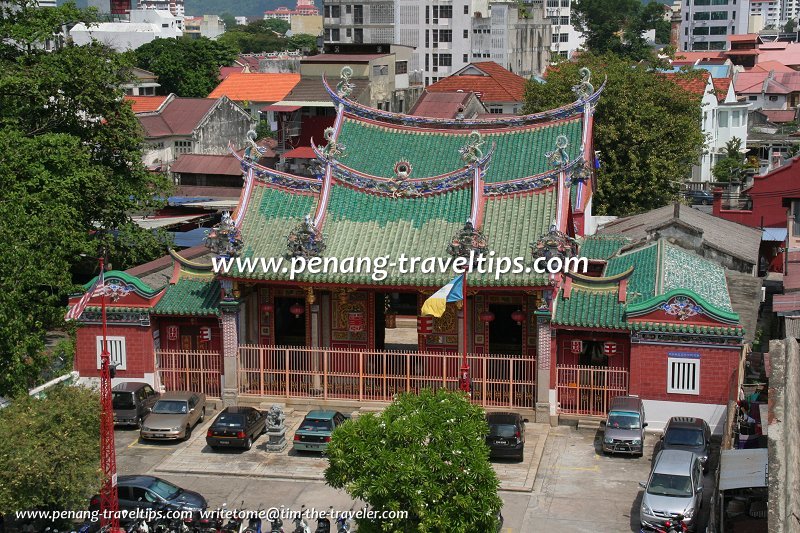 Ong Kongsi, as seen from Komtar
(16 May, 2008)

Nearby Shopping
Getting there
The nearest bus stop is along Penang Road, in front of Ong Kongsi. It is served by
Rapid Penang
bus 10,
101
,
102
,
103
,
104
,
201
,
202
,
203
,
204
,
206
,
301
,
304
and 502.
Ong Kongsi is on the map of Penang Road

contact me
You can look for and book your hotel room direct from this website. Simply
click here
or use the search box below. You can filter the results based on your requirement, everything from five star hotels to homestays and more.
Look for a specific type of accommodation in Penang
All about me