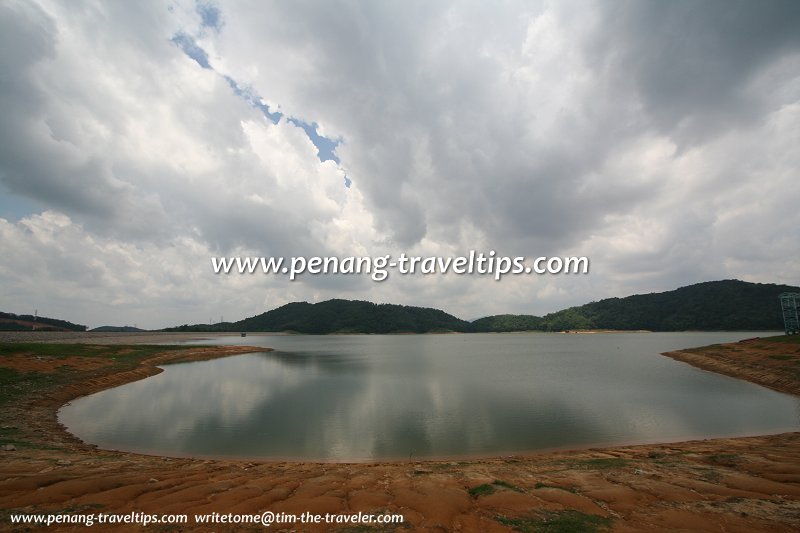 Mengkuang Dam
(15 April 2006)

Mengkuang Dam
is the biggest dam in Penang. It is located to the south of Kampung Mengkuang in Seberang Perai. Mengkuang Dam was built between 1982 and 1984, and was opened by the Yang di-Pertua Negeri, Tun Datuk Dr Haji Awang bin Hassan on 4 December, 1985. With a capacity of 23.5 million cubic meters, it is ten times the size of the
Ayer Itam Dam
. The height of the dam is 24.7 meters.
The catchment area of Mengkuang Dam is the
Bukit Mertajam Recreational Forest
. It forms a dense forested area around the dam.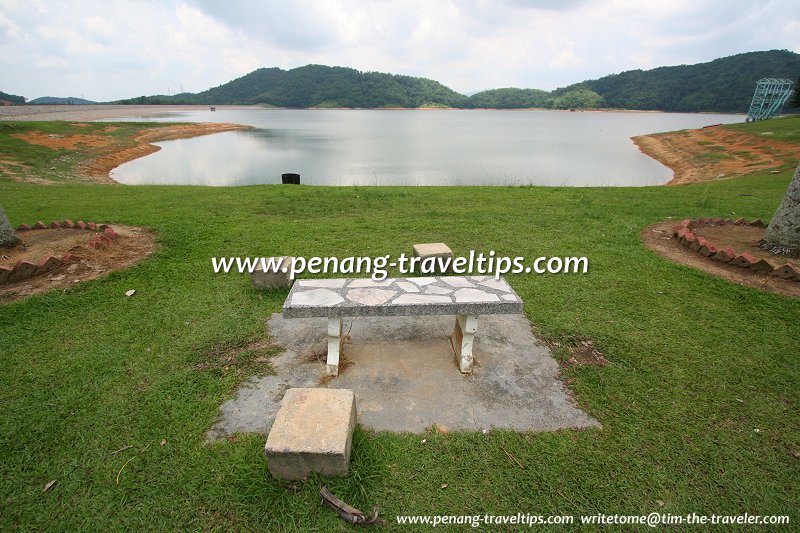 Bench at Mengkuang Dam
(3 June, 2012)

In addition to being a major source of drinking water to the population of Penang, Mengkuang Dam is also a favorite recreational area for the people living nearby. There are jogging tracks and benches. The dam was also the venue of the dragon boat race for many years.
Updates on the Mengkuang Dam
4 August 2011
: Latest update from the authorities is that the Mengkuang Dam will
not
be closed to the public until 2014, as expansion works will not affect the public area until then.
30 July 2011
: The Mengkuang Dam will be closed to the public for expansion works. Closure is expected beginning from 1 August, 2011, until 31 July, 2016.
31 May, 2011
A RM1.2 billion expansion project is underway to increase the capacity of the Mengkuang Dam from 23 million cubic meters to 83 million cubic meters, as reported by Dr Teng Hock Nan, the Penang Barisan National Working Committee Chairman.
1 June, 2011
Chief Minister Lim Guan Eng is not happy that Datuk Dr Teng Hock Nan has stolen his thunder by announcing the details of the national water agreement, saying the latter has no
locus standi
during the signing ceremony with Energy, Green Technology and Water Minister Datuk Peter Chin. Lim said that it is not Teng's responsibility as he was neither a state executive councillor nor a Federal Government official.
3 June, 2011
The Penang state government sealed a water deal with Pengurusan Aset Air Bhd (PAAB), exchanging RM655m water assets for a complete revamp of outstanding loans. The state hold remaining water assets worth RM600 under the Perbadanan Bekalan Air Pulau Pinang (PBABB).
Mengkuang Dam on Google Maps Street View
How to reach the Mengkuang Dam
Exit the North-South Expresswayat the Perai Interchange (Exit 162). Head in the direction of Bukit Mertajam. At the Bukit Tengah Interchange, take Jalan Permatang Batu (second turning on the roundabout).
Go along Jalan Permatang Batu, pass
Perda City Mall
. Then turn left at Jalan Berapit. Go along Jalan Berapit until T-junction. Turn right and head towards Mengkuang Dam. The driveway to the dam parking lot in on the right side of the road.
Location of Mengkuang Dam on the map
Other Dams in Penang

contact me
You can look for and book your hotel room direct from this website. Simply
click here
or use the search box below. You can filter the results based on your requirement, everything from five star hotels to homestays and more.
Look for a specific type of accommodation in Penang
All about me