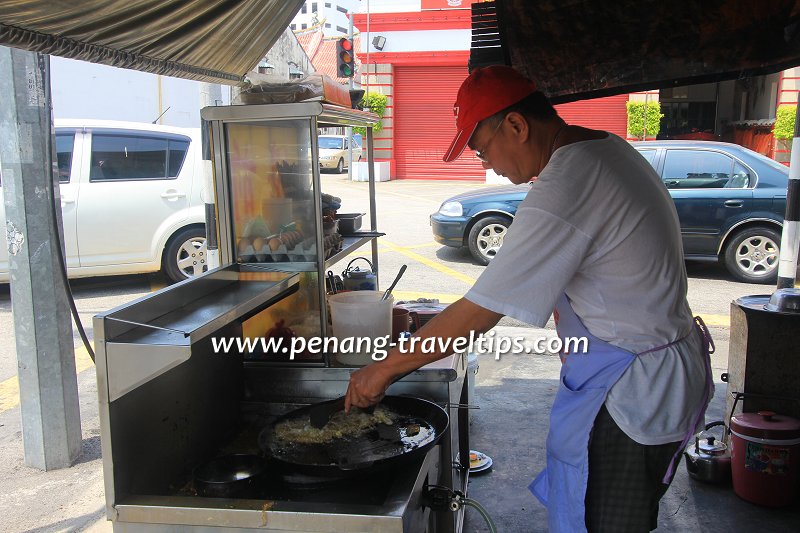 Kedai Kopi Lam Ah fried oyster stall
(20 July, 2013)

Lam Ah Fried Oyster
is the fried oyster stall at Kedai Kopi Lam Ah, in George Town, Penang. The coffee shop is best known for its gu bak koay teow. The fried oyster stall first made its appearance here a few years ago. After a slow start, the stall has slowly begun to attract a steady stream of patrons, many of whom out-of-towners exploring the George Town World Heritage Site.
The Lam Ah Fried Oyster is similar to the one at Maga Restaurant, in that it comprises an egg batter that is deep fried. This results in great crispiness. The oyster is then stir-fried separately and topped over the crispy egg omelette.
I tried out the Lam Ah Fried Oyster with my wife for the first time on 20 July, 2013. We managed to get a table next to the stall, and so was able to watch the seller prepare the omelette. In order to deep-fry the omelette, he used a lot of cooking oil (I remember thinking to myself, how much cooking oil does he use up in one day!)
The omelette comes in two sizes, RM6 and RM10. Since there were only the two of us, we ordered the small plate. This is how it looks like: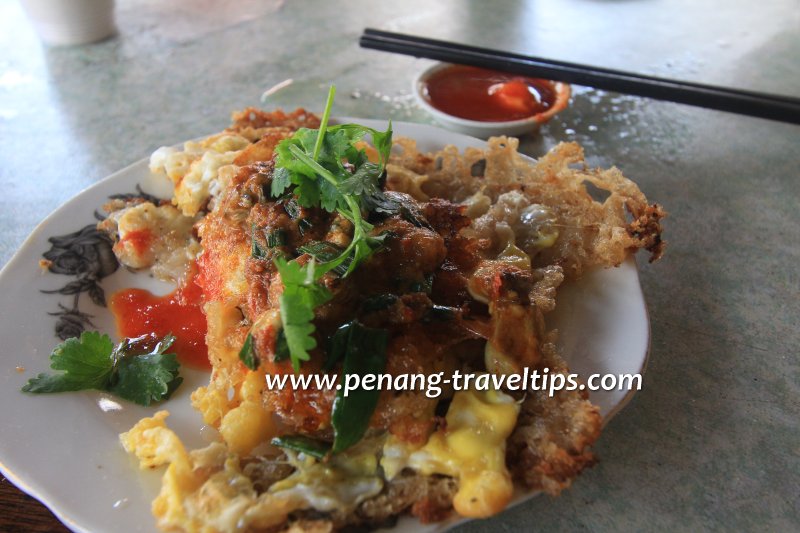 Lam Ah Fried Oyster
(20 July, 2013)

Apart from the crispiness of the batter, which I quite like, I find this fried oyster to be on the expensive side. The amount of oysters provided is quite few compared to other fried oysters elsewhere. And considering it is deep-fried, this is not a dish for those who are too health conscious.
For other places with this dish, check list of
Fried Oyster Stalls in Penang
.
Getting there
See details for going to Kedai Kopi Lam Ah.
View
Kedai Kopi Lam Ah, Beach Street, Penang
in a larger map
Timothy Tye's Penang Eating Tips
Timothy Tye's Penang Eating Tips