Kapitan Keling's Tomb, Penang
---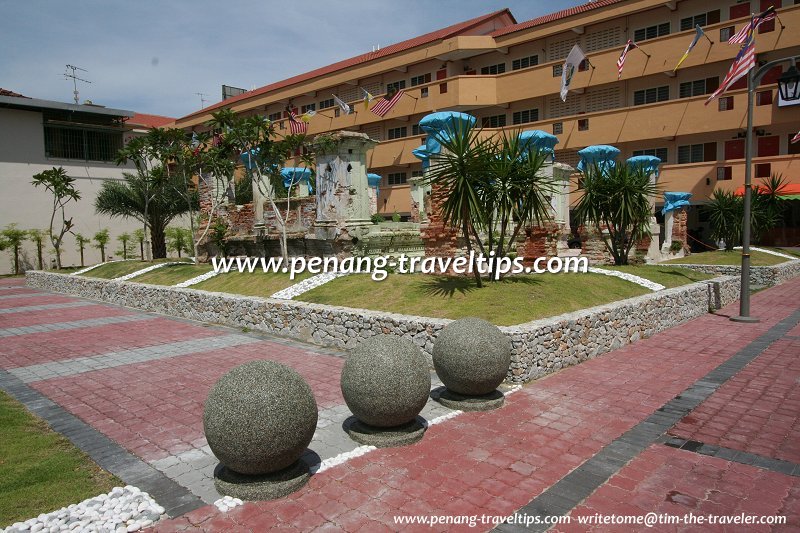 Kapitan Keling's Tomb, Penang (17 November, 2010)




The Kapitan Keling's Tomb is the restored ruins of a mausoleum at Kampung Kolam, George Town. It is the tomb of Cauder Mydin Merican, the leader of the Indian Muslim community, known as Kapitan Keling, who founded the Kapitan Keling Mosque.

The Merican clan was one of the wealthiest families of Tamil Muslims to have settled in George Town. Hailing from Tamil Nadu, the Mericans were seafarers and merchants. As the leader of the Tamil Muslims, the Kapitan Keling was granted an 18-acre plot in 1801 by the then Lieutenant Governor of Prince of Wales Island, George Leith, for the purpose of building a "Mohammedan church", that is to say, a mosque.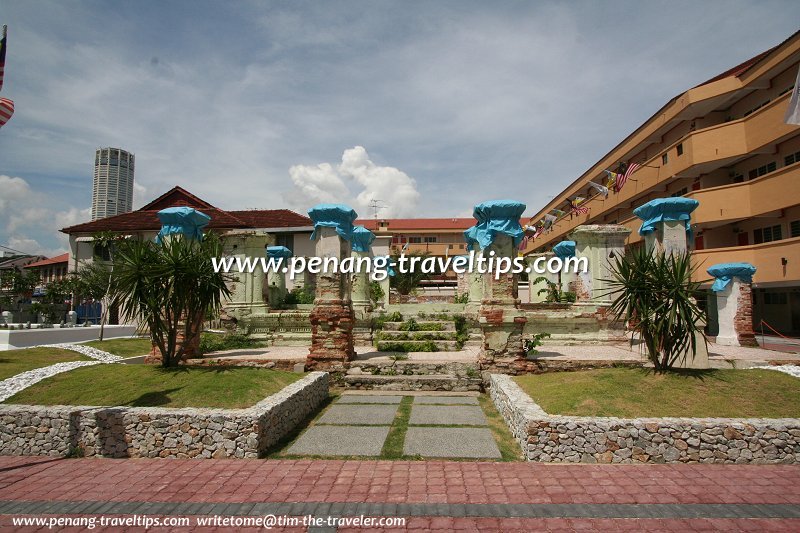 Front view of the Kapitan Keling Tomb (17 November, 2010)





The Kapitan himself owned the land to the west and south of the mosque. He had his home built at Kampung Kolam, the village that got its name from the water tanks. When he passed away in 1834, a grand tomb was built for him. It was in the form of a pavilion supported by columns. It is even grander than the tomb of Tengku Syed Hussain Idid, the founder of the Acheen Street Mosque.

Over the decades, however, the Kapitan Keling's tomb became neglected as future generations lost touch with their heritage. It was only recently, with the inscription of the area as within the core zone of George Town's UNESCO World Heritage Site, that interest was revitalized to understand the history of the mosque and its founder. Thanks to the Trustees of the Kapitan Keling Mosque, the tomb of Cauder Mydin Merican was cleared and restored. The area is landscaped and planted with frangipannis. Although it is still in a state of ruins, it is now preserved and can be appreciated by all.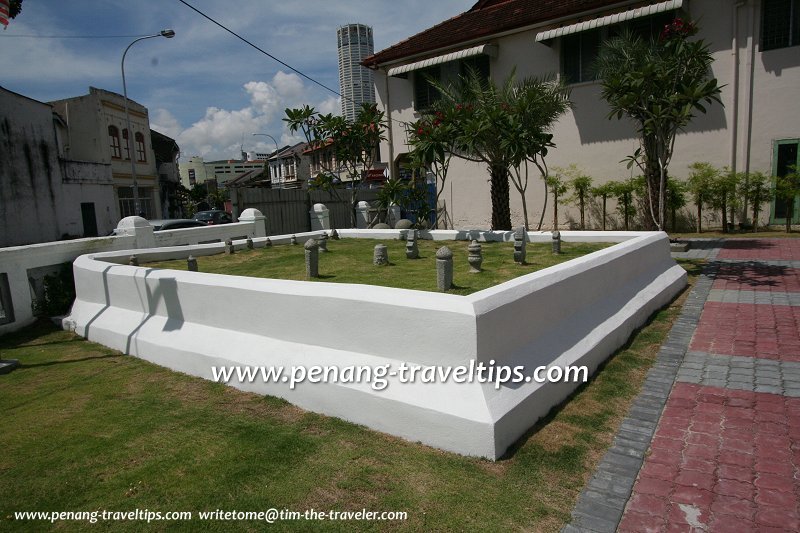 Old Muslim graves at the Kapitan Keling Tomb (17 November, 2010)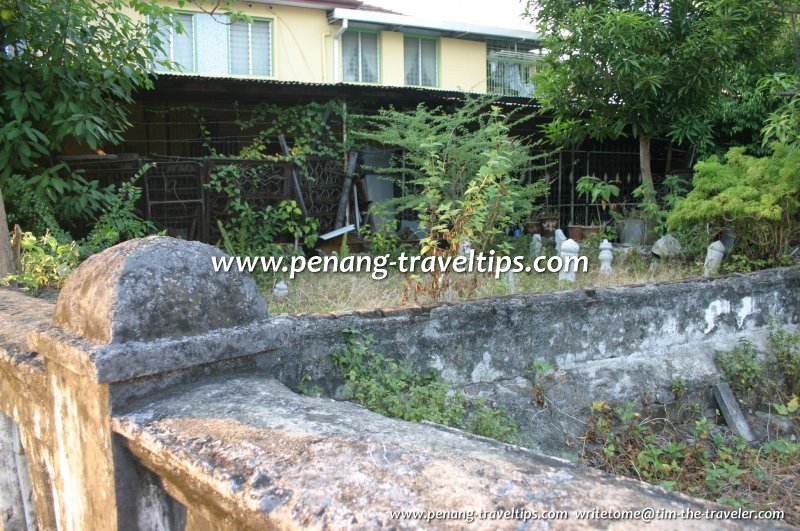 The old Muslim graves before restoration (26 January, 2005)


Getting there
The Kapitan Keling's Tomb is located off Kampung Kolam. To get there, you can take Rapid Penang Free Shuttle Bus to Station No. 15 (Kampung Kolam).



View Kapitan Keling's Tomb, Kampung Kolam, Penang in a larger map


Before you go anywhere in the Big World Out There, spend a moment to find the best Flights and Hotels.



| | |
| --- | --- |
| | Hello and thanks for visiting! My name is Tim! I created Penang Travel Tips so that I can tell you everything that I know about Penang. I hope my website provides you the information you are looking for, and that you will enjoy visiting it as much as I enjoyed writing it for you! If you found any errors, please let me know and I will correct it. Thank you! |

If you love to know everything about Penang, join me at Penang Travel Tips Facebook Group, Penang Street Art Facebook Group, Penang Hawker Food Facebook Group, Learn Penang Hokkien Facebook Group and Masa Masak Facebook Group!
Rapid Penang Bus Routes: This very useful page provides you all the information to take the public bus to visit any place in Penang.
Arriving by plane: Essential information for independent travelers (those not following a tour package) on taking the bus or taxi upon arrival at Penang International Airport.
Taking the Taxi: Taxi stands can be found at all major shopping malls. You can also call a taxi by phone. Get the details here.
Personal Guided Tours of Penang: If you like a licensed tour guide to show you around, get in touch with me and I'll arrange it for you. The fee is RM90 per hour. Payment for the first two hours collected upon booking.
Hospitals in Penang: Penang is a major regional medical tourism destination. If you are planning to come here for therapy or treatment, find out about the various hospitals available.
Penang Island Residential Property Guide: If you ever consider buying a residential property on Penang Island, read this guide before taking any action.
Penang Visitor FAQ: Frequently asked questions of visitors planning their trip to Penang.
Shopping malls of Penang: Penang has plenty of malls. Visitors often find that prices in Penang are often lower than back home. Get to know the malls in Penang.
Ernest Zacharevic George Town Murals: The murals by a young Lithuanian artist, created for the 2012 George Town Festivals, has become the biggest tourist attraction in Penang. Get information and a full list of the murals that everybody loves to photograph!

Copyright © 2003-2014 Timothy Tye. All Rights Reserved.
---
Terms & Condition of Use | Privacy Policy