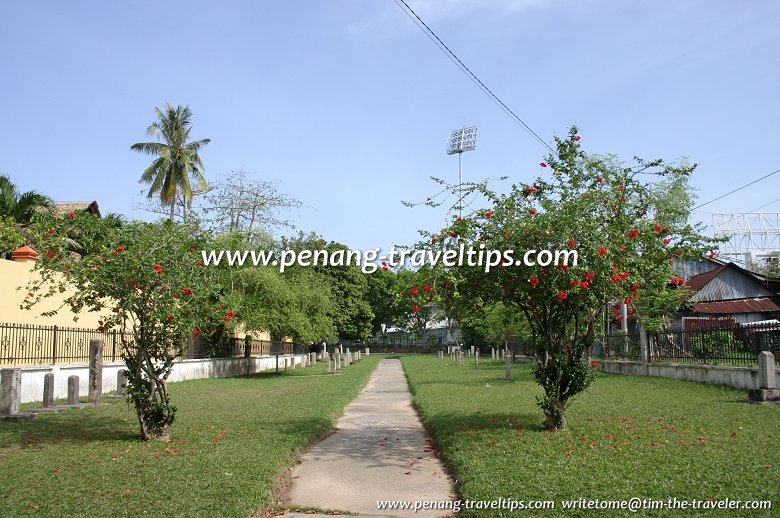 Japanese Cemetery
(12 February, 2005)

Japanese Cemetery
at Lintang P Ramlee in Penang is the final resting place of a small community of Japanese from the late 19th century. It was set up in 1893, around the same time as the Japanese Cemetery in Sandakan, Sabah. Just like the immigrants from southern China, the Japanese faced hardship and poverty during the 19th century. A small community immigrated to Penang to seek a better life, arriving as early as 1880. A census of 1910 placed the number of Japanese in Penang as 207.
Many of those who came to Penang were women who ended up being Karayuki-san in places such as
Cintra Street
. Literally "Ms Gone Overseas", karayuki-san are Japanese girls who were forced to become prostitutes outside Japan, usually coming from impoverished farming and fishermen families. In addition to the karayuki-san, the Japanese also operated grocery shops, pharmacies and other businesses in George Town. They brought camera to Penang and were the first to opened photo studios here. Medical practitioners, from doctors to dentists and pharmacists also came, to provide health care to the Karayuki-san as well as to the locals. The area between Cintra Street and
Kampung Malabar
became known as Little Japan due to the sizeable Japanese community that lived there.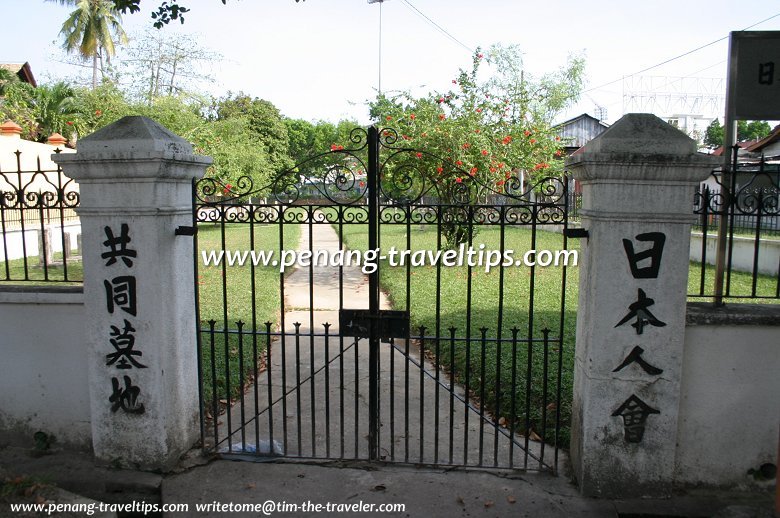 Gate of the Japanese Cemetery
(12 February, 2005)

There were a total of 56 tombstones in the Japanese cemetery, all before the Second World War. The majority belonged to the Karayuki-san and dates to the Meiji Period (1868-1911). Later graves belonged to Japanese navy officers from the Taisho Period (1912-1925).
The number of Japanese in Penang began to decline in 1920 through repatriation. This hastened in the 1930's as Japanese aggression in China, particularly Manchuria, generated ill feeling among the local Chinese community towards the Japanese, compelling them to pack up for home. By the Second World War, the Japanese community that once lived in Penang had all but gone.
Acknowledgment
I would like to thank Clement Liang, my fellow Council Member at the Penang Heritage Trust, for his help in preparing this write-up.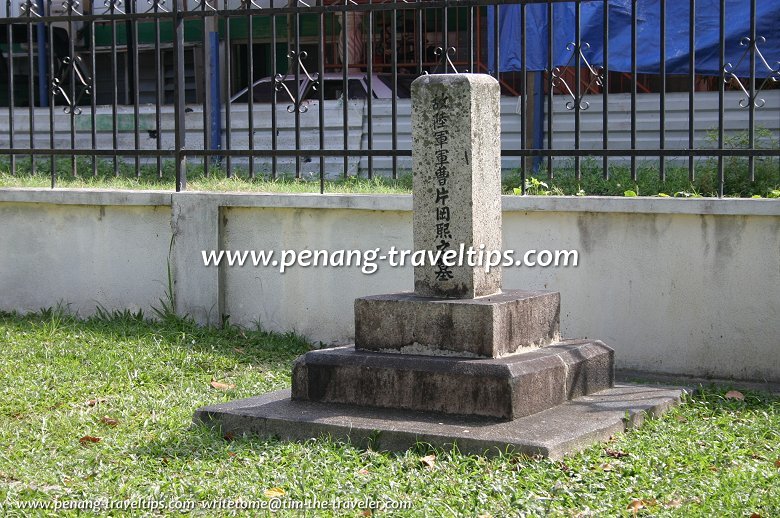 Tombstone in the Japanese Cemetery
(19 February 2005)

Getting there
The Japanese Cemetery is located at Lintang P. Ramlee, a short distance from
P. Ramlee's birth house
. The best way to reach it is by taking a taxi. Be sure to ask the taxi driver to wait, as it may be difficult to hail a cab from there.
Nearby Sights
Location of the Japanese Cemetery on the map

contact me
You can look for and book your hotel room direct from this website. Simply
click here
or use the search box below. You can filter the results based on your requirement, everything from five star hotels to homestays and more.
Look for a specific type of accommodation in Penang
All about me