Homestead, George Town, Penang
---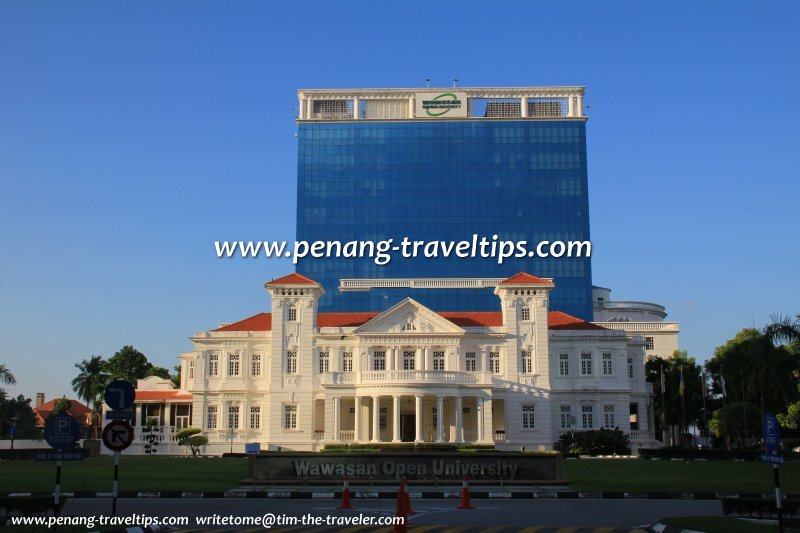 Homestead today, as main campus of the Wawasan Open University (5 August, 2012)




Homestead is one of the biggest and most elegant mansions to be built by a Chinese towkay in Penang. Located along Northam Road, it was designed by architect James Stark of the firm Stark & McNeill for Lim Mah Chye, a tycoon of the early 20th century.

Homestead is said to have been deliberately built by Lim Mah Chye to block the seaview enjoyed by his rival, Quah Beng Kee, who owned a mansion called Columbia Lodge right across the road (and is today the Maple Gold restaurant). The plan of the house is in the form of the letter "E".



The Homestead front façade, before the construction of Wawasan Open University





In the 1920's, Quan Beng Kee suffered financial ruins when his ship crashed into the port in Deli, Medan, and he had to pay for the damages. His shipping company was taken over by Lim Chin Guan, the son of Lim Mah Chye. But before long, Lim Chin Guan's fortune also took a nose-dive, hit by the great depression, which destroyed many millionaires but created new ones. Lim Chin Guan had to sell Homestead to one of the newly rich, Yeap Chor Ee, the founder of Ban Hin Lee Bank.

Today the Homestead has been turned into the campus of the Wawasan Open University.



The expansive compound of Homestead, before the construction of Wawasan Open University

Getting there

The only bus that passes along Northam Road in front of Homestead is Rapid Penang bus 103. The bus stop is opposite The Northam All Suite Hotel.



View Homestead in a larger map





Hello and thanks for visiting! I'm Timothy Tye, aka Tim the Traveler! Penang Travel Tips is one of some seventy websites I've written to describe the whole world. I created it to tell you about Penang. In this website you can find everything you'd want to know, from essential arrival information to bus routes, tourist attractions, places of worship, businesses, residential properties, street history, street art, famous food, Nyonya culture, history and even learn Penang Hokkien!


Please follow me in Penang Street Art and Penang Travel Tips. If you enjoy local cooking, follow Masa Masak!
Rapid Penang Bus Routes: This very useful page provides you all the information to take the public bus to visit any place in Penang.
Arriving by plane: Essential information for independent travelers (those not following a tour package) on taking the bus or taxi upon arrival at Penang International Airport.
Taking the Taxi: Taxi stands can be found at all major shopping malls. You can also call a taxi by phone. Get the details here.
Personal Guided Tours of Penang: If you like a licensed tour guide to show you around, get in touch with me and I'll arrange it for you. The fee is RM90 per hour. Payment for the first two hours collected upon booking.
Hospitals in Penang: Penang is a major regional medical tourism destination. If you are planning to come here for therapy or treatment, find out about the various hospitals available.
Penang Island Residential Property Guide: If you ever consider buying a residential property on Penang Island, read this guide before taking any action.
Penang Visitor FAQ: Frequently asked questions of visitors planning their trip to Penang.
Shopping malls of Penang: Penang has plenty of malls. Visitors often find that prices in Penang are often lower than back home. Get to know the malls in Penang.
Ernest Zacharevic George Town Murals: The murals by a young Lithuanian artist, created for the 2012 George Town Festivals, has become the biggest tourist attraction in Penang. Get information and a full list of the murals that everybody loves to photograph!
My World Travel Guides: List of all the countries I have described.