HamiDouRoll.com
is a Penang-based online seller of food-related products. The company, which traces its roots back to 1992, started off by hawking Penang Chicken Lobak in the markets and pasar malam. Since then, it has expanded to include Chicken Balls, Curry Puffs, Spring Rolls and Chilli Sauce among its food products.
With the launch of the HamiDouRoll.com, the company has expanded its range of products which now include household items, snacks, beverages, cocktails, vacuum packs, air fryers, aromatheraphy products, home appliances and unique gifts.
Discounts for using Hamidouroll.com
Upon visiting HamiDouRoll.com, you should start by registering to open an account. You can do it using your email address or Facebook account.
The first time you shop at HamiDouRoll.com, you get an immediate RM5 discount if your purchase totals over RM10! Yes, it's like giving away money! In order to be entitled to the RM5 discount, you
must
type the discount code
FIRSTTIMER
in the box that says "Discount code".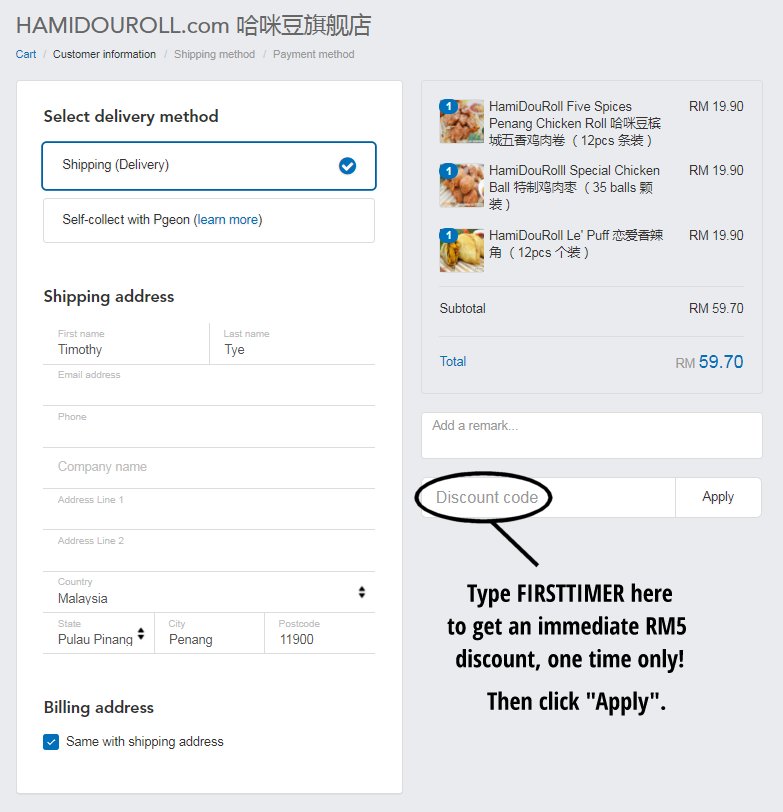 If your first purchase is RM150 or more, there is another discount code which you can use. Instead of FIRSTTIMER, type DISCOUNT20, and this entitles you to a RM20 discount for your purchase! In addition, type the words
FIRSTTIMERGIFT
in the "Add a remark ..." section to be entitled to a free gift.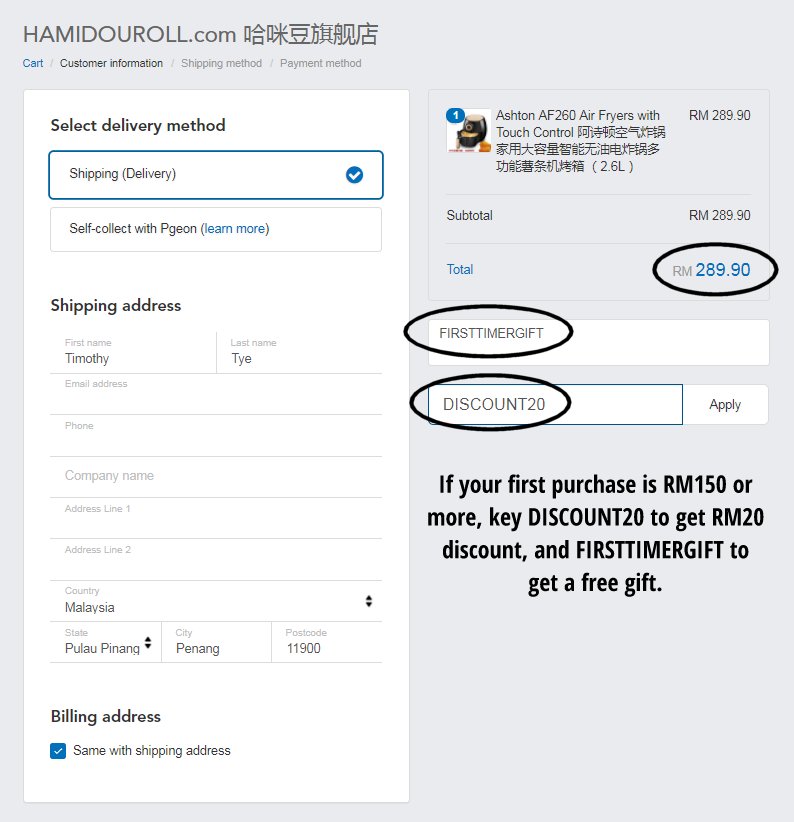 Subsequent discounts
The discount code FIRSTTIMER can only be used one time, while the discount code DISCOUNT20 can be used repeatedly (each time your purchase is RM150 or more). In addition, if your subsequent purchase is RM60 or more, use DISCOUNT5 to get a RM5 discount. DISCOUNT5 can also be used repeatedly.
Rebate for future purchases
Every time you shop at HamiDouRoll.com, you get a 1.5% rebate from your current purchase which you can apply to your next purchase as a discount.
Visit HamiDouRoll.com
And now, to pay a visit to the HamiDouRoll.com online store, click link below:
Hamidouroll.com