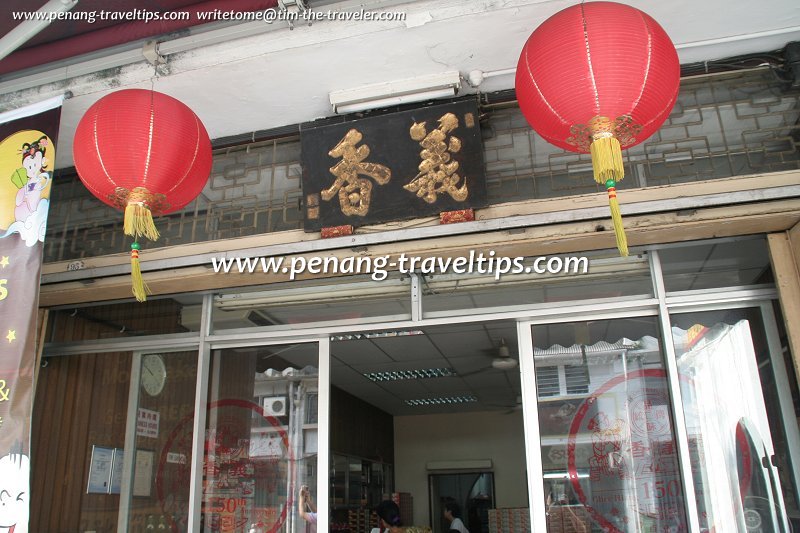 Ghee Hiang, Penang
(5 July, 2008)


Ghee Hiang
義香 is a famous manufacturer of
Tau33 Sa3 Pneah4
*

(green bean pastry) and sesame seed oil. They have been making traditional biscuits for the past 150 years using recipes that originated in Fujian Province, China. For generations, the sesame seed oil from Ghee Hiang is the choice of mothers in confinement, as it is believed that the "warmth" or "chi" of the oil helps mothers regain their energy.
* All names of pastries are shown the first time with tone numbers of the Penang Hokkien Taiji Romanisation.
Among the pastries produced by Ghee Hiang, in addition to the Tau Sa Pneah, include the Hniau3 Pneah4

, Bae1 Te3 Sor1

and Phong1 Pneah4

. The Tau Sa Pneah are pastries with greenbean filling and fluffy skin. There are two types of Tau Sa Pneah: the small ones with golden skin, topped with a sprinkling of sesame seeds and sold in boxes, and the large ones often wrapped four to a strip.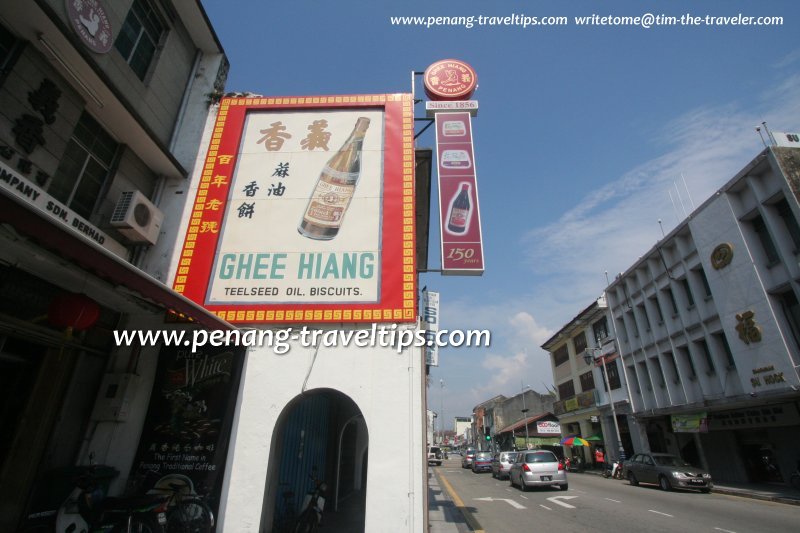 Ghee Hiang signboard
(5 July, 2008)

Hniau Pneah
is wheat pastries with brown sugar filling. Its size is about similar to the small Tau Sa Pneah.
Bae Te Sor
are pastries with gooey melted molasses called
bah leh ko
and flaky skin made by kneading the dough in many layers. The Bae Te Sor is about the size of a large Tau Sa Pneah but slightly flatter. Finally, there's the
Phong Pneah
. Largest of the lot, the Phong Pneah are off-white pastries with melted white sugar filling.
Despite the intrusion of modern cookies into the market, the traditional pastries by Ghee Hiang is still popular among the people of Penang, and make a wonderful souvenir for visitors.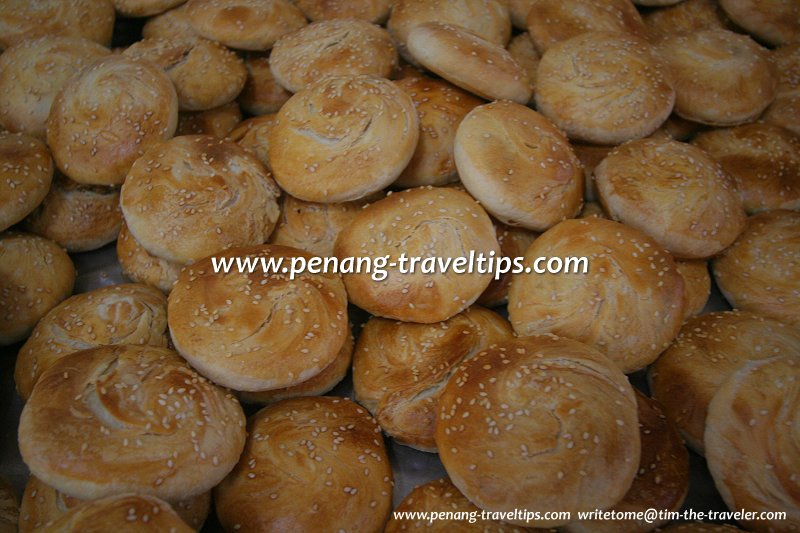 Ghee Hiang Beh Teh Saw
(5 July 2008)

Address
Ghee Hiang
95 Beach Street
10300 George Town, Penang
Phone: 04 262 0635
Ghee Hiang outlets in Penang
Getting to Ghee Hiang
Ghee Hiang has several offices in Penang, and the oldest branch is located along Beach Street (Beach Street) near the junction with Lebuh Chulia (Chulia Street). From the
Weld Quay Ferry & Bus Terminal
, cross the pedestrian bridge and turn left, walk along Pengkalan Weld until the junction with Lebuh Chulia. Turn right. Walk along Lebuh Chulia, pass the junction with Lebuh Victoria. The next junction is that with Lebuh Pantai. Turn right. Ghee Hiang is a short distance from the junction, to the right.
Location of Ghee Hiang on the map