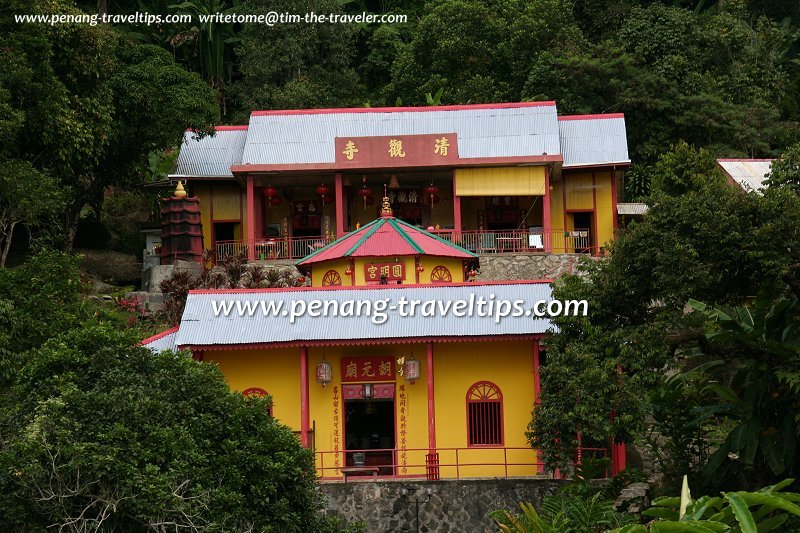 The three halls of Cheng Kon Sze
(11 October 2008)

Cheng Kon Sze Temple
, or popularly known as
Cheng Ji Chan
, is a sprawling Taoist temple complex anchored on the slopes of the central hills of Penang. In the
new Penang Hokkien writing system
, it is spelled Cheng33 Jee33 Can3

. Its official full name is
Thien Hen San Chau Yuen Tong Cheng Kon Sze
, meaning Cheng Kon Temple of Chau Yen Cave of Thien Hen Mountain. Thien Hen San could well mean Bukit Penara, the hill located between the temple and the
Ayer Itam Dam
.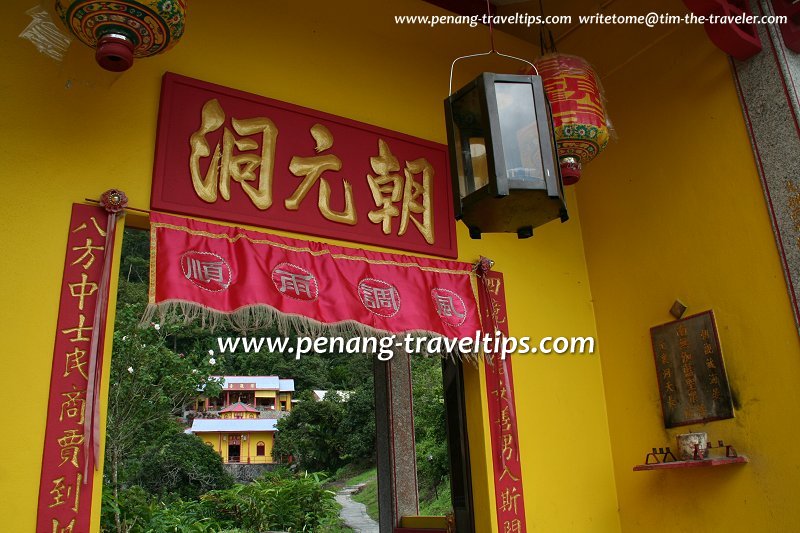 View of Cheng Kon Sze from Chau Yuen Tong Archway
(11 October 2008)

The name Cheng Ji Chan is often translated in English as Temple of A Thousand Two Hundred Steps. Actually, it means the Temple of A Thousand and
Two
Steps, but somehow somewhere, the meaning of "two" was mistaken for "two hundred". (The difference does matter: it's a tedious climb anyway!) An even more seismic shift in meaning comes among some punters who thought Cheng Ji Chan actually means Temple of Four Digit Numbers. (You can have some fun
learning to count in Penang Hokkien
or even the
learn Penang Hokkien
itself, right here in this website.)
The name Cheng Ji Chan refers to the over one thousand pieces of granite steps that were laid by devotees. Many of the original granite steps still remain, but some have been replaced by cement steps, purported taken by the Japanese during the Second World War.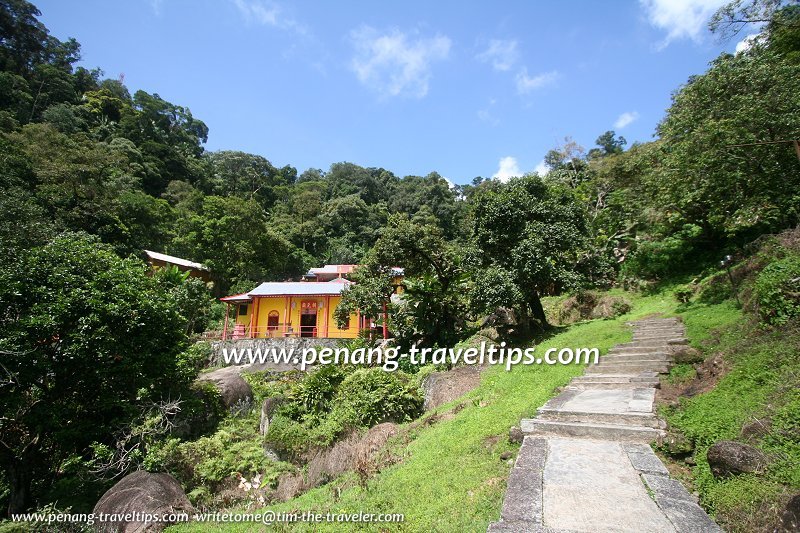 Path to Cheng Kon Sze
(11 October 2008)

To me, this is the temple off off off the beaten track. It occupies a natural basin a distance below the
Ayer Itam Dam
, and is usually so remote that people think twice before deciding to pay it a visit. Also written as Cheng Jee Chan or Cheng Kuan Soo, this temple derived its name from the over a thousand granite steps laid by early devotees to reach it.
Cheng Kon Sze Temple was built in 1880. Over the centuries, it has undergone repeated restoration and renovation. According to the entrance arch, it was rebuilt on 15 September 1985. The most recent round of makeover to the whole complex appears to have been carried out quite recently, probably in 2007, At the time of my visit in 2008, the temple looked like it has received a new coat of paint not too long ago.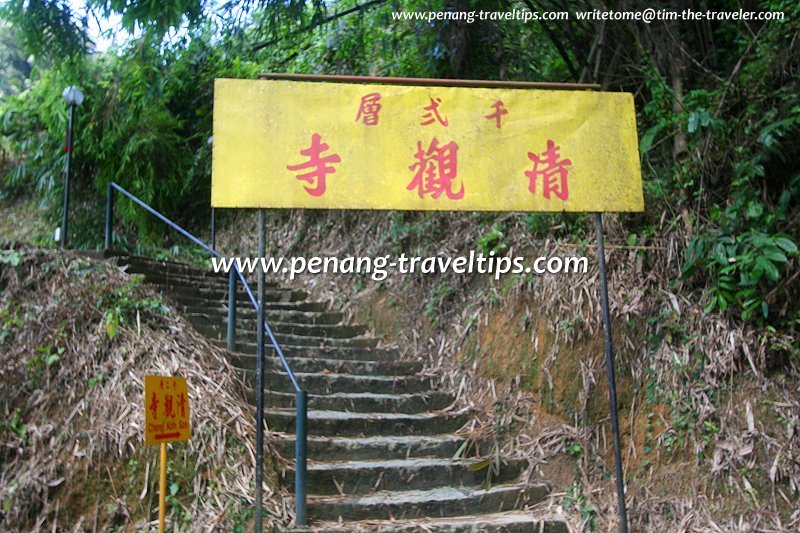 Pathway to Cheng Kon Sze
(11 October 2008)

Cheng Kon Sze comprises an entrance archway, three temple halls and an ancestral hall. To the right of the temple are a few private homes belonging to the temple caretaker. A short distance below the temple is a pond in the shape of a crescent moon. The temple grounds is well maintained, and landscaped with torch ginger and a profusion of flowering plants. Here and there are Australian custard apple trees (a variety of the local
nona
) and papaya trees.
The entrance arch into Cheng Kon Sze Temple carries the name Chau Yuen Tong. I am not sure why it is given the name "Tong", which means cave, just like Sam Poh Tong or Perak Tong. I suppose the temple really was built over a cave which I did not see. The Chau Yuen Tong archway is located about one hundred meters to the east of the temple halls, and positioned in such a way that it aligns with the three halls. All three halls face east, though not perfectly aligned to the east cardinal point, but a small degree north (
see accompanyng map
).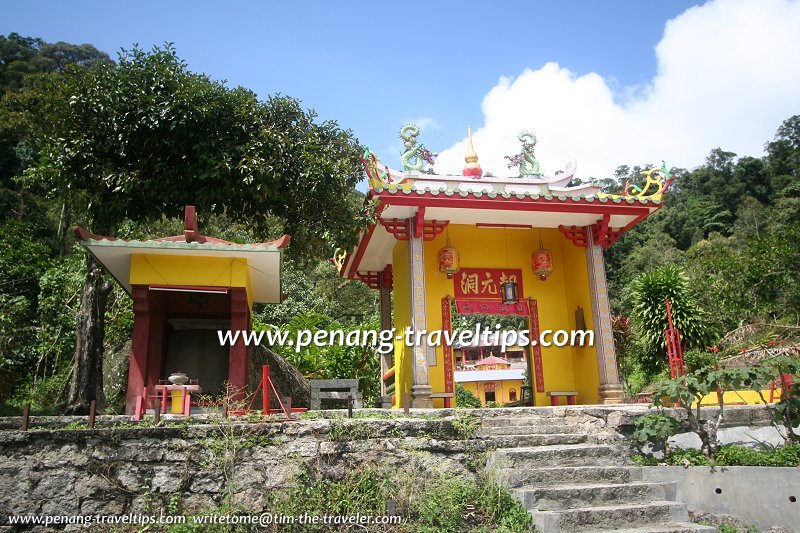 Approaching Cheng Kon Sze Temple
(11 October 2008)

A winding path leads from Chau Yuen Tong to the temple. From the doorway, you can view the three temple halls together, almost one above the other. They are painted bright yellow, as is the Chau Yuen Tong archway, an indication that they are dedicated to the Taoist female deity,
Doumu
(also written Tow Boo and Toe Boe) and her nine offsprings, the Nine Emperor Gods. These are the same deities as in the
Butterworth Tow Boo Kong Temple
and the
Penang Toe Boe Keong Kew Ong Tai Tay Temple
.
The lowest temple hall is called Chau Yuen Miau. It is a rectangular structure. The front entrance of Chau Yuen Miau has a portico with two pillars, and lanterns hanging from the ceiling. On both sides are windows topped with decorative arches. On the side of Chau Yuen Miau are paintings of legends, animals and landscapes. On a header plaque is the name of the temple.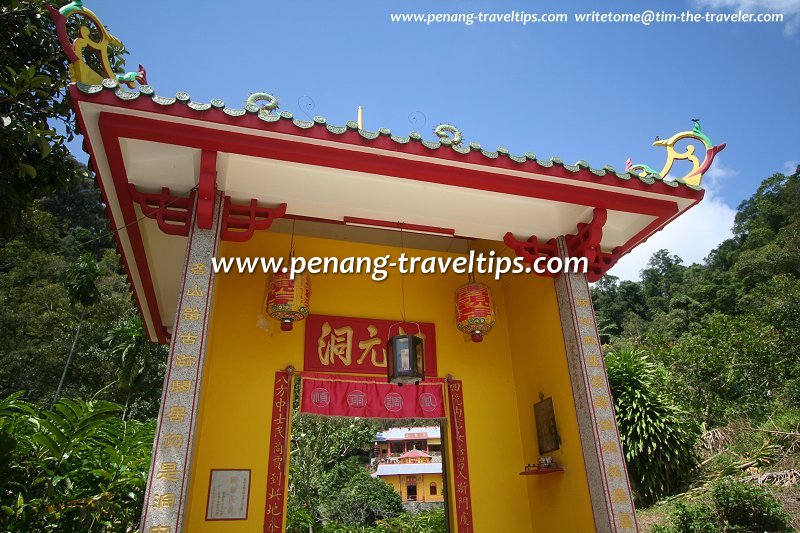 Chau Yuen Tong, entrance archway to Cheng Kon Sze
(11 October 2008)

A flight of steps take us to the middle hall, called Yuen Ming Kong. This is the hall of the deity Doumu. The hall is unique among the structures in the complex as it is octagonal, like a pagoda. The same arch motif that appear on the Chau Yuen Miau is repeated here over its doors and windows.
Another flight of steps take us to the main hall of the temple, Cheng Kon Sze. It has a much bigger porch than the two earlier halls. At the porch is a statue of a priest depicted riding a tiger. From Cheng Kon Sze, you get a panoramic view of
Paya Terubong
and Farlim. High rise apartments dot the landscape hemmed in by the hills.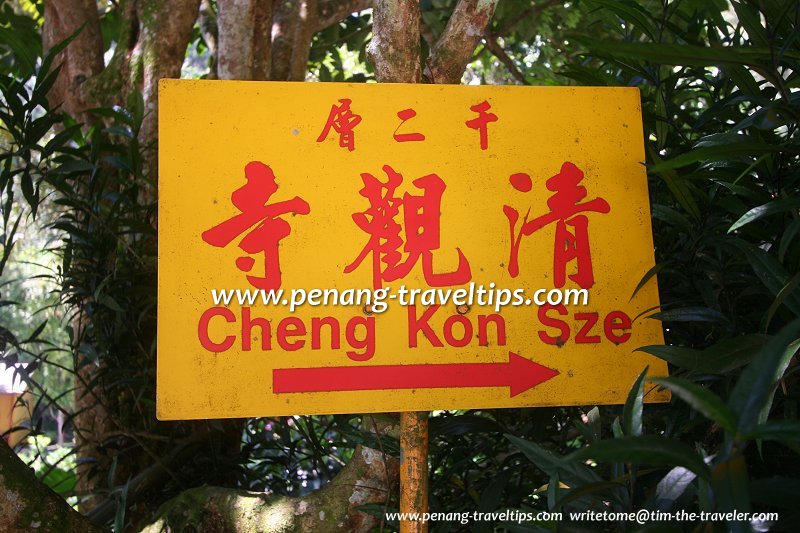 Roadsign pointing the way to Cheng Kon Sze.
(11 October 2008)

To the left of Cheng Kon Sze is an ancestral hall. Inside this hall are ancestral tablets. On the walls are photographs taken a few decades ago. Some show celebrations at Cheng Kon Sze in the 1940's.
Getting there
Cheng Kon Sze can be approached by climbing the steps from the United Hokkien Cemetery in Paya Terubong, or by car using the road from
Kek Lok Si Temple
. The distance is 1.4km (4580 ft).
Climbing the steps will take you about one hour, probably more if you stop often. You can reach the temple by car in approximately 15 minutes, going through the bumpy hill road. Take the road that leads to Ayer Itam Dam. Turn in at the archway to the Kek Lok Si Goddess of Mercy Statue.
Drive through Kek Lok Si, the Goddess of Mercy Statue (at time of writing, a pavilion is under construction to shelter it), past the
Kek Lok Si Columbarium
, and watch out for the sign pointing to Cheng Kon Sze. Follow the small, yellow sign through the hill road, and it will lead you to the temple. The one-way distance is 3.7 km (2.3 miles).
View
Cheng Kon Sze Temple, Penang
in a larger map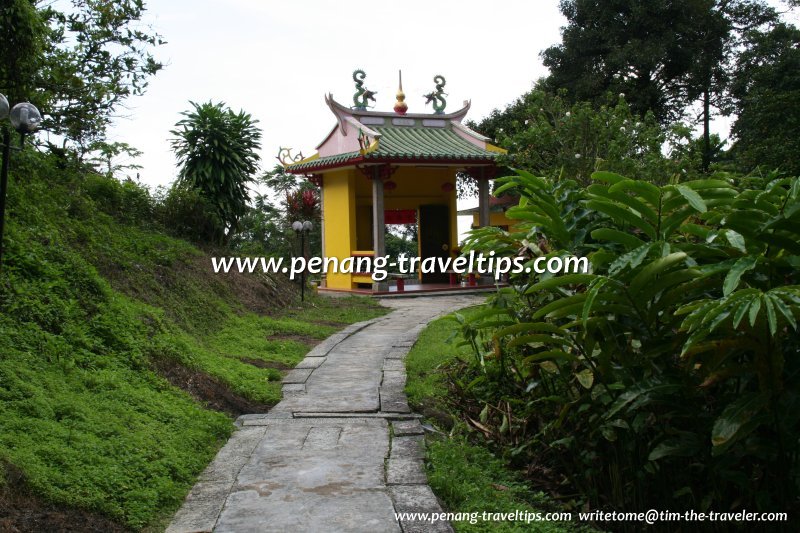 View of Chau Yuen Tong from path
(11 October 2008)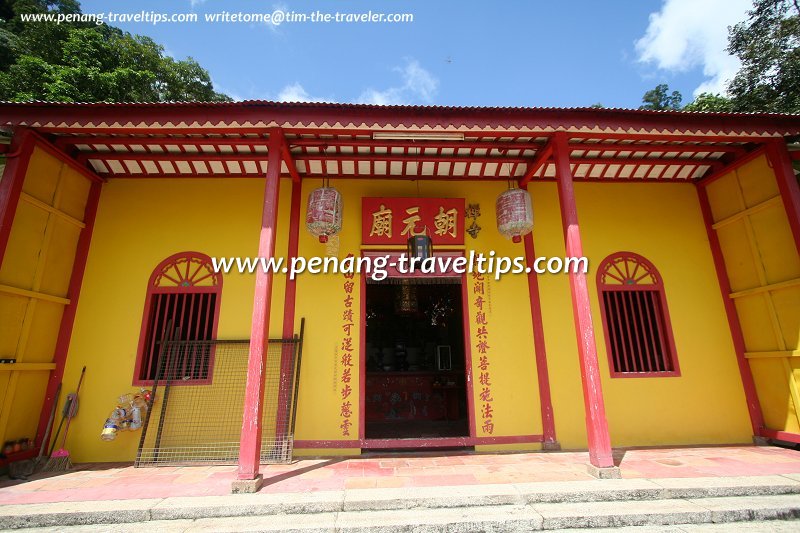 Chau Yuen Miau, Cheng Kon Sze
(11 October 2008)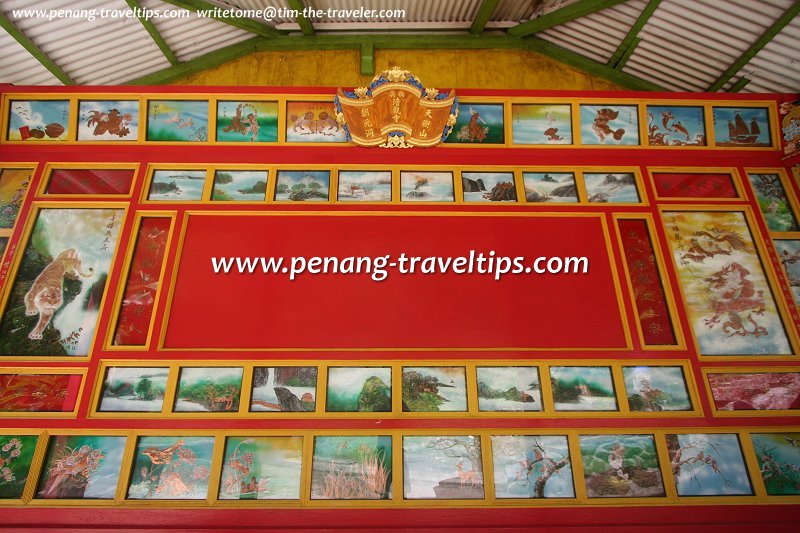 Murals at Chau Yuen Miau
(11 October 2008)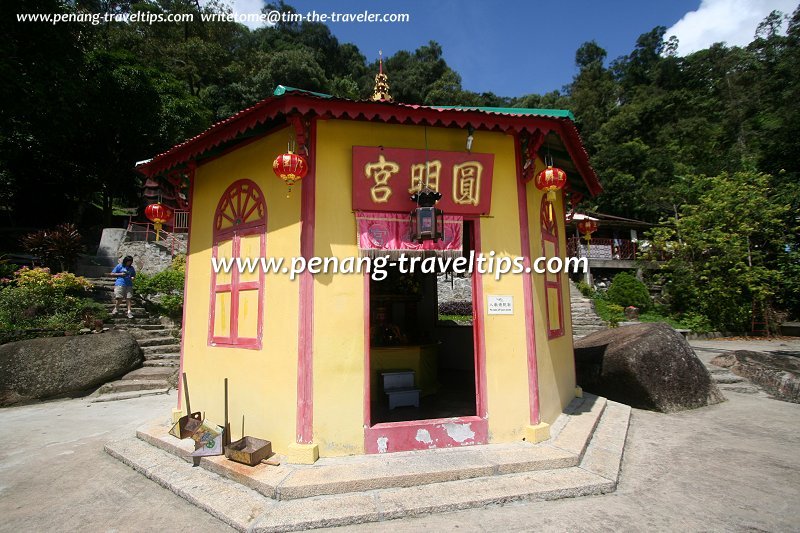 Yuen Ming Kong octagonal hall, Cheng Kon Sze
(11 October 2008)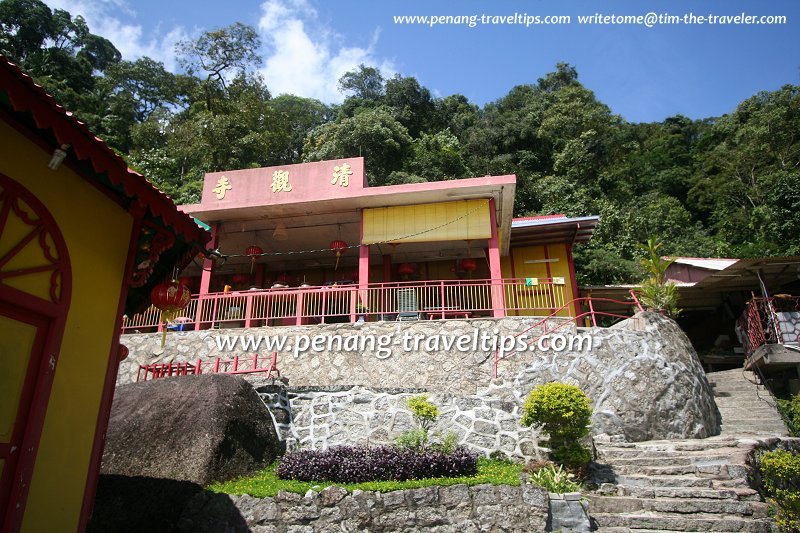 View of Cheng Kon Sze main hall from Yuen Ming Kong
(11 October 2008)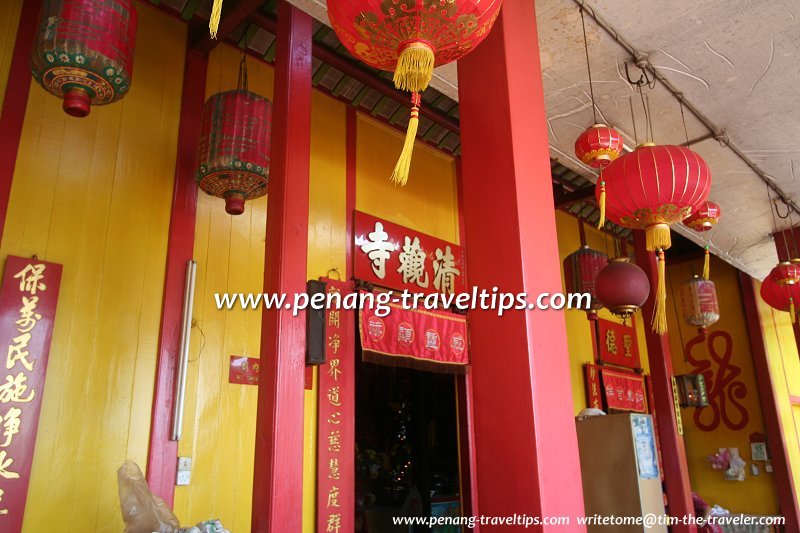 Porch of Cheng Kon Sze
(11 October 2008)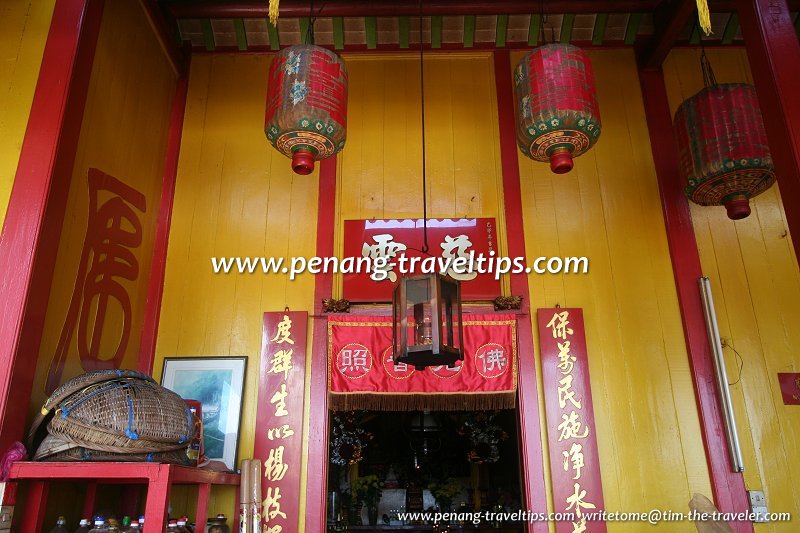 One of the shrines within Cheng Kon Sze
(11 October 2008)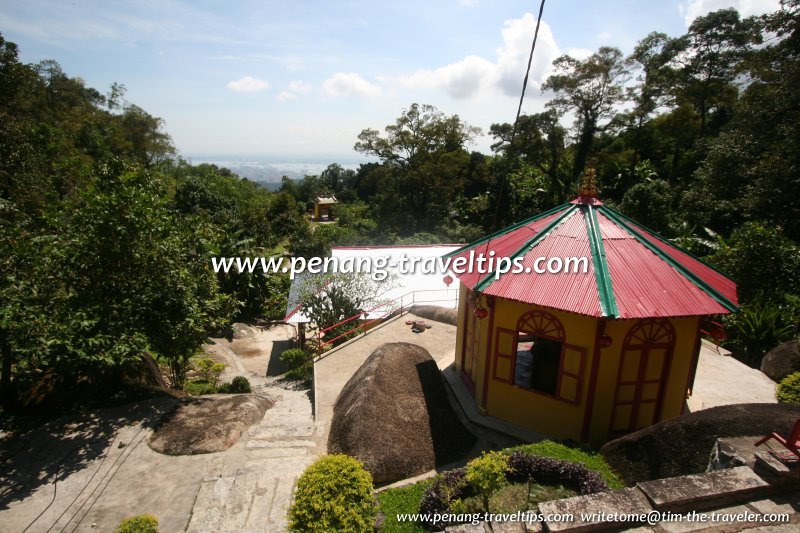 View from Cheng Kon Sze
(11 October 2008)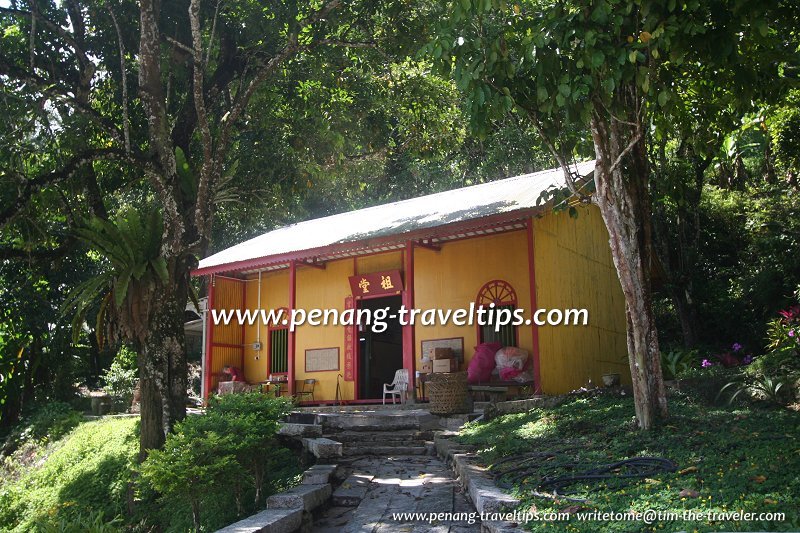 Cheng Kon Sze Ancestral Hall
(11 October 2008)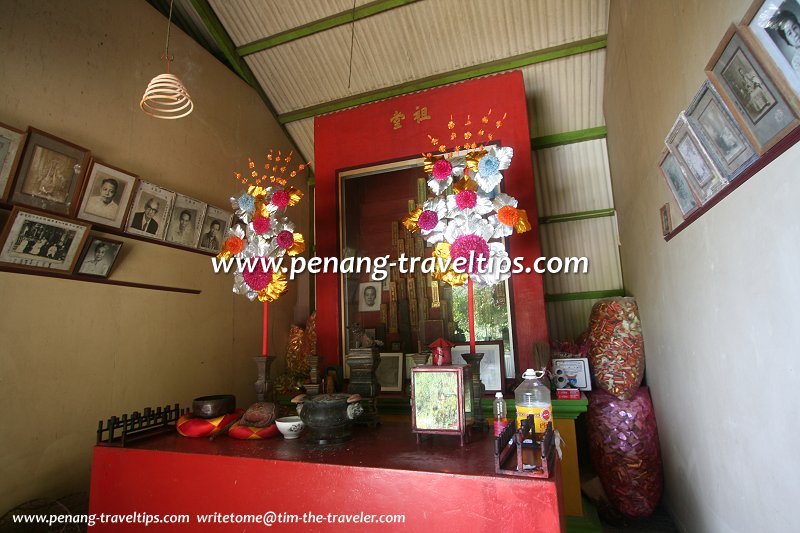 Inside Cheng Kon Sze Ancestral Hall
(11 October 2008)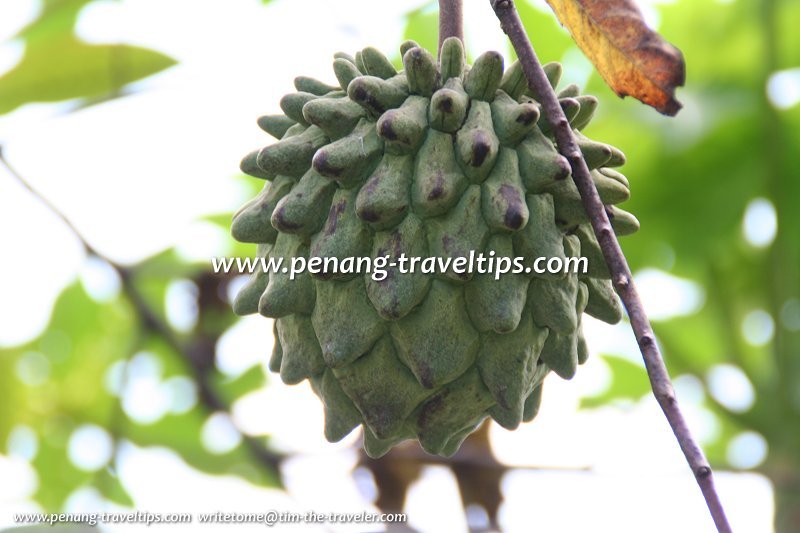 Australian custard apple at Cheng Kon Sze Temple
(11 October 2008)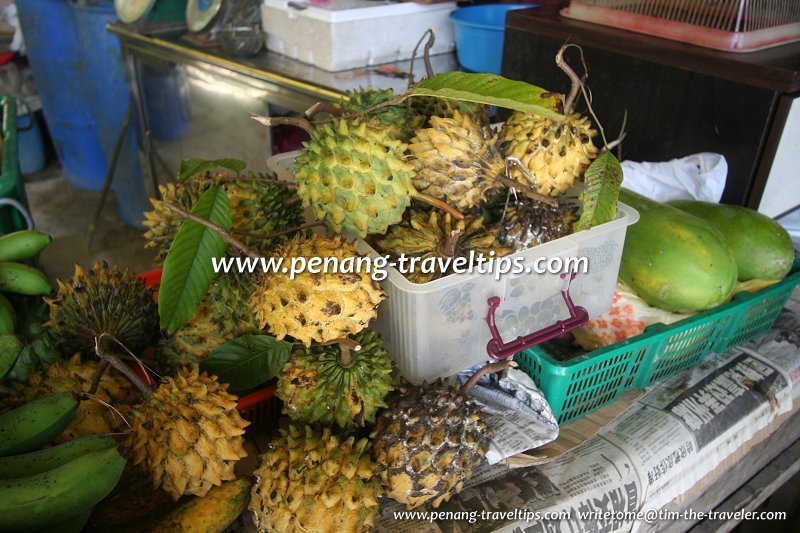 Australian custard apple at Cheng Kon Sze Temple
(11 October 2008)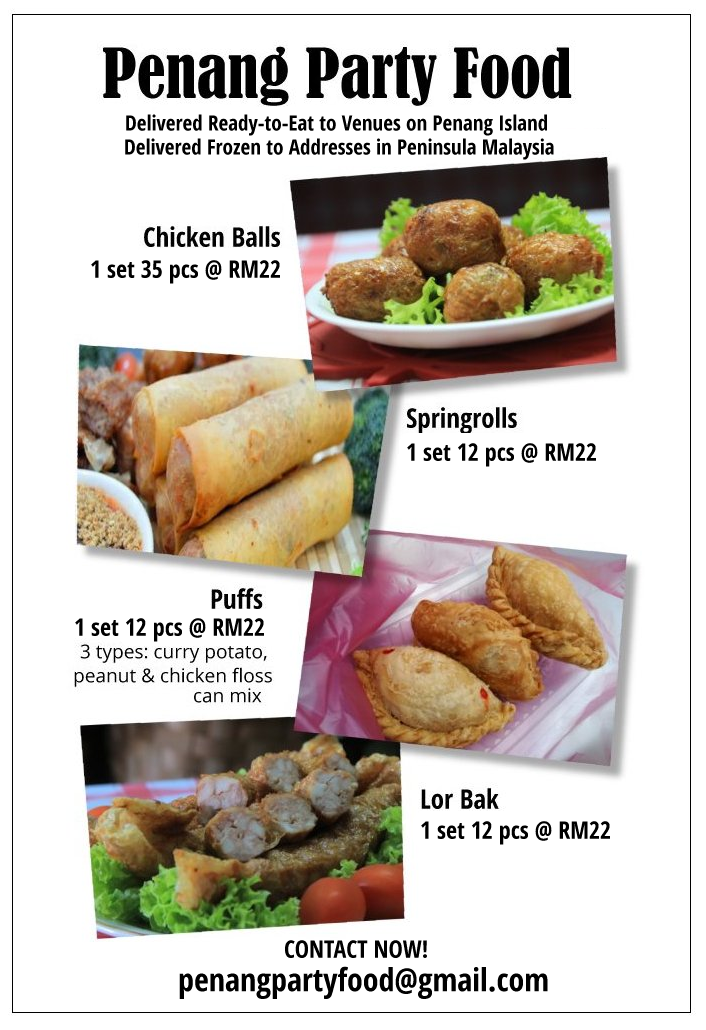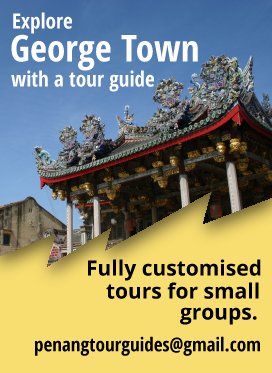 All about me
Thank you for visiting
my website
. I started it in 2003, and today it has over twenty thousand pages of information. My name is
Timothy Tye
. You can call me Tim. I have been writing my website full time since 1 November 2007, and I am enjoying every moment of it. I write my website to satisfy my own curiosity, but I am glad if the information is useful to you.
As a Christian, I hope that through this website, I am able to deliver
God's Good News
to those who need it all over the world. If you wish to contact me, please submit the
contact form
. Thanks again, don't forget to
follow me on Facebook
!
Welcome to my Singapore Travel Tips!
On top of writing Penang Travel Tips, I am expanding my writings to cover Singapore. These are the pages completed so far.
Copyright © 2003-2018
Timothy Tye
. All Rights Reserved.