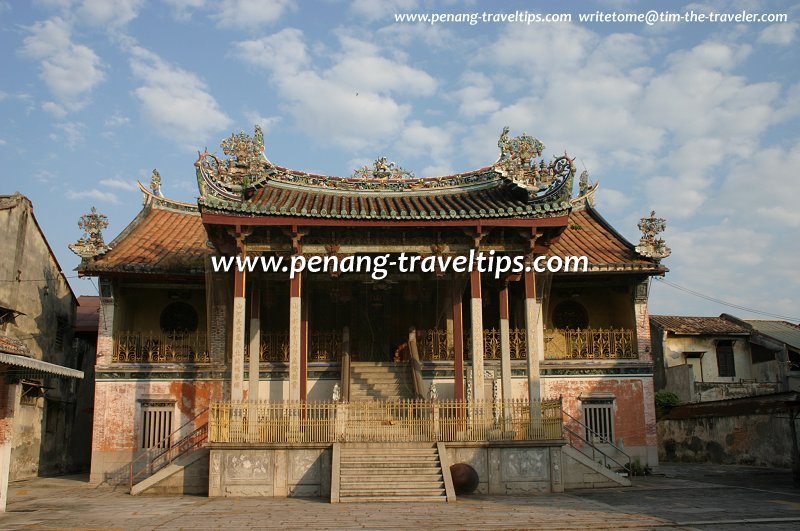 Boon San Tong Khoo Kongsi, Penang
(29 January, 2005)


Boon San Tong Khoo Kongsi
at
Victoria Street
is the smaller of the two Khoo Kongsi clan temples in Penang. Unlike its "bigger sister", the Boon San Tong Khoo Kongsi does not receive throngs of photo-snapping tourists.
Boon San Tong was built by a branch of the Leong San Tong Khoo Kongsi. Erected in 1878, it actually predates the now more famous
Leong San Tong
. Boon San Tong is the ancestral temple of the Khoo subclan known as the Hai Kee Kak, or "Sea Edge Pillar".
They are the descendents of Khoo Kong Oon, a fifth generation Leong San Tong Khoo. The most illustrious member of this subclan is Khoo Thean Teik, who was intrumental in making Boon San Tong the most powerful component of the association. He was also one of the founding members of the Boon San Tong clan temple in 1878.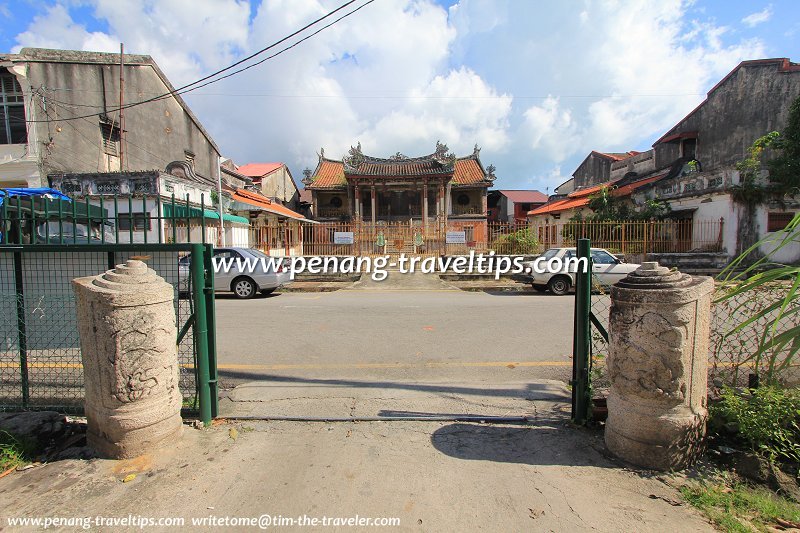 These may be the original gates of Boon San Tong, located across Victoria Street
(22 May 2011)

The original entrance to Boon San Tong was through a narrow passageway from Beach Street facing
Seh Tan Court
.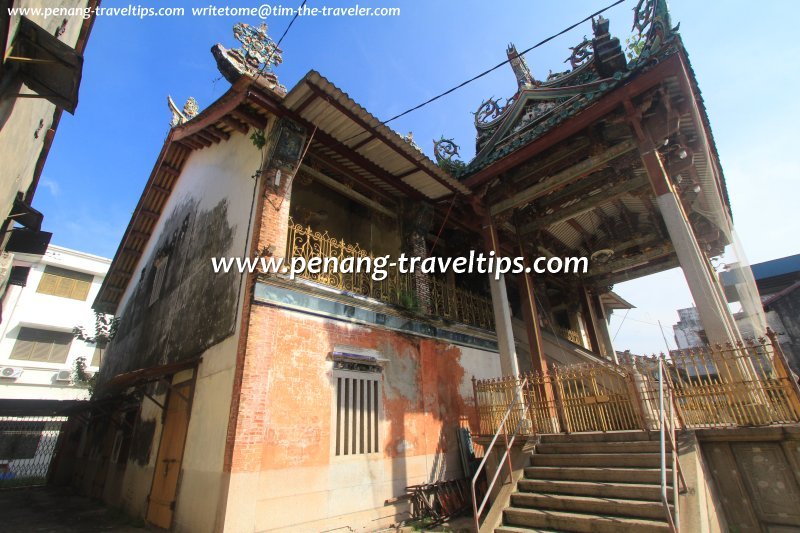 Left side view of Boon San Tong
(29 November, 2012)

The above photo shows the side passage that once led to Beach Street, across from Tan Kongsi. In the old days, Boon San Tong was approach from the rear. At the time it was built, it commanded a good view of the sea.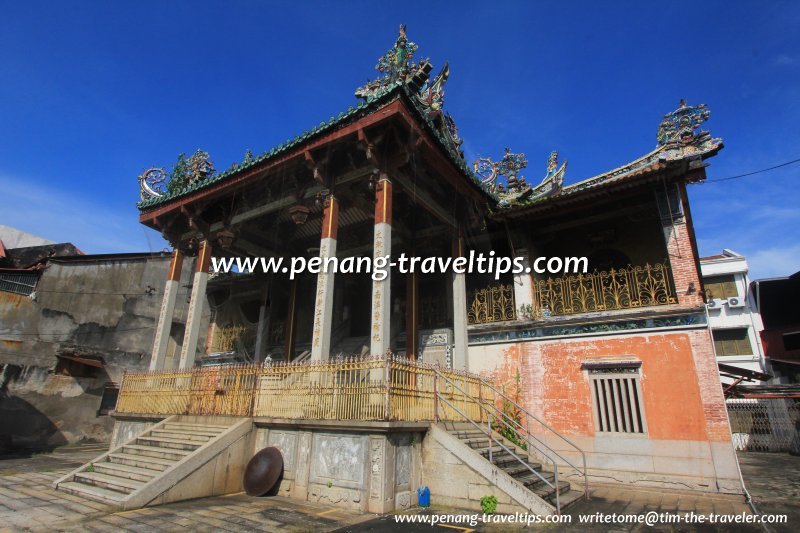 Right side view, Boon San Tong
(29 November, 2012)

And this shot, above, of the right side of Boon San Tong shows the other passageway that once led to Beach Street. Do you notice the iron wok by the grand staircase? It has been there on the same spot for the past seven years between the two different times I shot this building (in 2005 and 2012).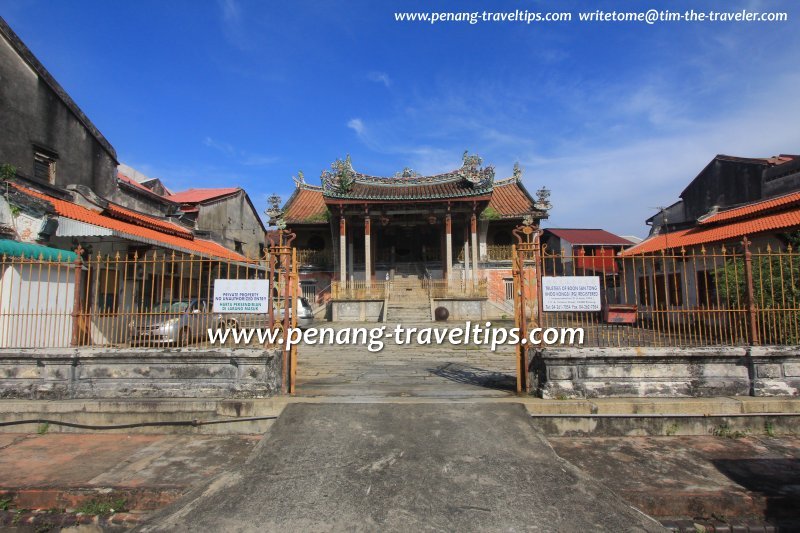 Front entrance, Boon San Tong
(29 November, 2012)

The above photo shows the front entrance of Boon San Tong. The spot where I stood to take the shot was originally the sea. If we turn back time to the late 19th century, we can picture a beach scene here - not a sandy beach with vacationers under beach parasols, but a merchantile shoreline with the wharf punctuated by piers and
ghauts
at irregular intervals. Standing on the elevated verandah of Boon San Tong, a person would enjoy an uninterrupted view of the sea, all the way to Prai.
In 1907, with the creation of Victoria Street on what was previously sea, the entrance to the temple was changed to the newly created street. Note the year 1907 on its gates as you enter. In all likelihood, the same craftsmen who worked on the Leong San Tong a year before was also the ones who completed the Boon San Tong.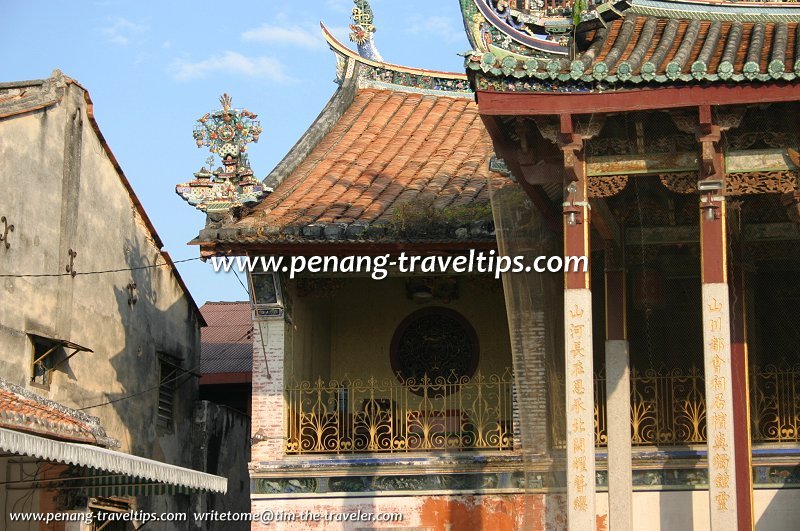 Close-up of the clan temple. Note the chien nien roof ornamentation. To prevent defacement by birds and bats, a netting is wrapped over the temple.
(29 January, 2005)

Across Victoria Street from Boon San Tong is a pair of stone gates which may have been the original entrance gate to the ancestral temple. Victoria Street may have been carved through the original compound of Boon San Tong, which until then extended to the shore.
Within Boon San Tong are the ancestral tablets of the Hai Kee Kak. These are in the main ancestral hall as well as the Boon San Tong. As one of the four main components of the Leong San Tong, the Boon San Tong owns a quarter share in the main
clan association
, and have representatives sitting in the Leong San Tong board.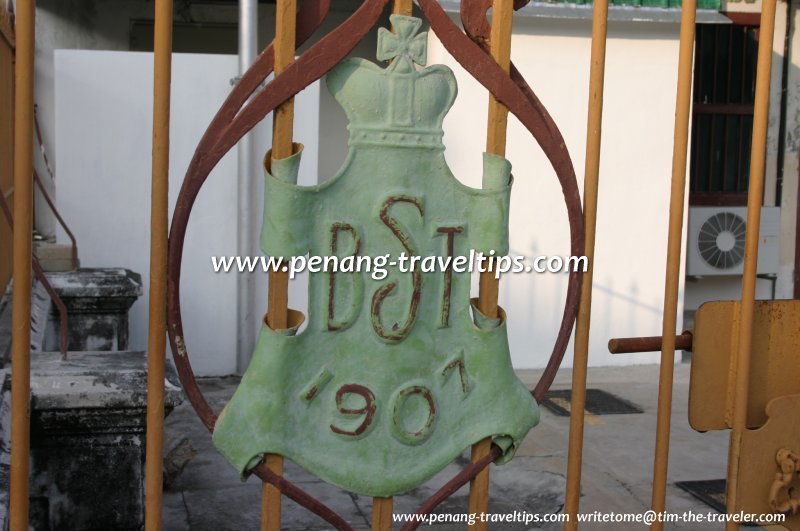 BST and year 1907 are inscribed on the gates of the Boon San Tong.
(29 January, 2005)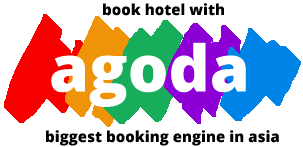 Getting there
You can walk to Boon San Tong from
Weld Quay Ferry & Bus Terminal
, a distance of 430 meters (1400 ft). Cross Pengkalan Weld using the pedestrian bridge, then turn left, walk along Pengkalan Weld until junction of Gat Lebuh Chulia, then turn right. Walk a short distance along Gat Lebuh Chulia until junction of Lebuh Victoria, then turn left. Walk along Lebuh Victoria until you reach Boon San Tong on your right, about 250 meters from the junction.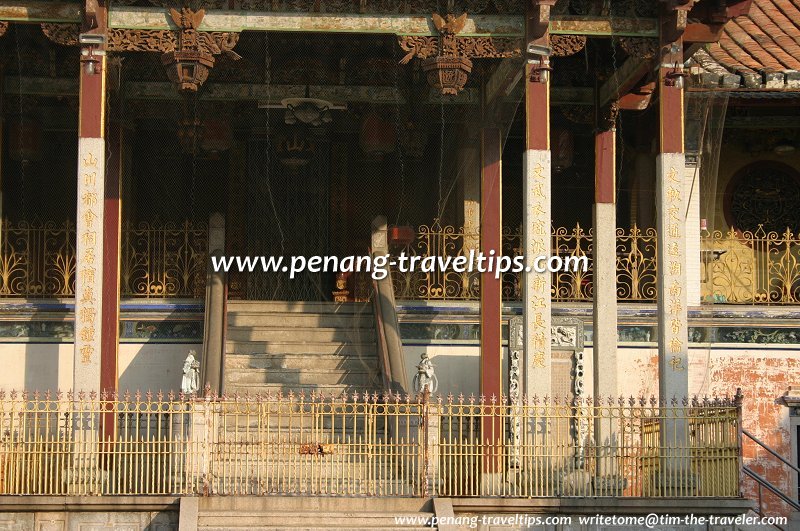 The grand porch of Boon San Tong supported by granite pillars
(29 January, 2005)

Nearby Sights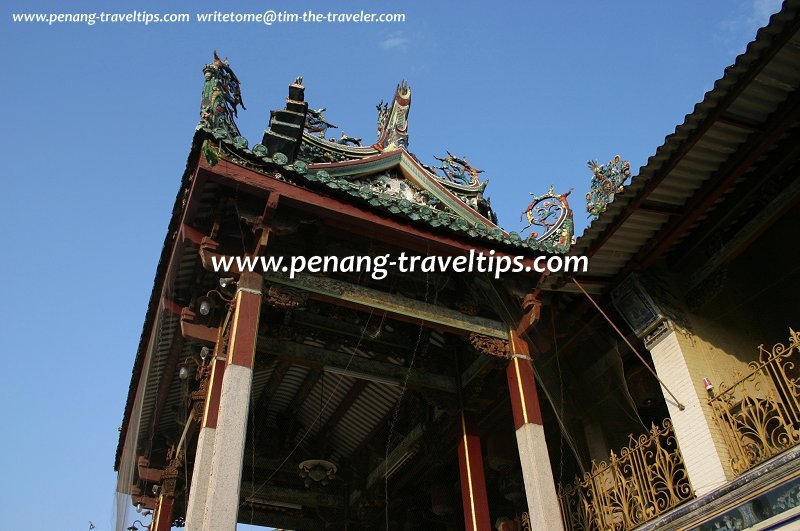 View of the roof of Boon San Tong porch
(29 January, 2005)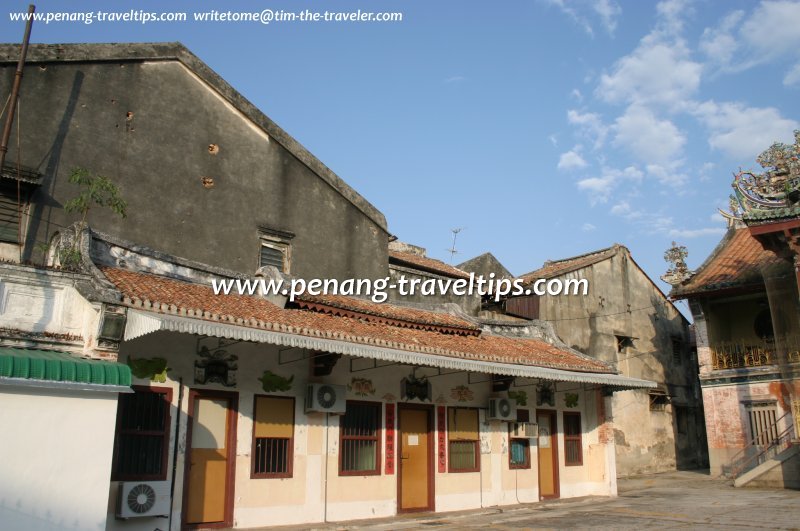 Side office, Boon San Tong
(29 January, 2005)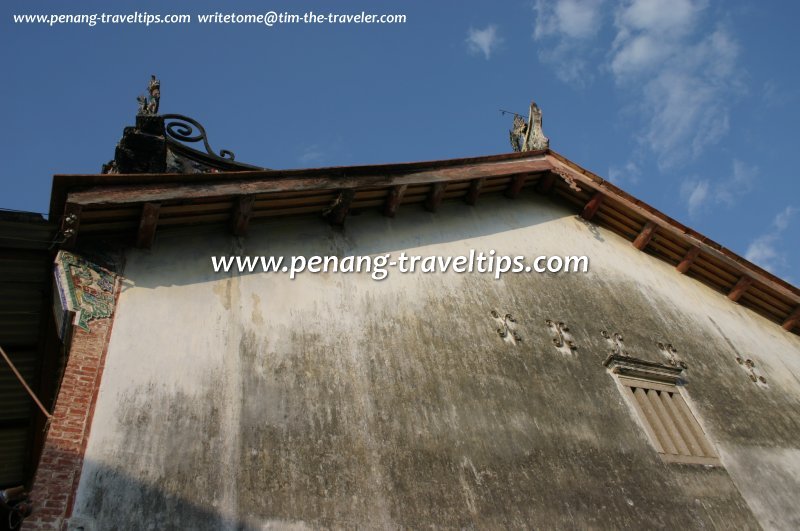 Roof design of the Boon San Tong is relatively simple. Note the X-shaped iron bars reenforcing the structure.
(29 January, 2005)

Location of Boon San Tong Khoo Kongsi on the map
Latest Pages & Updates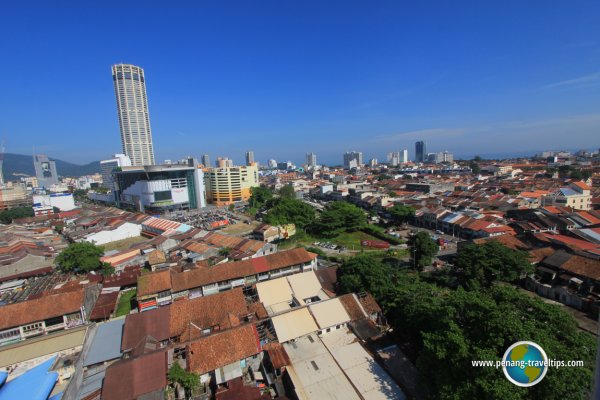 Useful Tips for Visiting Penang
You are visiting Penang soon and you are excited to make it a memorable trip. But you have many questions - how to take the bus, where to get a taxi, which hotel to choose. I have received these questions over and over. To help you enjoy a wonderful holiday in Penang, I have put together a list of articles I have written on this subject. Please read through them. I am sure there is something useful to answer the questions you may have.
Enter
Even more sights to discover on Penang Travel Tips!
There's thousands and thousands of sights waiting for you to explore and discover. Here are just some of them!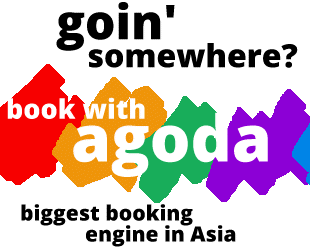 Buy Your Long-Distance Bus Tickets Here!
If you are planning to travel Malaysia and Singapore by bus, you can now purchase your long-distance bus tickets directly from
Bus Online Ticket
, where you get to check the schedule as well as price of tickets from various bus companies.
About me
My name is
Timothy Tye
. I write this website to provide people information on Penang. Together with
Exploring Malaysia
and
Big World Out There
, I am describing everything around me. If you run a business, hotel or restaurant in Malaysia, feel free to let me know, and I will list it on my website. To do that, just complete the
Add My Business
form. It's free!
As a Christian, I write this website so that
God's Good News
can reach every corner of the world and connect with those needing it. Why is this message important for all mankind? Because we would never know
if tomorrow never comes
.
To know more about me, visit my personal website,
www.timothytye.com
. To ask me a question or if you found an error, please let me know. You can reach me
here
. Thank you for visiting, and have a great day!
Copyright © 2003-2015
Timothy Tye
. All Rights Reserved.