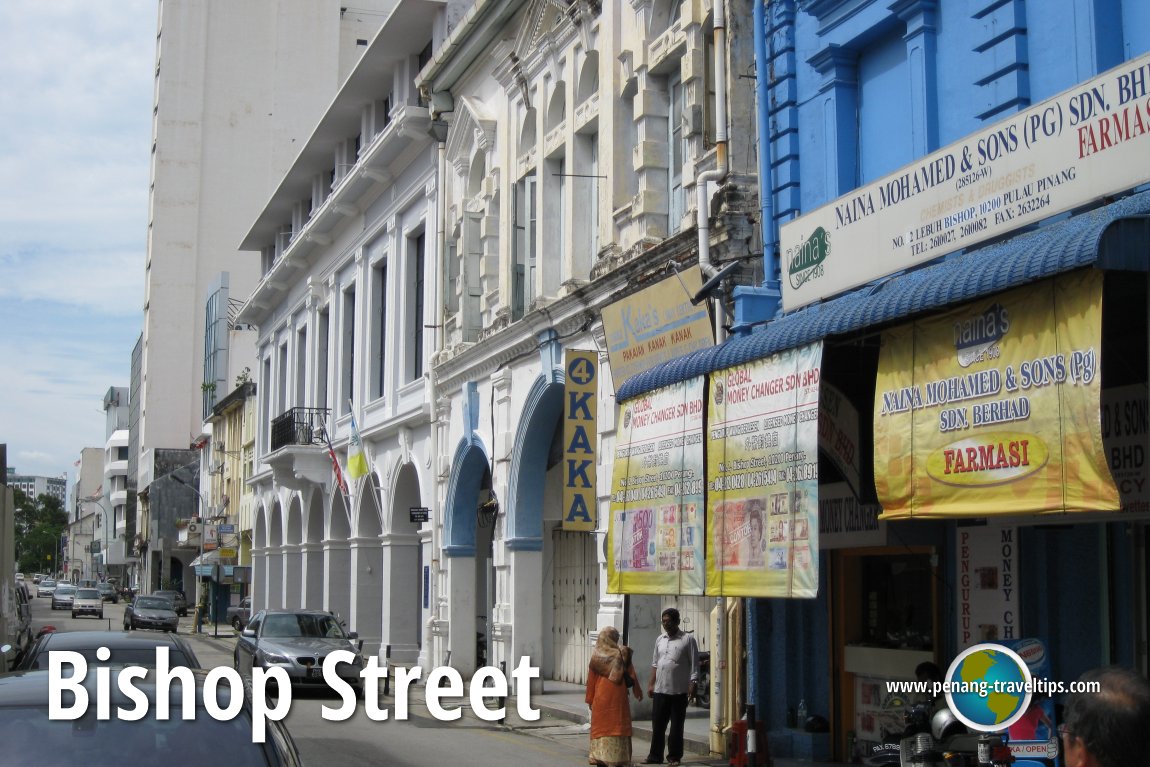 View of Bishop Street
(12 November 2008)

Bishop Street

, or
Lebuh Bishop
, is a street in the inner city of George Town and within the core zone of the Unesco World Heritage Site. It derives its name from the presbytery of the Catholic bishop which was located there. Bishop Garnault had arrived on Penang Island at the invitation of
Captain Francis Light
, who sent a ship, the
Speedwell
to fetch him and a group of Eurasians. The Catholics had settled in Kuala Kedah after escaping Siamese religious persecution in Ligor and Phuket.
Location of Sights along Bishop Street
Sights along Bishop Street
Eateries along Bishop Street
Banks along Bishop Street
Buildings on Bishop Street
Businesses along Bishop Street
The Catholics arrived on the eve of the Catholic feast of the Assumption. So when they built their church, it was given the name Church of the Assumption. It was originally sited on a piece of land given to them by Francis Light, and was located on what is today known as Church Street. The makeshift church moved out of Church Street as early as 1802, and settled at the junction of Farquhar Street and Love Lane, where eventually the present
Church of the Assumption
was built (much later on).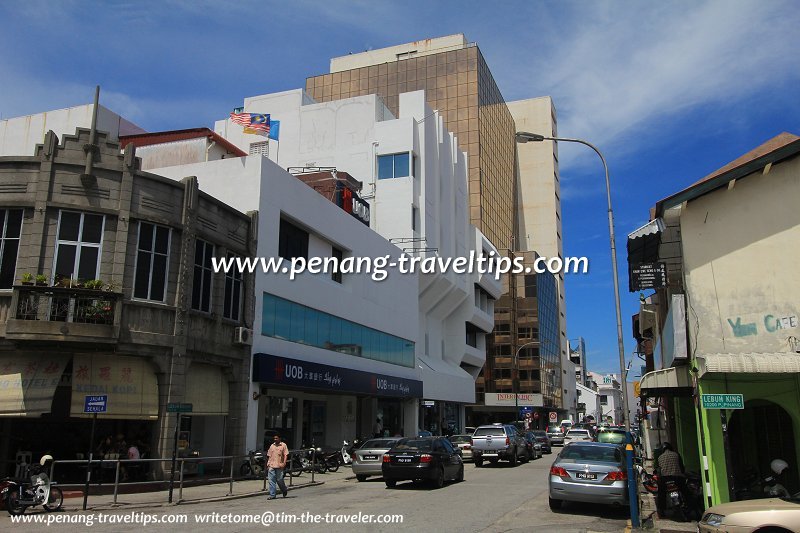 Bishop Street, George Town, at the King Street intersection
(25 July, 2012)

On a different note, the Armenian Church of St Gregory was set up in 1822 along Bishop Street by an Armenian community that arrived in Penang by way of India. It occupied the entire block between
King Street
and
Penang Street
, with its front porch facing King Street and a back entrance facing Penang Street. The church is said to be the first Armenian Church in the region, predating the Armenian Church of St Gregory in Singapore by over a decade.
The character of Bishop Street can be divided into two groups. Towards Beach Street, it leans towards the European merchantile trade. There was an obvious spillover of European commercial activities from Beach Street. By the early 20th century, Bishop Street had one of the premiere shopping arcades of George Town, with buildings such as
Whiteways & Laidlaws
, Pritchards and the Merchantile Bank of India (which now houses De Silva's jewellery shop). Sandwiched, almost like an odd one out, within the European businesses is the Cantonese district association of
San Wooi Wooi Koon
, its clan temple located a good distance away from the hustle and hustle of the street.
On the other end of Bishop Street, towards Pitt Street, it leaned towards a more working-class neighbourhood. The local Hokkiens gave sections of Bishop Street names such as Chart Bok Kay (wood painting street) and Char-Kang Kay (carpentering street).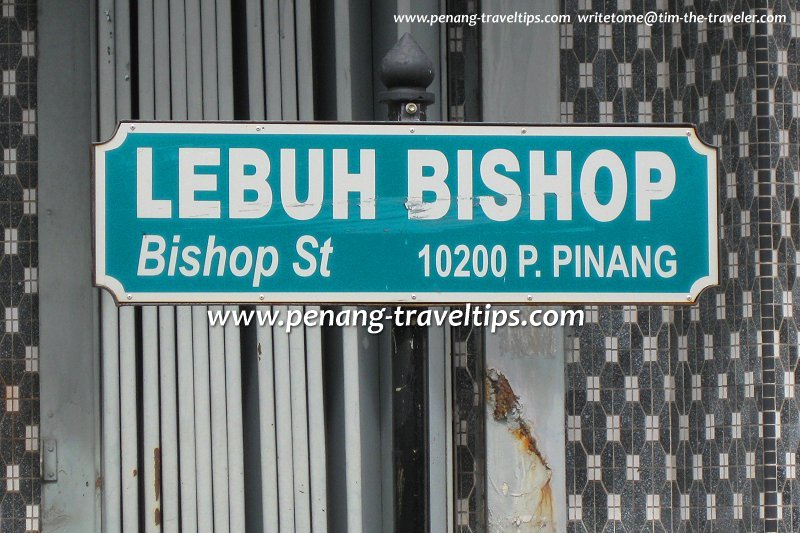 Lebuh Bishop road sign
(12 November 2008)

In Other Words ...
Bishop Street is known in
Hokkien
as
Chart1 Bok3 Kay1
or "Wood-painting Street" as well as
Char-Kang Kay
or "Carpentering Street".
Updates
21 September, 2013:
A stretch of Bishop Street between Beach Street and Penang Street is pedestrianized on Sundays, as part of the
Occupy Beach Street Project
.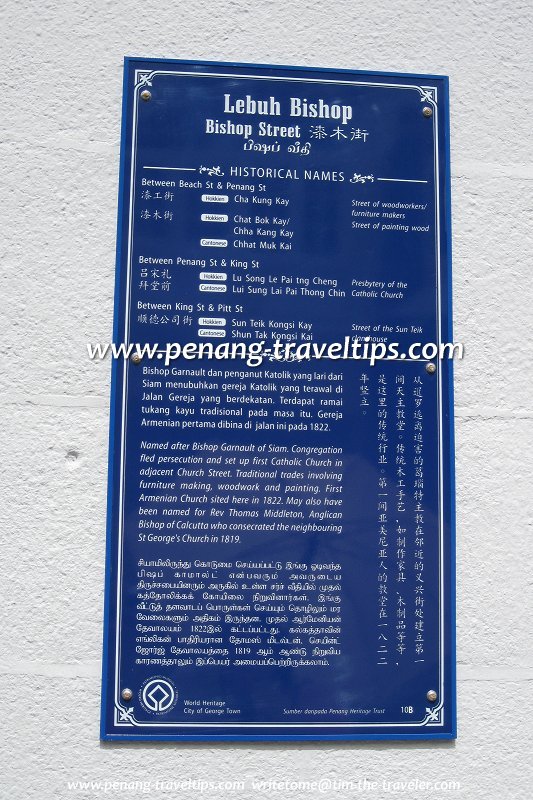 Bishop Street history plaque
(12 November 2008)

Getting there
From
Weld Quay Ferry & Bus Terminal
, cross Pengkalan Weld and then turn right, walk along Pengkalan Weld until you reach the junction of Gat Lebuh Gereja. Turn left into Gat Lebuh Gereja, walk until Lebuh Pantai then turn right into Lebuh Pantai. Bishop Street (Lebuh Bishop) is the next junction to the left.
You can also reach Bishop Street by taking the
Rapid Penang Free Shuttle Bus
to Station No. 4 (Imigresen) along Beach Street and walk a short distance to Bishop Street.

contact me
You can look for and book your hotel room direct from this website. Simply
click here
or use the search box below. You can filter the results based on your requirement, everything from five star hotels to homestays and more.
Look for a specific type of accommodation in Penang
Map of Roads in Penang
All about me