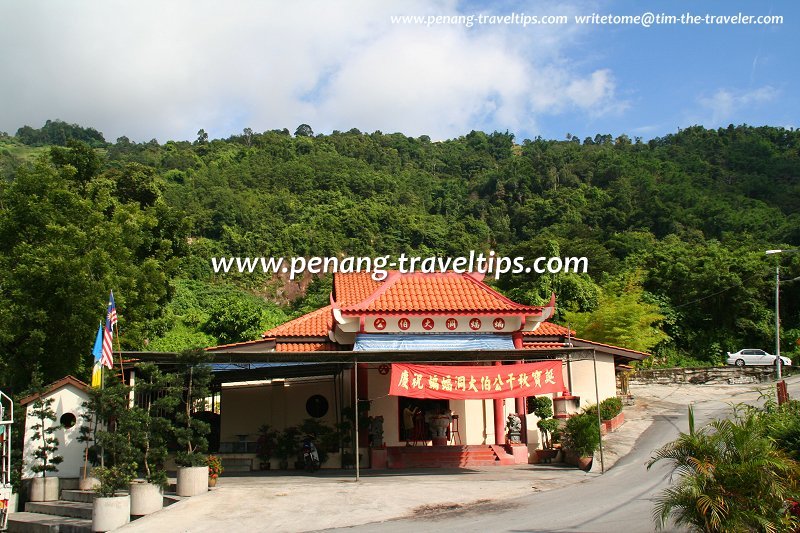 Bat Cave Temple
(3 September 2008)

The
Bat Cave Temple
(GPS: 5.41123, 100.27829), (蝙蝠洞大伯公; Penang Hokkien: Bit3 Poh3 Tong33 Tua33 Pek1 Kong1

) is a unique
Tua Pek Kong temple
at the foot of Penang Hill, a short distance from the
Jade Emperor's Pavilion
and below the old Penang Hill quarry.
I explored the Bat Cave Temple for the first time in the company of an expatriate Mat Salleh who brought me there. Although I have heard of the temple before, this was the first time I visited it (yeah, there are many places in Penang I haven't visited yet, okay?) It is one of the many temples dedicated to the worship of Tua Pek Kong, the local god of prosperity. The average worshipper might not be able to tell you who Tua Pek Kong is, other than he worships the deity for well-being and prosperity. To trace the origin of Tua Pek Kong, refer to the
Tanjong Tokong Tua Pek Kong Temple
, which is the mother temple of all Tua Pek Kong temples in the country.
The Bat Cave Temple is on the map of Jalan Pokok Ceri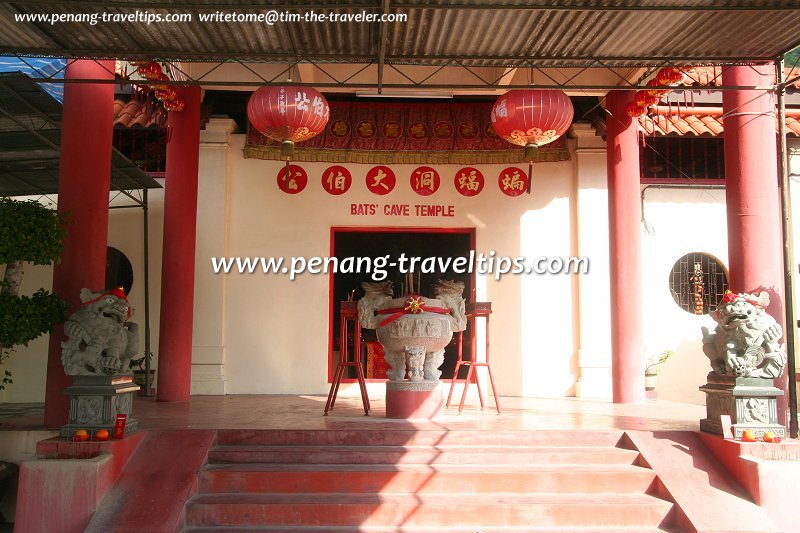 Front entrance of the Bat Cave Temple
(3 September 2008)

It is not uncommon to see that the worship of a deity for material gains borders on gambling. In the case of the Bat Cave Temple, while the average local Chinese might not know its whereabouts, a good many who do know where it is and turned up to offer prayers are those who came seeking wins, whether on the race track or elsewhere. In fact, I was told that the expansion of the temple was a result of thanksgiving funds from those who won big. I am not sure how true this is, or perhaps they are from devotees who were blessed in more upright ways.
The temple is very old. A guidebook printed in the 1977 mentions that the temple was built a good sixty years ago, meaning it would have been built in 1917, if not earlier. The guidebook further stated that a hermit once used the bat cave for meditation, and that Buddhist monks guard the bats against human interference. I am not sure how true this would be, considering the temple is not a Buddhist temple, but a Tua Pek Kong temple, which is more closely related to local beliefs.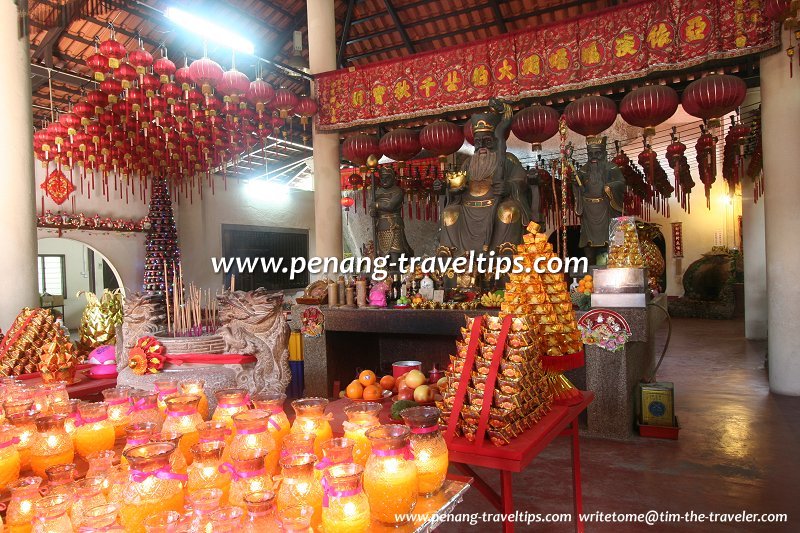 The altar to Tua Pek Kong
(3 September 2008)

A different version of the legend tells of a feng shui master who reared a couple of white cranes. He chose to live in the cave with his two cranes. The feng shui master was the one who started the worship of Tua Pek Kong in the cave. Eventually, he passed away and subsequently so did his cranes. After he had died, bats began to take over the cave.

Getting there
Take
Rapid Penang
Bus 204 which goes to the Penang Hill Railway station. Check the
Rapid Penang Bus Routes
for details. From the bus stop, walk a short distance down the road till you reach a lane to your left with a big arch. The arch is for the Jade Emperor's Pavilion. The lane is called
Jalan Pokok Ceri
. Take that lane. A short distance up that lane, there is a right branch. It has a sign pointing the way to the Bat Cave Temple. Follow that branch and it takes you to the temple, which is about 50 meters from the sign.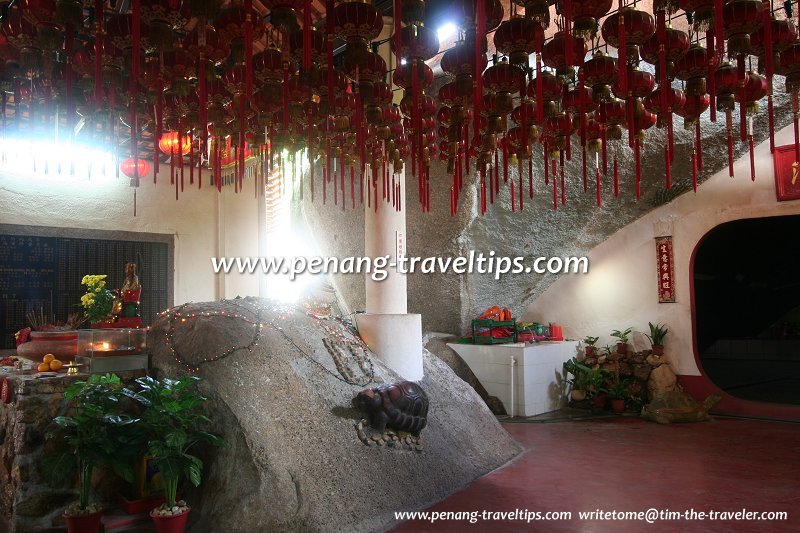 Statue of the Auspicious Tortoise - rubbing it will rub some luck on you, so believed some
(3 September 2008)

What to see and do
The bats are the sole attraction of this temple. They hang from the ceiling of the cave like dry leaves. At first, you might not notice them for the darkness, but as your eyes get used to the dark, you will start to see them. Some times, the temple is kind enough to turn some lights on, but not too much as to scare the bats. The wall of the cave is black, so the temple people painted a line on the wall, to help prevent people from knocking their heads. It is almost impossible to take photos of the bats, as it is very dark in there.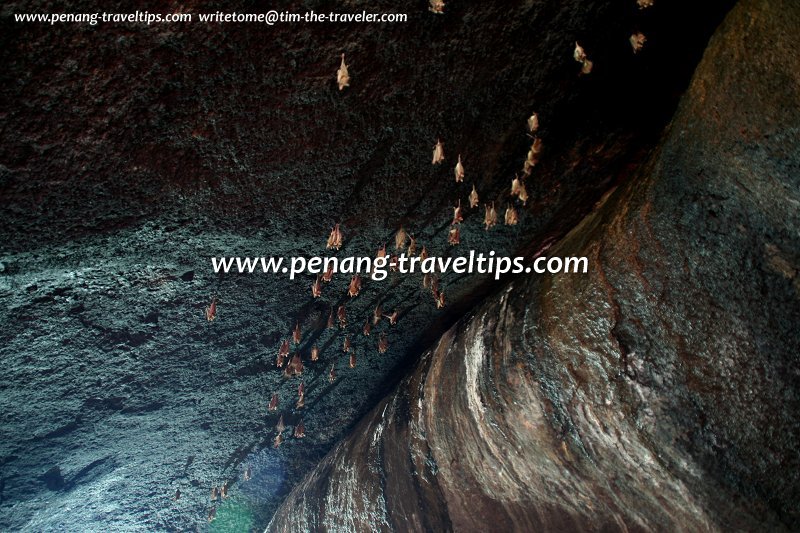 Bats inside the cave temple
(3 September 2008)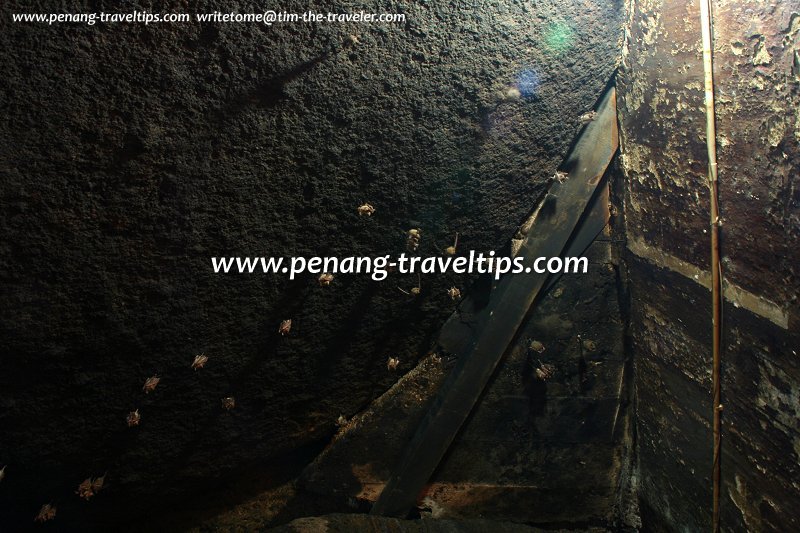 Another shot of the bat on the wall
(3 September 2008)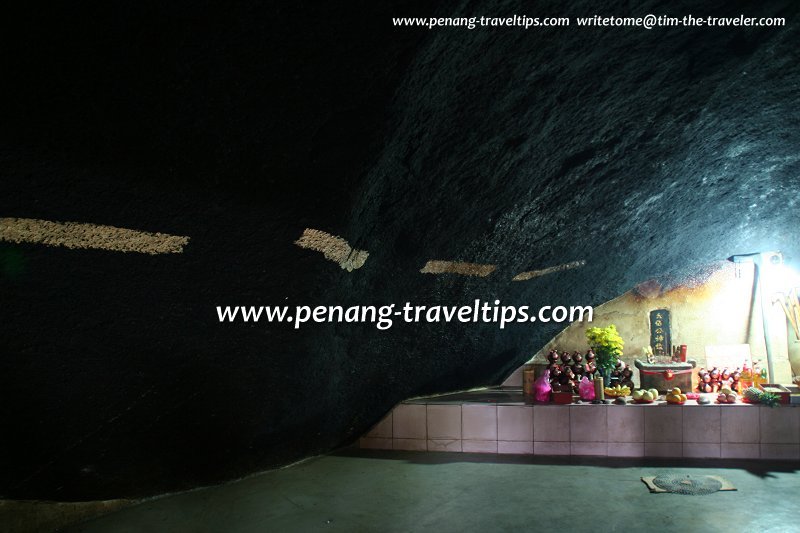 This is not an upside-down road, just a white line drawn to prevent people bumping their heads!
(3 September 2008)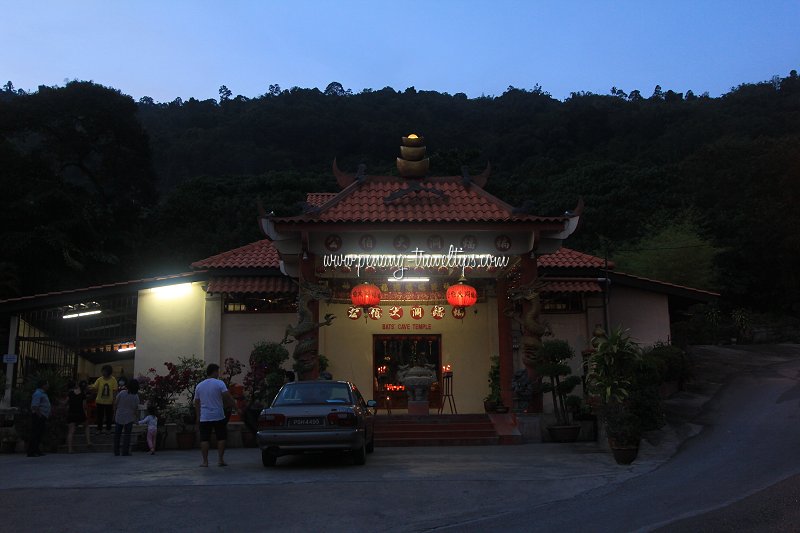 Bat Cave Temple at dusk
(26 January, 2013)

My Latest Pages & Updates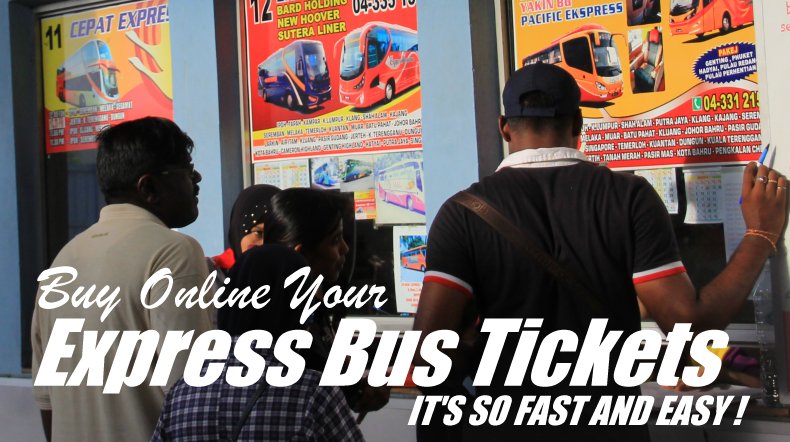 Penang Travel Tips is supported by Agoda
I am able to provide you free information on a continuously growing number of places due to the great support I receive from my web partner, Agoda. I am happy to develop a partnership with Agoda as it is the most reliable and stable hotel booking engine in this region. If you wish to support this website, the next time you book a hotel room on Agoda, please do it via a link on Penang Travel Tips. Every booking received translates into commission that funds this website and make the information available free to you.
You can search for a hotel room on Agoda right here.
Compare room rates with HotelsCombined
To check which booking engine offers the best rate, use
HotelsCombined
.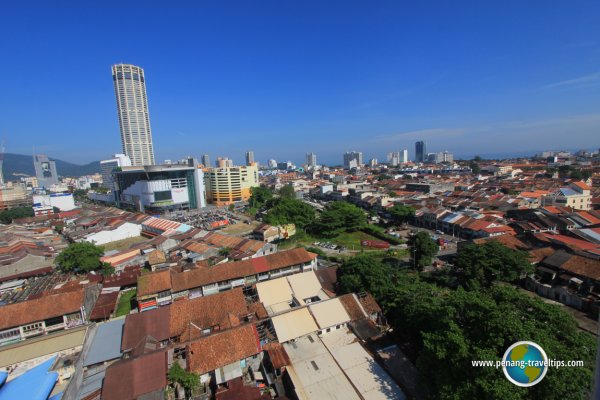 You are visiting Penang soon and you are excited to make it a memorable trip. But you have many questions - how to take the bus, where to get a taxi, which hotel to choose. I have received these questions over and over. To help you enjoy a wonderful holiday in Penang, I have put together a list of articles I have written on this subject. Please read through them. I am sure there is something useful to answer the questions you may have.
Enter
You have explored Penang with me, now explore with me the capital of Malaysia!
Enter
Even more sights to discover on Penang Travel Tips!
There's thousands and thousands of sights waiting for you to explore and discover. Here are just some of them!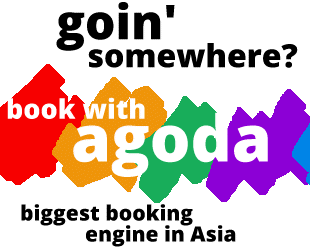 Buy Your Long-Distance Bus Tickets Here!
If you are planning to travel Malaysia and Singapore by bus, you can now purchase your long-distance bus tickets directly from
Bus Online Ticket
, where you get to check the schedule as well as price of tickets from various bus companies.
About me
Hello and welcome to my website, Penang Travel Tips, yay! I created this website to share with you everything I know about Penang. I hope that you will find the information useful, whether you are planning your visit or planning to stay long term in Penang. Penang Travel Tips is one of my three main websites, the others being
Exploring Malaysia
and
Big World Out There
.
My name is
Timothy Tye
or simply Tim. As a Christian, I write these websites so that
God's Good News
can reach every corner of the world and connect with those needing it.
To know more about me, do visit my personal website,
www.timothytye.com
. If you with to contact me, you can reach me
here
. Thank you for visiting, and have a great day!
Social Media Presence
To interact with me, join any/all of my Facebook Groups:
Penang Travel Tips
,
Exploring Malaysia
,
Big World Out There
, My Little Bookshelf,
Learn Penang Hokkien
,
Penang Street Art
,
Penang Hawker Food
,
Penang Restaurant Food
,
Masa Masak
,
Penang Residential Properties
and
Armchair Traveler
.
Disclaimer
I try my best to provide you the latest and most accurate information. However, please bear in mind that details change all the time, often before I have the chance to update them. Therefore, I would always encourage you to phone in and re-verify the information. I do apologize if the information I provide to you turns out to be inaccurate or outdated, and I would be most grateful if you would could help to
update me
should you discover the right information. Your feedback helps other users.
Using the information on this website
You are allowed to make print outs of any pages to carry with you, for your own personal use. You are free to reference and link to any pages of this website from your blog/website without seeking my permission. You are NOT ALLOWED to copy and paste, word-for-word, the content of this website into your own blog or website. Photos bearing my copyright may only be used with my permission. Other photos bear licenses that have to be observed accordingly.
Contact me here
.

Copyright © 2003-2016
Timothy Tye
. All Rights Reserved.