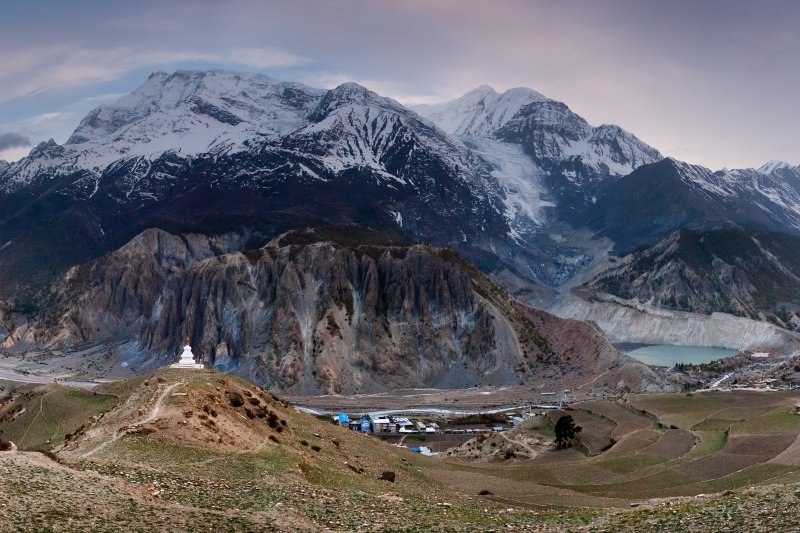 Annapurna Massif, Nepal

http://commons.wikimedia.org/wiki/File:Annapurna_Massif_Panorama.jpg


Dmitry A. Mottl


Nepal
(Nepali: नेपाल) is a small, landlocked country in the Indian subcontinent. It has a total area of 147,181 square kilometers (56,827 square miles), rougly the combined size of Austria and Switzerland. Nepal has a population of about 30 million people. The country shares a border with China to the north, India to the west, south and east. Nepal straddles the Himalayan range. It is roughly 100 km wide and 885 km from west to east. The country has some of the tallest peak in the world within its borders, including Mount Everest, the tallest mountain in the world.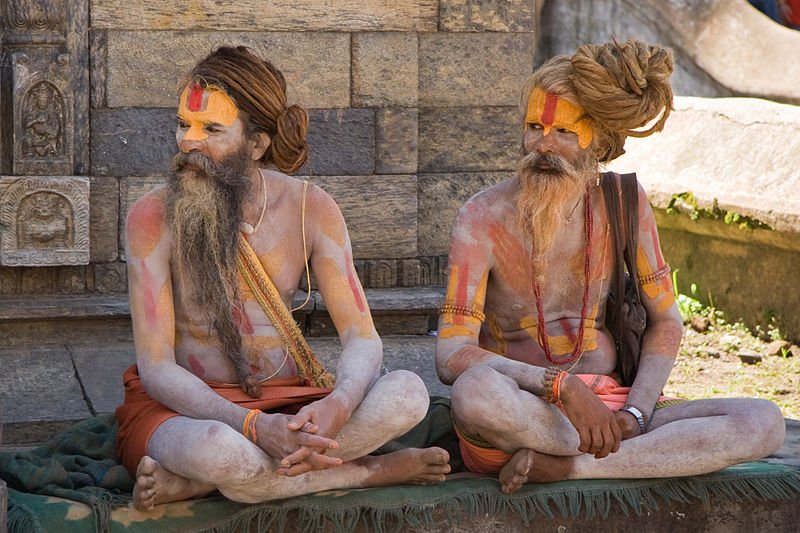 Sadhus at Pashupatinath Temple, Kathmandu

http://commons.wikimedia.org/wiki/File:Sadu_Kathmandu_Pashupatinath_2006_Luca_Galuzzi.jpg


Luca Galuzzi - www.galuzzi.it


Travel Tips to Main Cities in Nepal
World Heritage Sites in Nepal
Sagarmatha National Park
Royal Chitwan National Park
Lumbini, the Birthplace of the Lord Buddha
Mountain Villages on the Annapurna Circuit

Join the Big World Out There Facebook Group and show your photos of Nepal on our Facebook Group. Selected posts are listed below.

[an error occurred while processing this directive]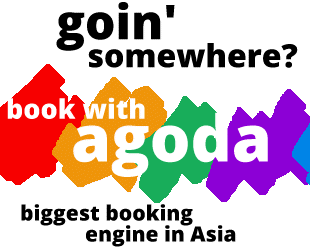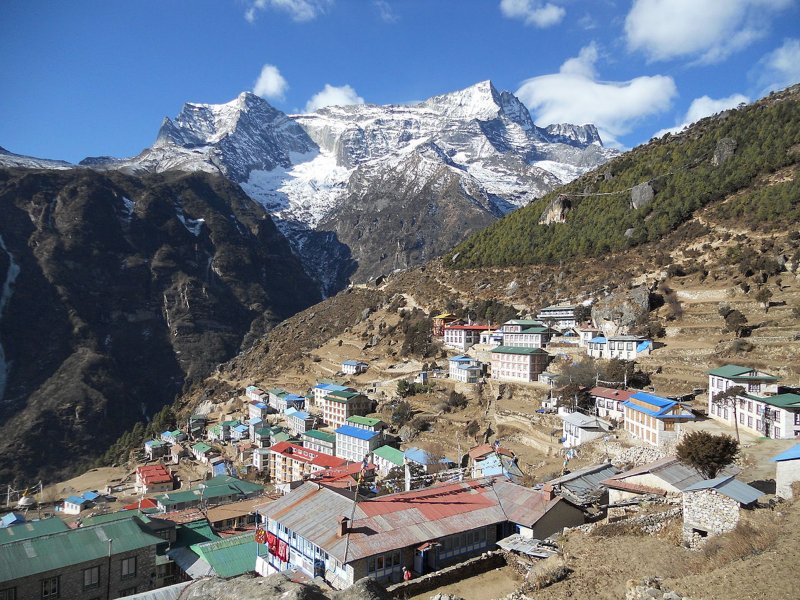 Namche Bazaar, Nepal

http://commons.wikimedia.org/wiki/Category:Namche_Bazaar#mediaviewer/File:Namche_bazaar_krish.jpg


Krish Dulal


The capital of Nepal, Kathmandu, is the main gateway for tourists to the country. It is located about centre of the country, and slightly to the east. Kathmandu is not only the biggest city in Nepal, it is also the cultural hub of the nation, with many historic sights closely. Tourists come to Nepal for two main purposes, to enjoy the Himalayan range and to enjoy the culture of the country.
Mainstream tourists usually spend a few days in Kathmandu followed by a day or two in Pokhara, a beautiful small town with scenic views of the surrounding mountains. From there, they make excursions to view the nearby peaks. Those staying longer in Nepal embark on trekking holidays into the Himalayas, to places such as Jomsom or the Everest Base Camp. Only a small number actually engage in any form of serious mountain climbing, which is not an endeavour for the inexperienced.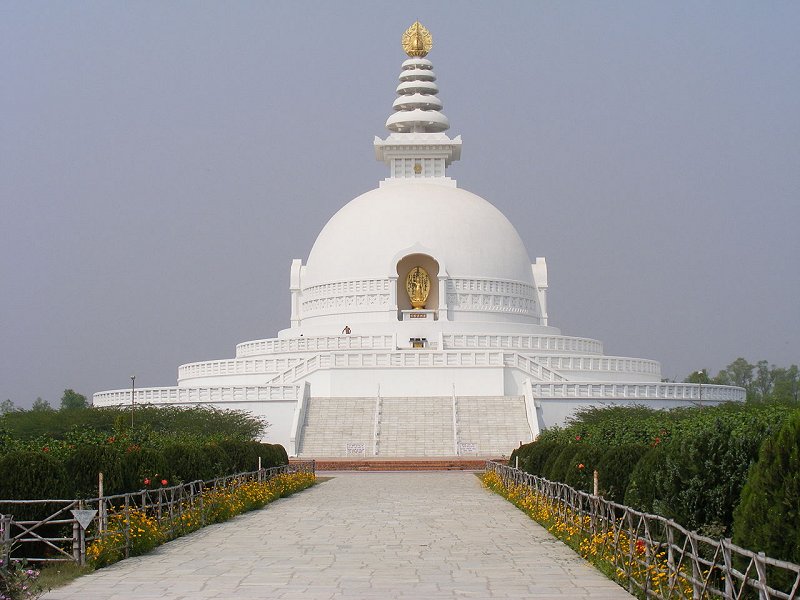 The World Peace Pagoda in Lumbini, Nepal

http://commons.wikimedia.org/wiki/Category:Lumbini_Shanti_Stupa#mediaviewer/File:The_World_Peace_Pagoda_-_Lumbini.jpg


tearsxintherain


The climate in Nepal is extremely varied. Generally, the best time to visit Nepal are the months of October and March, while for just Kathmandu, the best time is between October to March.
Despite its natural wealth, Nepal is one of the poorest countries in the world. This has brought along social and political unrest, which culminated with the abolishing of the monarchy on 28 May, 2008, making Nepal a federal republic. Even with the volatile political climate, tourism in Nepal was only marginally affected, and people continue to visit it, drawn by its pristine beauty and unique culture.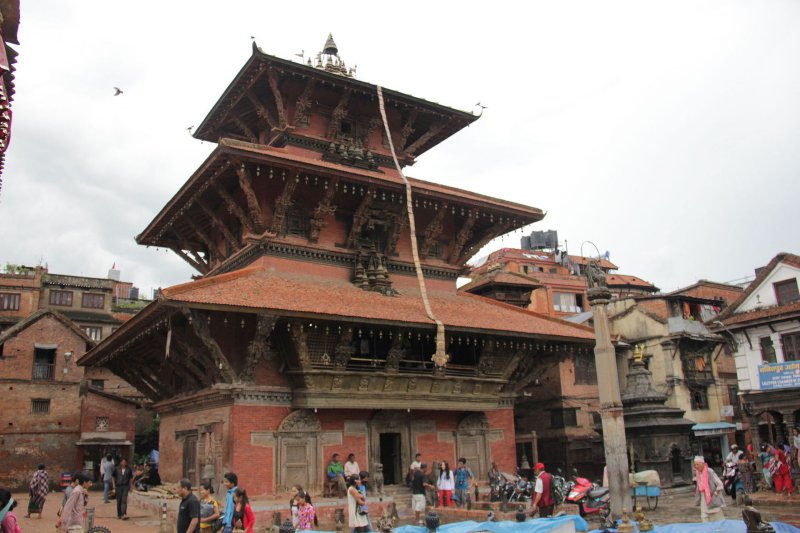 Brimsen Temple in Patan

http://commons.wikimedia.org/wiki/Category:Bhimsen_Temple,_Patan_Durbar_Square#mediaviewer/File:Bhimsen_temple_Patan_GP_(8).JPG


Ganesh Paudel


Nepal Travel Information
Official Name: Nepal
Capital: Kathmandu (1,300,000)
Population of Nepal: 27,676,500
Languages: Nepali (48%), Maithali (12%), English, over 90 indigenous languages
Currency: Nepalese Rupee
Religions: Hindu (80%), Buddhist (10%), others
Size: 140,800 sq km (54,363 sq miles)
Region: Asia
Nepal Entry Points
The majority of visitors to Nepal arrive by air, landing at Tribhuvan International Airport about 6.5km from Kathmandu. Tribhuvan is the only international airport in Nepal.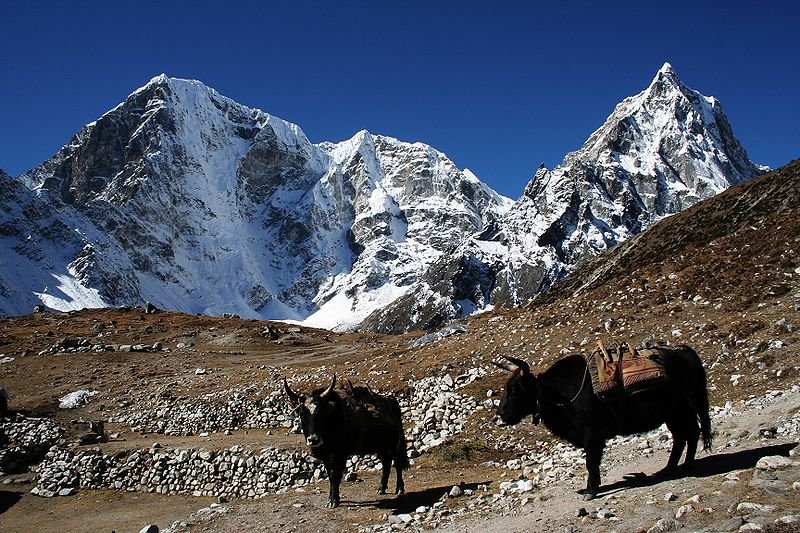 Yaks with Taboche mountain and Cholatse mountain

http://commons.wikimedia.org/wiki/File:Duglha_yaks.jpg


Pavel Novak


Nepal Entry Requirements
Except for Indian nationals, everybody else above the age of 10 require a visa to enter Nepal. Visas are obtainable immediately upon landing at Tribhuvan International Airport. Single entry 60-day visa costs US$30, double-entry $55 and multiple-entry $90. You need a passport with at least 6-month validity and two passport-size photographs. Extension of visas cost US$50, and must be applied for before the visa expires, from the Department of Immigration in Kathmandu.
Department of Immigration
phone: 223590, 222453, 223681
email: immigration@most.gov.np
web: http://www.welcomenepal.com
Visa matters: Mon-Fri 9:00am-3:00pm (summer), 9:00am-2:00pm (winter)
Rugged terrain of the Kali Gandaki valley in Nepal

http://commons.wikimedia.org/wiki/File:KaliGandaki.jpg


Kogo


Nepal Health Requirements
Nepal is a poor country and visitors are well advised to consider receiving vaccines for typhoid fever, hepatitis A and B, Japanese encephalitis (if visiting the Terai during June to October), rabies, and if visiting in the winter months, meningitis A/C. You should never drink unboiled or untreated water. Stay away from ice cubes. Avoid eating raw vegetables, uncooked fish and seafood.
Finally, it will also well-advised to purchase travel insurance with emergency evacuation included in the clause.
Nepal Customs
Travellers may bring in 200 cigarettes, 50 cigars or 250g of tobacca, one bottle of liquor and 15 rolls of film. Also duty-free are personal effects: one pair of binoculars, one still camera, one video camera, one laptop computer and one portable music system. The usual prohibition against firearms, ammunition and narcotics apply, as well as for radio transmitters and walkie-talkies.
You will also need to clear customs when leaving Nepal. Please note that you are forbidden from bringing out any object that is more than 100 years old. Antiques and art treasures require special certificate from the Department of Archaeology, which takes two days to obtain.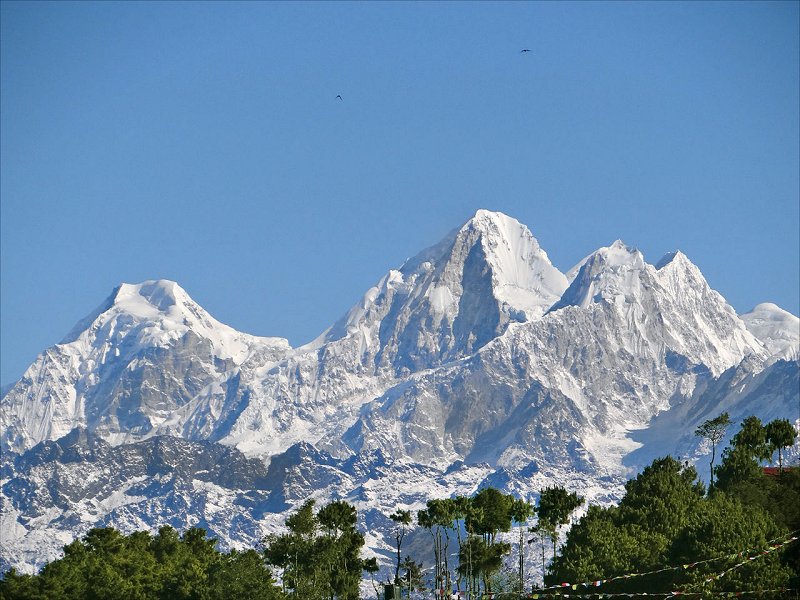 The peaks of Dorje Lakpa, as seen from Nagarkot, Nepal

http://commons.wikimedia.org/wiki/Category:Nagarkot#mediaviewer/File:Le_Dorje_Lakpa_(Himalaya,_N%C3%A9pal)_(8449549937).jpg


dalbera


Nepal Currency
The Nepal currency is called the Nepalese rupee (NRS). Banknotes are available in denominations of 1, 2, 5, 10, 20, 25, 50, 100, 500 and 1000 rupees. Two types of coins are available. The higher denomination ones, of 1 and 2 rupees, are gold-toned, while the lower denomination ones, of 50, 25, 10 and 5 paisa, are aluminium ones.
You can change your cash at the airport, at any banks and foreign exchange counters in Kathmandu. There's a Standard Chartered 24-hour ATM in Thamel which you can use to cash your ATM Cirrus card, as well as Visa and MasterCard.
Credit Cards
Credit cards can be used for purchases in Kathmandu without much hassle. Visa, MasterCard, Diner's Club and American Express are widely accepted, though a 5% commission is added for credit card purchases.
Banking Hours
Banks are open from 9:15am to 2:30pm, Mondays to Fridays.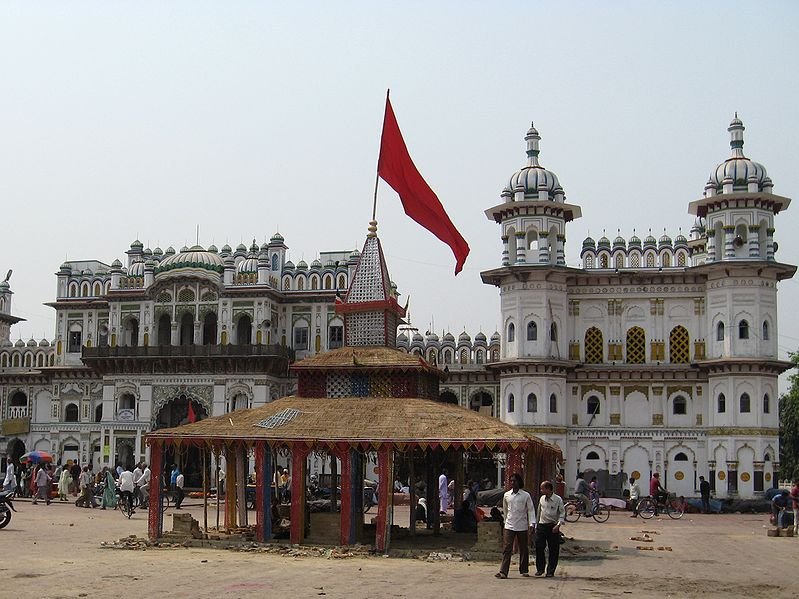 Janaki Mandir in Janakpur, Nepal

http://commons.wikimedia.org/wiki/File:2009-03_Janakpur_05.jpg


Ralf Lotys


Nepal Public Holidays
Five different types of calendars are used in Nepal. This includes the Western calendar (also called the Gregorian calendar), the Tibetan calendar (Bhot Byalo), and the Vikram Sambat, which is the official calendar in Nepal, and is used in the royal household, in newspapers, public services and by the government. The following are the public holidays in Nepal, according to the Gregorian calendar:
Vasant Panchami: January, date varies
Martyrs' Day: 30 January
Rashtriya Prajatantra Divas (National Democracy Day): 19 February
Ghode Jatra (Festival of Horses): March, date varies
Holi: March, date varies
Shivaratri (festival in honour of Lord Shiva): March, date varies
Ram Nawami (Birthday of Lord Ram): March, date varies
Nepalese Women's Day: 8 March
Chaite Dashain: March/April, date varies
Navabarsha (Nepalese New Year's Day): 14 April
Buddha Jayanti: Full moon in May, birthday of the Buddha
Children's Day: 20 August
Rakshya Bandhan (Janai Purnima): August, date varies
Krishna Janmashtami: August/September, date varies
Fulpati Saptami: September, date varies
Maha Asthami: September, date varies
Maha Nawami: September, date varies
Vijaya Dashami: September, date varies
Laxhmi Puja: October, date varies
Ghatasthapana: October, date varies
Gobardhan Puja: October, date varies
Constitution Day: 9 November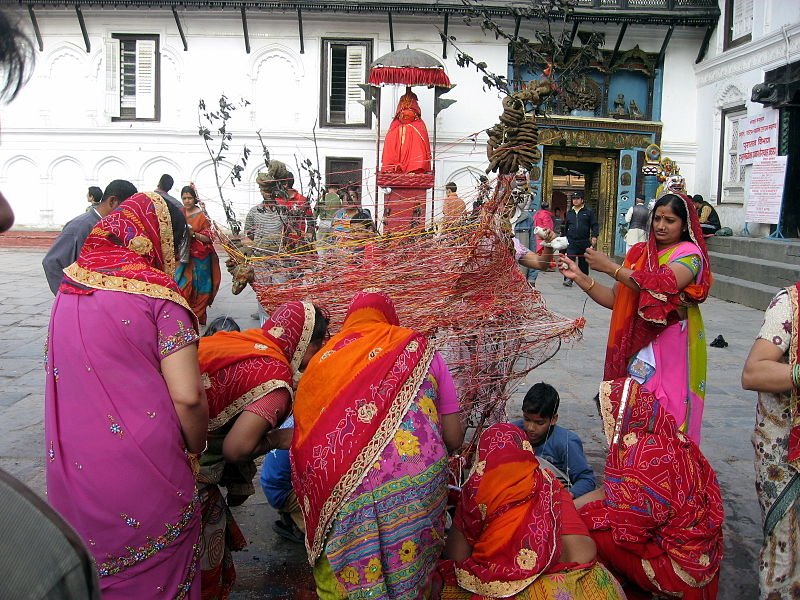 Womenfolk preparing bonfire for the Holika Dahan spring festival in Kathmandu, Nepal

http://commons.wikimedia.org/wiki/File:Holika_Dahan,_Kathamandu,_Nepal.jpg


Ekabhishek


Using the Telephone in Nepal
The country code for Nepal is 977. Here are some telephone area codes in Nepal:
Kathmandu: 1
Dhangadi: 91
Gorkha: 64
Nepalgunj: 81
Newspapers
The Rising Nepal: http://www.nepalnews.com.np/trn.htm
Kantipur National Daily (sister to Kathmandu Post): http://www.kantipuronline.com
Nepali Times: http://www.nepalitimes.com
More Sights in the Kathmandu Valley
Astura Cave
Bagh Bhairav Mandir
Balaju
Banepa
Bishankhu Narayan
Budhanilkantha
Bungamati
Chabahil
Chandeshwari Mandir
Changu Narayan
Chilanchu Vihar
Chobhar Gorge
Dakshinkali
Dhulikhel
Godavari
Ichangu Narayan
Jal Binayak
Kakani
Karya Binayak
Khokana
Kirtipur
Lele
Mahadev
Nagarjun Ban
Nala
Namo Buddha
Shekh Narayan Mandir
Sunakothi
Panauti
Pharping
Phulchoki
Sankhu
Thecho
Tika Bhairav
Uma Maheshwar Mandir
Vajra Varahi
Cities and Sights between Kathmandu and Pokhara
Bhagwati Mandir
Daman
Dumre
Gorkha
Manakamana
Mugling
Nuwakot
Sights on the Annapurna Trek
Annapurna I
Annapurna Base Camp
Annapurna Sanctuary
Bagarchhap
Beni
Bhratang
Birethani
Braga
Chame
Chulu Central
Chulu Gundang
Chulu West
Dhaulagiri I
Ghale
Ghandrung
Ghanpokhara
Ghasa
Ghorapani
Himal Chuli
Hiunchuli
Khangsar
Lo Manthang
Machhapuchhre
Manaslu
Mardi Himal
Pisang Chuli
Siklis
Singu Chuli
Tatopani
Tharpu Chule
Sights on the Langtang-Gosainkund-Helambu Trek
Besisahar
Betrawati
Chautara
Dhunche
Gorkha
Gosainkund
Gosainkund Lakes
Gosainkund Lekh
Helambu
Kyanjin
Langtang National Park
Laprak
Larkya Himal
Larkya La
Manaslu
Melamchigaun
Panch Pokhari
Syabru
Sights in the Everest Region
Beding
Changtse
Cho Oyu
Duglha
Everest Base Camp
Gokyo
Imja Tse (Island Peak)
Jiri
Junbesi
Khumbu
Kongma Tse
Kusum Kangguru
Kwangde Ri
Lho La
Lobuche East
Lukla
Mera Peak
Namche Bazar
Pangboche
Parchamo
Pokalde
Pumo Ri
Ramdung
Sagarmatha National Park
Thame
Thyangboche
Sights East of Everest
Bhojpur
Chainpur
Dobhan
Ghunsa
Kabeli Khola
Kanchenjunga
Lhonak
Makalu
Makalu Base Camp
Taplejung
Tumlingtar
Cities and Sights of the Terai
Bardia National Park
Bharatpur
Biratnagar
Birganj
Chisapani
Chitwan National Park
Devghat
Dhangarhi
Dharan
Janaki Mandir
Janakpur
Kakarbhitta
Kapilavastu
Kosi Tappu Wildlife Reserve
Mahendranagar
Narayanghat
Nepalganj
Sauraha
Siddharthanagar
Sukla Phanta Wildlife Reserve
Cities and Sights of the Remote West
Dhorpatan Hunting Reserve
Dipayal
Dolpo
Dunai
Humla
Jumla
Khaptad National Park
Munchu
Phoksundo Tal
Pina
Rara National Park
Ringmo
Shey-Phoksundo National Park
Simikot
Tarakot
Tibrikot
Traveling somewhere? Get your hotel room at Agoda!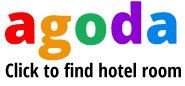 Going somewhere? Book your bus tickets here!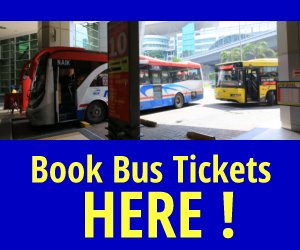 Latest Pages & Updates on this website
Advertise on this website
This website receives some 2 million page views per month. You may place banner ads on specific pages or all pages of these website, offering necessary exposure to your business. Advertisement rates depend on location of ad, type of page of ad placement, or placement across the whole website on all pages. Ads contract can be for one month, six months or a year, renewable on expiration. We have to negotiate on a case by case basis. Contact me here.
Having a computer issue?
In order to enjoy my website, your computer needs to be running smoothly. It needs to be able to display Google Maps and Google Street Views, so that all the information I provide can reach you in the state I intend it to. If for some reason your computer isn't performing up to satisfactory level, I can send a technician to visit you, to help you address the problem, if you live anywhere on Penang Island. Please note that there is a minimum service charge of RM50 for home visits, which is waived if there are chargeable services provided. To contact a technician to take a look at your computer issue, complete this form.
The Travel Tips Made In Penang
Hello and welcome to
Penang Travel Tips!
My name is
Timothy Tye
and I'm the author of this website - yay! I created this website to satisfy my curiosity about the world around me, and to catalog my body of knowledge. Since then, it has grown to become my own online travel encyclopedia.
It all started with describing
Penang
and everything in it. Since then, I have expanded this website to cover all the major cities in
Malaysia
, including
Kuala Lumpur
,
Malacca
,
Johor Bahru
,
Ipoh
,
Alor Setar
,
every state in Malaysia
,
every state capital in Malaysia
, and I am working to describe
every country in Asia
, and eventually the rest of the world!
As a Christian, I hope that through this website, I can bring
God's Good News
to every corner of the world and pass it to every person who needs.
To get in touch with me, simply submit the
contact form
. Thanks for visiting!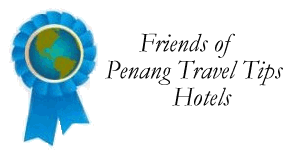 Visiting Penang? Consider a "Friend of Penang Travel Tips" hotel !
The
Friends of Penang Travel Tips Hotels
are hotels that maintain a close working relationship with this website. So, I know these hotels better than the rest in Penang. If you're looking for a hotel room in Penang, you do well to consider them.
Mainstream Hotels with 100 guestrooms and above:
Cititel Express
,
Cititel Hotel Penang
,
Copthorne Orchid Hotel
,
Hotel Equatorial Penang
,
Olive Tree Hotel
,
Parkroyal Penang Resort
,
Sunway Hotel Georgetown
and
The Wembley
.
Small Hotels with less than 100 guestrooms:
Le Dream Boutique Hotel
,
Spices Boutique Residence
,
Sweet Cili Hotel
My Social Media Presence
To interact with me, LIKE my Penang Travel Tips FB Page and Places To Go FB Page, and join any/all of my Facebook Pages and Groups including Penang Travel Tips FB Group, Exploring Malaysia, Big World Out There, My Little Bookshelf, Learn Penang Hokkien, Penang Street Art, Penang Hawker Food, Penang Restaurant Food, Masa Masak, Penang Residential Properties and Armchair Traveler.
Disclaimer
I try my best to provide you the latest and most accurate information. However, please bear in mind that details change all the time, often before I have the chance to update them. Therefore, I would always encourage you to phone in and re-verify the information. I do apologize if the information I provide to you turns out to be inaccurate or outdated, and I would be most grateful if you would could help to update me should you discover the right information. Your feedback helps other users.
Using the information and photos on this website
You are allowed to print out any page of this website to carry with you on your travels, for your own personal use. You may reference and link to any page of this website from your blog/website without seeking my permission. You are NOT ALLOWED to copy and paste, word-for-word, the information of this website into your own blog or website. Photos belonging to me (those captioned © Timothy Tye) may only be used with my permission. Photos belonging to other people bear licenses that have to be observed accordingly. Contact me to seek permission or to ask a question.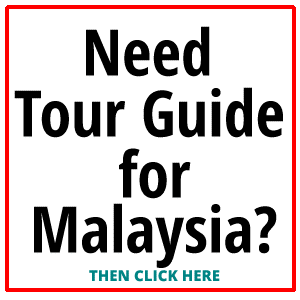 Copyright © 2003-2016
Timothy Tye
. All Rights Reserved.