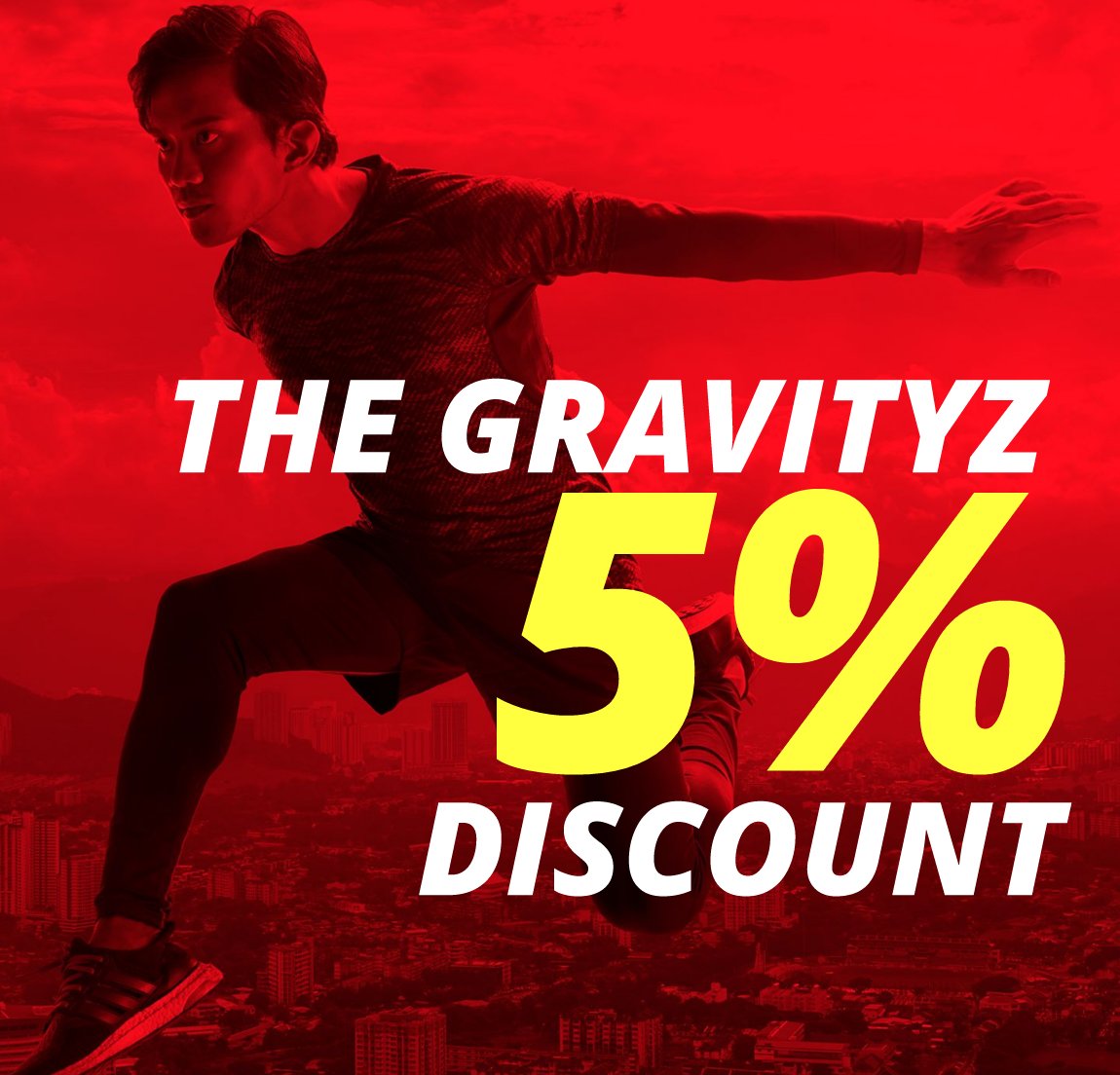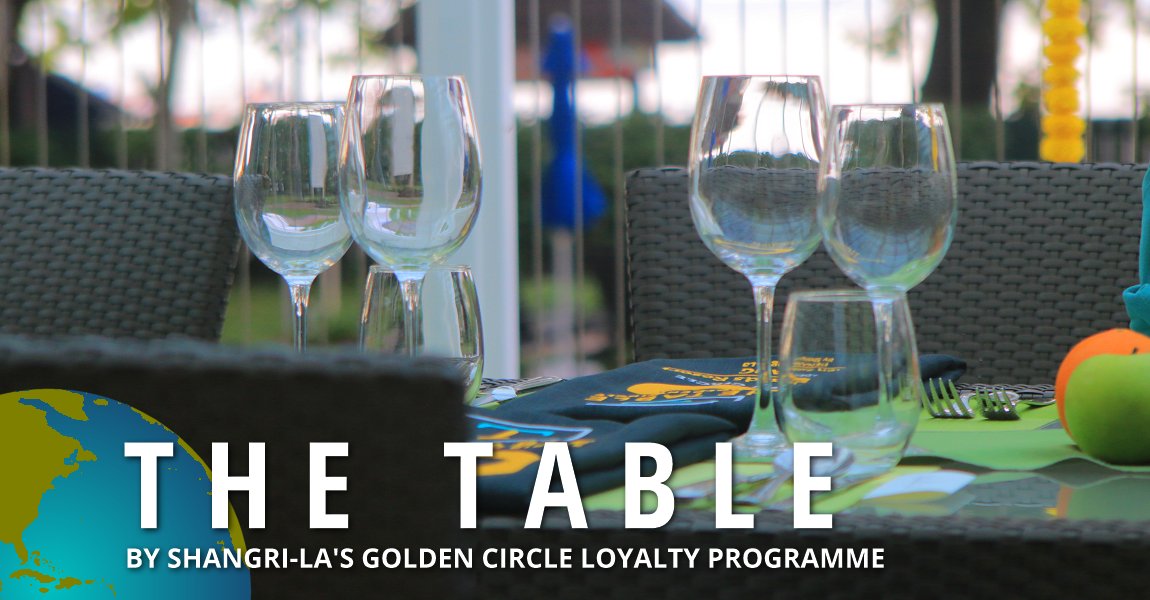 Launch of The Table by Golden Circle
(26 January, 2017)

The Table
is a dining privilege by
Golden Circle
,
Shangri-La Hotels and Resorts'
food-and-beverage loyalty programme. It is one of many member benefits that
Shangri-La
is introducing on its nine-month "Loyalty Is" anniversary campaign, in a continuous effort to enhance the value of its loyalty programme, which presently has a membership numbering 2.1 million.
According to Shangri-La's Chief Marketing Officer Steven Taylor, their research has reaffirmed that customers regard dining experiences to be incredibly appealing. And so, Shangri-La is responding by introducing a dining privilege that showers loyal customers with culinary experiences that they would greatly appreciate. With the introduction of The Table, deserving members gain access to signature food experiences.
Under the
Shangri-La
,
Hotel Jen
,
Kerry
and
Traders
brand names are more than 500 restaurants and bars from which Golden Circle members can accumulate Award Points, without having to be staying guests. This translates into swifter accummulation of points and rewards.
With Golden Circle's Instant Indulgence, members may redeem their rewards on the spot, without any pre-planning or vouchers. Golden Circle Award Points are given for all qualifying transactions, including discounts. Those holding Jade and Diamond membership enjoy further bonus earnings and more value redemptions.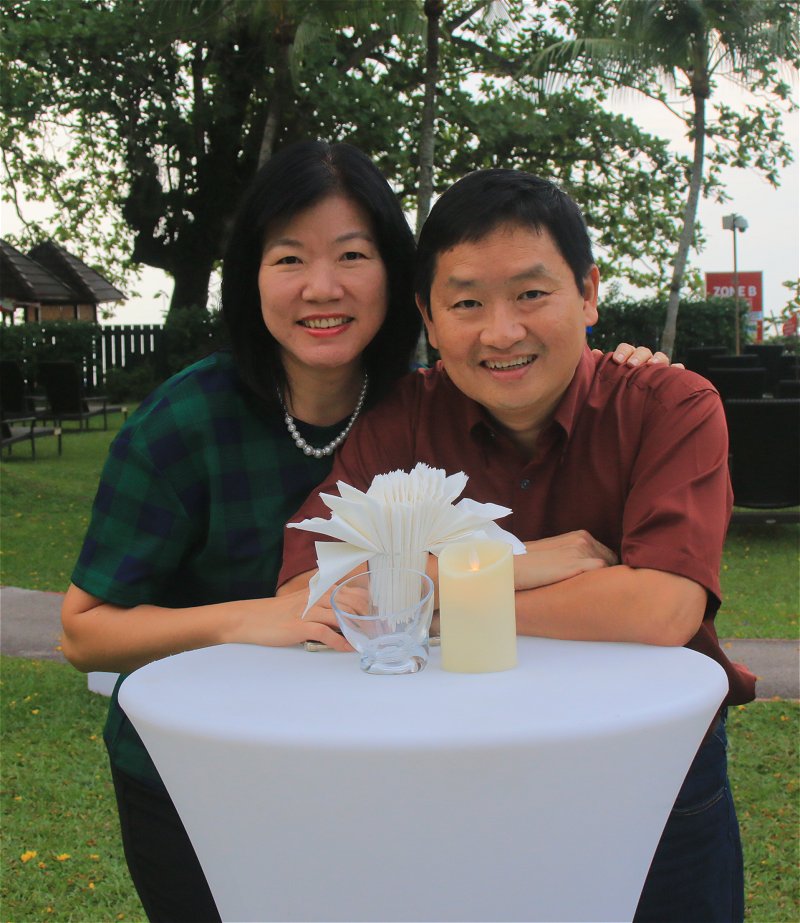 My wife and I at the launch of The Table, by Golden Circle loyalty programme.
(26 January, 2017)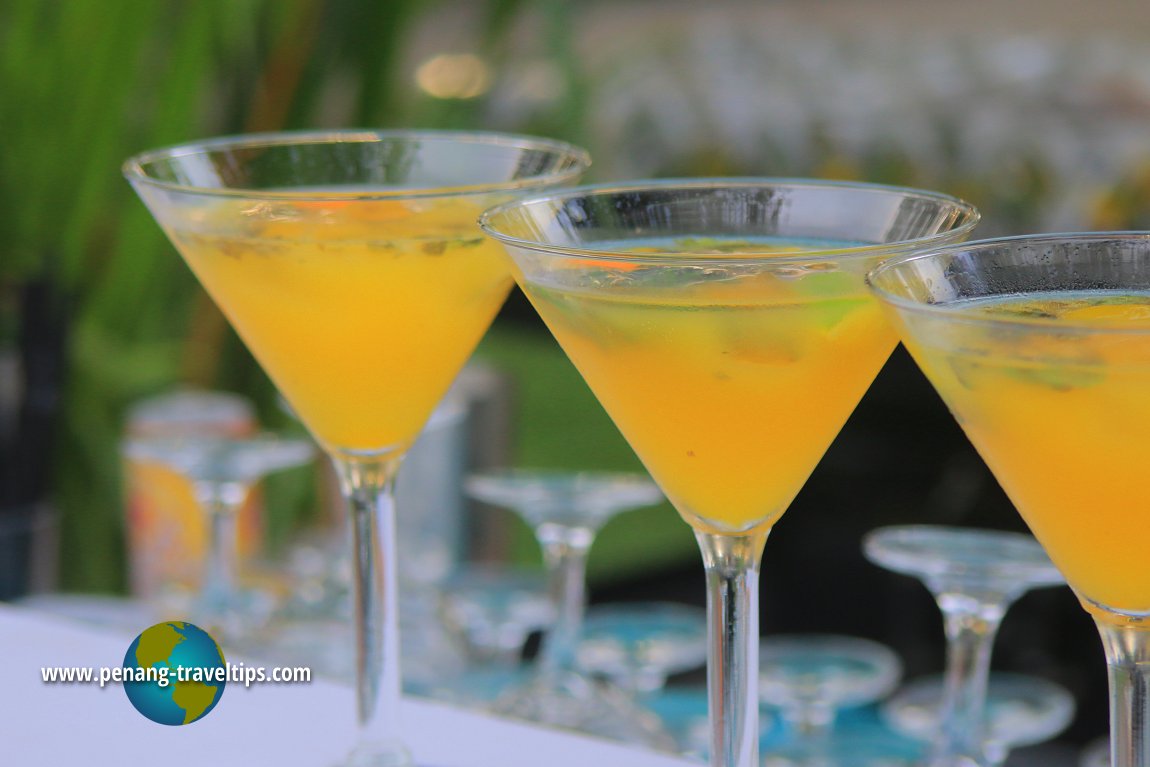 The cocktails.
(26 January, 2017)

To give exposure to the value of The Table dining experience, and to roll it out in Penang, Shangri-La Hotels and Resorts held a launch on 26 January 2018, inviting select members of the print and social media. My wife and I were among those to receive this golden opportunity, not only to experience the culinary delights of The Table, but also to once again enjoy the impeccable hospitality that is distinctly Shangri-La.
On our arrival, we were warmly welcomed and graciously ushered to the garden area, where we were treated to cocktails and hors d'oeuvres. And to add to the festive atmosphere, each of us was decked with a garland of fresh flowers. As night falls, we were entertained to a a heart-throbbing fire-dancing performance.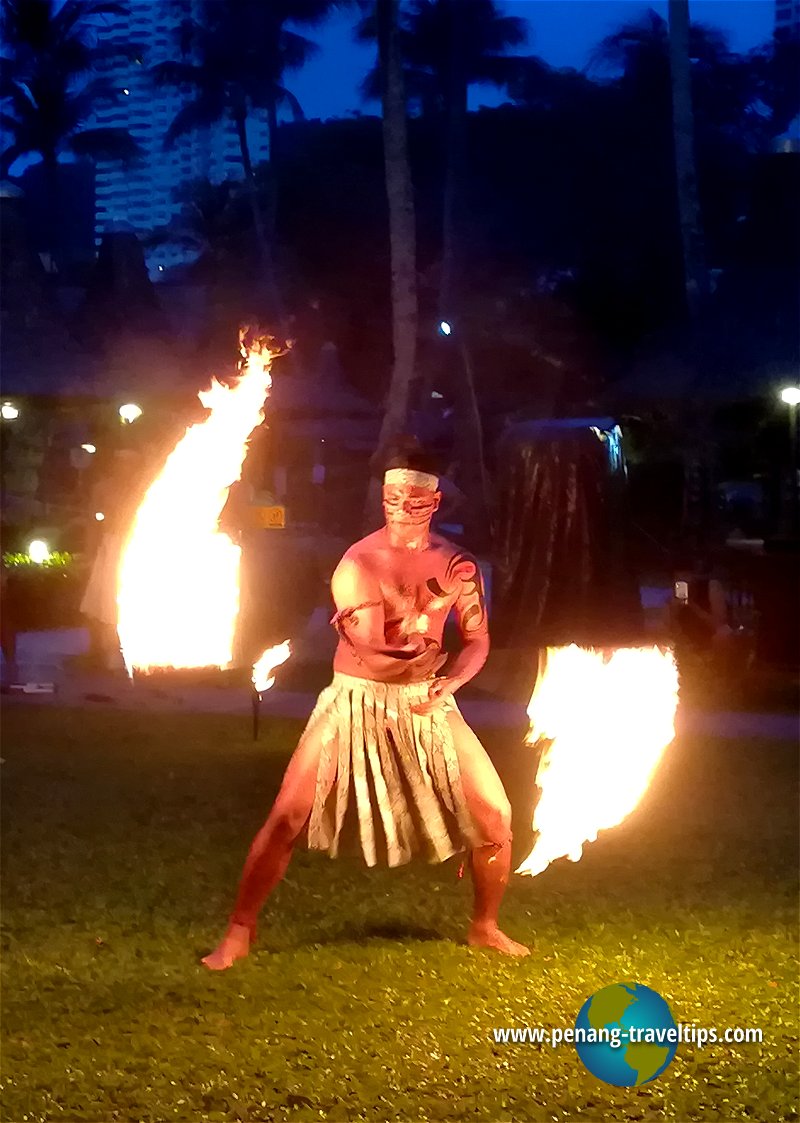 Fire dancing performance.
(26 January, 2017)

After the show, we were invited indoors to take our seats at the long dining table. The seating arrangement was planned well in advance, and beautiful name cards indicated our assigned spots. What followed was an evening of culinary indulgence.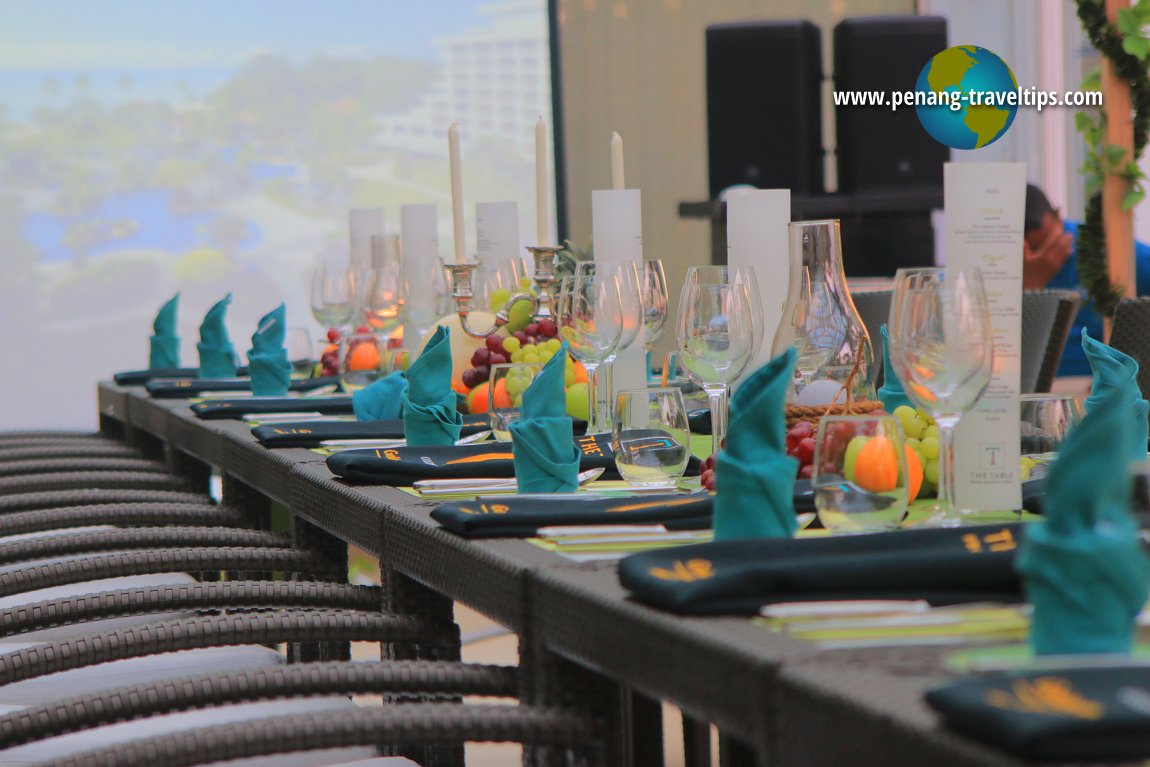 The Table was elegantly set to receive the diners.
(26 January, 2017)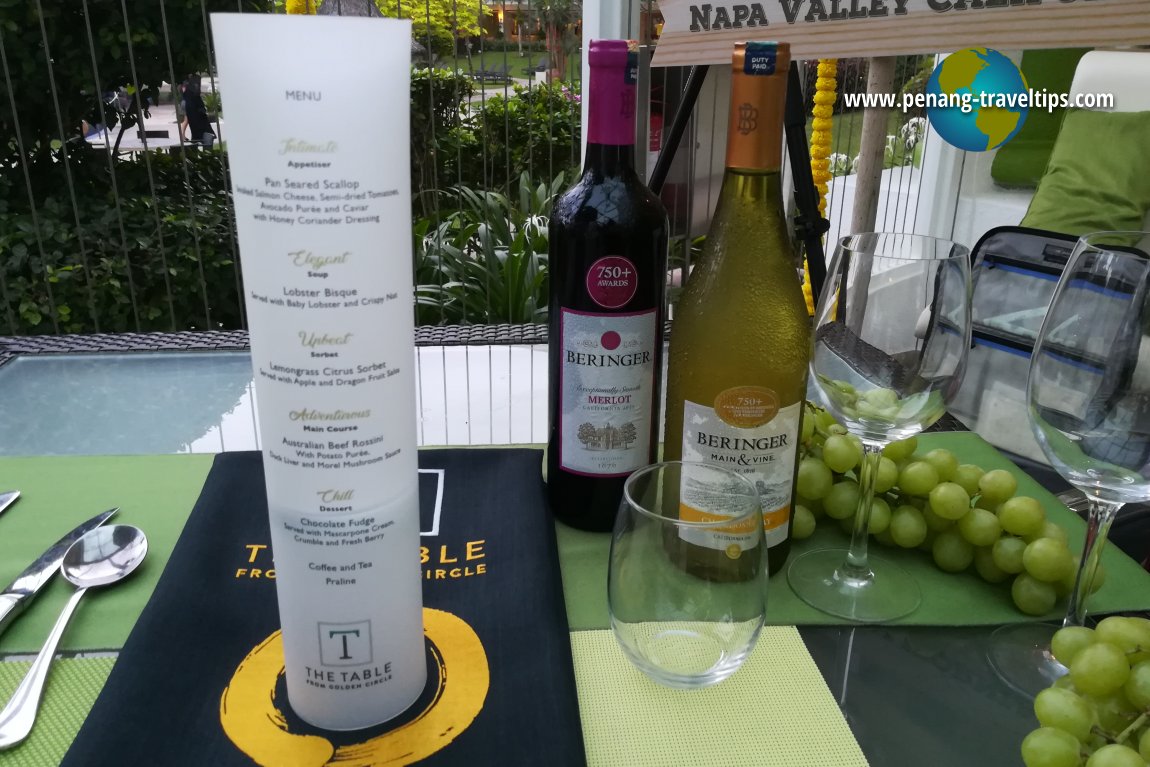 The menu, and the wine for the evening - a Merlot and a Chardonnay.
(26 January, 2017)

The Dinner
It was a 5-course dinner that concluded with coffee/tea and pralines. Each course was creatively named, such as Intimate for the appetizer, Elegant for the soup, and so on.
After a speech by Mr Noel D'Couto, the Hotel Manager of Golden Sands Resort Penang, followed by Mr D'Couto hitting a gong, we commenced our meal.
Intimate
Intimate was the name for the first course, or appetizer. This was succulent Pan Seared Scallop. Served on the side was avocado puré, which acts as a bed for a sprinkling of caviar. Smoked salmon cheese, semi-dried tomatoes and a light honey coriander dressing completed the ensemble. This was paired with a Chardonnay by
Beringer of Napa Valley
.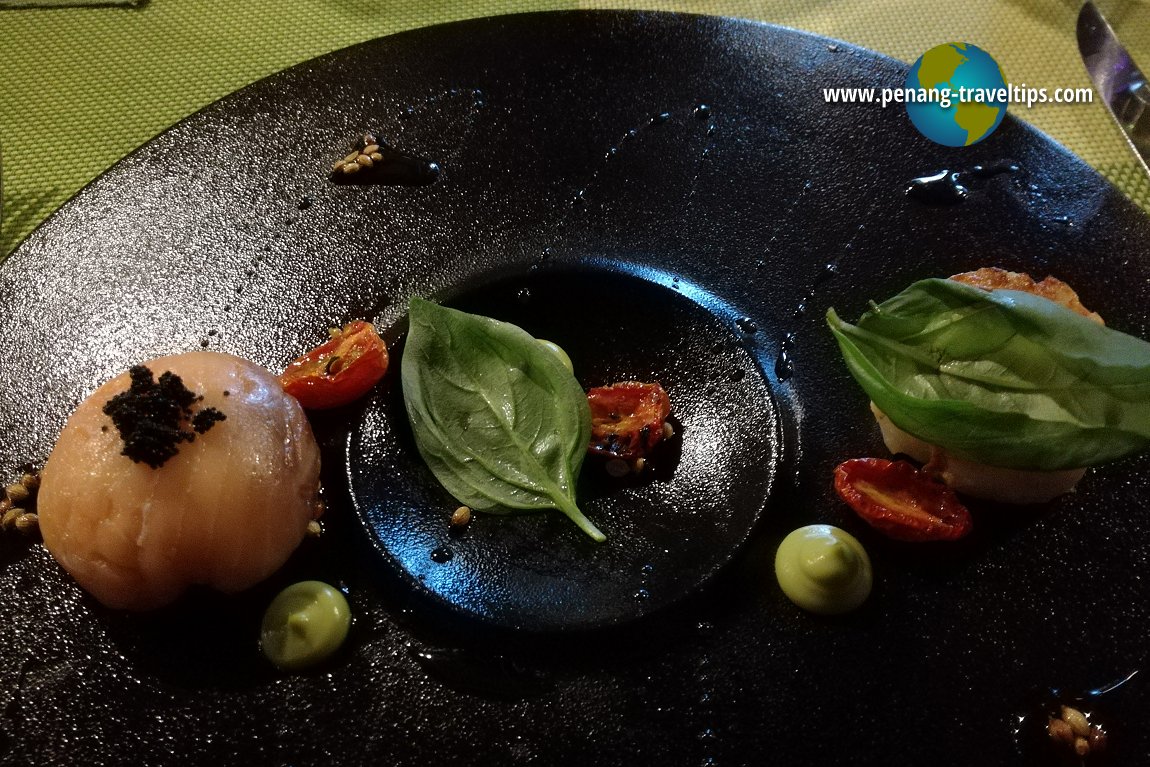 Intimate, the Appetiser.
(26 January, 2017)

Elegant
Next was the soup, and it was called Elegant. The soup that evening was Lobster Bisque, served to form a pool, on which floats a brushetta topped with a cargo of juicy baby lobster chunks and crispy nuts. I have had lobster bisque many times, but not often with chunks of baby lobster. It was a tasty, well thought of dish.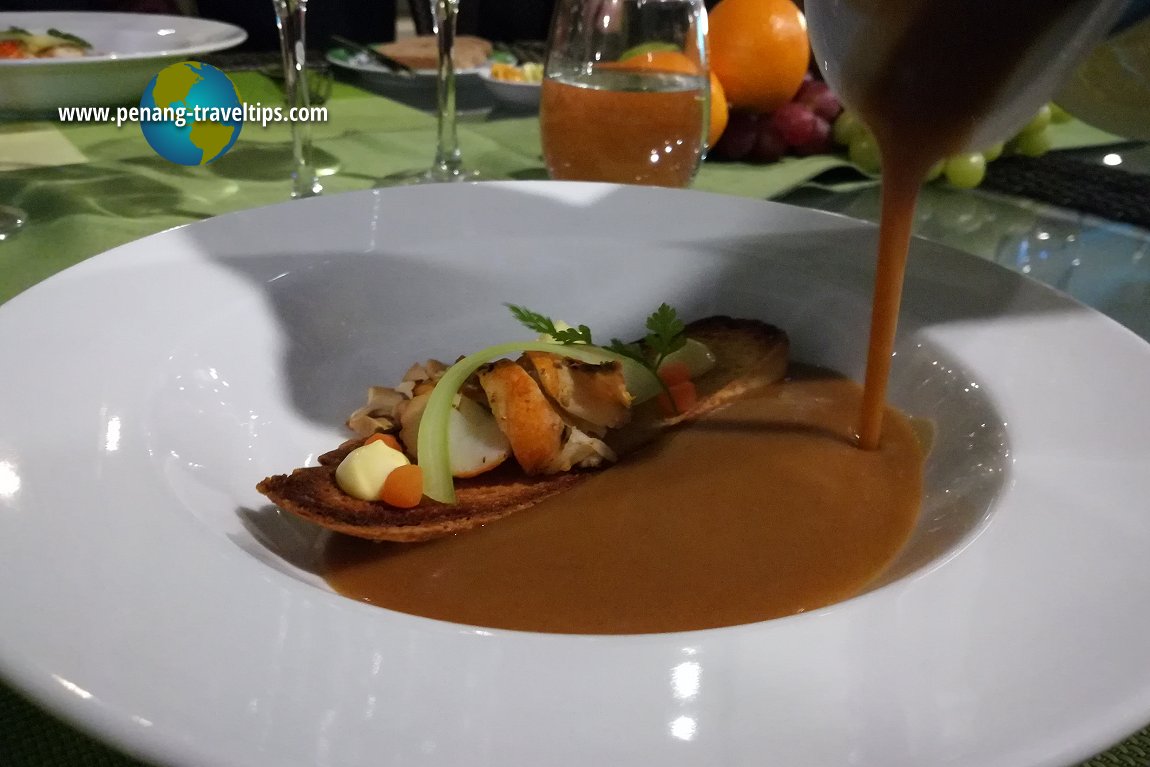 Elegant, the Soup.
(26 January, 2017)

Upbeat
Having partook of this heavy soup, next was a sorbet interlude to refresh our palate. No wonder it was called Upbeat. And it was as beautiful as it was refreshing. It was Lemongrass Citrus Sorbet, with diced apple and dragon fruit salsa, garnished with a stalk of lemongrass, and served on a block of ice. The ice was beautifully prepared to be completely clear of air bubbles. It's
objet-d'art
masquerading as food!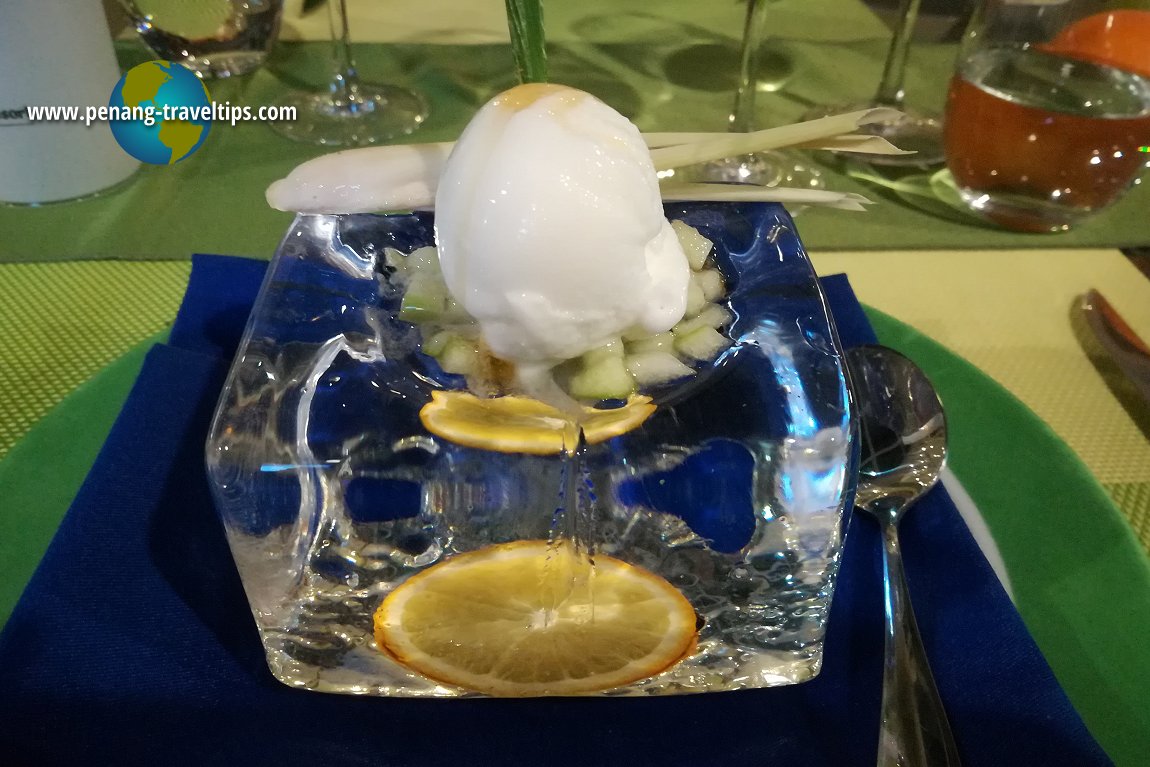 Upbeat, the Sorbet.
(26 January, 2017)

Adventurous
Now came Adventurous, the main course. For this evening, it was Australian Beef Rossini and potato puré. Sprawled over the beef was a piece of duck liver and a a piece of black morel mushroom. The beef was so soft, so juicy, it was almost like eating sponge. We enjoyed the main course paired with a Merlot, also from Beringer.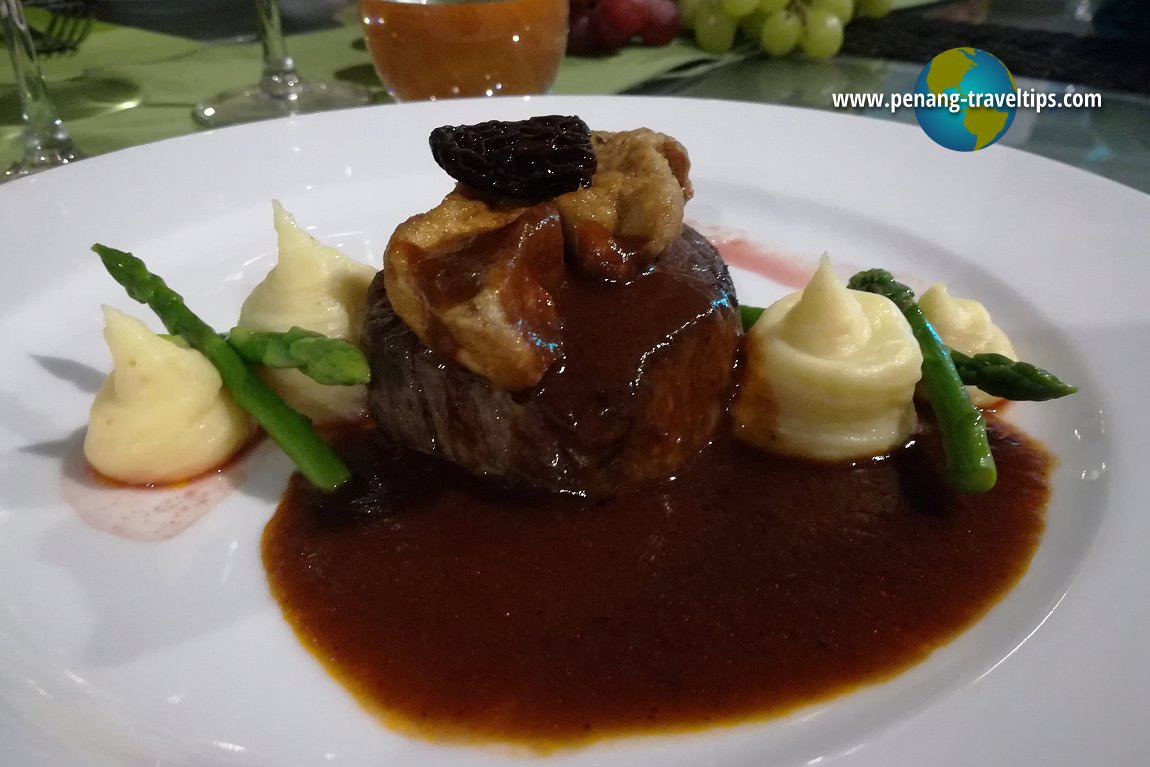 Adventurous, the Main Course.
(26 January, 2017)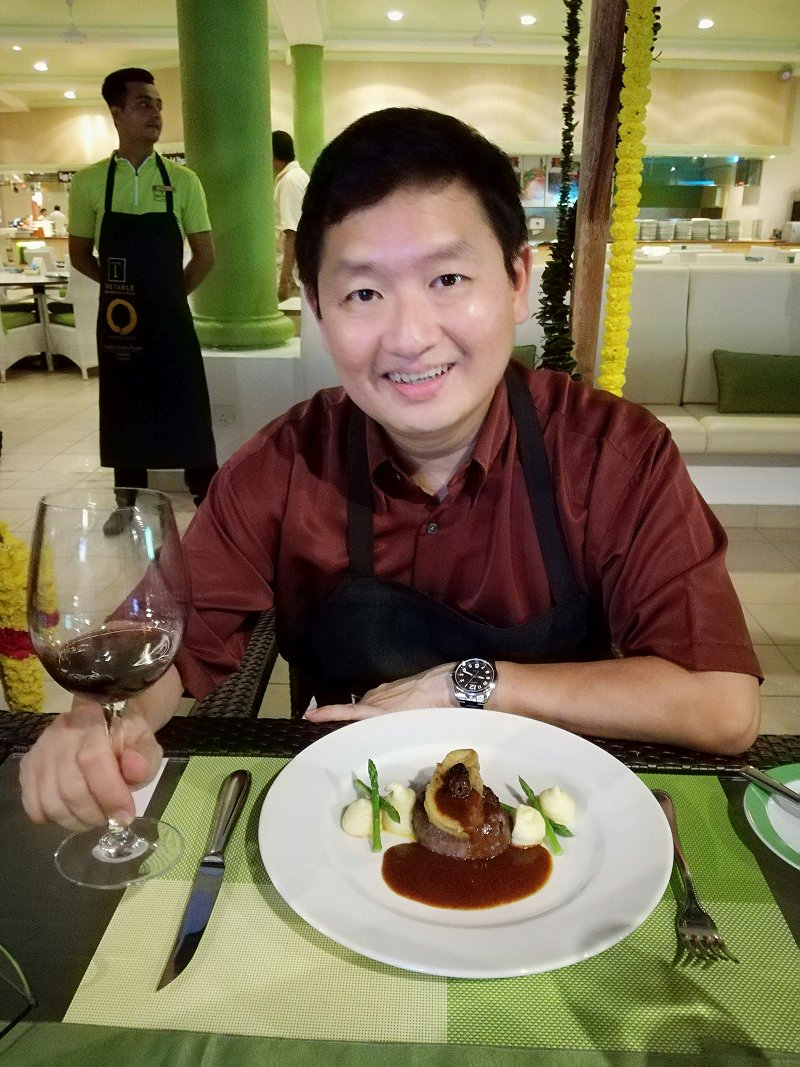 Enjoying the Main Course.
(26 January, 2017)

Thrill
Thrill was the dessert and thrilling it was. When it arrived, I began to feel sad that the evening was edging to its conclusion. The dessert that evening was Chocolate Fudge served with mascarpone cream, crumble and fresh berry. There's even a QR code on the Chocolate Fudge, and what do you know, it works! I tried, and it sent me to the Shangri-La Hotels & Resort page.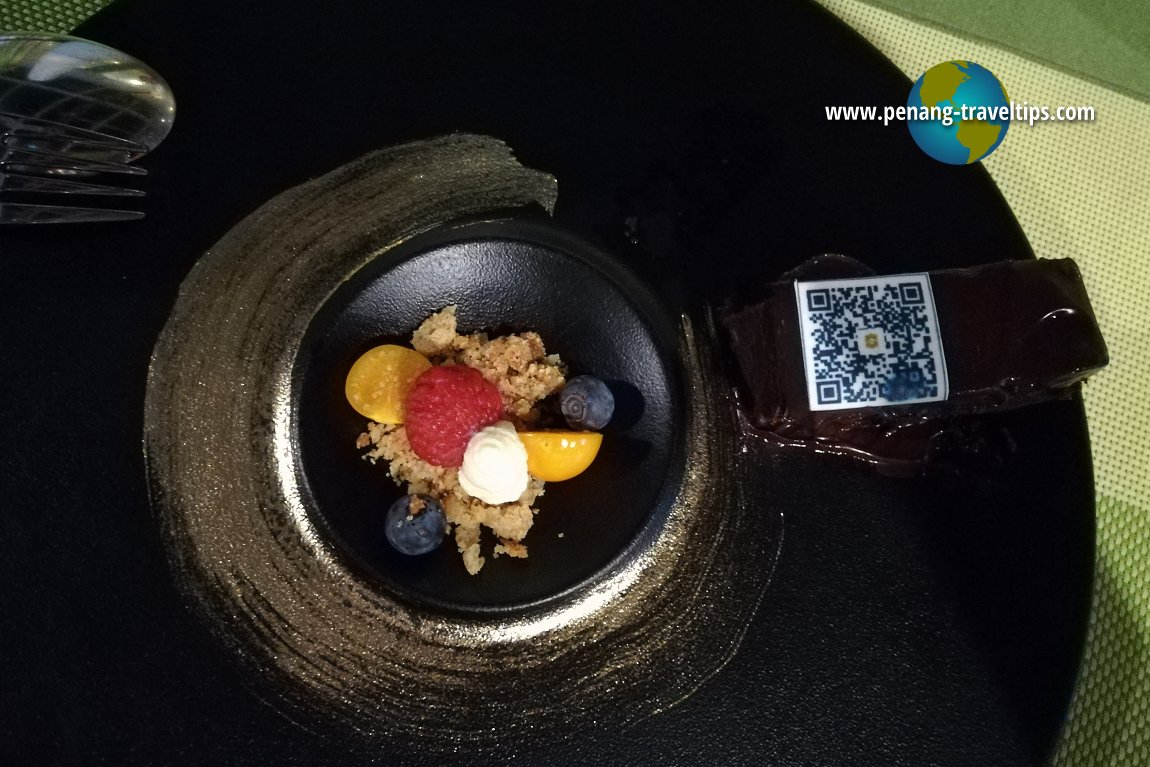 Thrill, the Dessert.
(26 January, 2017)

Near the end of the dinner, we were treated to a second performance, an energetic dance number by members of the hotel staff. I enjoyed it, and made a point to thank the dancers for their well-appreciated performance.
Coffee and tea were served with a pralines, and the evening came to an end when Mr D'Couto hit the gong once again.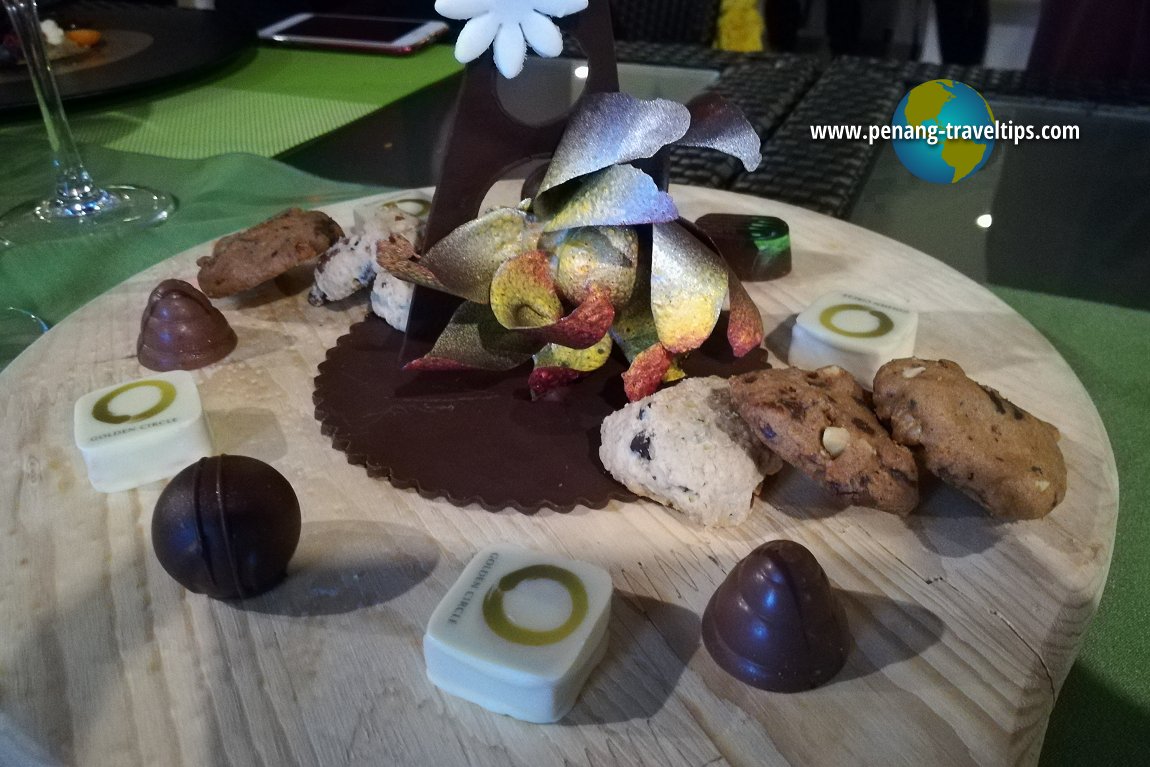 Pralines.
(26 January, 2017)

I am very pleased with what I saw and tasted that evening. It was a glimpse at how much Shangri-La values its loyal customers. It made me want to be a member of Golden Circle as soon as possible - after all, joining the programme is completely free of charge.
We are immensely thankful to Shangri-La Hotels & Resorts for giving us the opportunity to enjoying its incomparable hospitality.
Kudos to the staff and management of the hotel, thank you for a wonderful time!
What's up at Penang hotels?
Here's a random display of the latest promotions from the various hotels in Penang.

Click ad

below to visit hotel page on Penang Travel Tips!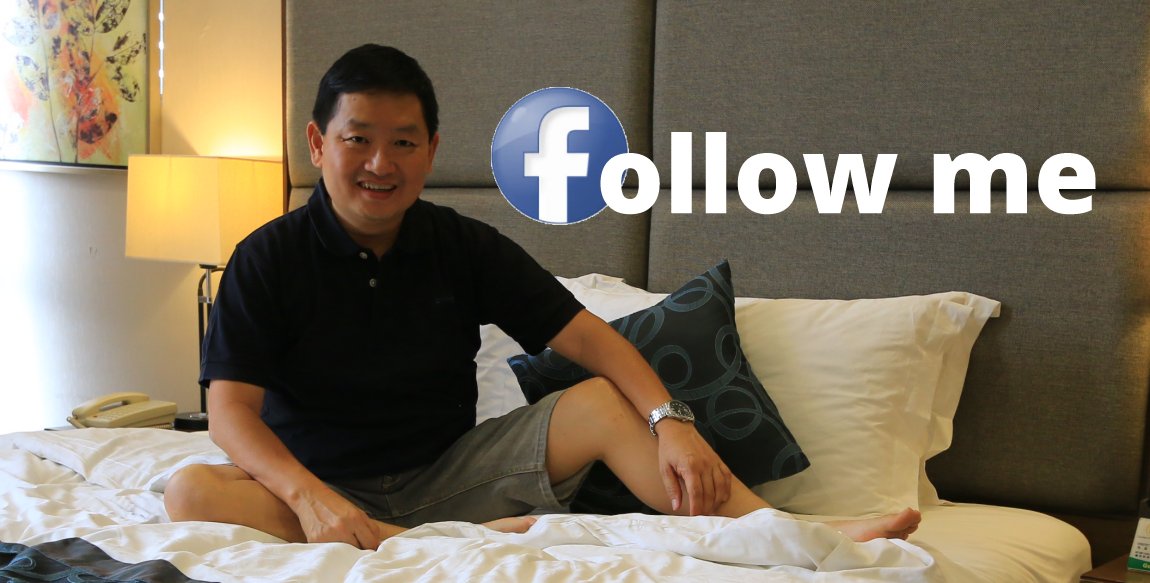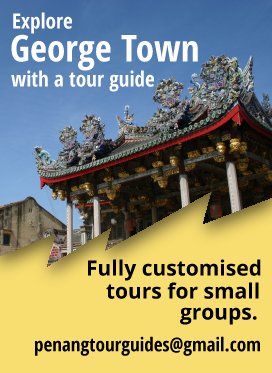 All about me
Welcome to my Singapore Travel Tips!
On top of writing Penang Travel Tips, I am expanding my writings to cover Singapore. These are the pages completed so far.