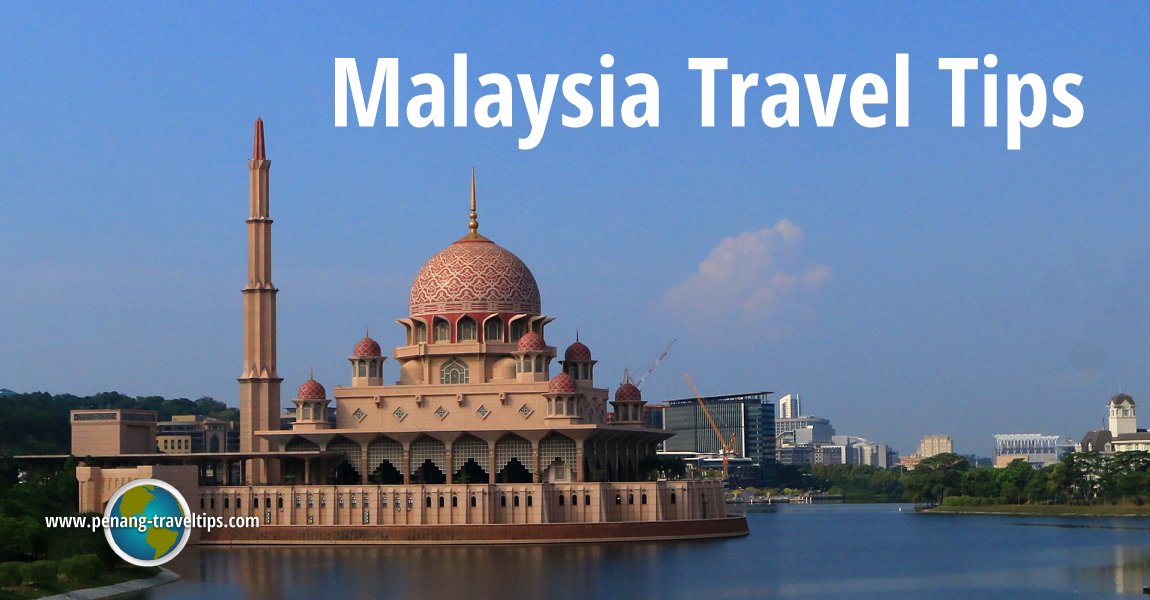 Malaysia Travel Tips
(31 January, 2006)

Malaysia Travel Tips
is created for the benefit of anybody who wants to know more about Malaysia. To create this online DIY travel guide, I have travelled thousands of kilometers crisscrossing the country, with more trips planned, so that I can provide you a look-and-learn discovery of Malaysia. I have photographed thousands of sights and am adding them to this website as fast as I am able to write! This guide is to act as a reference as well as to provide you suggestions and inspiration to create your own trips. The hallmark of this website is clarity, so almost every sight includes a description with map, and increasingly, GPS coordinates, so that you can go there on your own, with your own group of friends or family members.
Map of the States and Federal Territories of Malaysia
Explore the Federal Territories of Malaysia
Explore the States of Malaysia
Explore, Discover and Enjoy Malaysia !
Categories of Sights in Malaysia
Arriving in Malaysia
Useful articles for planning your trip to Malaysia:
1.
Arriving in Malaysia.
2.
Malaysia Entry Requirements.
3.
Arriving in Malaysia by flight.
4.
Arriving in Malaysia by road.
5.
Arriving by road from Singapore.
6.
Arriving by road from Thailand.
7.
Arriving in Malaysia by sea.
8.
Getting around in Malaysia.
9.
Road Trips in Malaysia.
9.
Preparing a road trip.
10.
Using GPS to explore Malaysia.
Administrative Divisions of Malaysia
Malaysia comprises three Federal Territories and thirteen states. The states in Peninsular Malaysia, as well as the Federal Territory of Kuala Lumpur, are subdivided into districts. Districts are administered under district councils (
majlis daerah
), while some of the bigger towns and their surrounding areas administered by municipal councils (
majlis perbandaran
). Towns with city status are administered by city councils (
majlis bandaraya
), which is also called city hall (
dewan bandaraya
) in the case of Kuala Lumpur. The districts and municipalities are further subdivided into counties (
mukim
).
The Federal Territory of Putrajaya is subdivided into precincts while the Federal Territory of Labuan comprises Bandar Labuan and 27 administrative villages (
kampung
). The states of Sabah and Sarawak are subdivided into divisions (
bahagian
) which are then further subdivided into districts (
daerah
).
Geography of Malaysia
Malaysia covers 329,613 square kilometers (127,264 square miles). It comprises Peninsular Malaysia (also called West Malaysia) and East Malaysia. Peninsular Malaysia shares land borders with
Thailand
, while East Malaysia shares land borders with
Indonesia
and
Brunei
. Peninsular Malaysia is also physically linked to Singapore by the
Johor-Singapore Causeway
and the
Malaysia-Singapore Second Link
.
Peninsular Malaysia measures 740 km (460 miles) from north to south, and is roughly 322 km (200 miles) at its widest. The East and West Coasts of Peninsular Malaysia are separated by the main range, Banjaran Titiwangsa, with its tallest peak being Gunung Korbu (2,183 m / 7,162 ft). The tallest peak in Peninsular Malaysia is Gunung Tahan (2,187 m / 7,175 ft) while the longest river is Sungai Pahang (459 km / 285 mi).
Economy of Malaysia
As of 2014, Malaysia has a Gross Domestic Product at Purchasing Power Parity of US$746.821 billion, giving it the third largest GDP in the ASEAN region behind the more populous Indonesia and Thailand, and the 28th largest in the world
1
It is the 28th largest economy in the world, and according to HSBC economist Karen Ward
2
, the economy will in 2050 grow to US$1.2 trillion, making it the 21st largest in the world.
Population of Malaysia
The most populous state in Malaysia is Selangor (as of 2000)
3
, with a population of 4.2 million people, followed by Johor (2.7 million) and Sabah (2.6 million). Selangor also recorded the highest percentage of in-migrants of any state in Malaysia, 28.2% in 2003-2004 and 16.4% in 2006-2007, with the majority coming from Kedah (8,900), Perak (6,500), the Federal Territory of Kuala Lumpur (5,300) and Kelantan (4,400).
The state of Penang has the highest percentage of migrants, for the period of 2008 to 2009, with the highest number of net migrants (15,400), a contra of 20.7% in-migrants and 5.3% out-migrants. In other words, of 100 persons who either moved to or out of Penang, the state received 60 addition persons.
References
1.
Report for Selected Countries and Subjects (Malaysia)
, by the International Monetary Fund (2014).
2.
These Economies Will Dominate The World in 2050,
by Business Insider (13 January, 2012).
3.
List of Cities, Malaysia (2010)
, by the Department of Statistics, Malaysia.
Special Feature: Sungai Buloh-Kajang MRT Line
Penang Travel Tips puts the Whole Wide World at Your Fingertips!
Penang Travel Tips
is not just about Penang, nor just about Malaysia - it's about the world wide world. It's my own treasure trove of travel information, for the benefit of anybody who might need it.

Our Special Feature on Penang Travel Tips this week is
Kuala Lumpur Travel Tips
. Get to know Kuala Lumpur neighbourhood by neighbourhood through the map below.
Advertise on this website
To put an add on this website,
contact me here.
Having a computer issue?
If your computer isn't performing up satisfactorily level,
contact a technician to look at your computer issue
, if you live on Penang Island.
The Travel Tips Made In Penang
As a Christian, I hope that through this website, I am able to deliver
God's Good News
to every corner of the world so that it reaches every person who needs. To get in touch with me, simply submit the
contact form
. Thanks for visiting and don't forget to
follow me on Facebook
!
My Social Media Presence
To interact with me,
LIKE ME on Facebook
, or LIKE my
Penang Travel Tips FB Page
and
Places To Go FB Page
, and join any/all of my Facebook Pages and Groups including
Penang Travel Tips FB Group
,
Exploring Malaysia
,
Big World Out There
,
My Little Bookshelf
,
Learn Penang Hokkien
,
Penang Street Art
,
Penang Hawker Food
,
Penang Restaurant Food
,
Masa Masak
,
Penang Residential Properties
and
Armchair Traveler
.