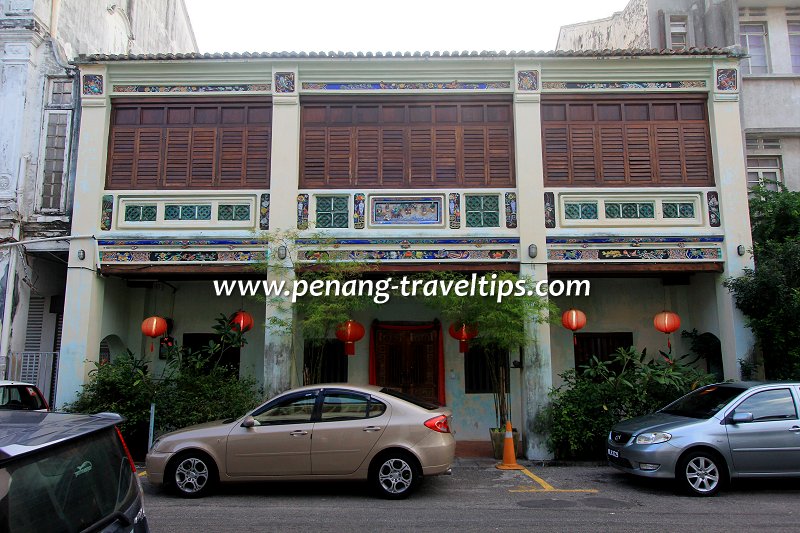 25 China Street, George Town, Penang
(28 December, 2013)

25 China Street
is an opulent courtyard house in George Town, Penang. This mansion is believed to be the grandest and oldest extant residential building on China Street. The original occupant of the house is equally illustrous. He is believed to be Koh Lay Huan, who served as the first Kapitan Cina of Penang.
25 China Street, which some would regard as the Koh Lay Huan Mansion, is ideally located from the waterfront. This enables the occupant to conduct business activities within easy walking distance of the harbour. It is also located on China Street, the main thoroughfare for the Chinese community in the late 18th and early 19th centuries. The structure is believed to have been erected at the early part of the 19th century.
Koh Lay Huan
1
was born in T'ung-an County in Zhangzhou Prefecture, Fujian Province
2
. Unlike most of the Chinese immigrants, he was well-educated and wealthy. He fled China because he was involved in the Tiandihui, a triad that had an objective to overthrow the Manchu Qing government. When that was thwarted, he fled to Siam, where he reestablished himself first in Nakhon Si Thammarat, and later on at Kuala Muda.
Due to his wealth and financial acumen, he rose to be a leader of the local Chinese community. The Chinese in the Kuala Muda area comprised Koh's fellow countrymen who fled Fujian Province with him as well as descendants of earlier refugees who fled to this region in the aftermath of the Manchu takeover of Fujian Province.
In keeping with his station, Koh Lay Huan's House on China Street bears elegant ornamentation such as chien nien broken shard artwork. This you can see on the spandrel and cornices. The upper floor has a continuous row of wooden shutters. What is visible is a replacement, but most likely in keeping to the original design. Below the shutters are green ceramic vents.
Inside 25 China Street, the house is laid out symmetrically. There is a central courtyard, both to let in the light as well as air to the otherwise dim interior. The house has a backdoor that opens to
Che Em Lane
.
At this moment, I cannot ascertain for sure whether this house is the first residence of Kapitan Koh, but considering he had been living in George Town from the very beginning of its founding, he probably relocated from more modest structures. I like to believe however that this was where he took residence until his passing in 1826.
Updates
16 February, 2014:
25 China Street has been turned into a boutique hotel called East Indies.
Getting there
You can take a bus to Beach Street, alighting at the bus stop in front of OCBC Bank and then walk to 25 China Street. The CAT free shuttle bus stops there.
View
25 China Street, George Town, Penang
in a larger map
References

contact me
You can look for and book your hotel room direct from this website. Simply
click here
or use the search box below. You can filter the results based on your requirement, everything from five star hotels to homestays and more.
Look for a specific type of accommodation in Penang
All about me