1st Avenue Mall
(25 November 2010)


1st Avenue Mall Penang
(GPS: 5.41335, 100.33126) is a multi-level shopping mall in the heart of
George Town
, Penang. It opened to business on 25 November, 2010. The mall is bounded by
Magazine Road
,
Carnarvon Street
,
Tek Soon Street
and Cross Street. It is next to
Prangin Mall
and
ICT Digital Mall
at
Komtar
. The name "1st Avenue" is derived from Magazine Road, which is known as the first avenue or street in the
Seven Streets Precinct
of George Town.
Commercial space at 1st Avenue Mall is spread over seven levels, from Lower Ground to Fourth Floor, and on the Eighth Floor. The fifth to seventh floors are taken up by the car parks. The eighth floor, billed Cloud Eight, has an open viewpoint of the city of George Town.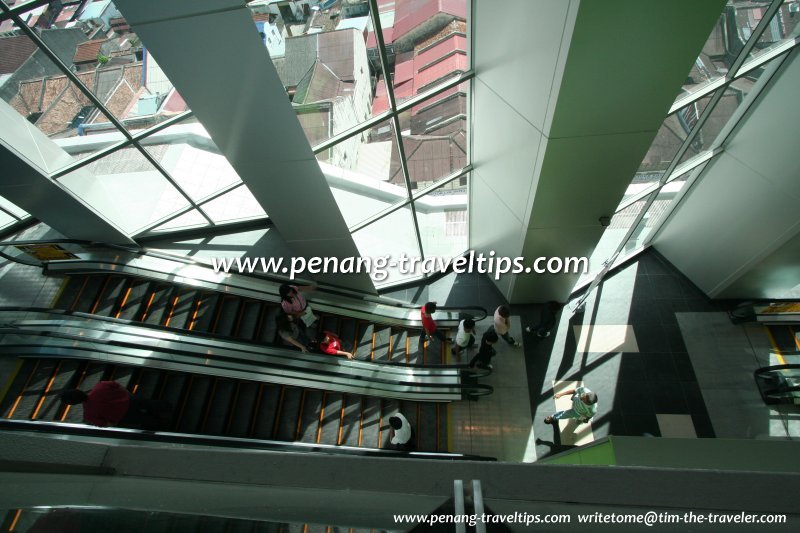 The cascade of escalators makes 1st Avenue a mall with a view
(25 November 2010)

The highest number of outlets are taken up by apparel stores, or rather, shops selling ladies' clothes. At time of opening, the mall has Parkson Department Store as the anchor tenant. Other major tenants are the usual suspects, such as Giordano, Watson's, Kenny Rogers, Red Box, Starbucks, Sushi King and The Body Shop.
1st Avenue Mall Store Updates
1st Avenue Mall Store Guide
to see all the stores at this shopping mall.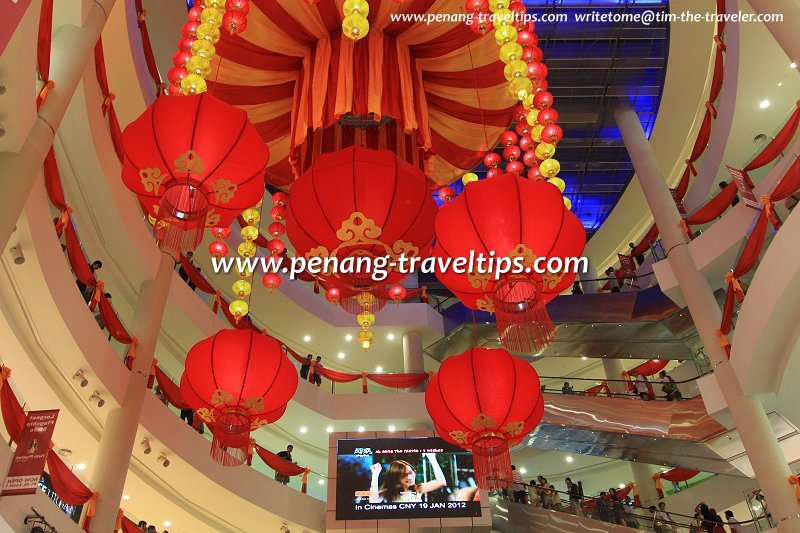 1st Avenue Mall Chinese New Year 2012 decorations
(25 January, 2012)

At time of initial writing (Nov 2010), most of the outlets are still not yet opened, so we will need to give it a little time to see whether this new shopping mall can generate some excitement in the heart of the city. Notably missing, as of now, are fast food restaurants such as McDonald's, KFC and Pizza Hut. Also absent is a bookstore. In comparison, both
Queensbay Mall
and
Gurney Plaza
have two big ones. Without an upscale bookstore as a major tenant, this shopping mall will lose out on traffic from high-income patrons that regard visiting the bookstore
de rigueur
to their shopping experience.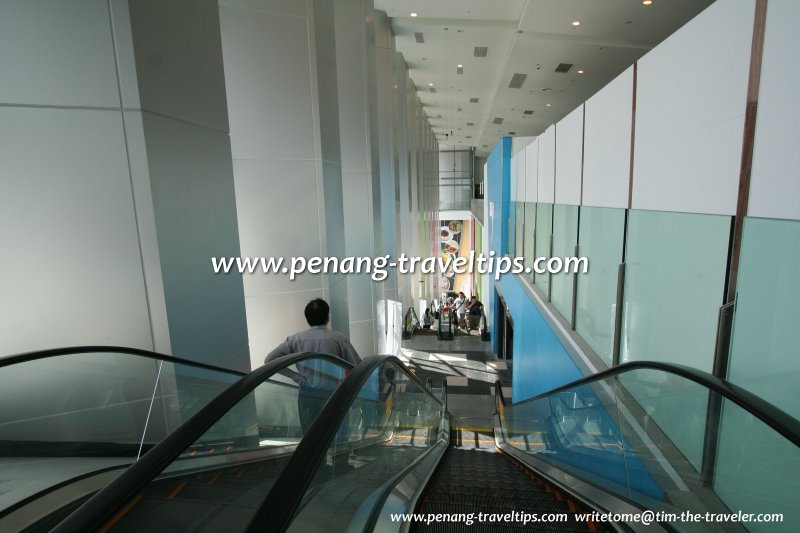 1st Avenue Mall escalators
(25 November, 2010)

Comparing the design of 1st Avenue Mall to its nearest competitor Prangin Mall, the latter comes across as box-like. There is little in terms of creativity shown in its design. We can argue that Prangin Mall is older, constructed at a time when mall designs were not as mature as they are today. Perhaps so, but this bankruptcy of imaginative design is also seen in a more recent mall, the equally box-like Penang Times Square, which brings to Penang the mistakes made by Berjaya Times Square in Kuala Lumpur. Thankfully at 1st Avenue Mall, there are gentle curves of the atrium reminiscent of malls such as VivoCity of Singapore.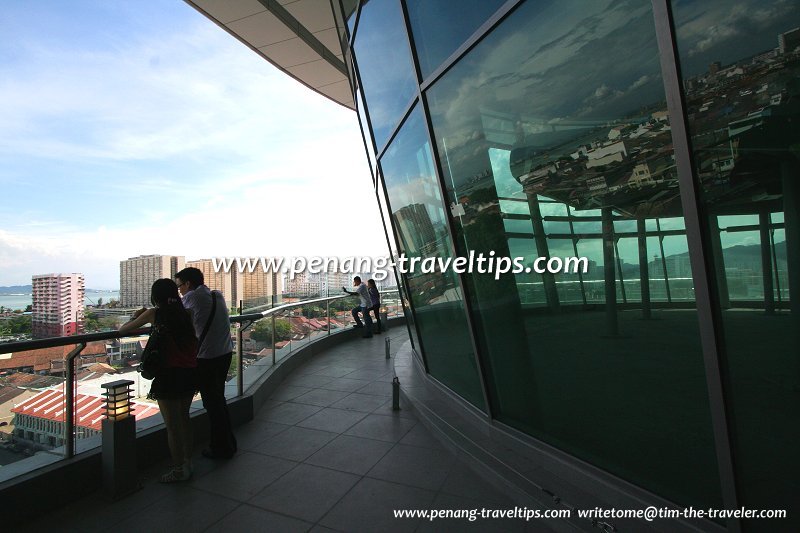 1st Avenue Mall Outdoor Viewpoint (this is now closed for safety reasons)
(25 November 2010)

One of the most exciting features of 1st Avenue Mall is the open-air viewpoint on the eighth floor. It allows patrons to enjoy a panoramic view of the city, from the
Seven Streets Precinct
immediately to the south of the mall, to the high-rises in
Jelutong
and beyond. The cascade of escalators from the fourth to the eighth floor is another exciting architectural feature.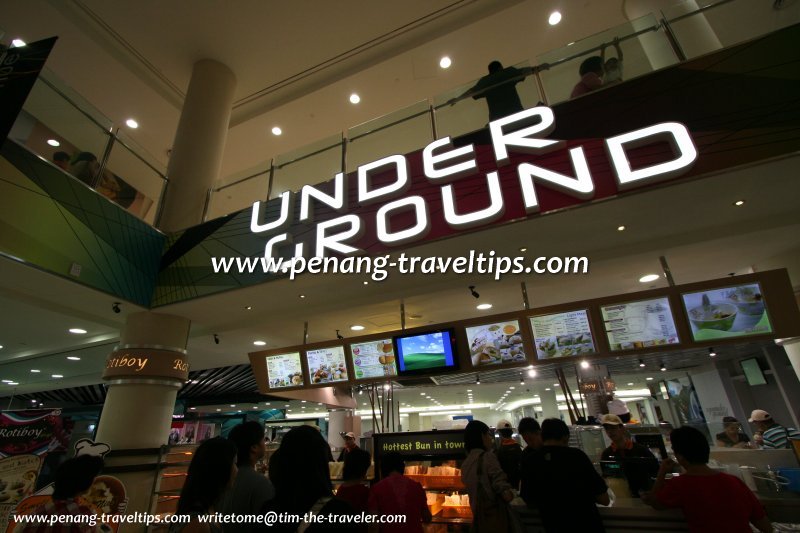 Under Ground, the basement food and beverage arcade of 1st Avenue Mall
(25 November 2010)

1st Avenue Mall Updates
21 November, 2016
A mural was painted on the wall of 1st Avenue Mall by 24-year-old Canadian artist Emmanuel Jarus. The subject of the mural is a fellow artist, Caryn Koh, who is also a medical doctor in
Kuala Lumpur
. Unlike other mural artists, Jarus painted free hand without resorting to image projection on the wall.
Past Updates
10 December, 2012
The 1st Avenue Cineplex, managed by Sentels' Entertainment Solution, became the first 5D cinema in Penang Island.
14 July, 2012
It's over a year since I last provide an update of 1st Avenue Mall. Since then, most of the outlets at the mall have been taken. There is also more life and traffic here compared to Penang Times Square which opened earlier. The highest traffic is on the ground floor and the 2nd floor which connects via overhead bridges to
Prangin Mall
and the ICT Digital Mall at
Komtar
.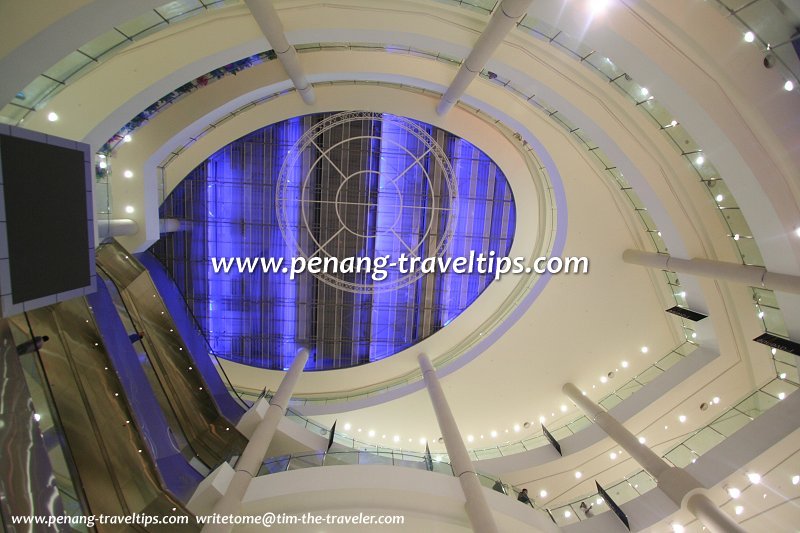 1st Avenue Mall skylights
(25 November, 2010)

In comparison to the outlets at neighbouring Prangin Mall, those at 1st Avenue does position itself towards the more upscale consumers. Having said that, the needs of educated customers have not been adequately addressed. There still isn't a single major bookstore at 1st Avenue Mall, in comparison, both Gurney Plaza and Queensbay Mall have two major bookstores each. There is however a high number of fashion outlets and boutiques.
1 July, 2011
Carrefour Market opens a supermarket at 1st Avenue Mall. It is the latest anchor tenant to a mall that badly needs to draw more customers.
28 May, 2011
Six months after it opened in November, 2010, 1st Avenue Mall has done a successful imitation of
Penang Times Square
. Just as Penang Times Square has kept most of its outlets unoccupied, so too has 1st Avenue Mall. I am being unfairly sarcastic. Of course both shopping malls would wish for more outlets to open, but as of now, this has not materialized, which is truly a shame, as that's the only way to draw customers over.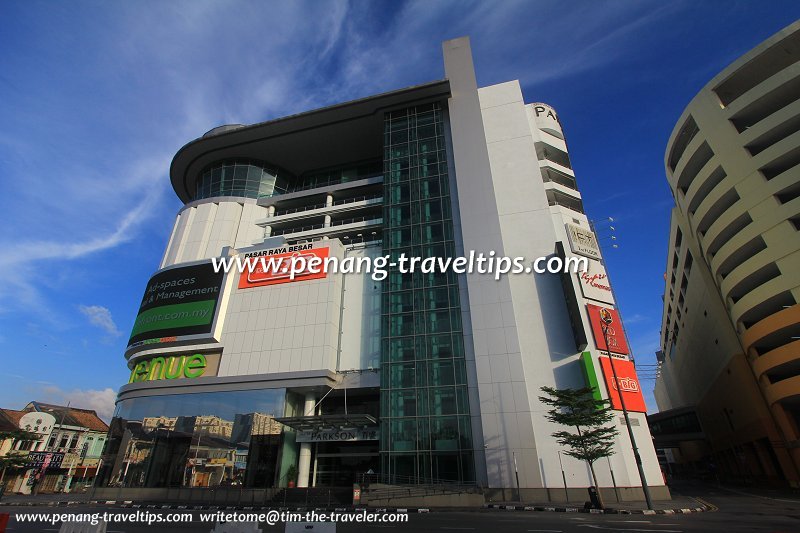 1st Avenue Mall, Penang
(1 June, 2013)

Getting there
1st Avenue Mall is within walking distance of the Komtar Bus Terminal. From the terminal, turn right and walk heading east on Tek Soon Street and you will see 1st Avenue Mall on your right, across from Komtar ICT Digital Mall.
1st Avenue Mall is on the map of Magazine Road